We've caught up with Euphoria Kitchens designer and showroom owner, Richard Scowen, to discuss his latest showstopper. Richard created a large open plan space using our uber-modern H Line Collection; a handleless range of kitchen designs. This specific design was created using our Hampton H Line range in Oxford Blue and Scots Grey with an Oxford Blue handle rail throughout.
What was the brief?
When Mr and Mrs Duke arrived at Euphoria Kitchens their brief was simple – create a modern open plan space to enjoy with family and friends. They weren't happy with their current downstairs layout and felt each room was disjointed and detached. For this reason they wanted an open plan space with a large kitchen island so the whole family could gather and socialise together.
What work needed doing to the home?
In order to meet the clients brief, a number of structural alterations needed to be made. These included removing existing walls and increasing the size of their home's steel frame. This work was essential to create the large open space the family were longing for.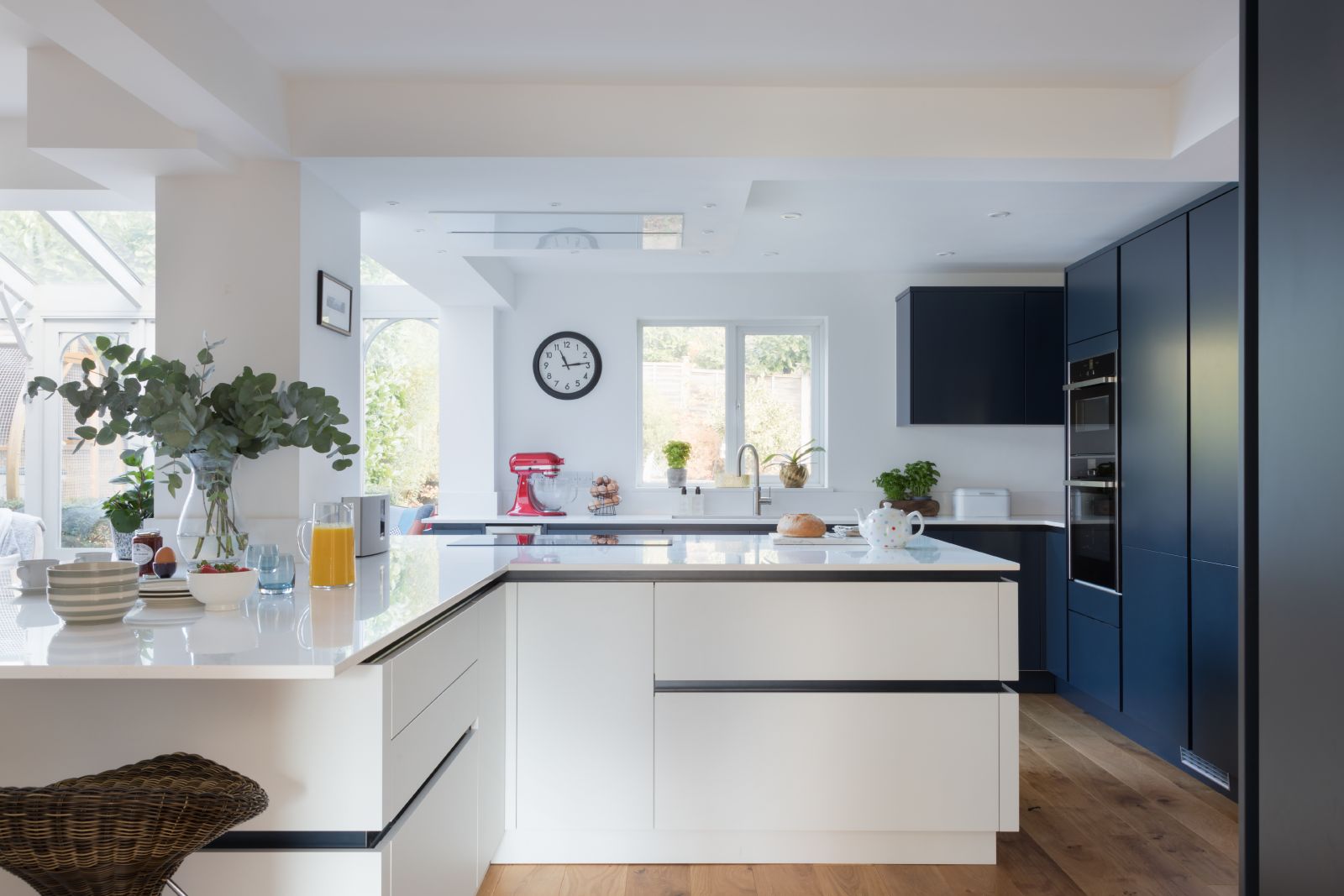 Were there any design challenges?
The structural work meant the centre column needed to remain and therefore we needed to incorporate this into the kitchen island. To achieve this we designed an L-shape island that wrapped around the column and included a seating area, prep area and hob within the design.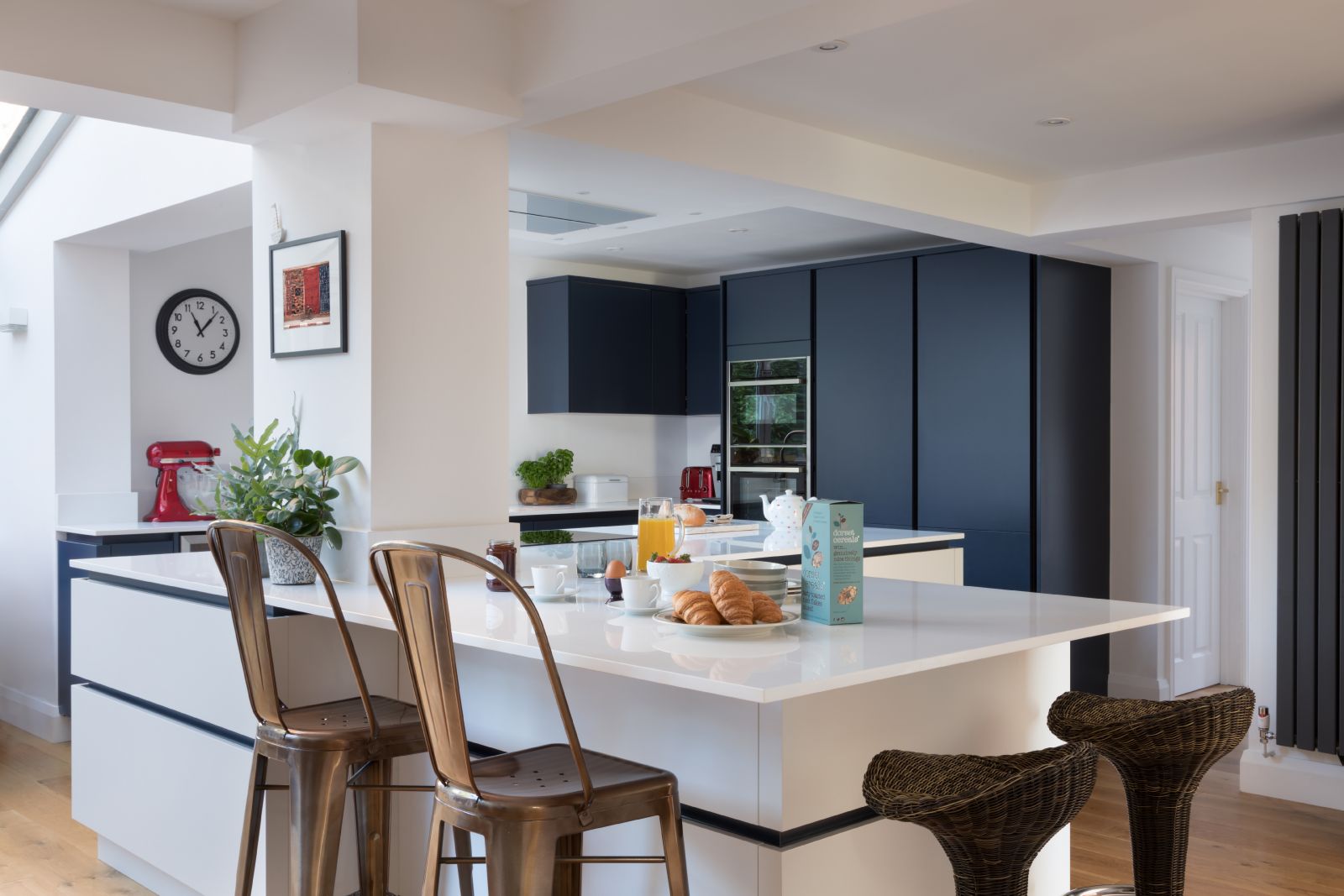 Is there any aspect of the project the designer is particularly pleased with?
We are particularly pleased with the island with it being such a feature of the space. It's so versatile with both excellent storage and practical working space along with also being a central, social area of the space with the seating area.
How to achieve this look in your home...
Contrasting Colours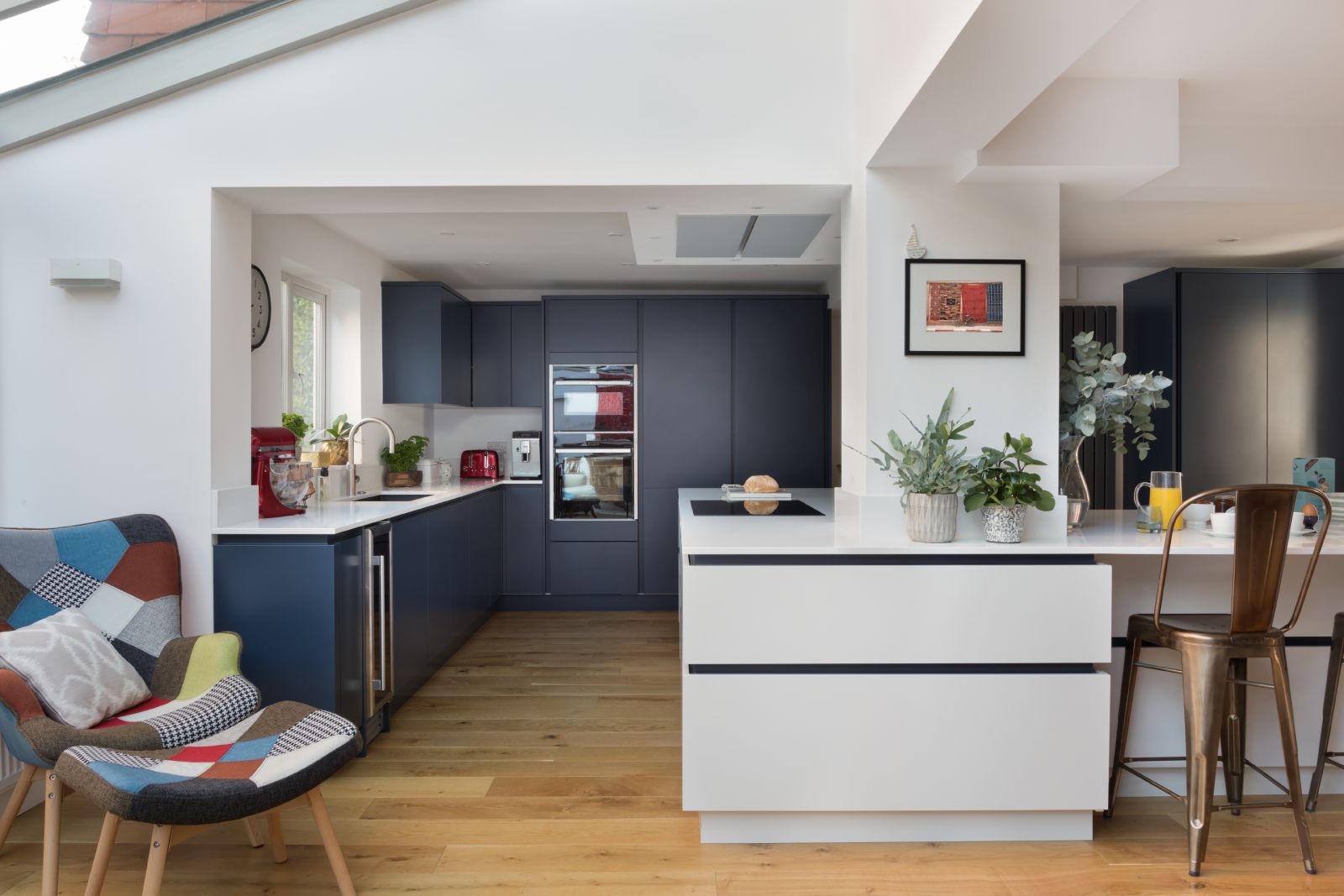 Contrasting colours is a brilliant way to zone your kitchen – using bold dark blue for the tall cabinets and a light grey for the island helps naturally separate the two areas. Within this design they've incorporated the dark Oxford Blue colour in the handle rails throughout. This ensures that the design is cohesive and seamlessly flows from one area to another.
Tall Storage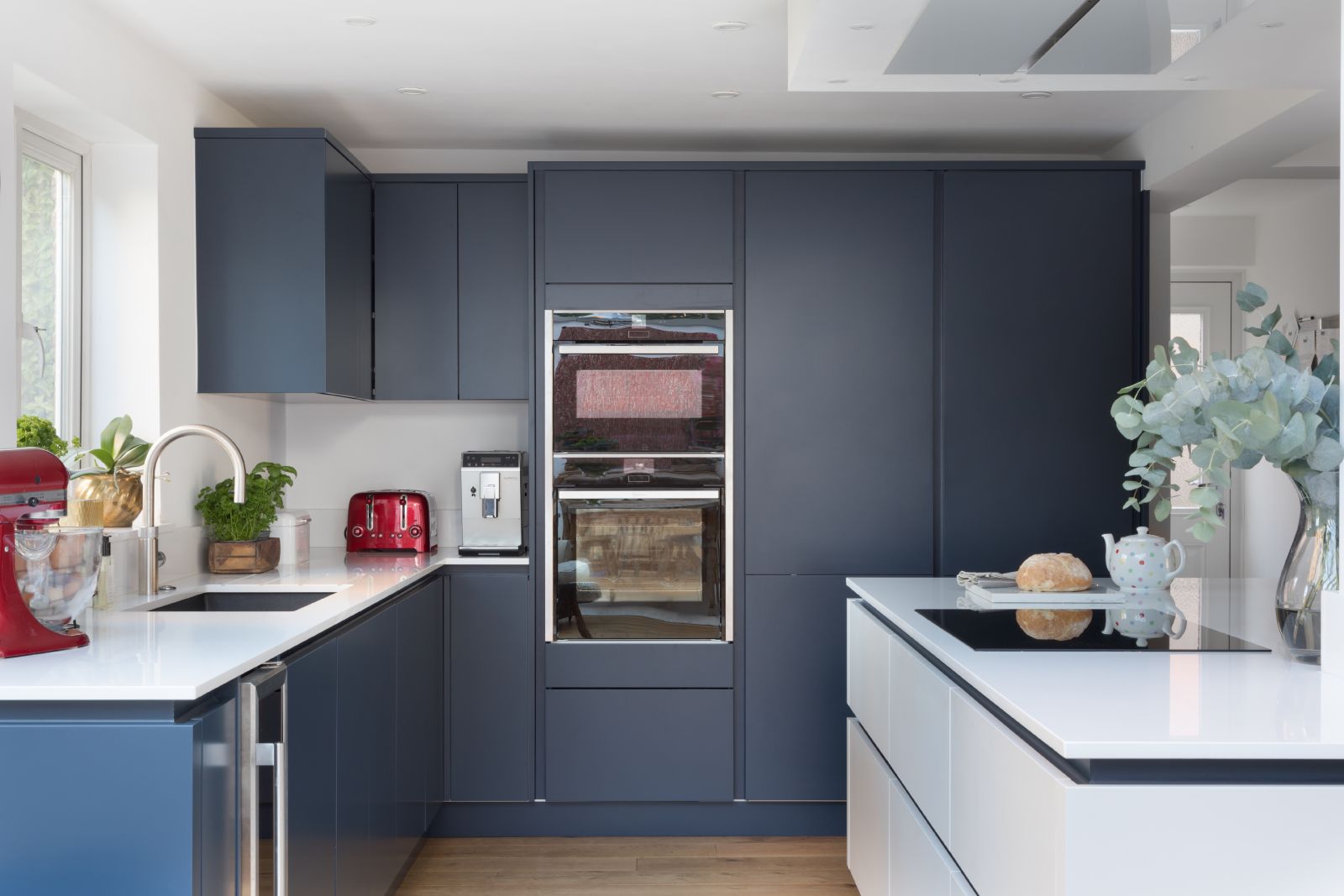 Opting for tall storage will maximise your storage space and utilise the space in your home.
For modern kitchen designs we have an impressive range of tall storage solutions which will keep your kitchen organised. Take a look at our our pull out storage solution, MagnaSpace, or the ultimate internal drawer storage solution, SpaceTower for more information.
Large kitchen island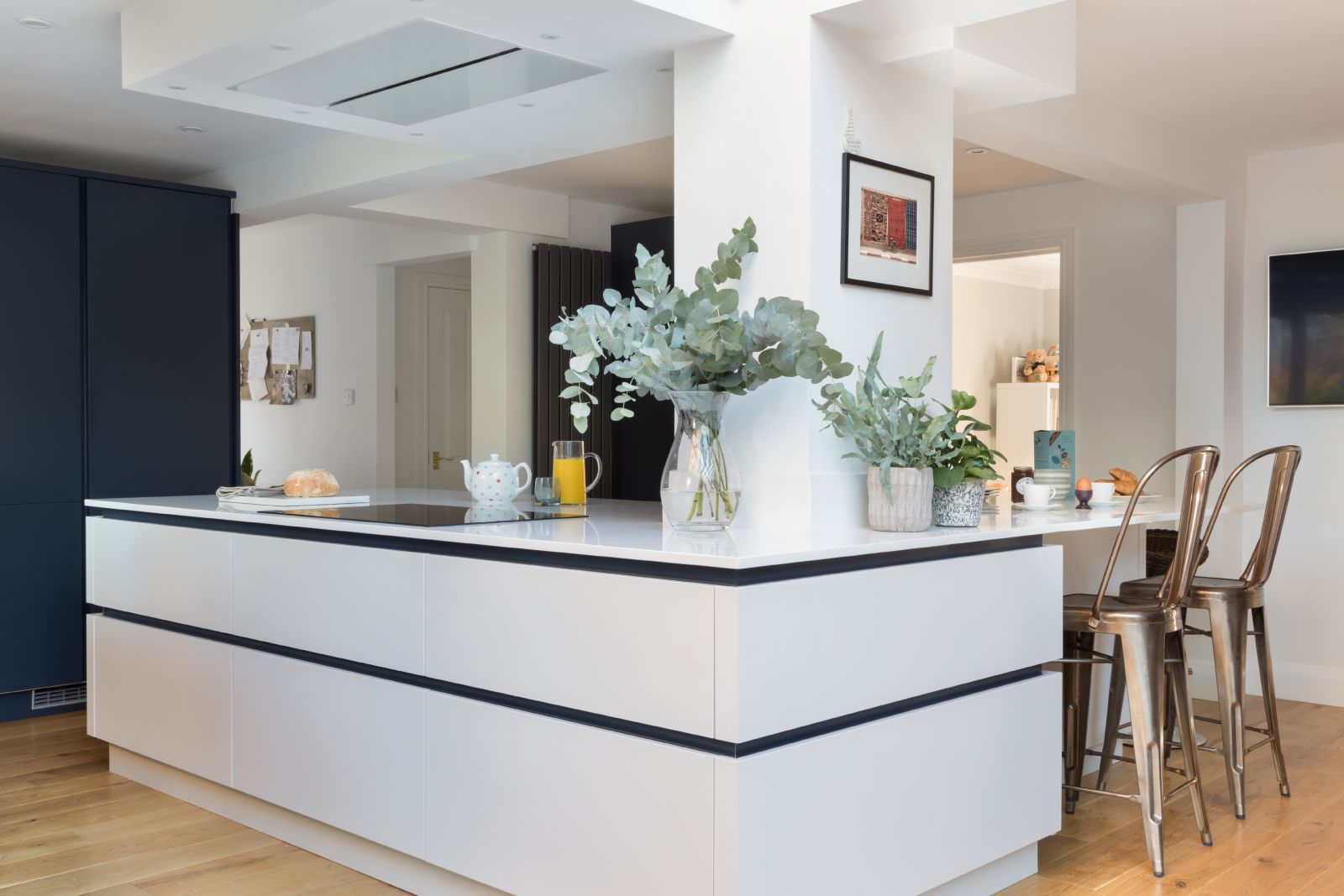 No matter the size or shape of your kitchen we can create a kitchen island that works for you and your lifestyle. Within this design they've zoned the island with one side being optimised for cooing and prep, while the other side is a wonderful seating area to add the communal feel in the home.
To find out more on our handleless kitchens collection take a look at our dedicated page to find your dream modern kitchen design.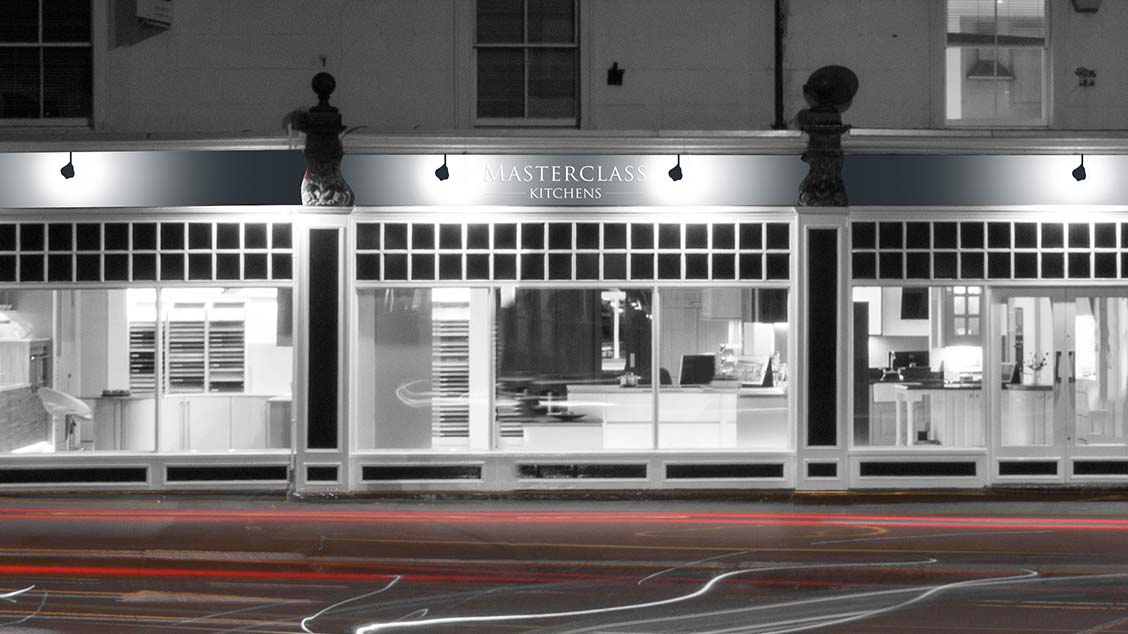 Start your Kitchen Inspiration journey at a Masterclass Kitchens Retailer
Talk to a Masterclass retailer to get your very own kitchen design. Our experts will produce a 3D design and quote based on your dream kitchen wish list.
Find Your Local Retailer