Feast your eyes on these kitchen extension design ideas
We see so many amazing kitchen extension projects here at Masterclass Kitchens. We've put together some of the brilliant kitchen extension design ideas to inspire your own project.
"Do I want a kitchen extension?" is a common question many homeowners find themselves asking.
It comes as no surprise that a kitchen extension tops the kitchen wishlist for many renovators. An extension project can completely transform a house and allows people to achieve their dream homes without the hassle of relocation.
Are you in the midst of planning a kitchen extension? We've brought together some of the finest kitchen extension designs to ignite your imagination.
Embracing surroundings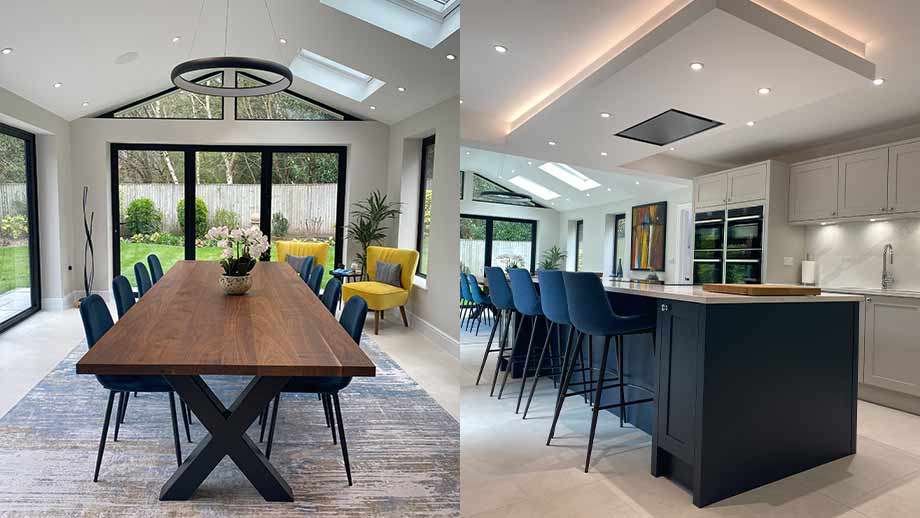 Hardwick Highland Stone and Oxford Blue. Designed by Sigma 3 Kitchens in Esher
It was essential to the owners of this breathtaking kitchen extension to pay homage to its stunning surroundings.
The house backs onto lush green foresty, and the homeowners fell in love with the idea of incorporating lots of natural wood textures into the kitchen extension's design. Bifold doors were also added so the trees are visible at all times.
Wood textures were infused into the kitchen extension using the wood-grained shaker kitchen doors of our Hardwick range, complemented with Portland Oak interiors and wood furniture.
A room with a view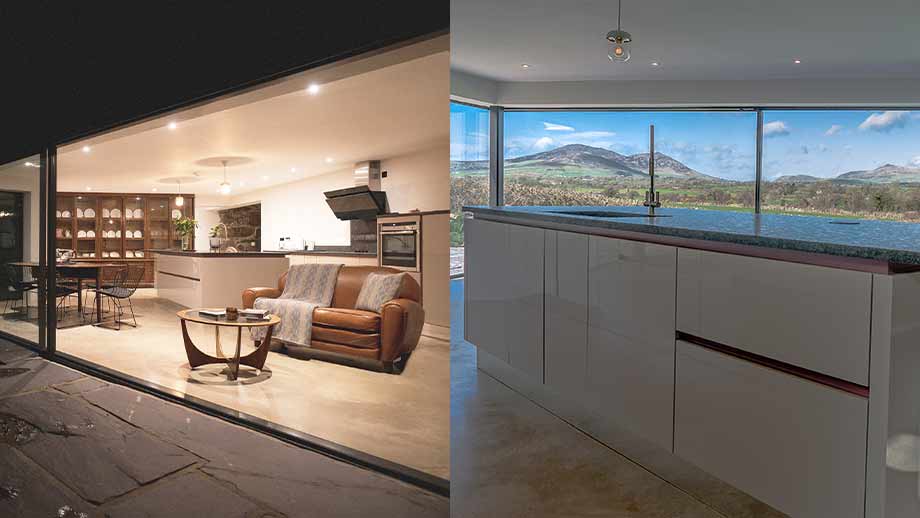 H Line Lumina White with Vintage Rose handlerail. Designed and installed by Huws Gray in Anglesey
Naturally, the vision for this modern kitchen was the remarkable scenery.
The owners of this North Wales farmhouse showcased the picturesque views at the rear of the home by installing ceiling to floor glass windows, making it feel as though there is nothing between the kitchen and nature.
A white gloss finish was cleverly incorporated into the design, allowing the outstanding scenery to reflect upon the kitchen island doors.
Pretty in pink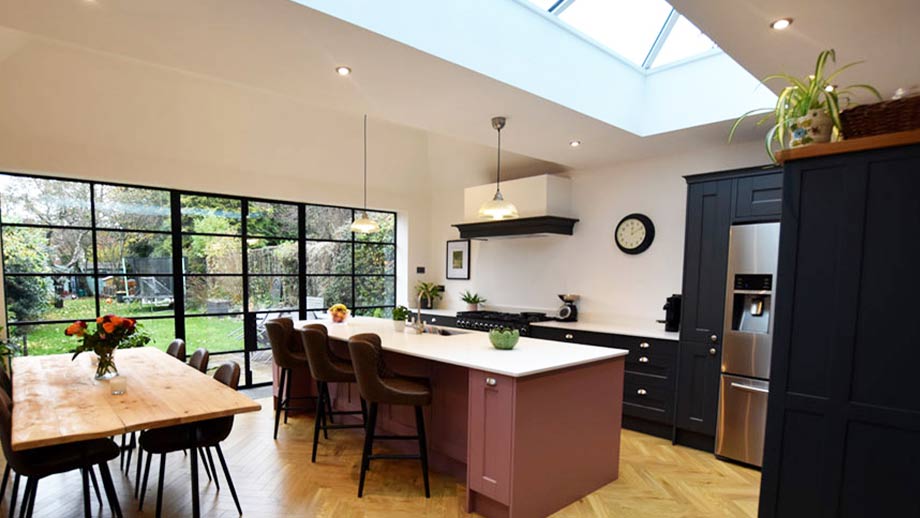 Solva Graphite and Vintage Rose. Designed and installed by Studio 62 in Dudley
Pink kitchens may be considered a brave choice amongst many, but this kitchen extension proves how rewarding choosing a bold colour can be.
The owners of this Edwardian property wanted their new kitchen extension to make a significant impact, so they chose our Graphite finish with a contrasting Vintage Rose island. To ensure the kitchen was sympathetic to the age of the property, the owners opted for our traditional kitchen range, Solva.
The bold style and thoughtful touches make this kitchen a true showstopper – it's no wonder it won Real Homes' Best Extension award in 2020!
A multifunctional space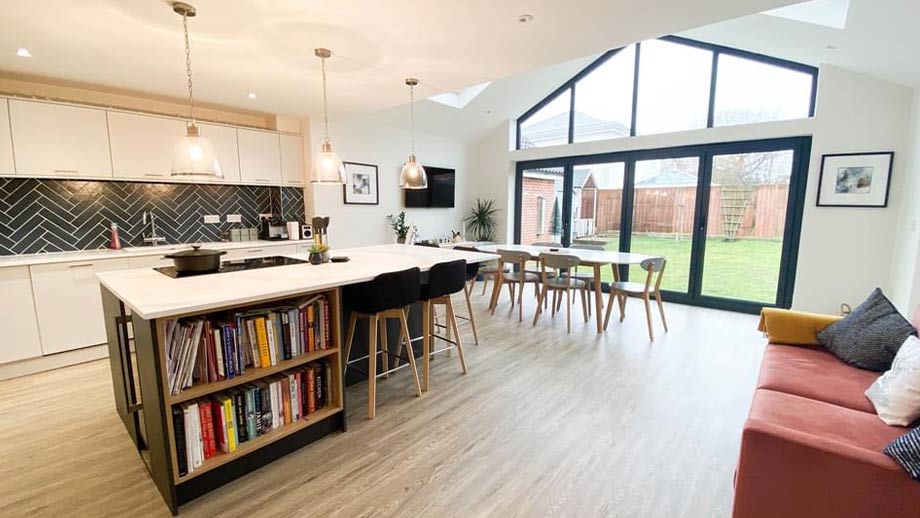 Larna Scots Grey and Graphite. Designed and installed by Elliam BPH in Norwich
If you're investing your time, money and efforts into a kitchen extension project, you'll likely want it to serve many a purpose.
One of the many reasons to embark on a kitchen extension project is to create a multifunctional space, and this kitchen is precisely that.
The island successfully zones the kitchen area from the rest of the kitchen extension. As a result, the kitchen living space flows perfectly into the living space, preventing the homeowners from isolating themselves from guests.
Extending rooms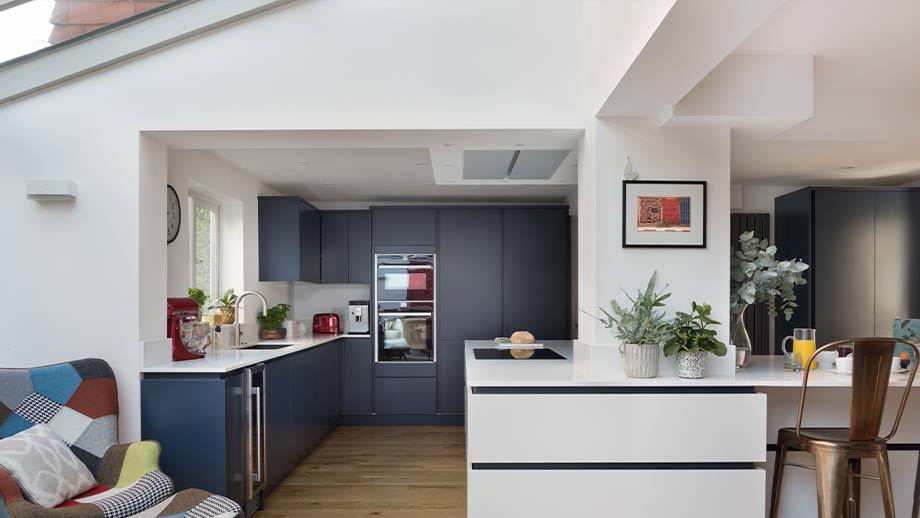 H Line Hampton Scots Grey and Oxford Blue. Designed and installed by Euphoria Kitchens in Arundel
This kitchen demonstrates that you don't need to add an extra room to your home to extend your kitchen.
The original layout presented constraints, so the family decided to remove walls and extend the kitchen to create an open-plan kitchen and living space.
Structural elements meant the homeowners were unable to remove the centre column. So, Euphoria Kitchens cleverly utilised the home's supporting beam to design an L-shaped kitchen island perfect for seating and prep space.
Are you ready to start your Masterclass Kitchens journey?
Planning is essential to create a successful kitchen extension. Plan carefully with your architect and kitchen designer early on. Our expert retailers will guide you through your whole journey. Find your nearest Masterclass Kitchens retailer today.
More kitchen inspiration that you might like...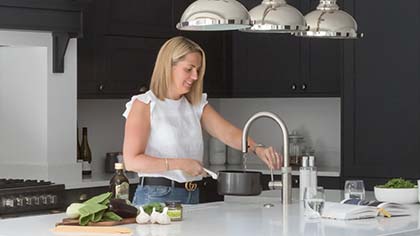 Get expert kitchen advice from our retailers
Find your local retailer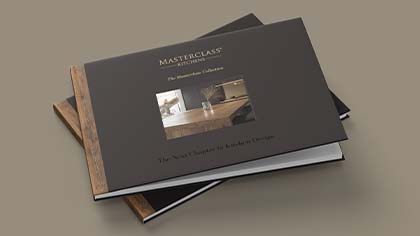 Are you looking for some more inspiration?
Explore our brochures