Breathtaking classic kitchen in Yorkshire
Classic detailing, bespoke homely touches and on-trend colours makes this kitchen by AKA Interiors a true show-stopper.
Converting two separate buildings into one large home is indeed no mean feat, but it was high up on the agenda for Imelda Leonard and Neil Stringwell.
The couple's beautiful home in the West Yorkshire Dales consisted of two separate cottages with a separate kitchen and dining area. However, having four children and seven children nearby, the space was rarely empty, and consequently, the original infrastructure felt cramped and overcrowded.
Following years of home renovations, the couple transformed the two buildings into one large open plan kitchen and dining area. All that was needed was the perfect classic kitchen to go within the space.
Kitchen designer and owner of AKA Interiors in West Yorkshire, Craig Atkinson, took on the project and devised a plan. Before Imelda and Neil knew it, the classic kitchen of their dreams was brought to life, and their home renovation project was finally complete.
The completed open plan kitchen and dining space, filled with homely quirks and country features, now accommodates the whole family. "We get together regularly. There's no trouble fitting folk round the table and island now – it doesn't feel overcrowded", expressed Imelda.
Let us take you through the beautiful features that brought together this breathtaking classic kitchen.
A classic kitchen range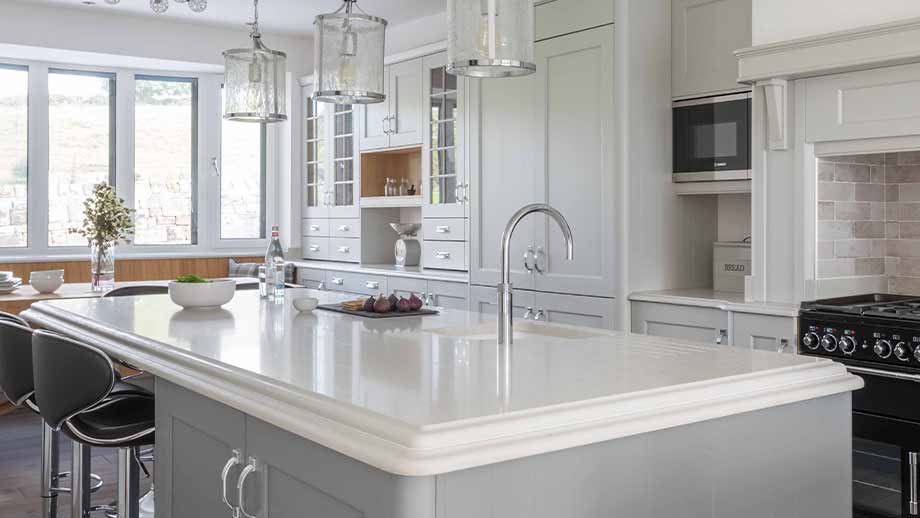 After viewing our selection of classic kitchen ranges, it was clear that our Ashbourne range hit with mark.
Ashbourne's classic detailing and luxurious painted finish brings a quintessentially British look that pays homage to the home's rural surroundings.
Restrained colour palette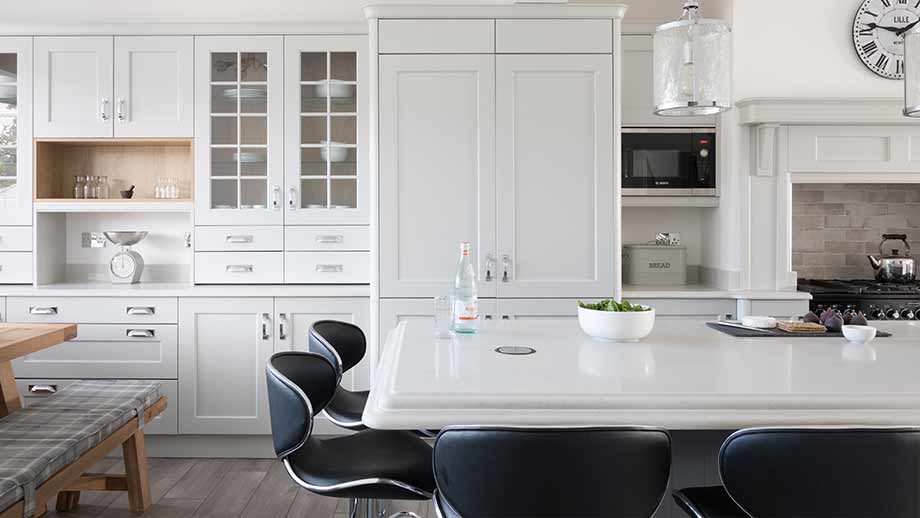 The couple had their hearts set on a classic kitchen range. However, they wanted to add a modern touch using on-trend colours.
They opted for a grey colour scheme featuring Light Grey doors and Dust Grey for the kitchen island. This restrained colour palette was a perfect combination, allowing country touches to be infused throughout but simultaneously keeping the space sleek and contemporary.
Hints of wood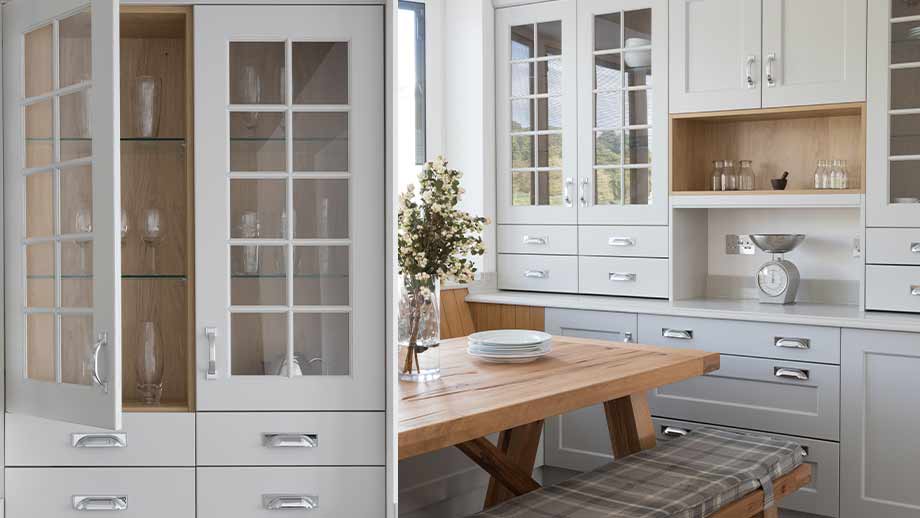 Open shelving, glass-fronted display cabinets and panelling provide a platform for different textures to be introduced. Imelda and Neil opted for our beautiful Portland Oak finish to compliment the grey and bring warmth to the design.
Classic bench seating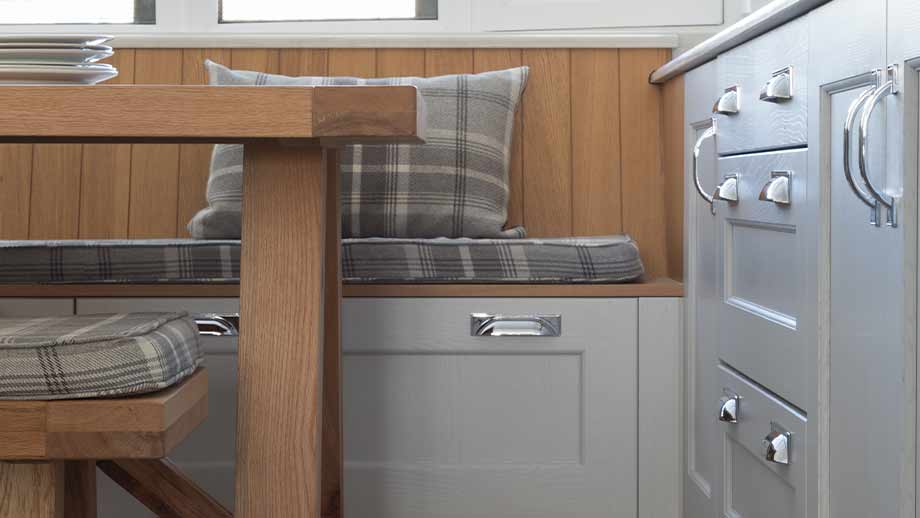 To add a bespoke look, bench seating was added to the kitchen's design.
The bench seating doesn't just look fantastic, it also makes a practical addition to the kitchen. The under bench storage makes excellent use of otherwise wasted space. The purpose of many of the cupboards is to display the family's elegant glassware and ornaments, so the bench seating storage is a beautiful way to compensate.
Classic kitchen statement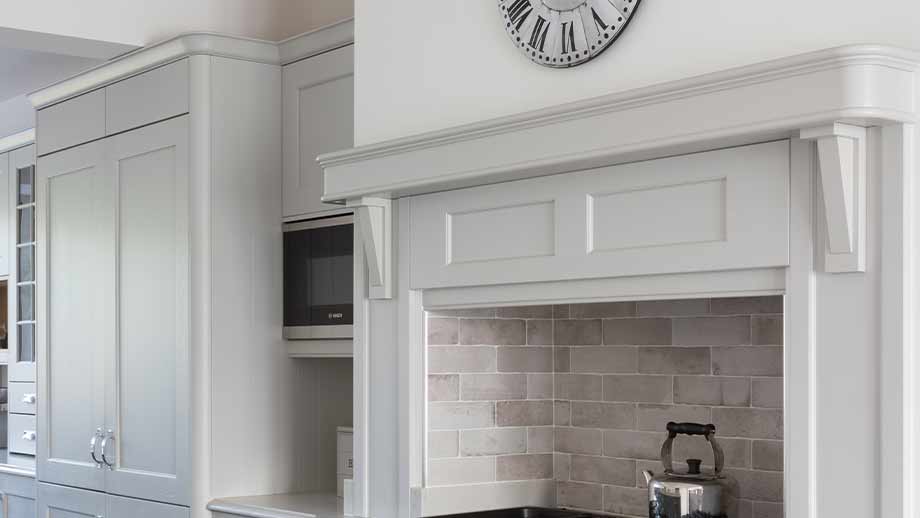 There's no better way to finish off a classic kitchen than with a stylish, classic statement.
Imelda and Neil opted for a statement mantle above the hob, elevating the classic look of the design and setting a bespoke tone.
Are you ready for your dream classic kitchen?
Are you inspired by Neil and Imelda's classic kitchen, or is something modern your cup of tea? Whatever your kitchen style, Masterclass Kitchens has something for everyone.
Find your nearest Masterclass Kitchens retailer today and find a kitchen to fall in love with.