Get The Classic Look: Our Traditional Kitchen Designs & Ideas
Ideas & Inspiration - 13 May 2020
If a classically traditional kitchen is what you're lusting after, then our timeless and quintessentially British ranges will help you ignite this dream.
Here's how to get the look with our Classic Kitchen collection:
1. Use painted grey tones
Create a look that's of the moment, but will also stand the test of time with our versatile palette of greys.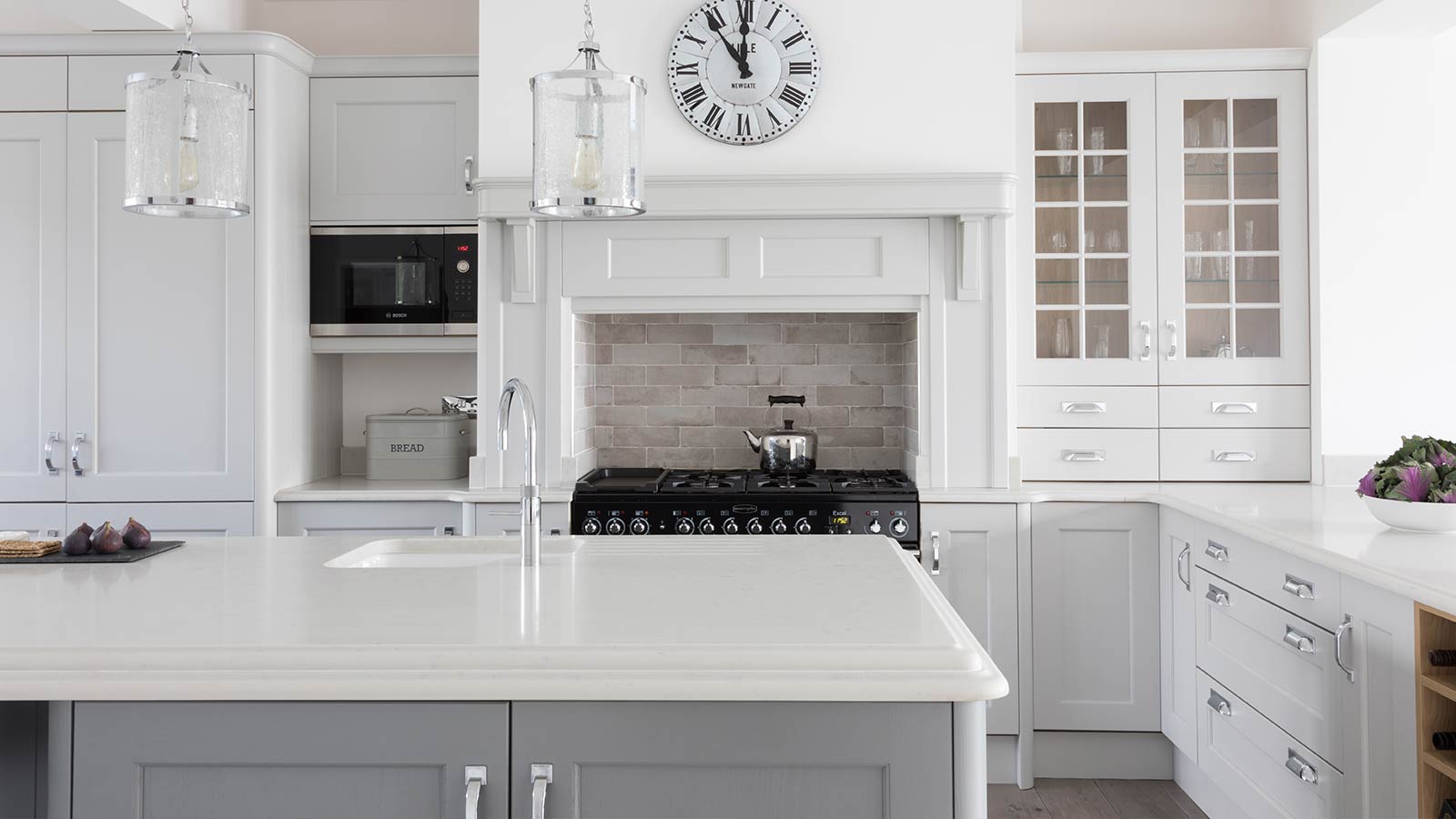 A firm favourite colour combination is to combine Dust Grey and Light Grey – it's a sure fire winner. Pictured above is our Ashbourne range, design and installed by AKA Interiors in Leeds.
2. Add warming woods
The addition of wood tones into your kitchen scheme will bring a warm rustic feel with a handmade, bespoke style edge.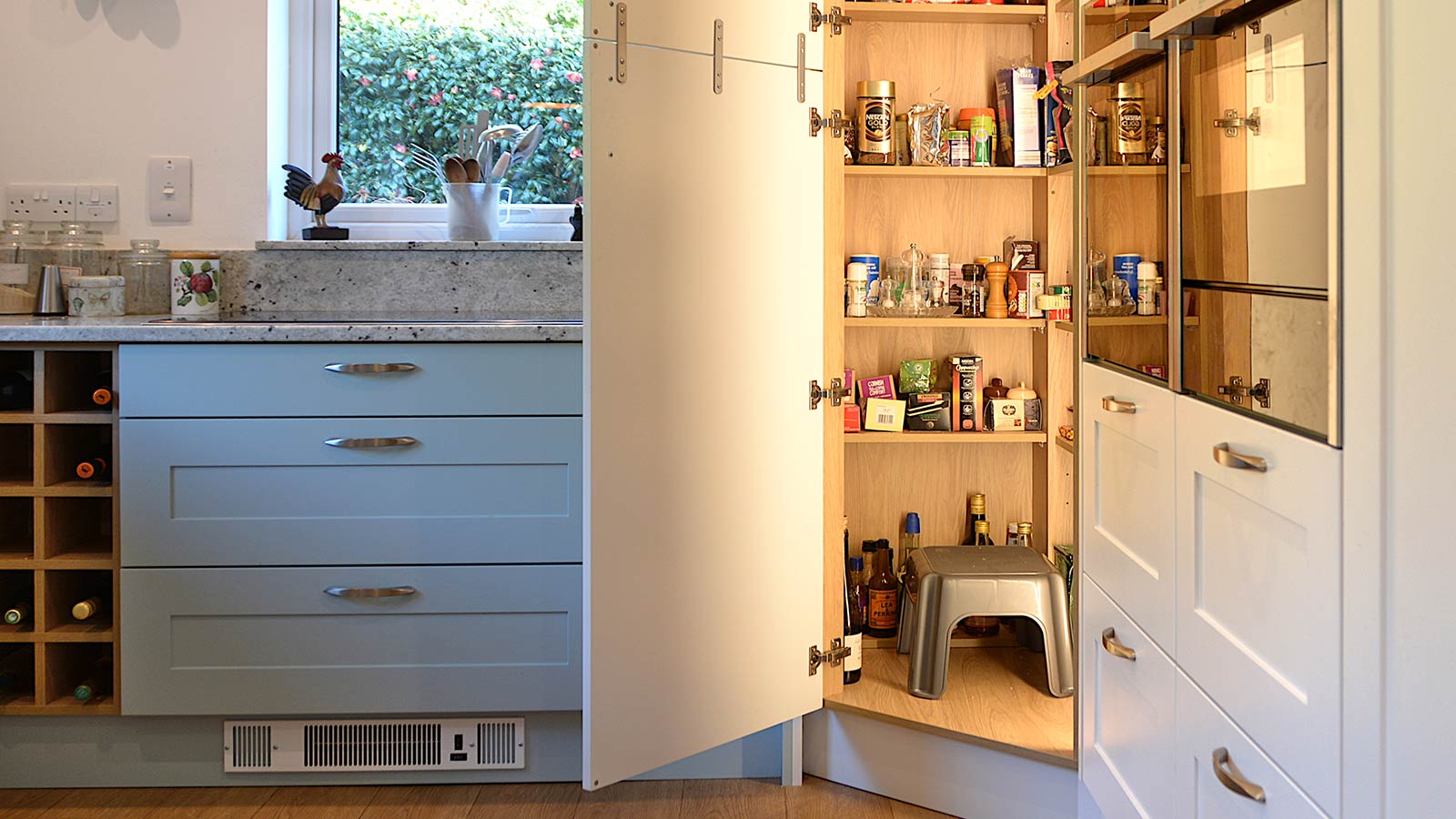 Featured above is Marlborough in Powder Blue with Portland Oak features, designed and installed by Now Kitchens in Cornwall.
3. Mix & match styling
If grey, neutral tones aren't your thing, then you may want to add a bright or bold colour to your traditional kitchen. The best way to do this is to mix and match with one of our neutral base colours to create a harmonious colour scheme.
Depending on whether you want a warm or cool pallete, here are some of our favourite combinations: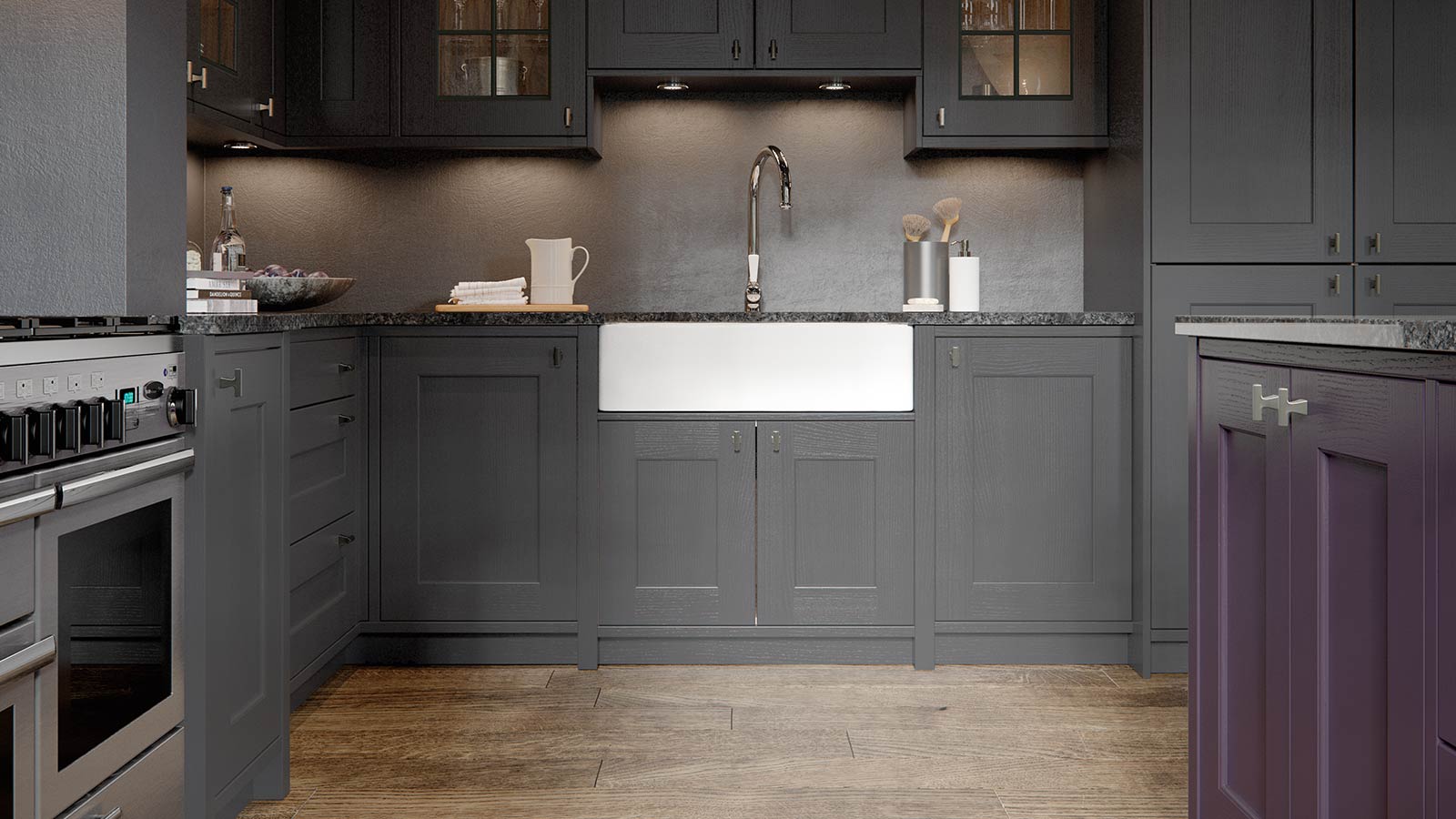 Mulberry and Graphite, featured in our Ashbourne range.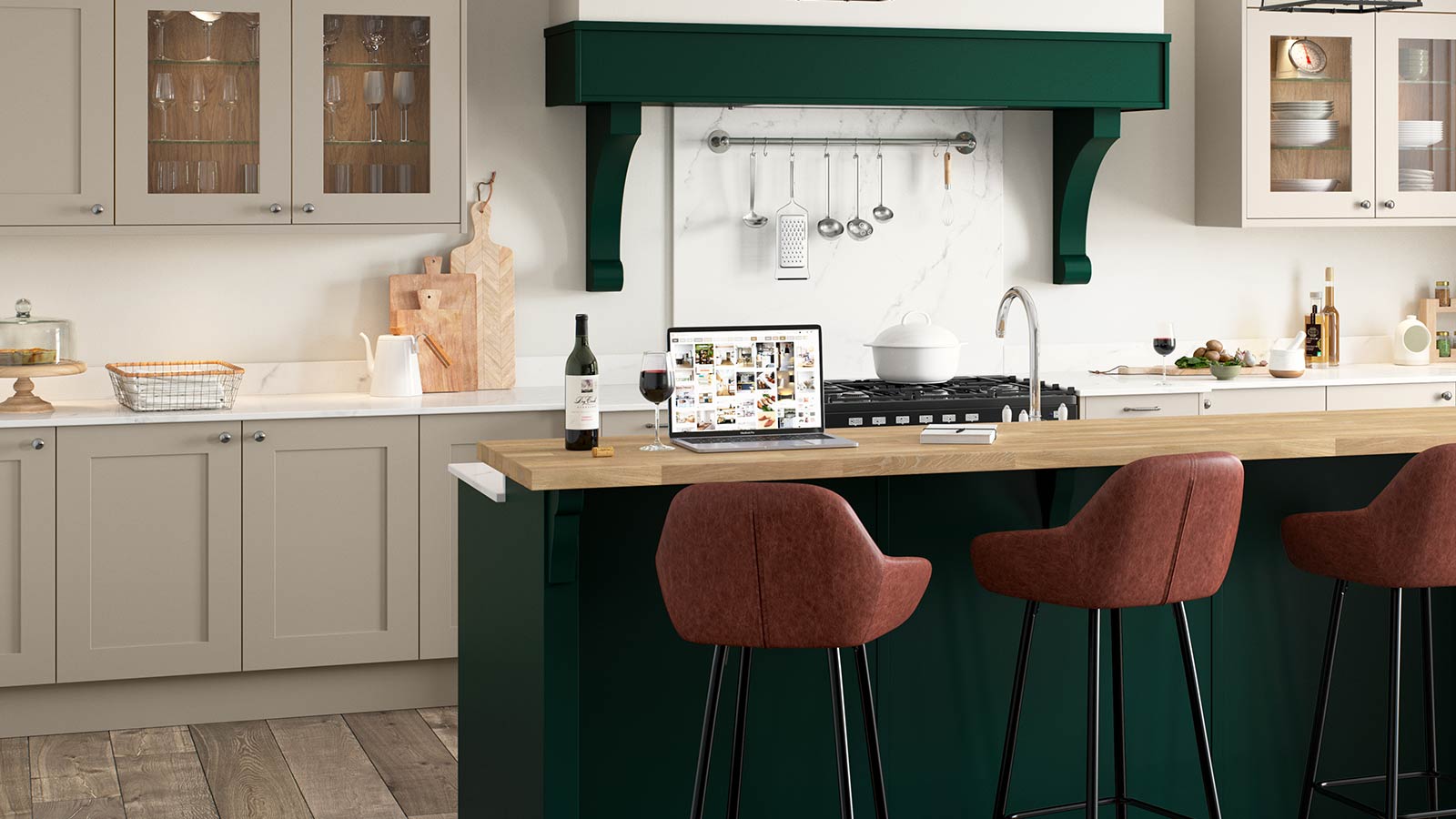 Hunter Green and Farringdon Grey, featured in our Marlborough range.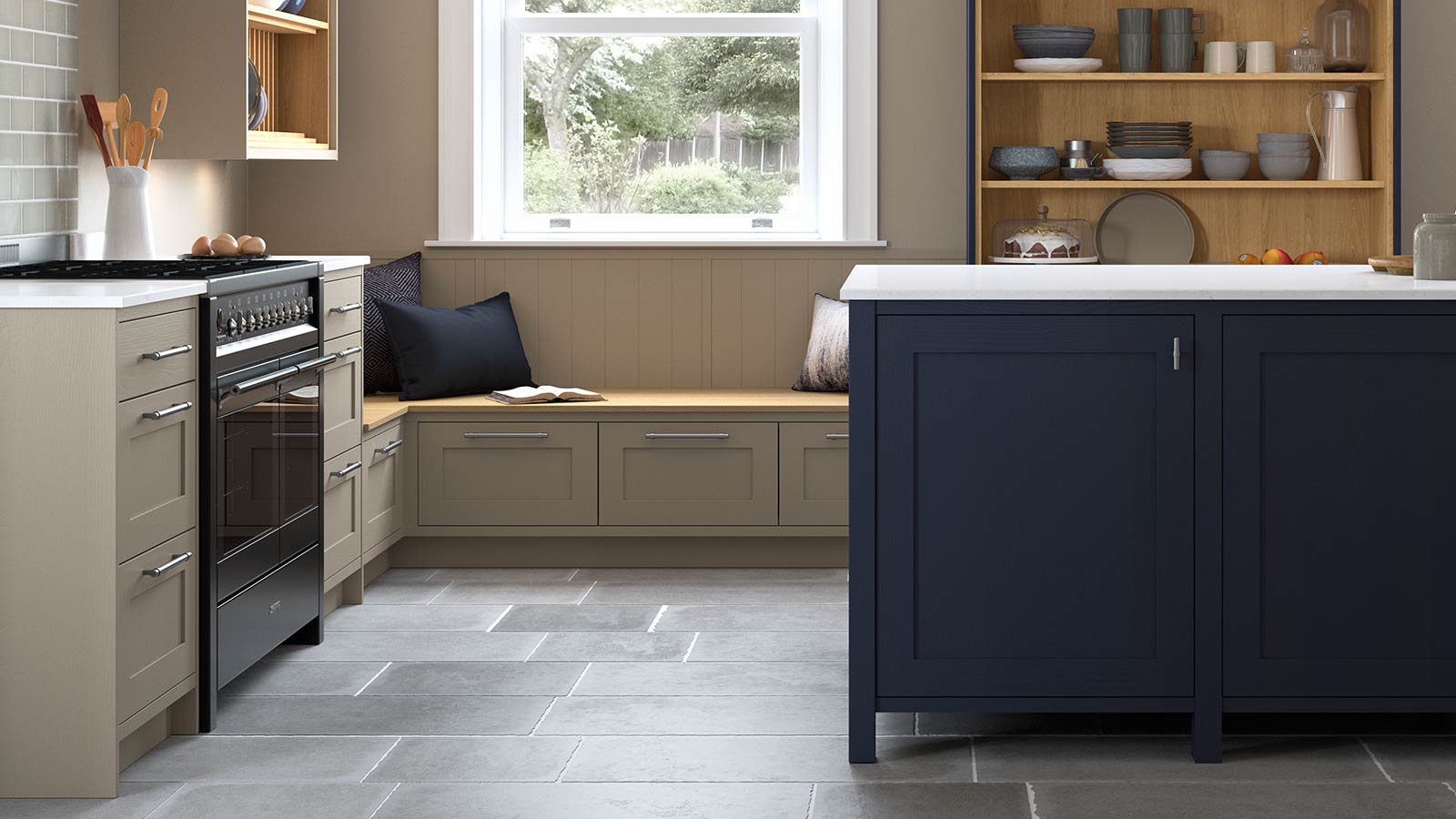 Oxford Blue and Farringdon Grey, featured in our Hardwick range.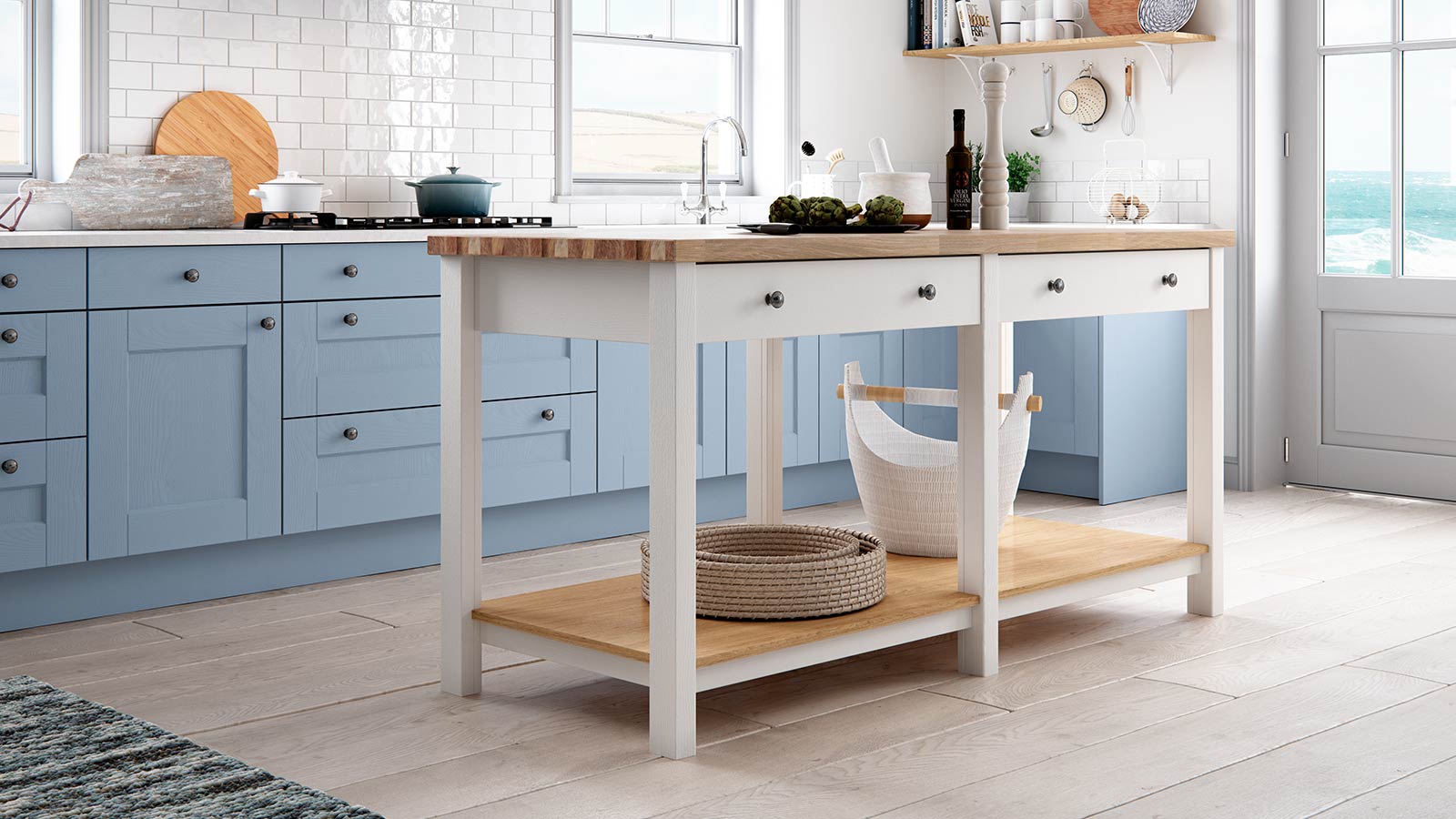 Coastal Mist & Scots Grey, featured in our Solva range.
4. Classic storage essentials
Get the very best from your traditionally styled kitchen with The Signature Collection of storage, which will not only make your kitchen a practical space, but will also give you a bespoke look.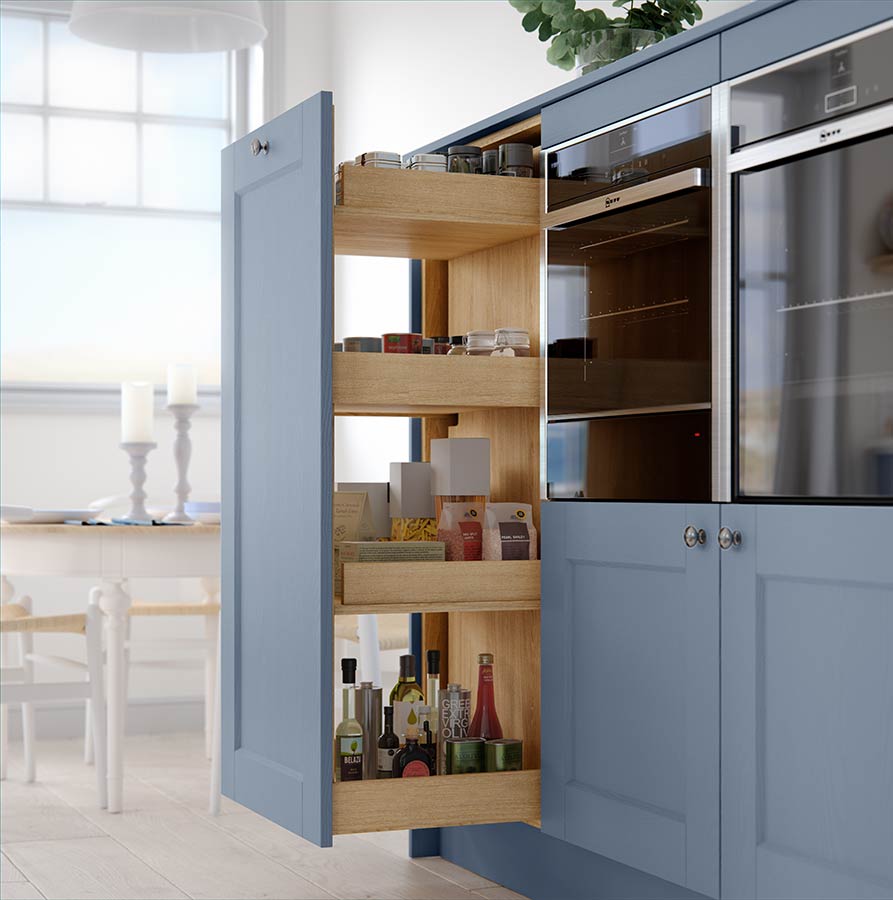 MagnaSpace pull out storage, pictured here in Portland Oak.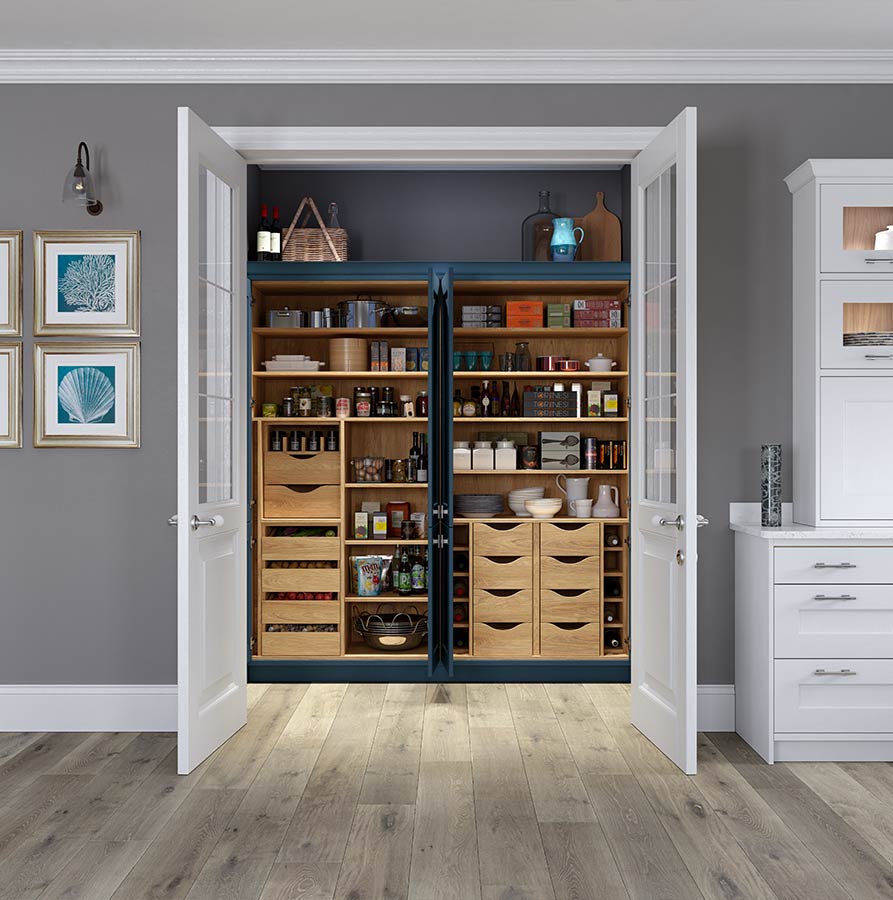 The Hathaway kitchen pantry, featured here in Portland Oak.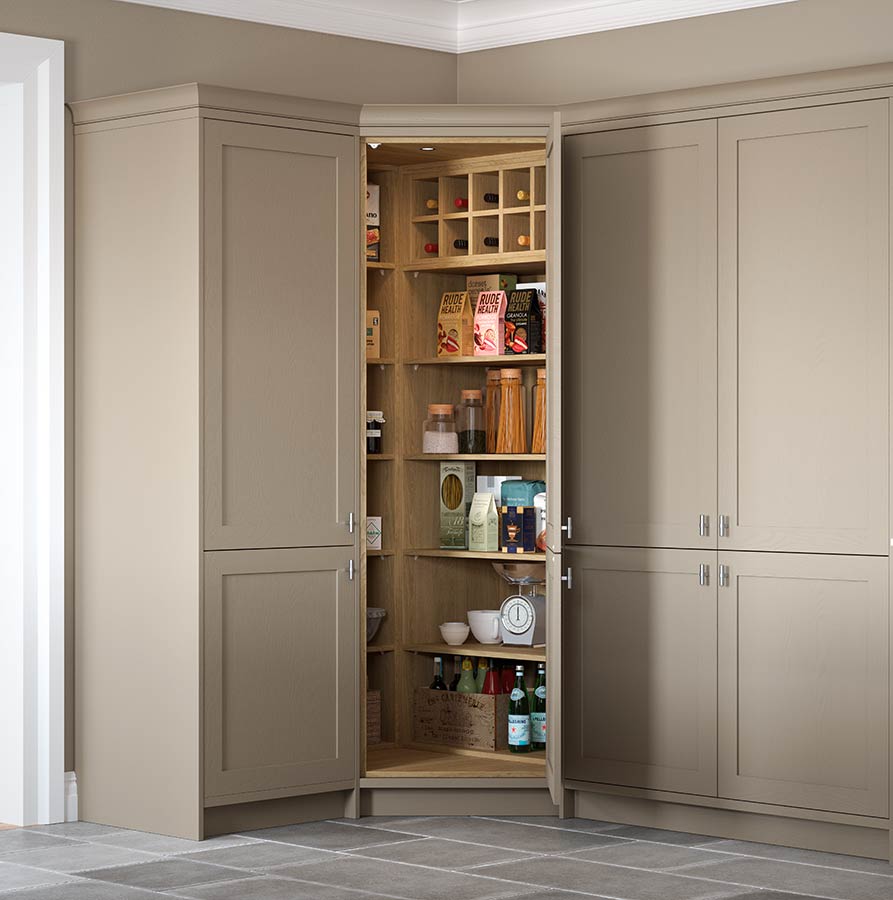 The Lansbury corner pantry, featured in Portland Oak.
5. Create a bespoke look
Create a wonderfully bespoke look with our Portland Oak and Tuscan Walnut drawers. Not only do they give a beautiful bespoke look and feel, but they're also durable and have limitless options for cutlery trays and utensil drawers.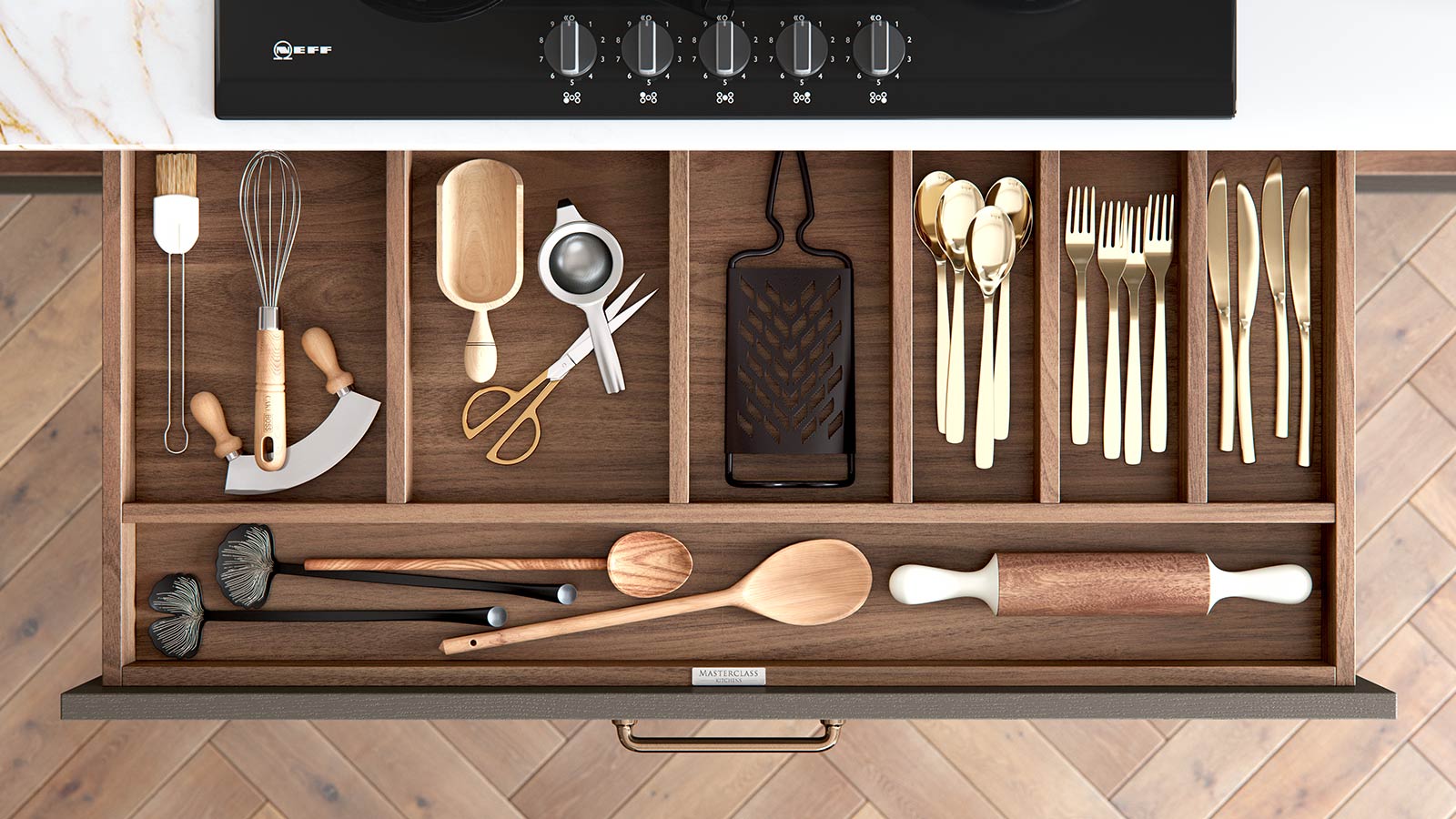 6. Embrace open storage
Open shelving is a perfect way to house your favourite trinkets, ornaments, accessories and cook books so they are always in reaching distance. The possibilities are endless.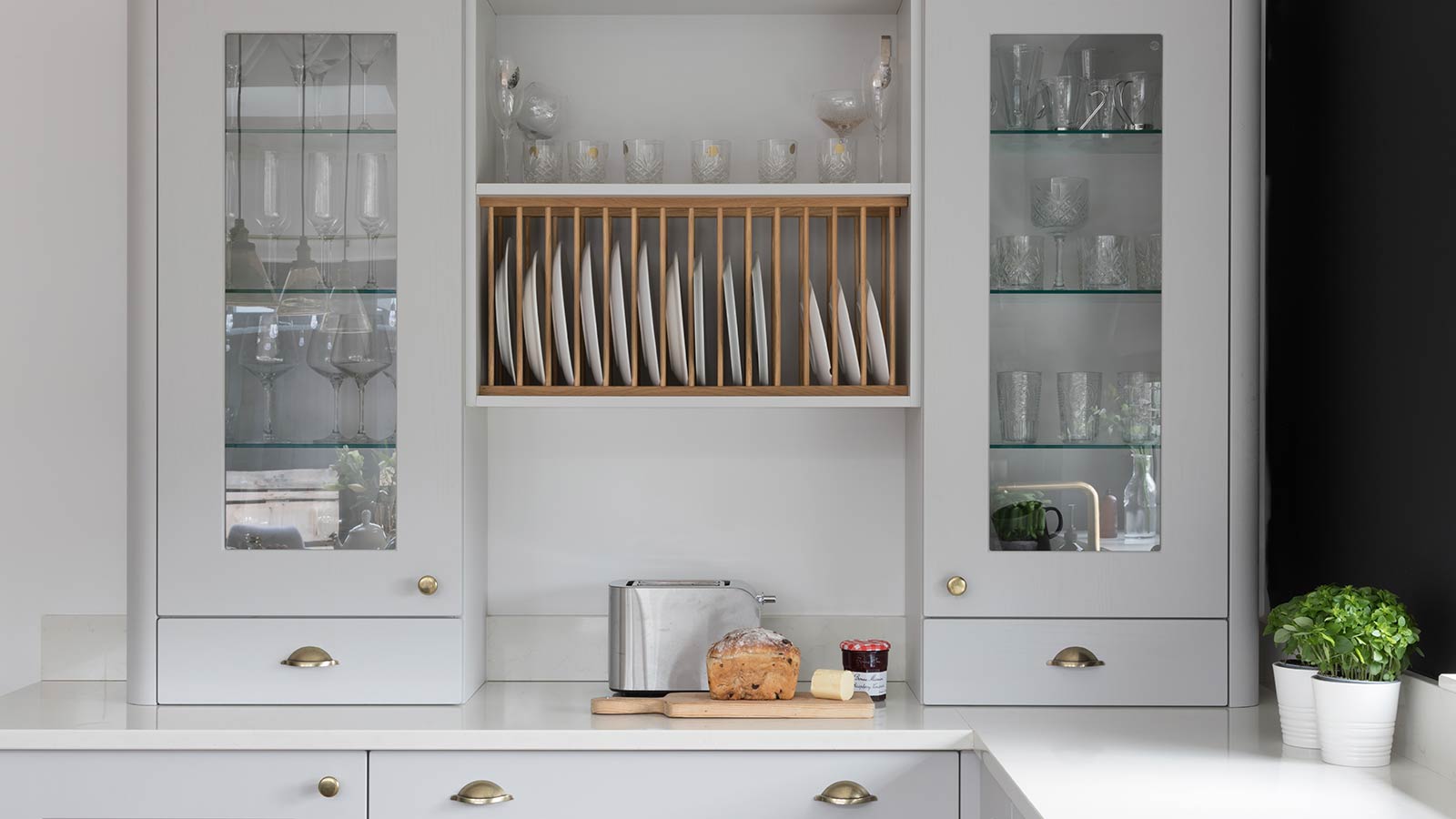 A great idea is to combine a plate rack is Portland Oak with some open shelving above, creating a traditional and practical feature - just like LDC Kitchens in Worcester did for their happy customers.
Do you love the traditional look?
Then why not take this inspiration and start a conversation with your local Masterclass Kitchens retailer?
Or would you prefer something more modern?
Then take a look at last week's blog post, where we outline Our Top 4 Handleless Kitchen Design Ideas.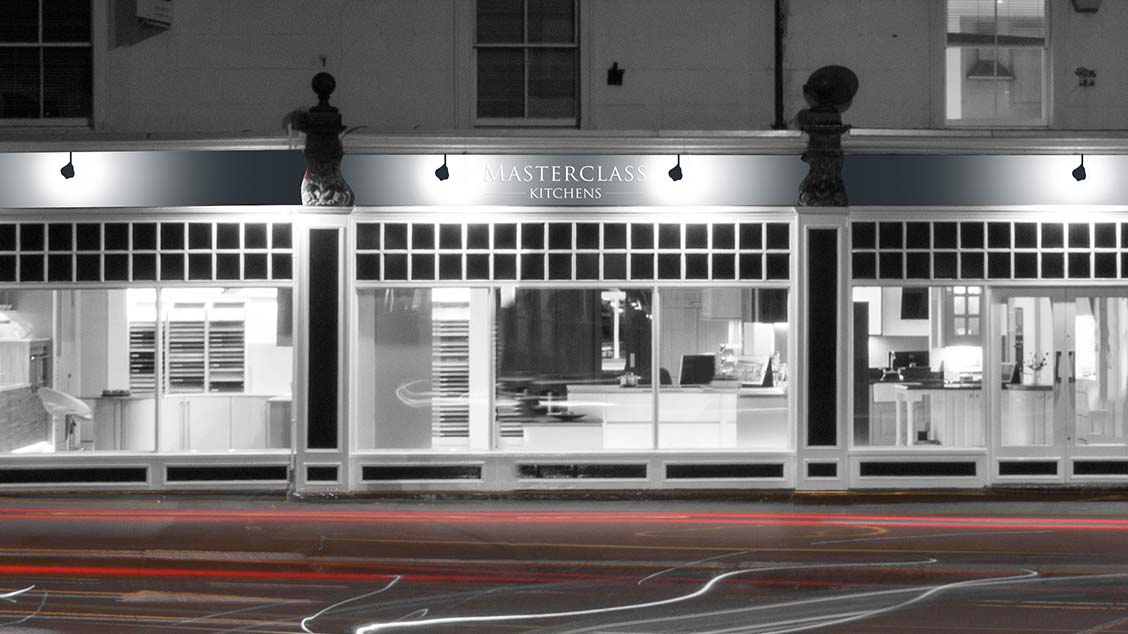 Start your Kitchen Inspiration journey at a Masterclass Kitchens Retailer
Talk to a Masterclass retailer to get your very own kitchen design. Our experts will produce a 3D design and quote based on your dream kitchen wish list.
Find Your Local Retailer