Your choice of kitchen worktop in your dream home needs to be tough, practical and stylish and at Masterclass Kitchens we have brought you exactly that.
To keep up with all market trends in kitchen worktop design we have introduced a new selection of laminate kitchen worktops that are available in lifelike wood, stone and marble effect finishes.
What worktops are best for you?
Our new worktop ranges Ligna and Milano provide an affordable alternative to solid worktops, meaning you can achieve your desired high-end kitchen look as an alternative to stone or wood worktops.
This means that you can invest more of your budget into beautiful and practical storage solutions that will enhance your lifestyle.
What's so good about our new laminate worktops?
They'll allow you to achieve high-end kitchen style and quality without breaking the budget
They're hygienic and easy to clean
They're low maintenance and hard wearing
They also look amazing – they're available in a lifelike selection of lifelike wood, marble and stone effect styles
They're versatile – they can be used as open shelving, splashbacks, upstands and gables
To help you choose your dream kitchen worktop we've created a simple kitchen worktop guide to inspire you on your journey...
Farmhouse Chic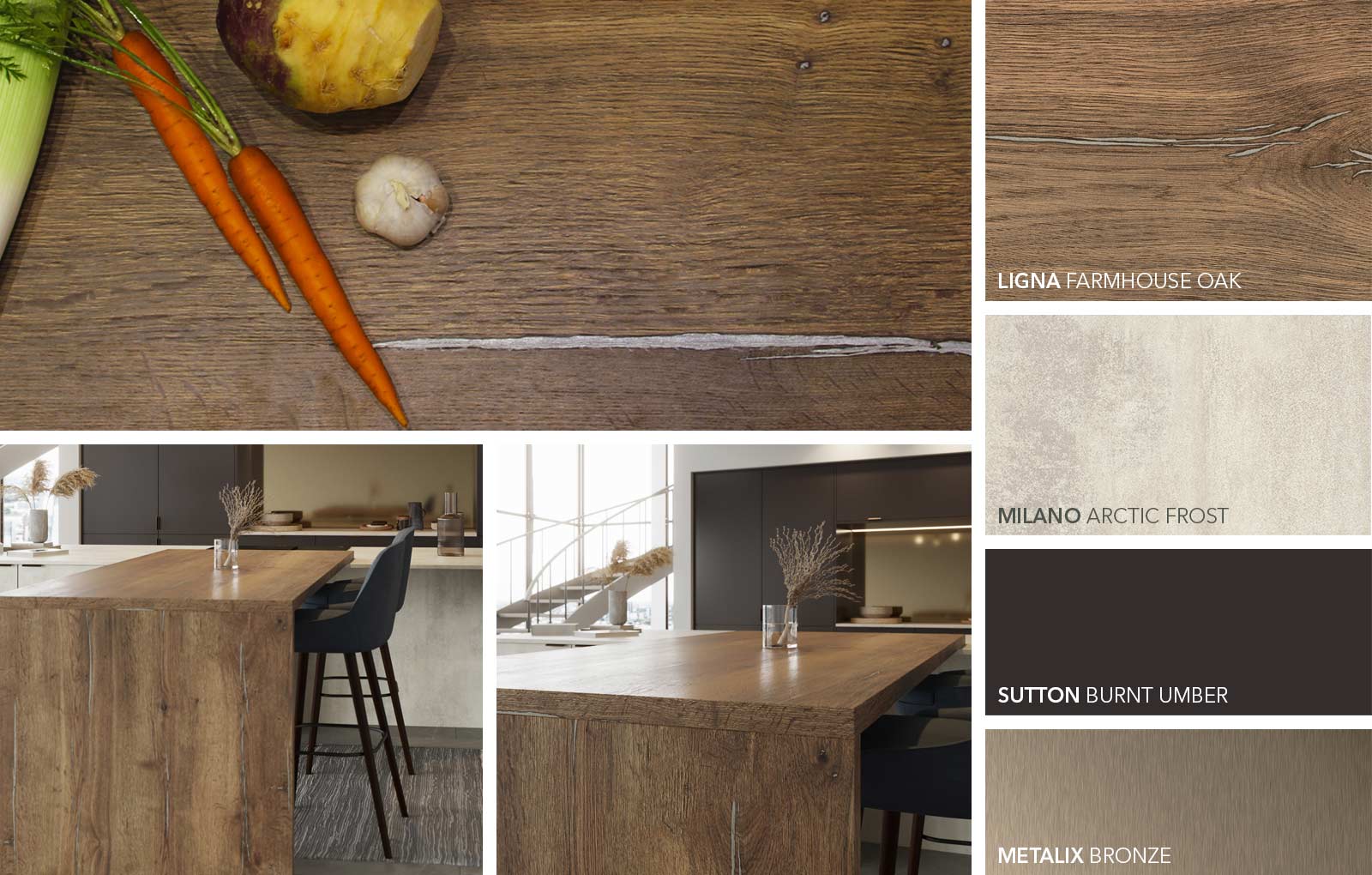 The Warm and Rustic look: Ligna Farmhouse Oak paired with Metalix Bronze, Sutton Burnt Umber and Milano Arctic Frost
Add some character to your kitchen design with wood effect worktops - our Ligna range comprises of 5 warming wood effect tones that will work beautifully in a classic kitchen or modern kitchen design.
The Rustic Modern Look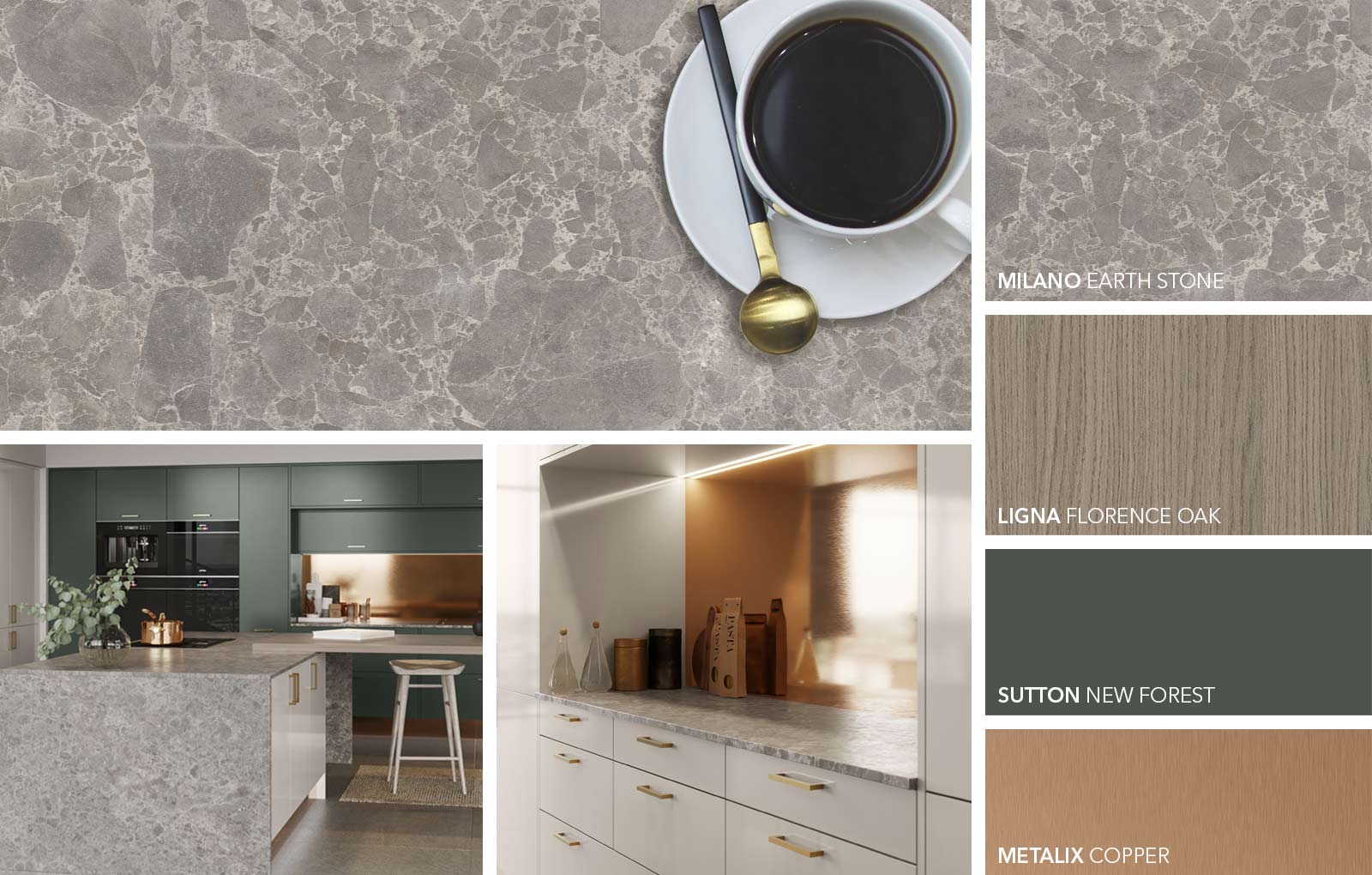 The Copper Showstopper look: Milano Earth Stone paired with Metalix Copper, Ligna Florence Oak and Sutton New Forest
Grey is a phenomenon in kitchen design that doesn't end when choosing your kitchen worktop. Our versatile grey kitchen worktops perfectly complement bright coloured cabinets or work seamlessly alongside other grey tones within your space.
The lifelike stone finish in our Earth Stone worktop is a wonderful choice for a classic or modern kitchen looking to add a rustic touch in their home.
The Luxury Worktop Look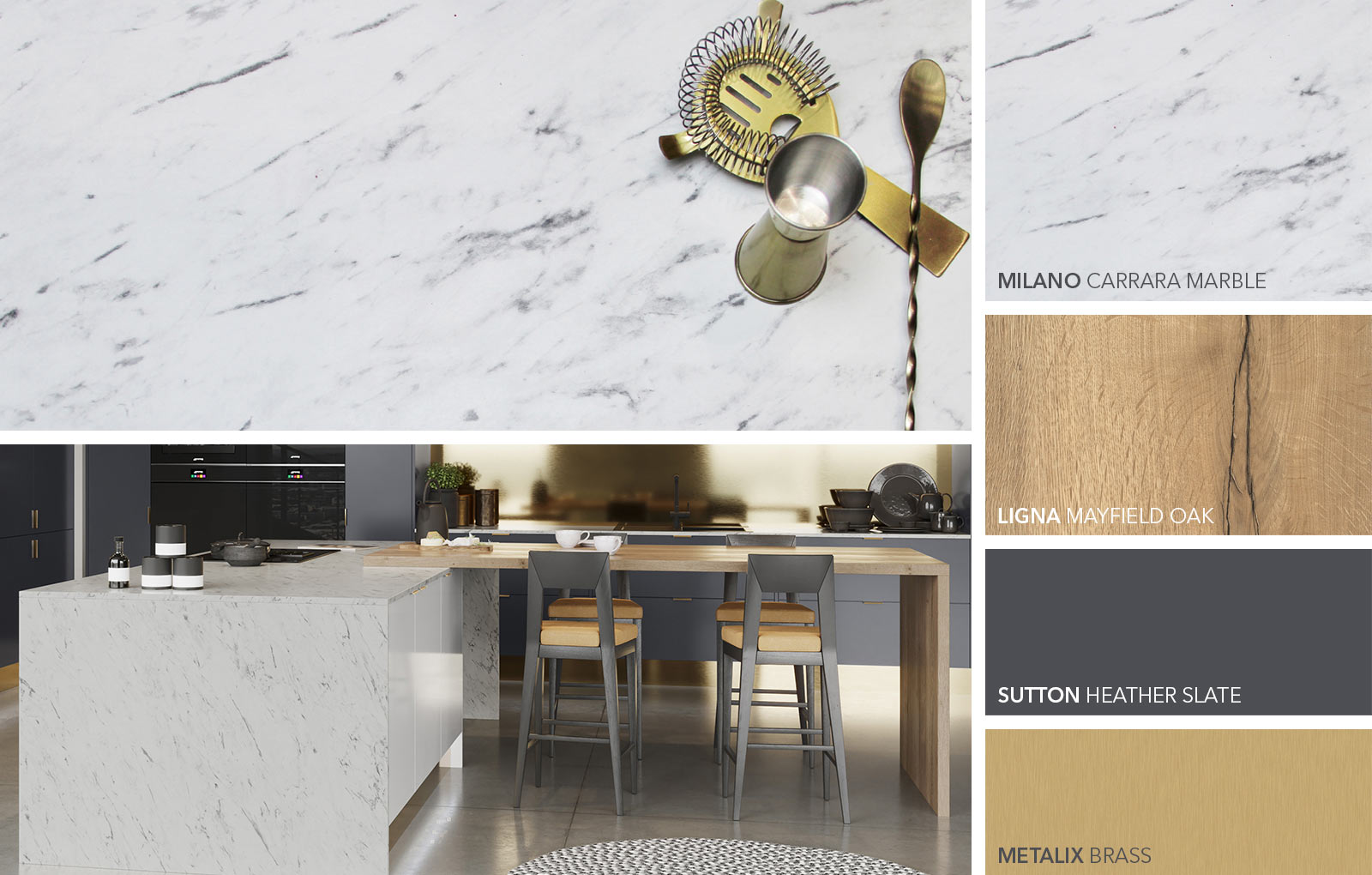 The Elegant Glamour look: Milano Carrara Marble paired with Metalix Brass, Sutton Heather Slate and Ligna Mayfield Oak
Recent years has seen the revival of white marble, therefore it comes as no surprise that our marble finishes are firm favourites with homeowners. Levante Marble and Carrara Marble are marble worktops that will brighten any space, making them a great option for all sized kitchens.
Dare to go Dark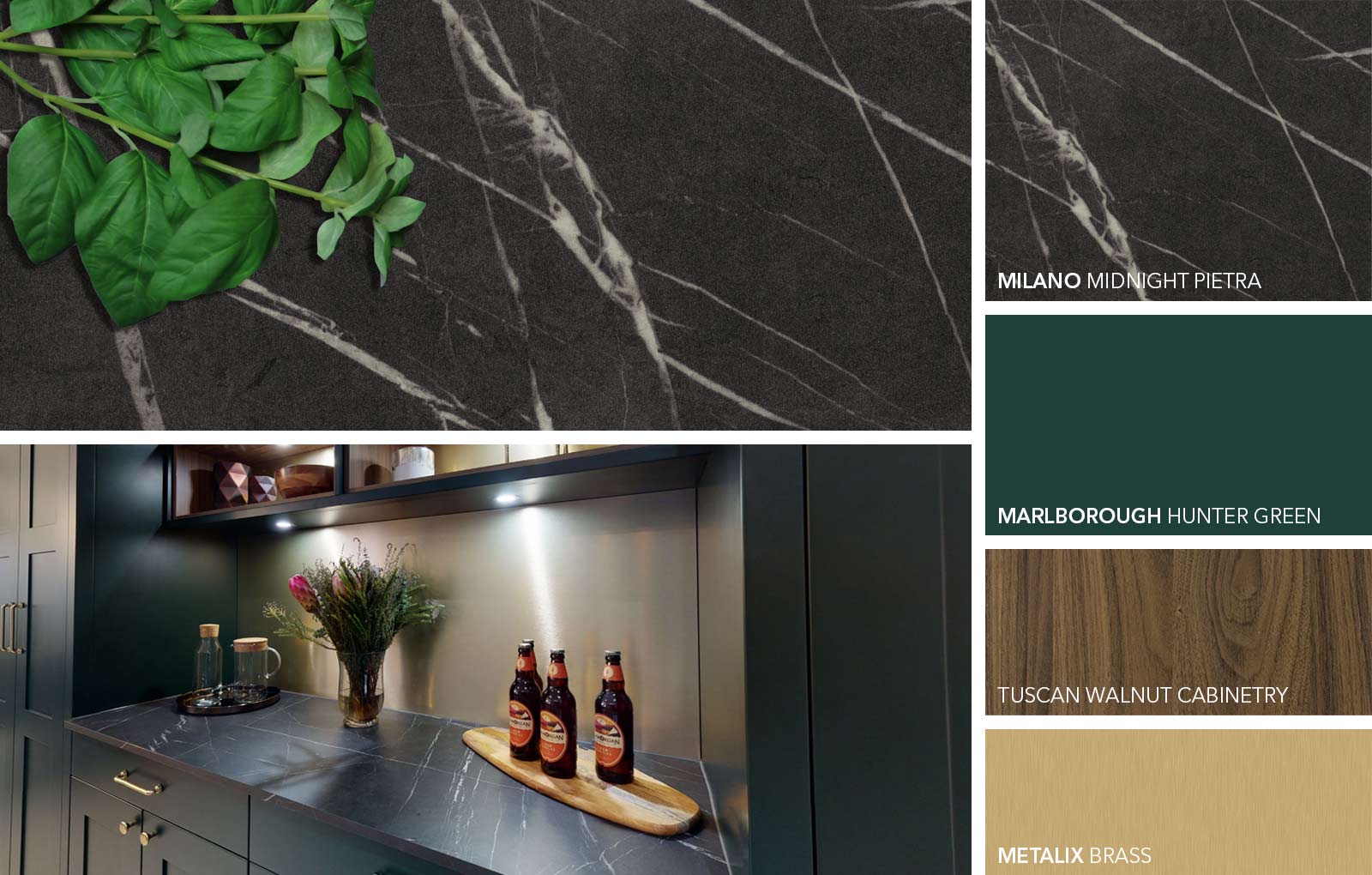 Milano Midnight Pietra paired with Metalix Brass, Marlborough Hunter Green and Tuscan Walnut cabinets
Looking to add a touch of drama in your kitchen design? Dark marble worktops are a great option if you're looking to add deep rich tones in your kitchen design. Our Truffle Pietra and Midnight Pietra are great options for larger kitchens, especially when paired with one of our favourite painted colours.
Industrial Stone Worktops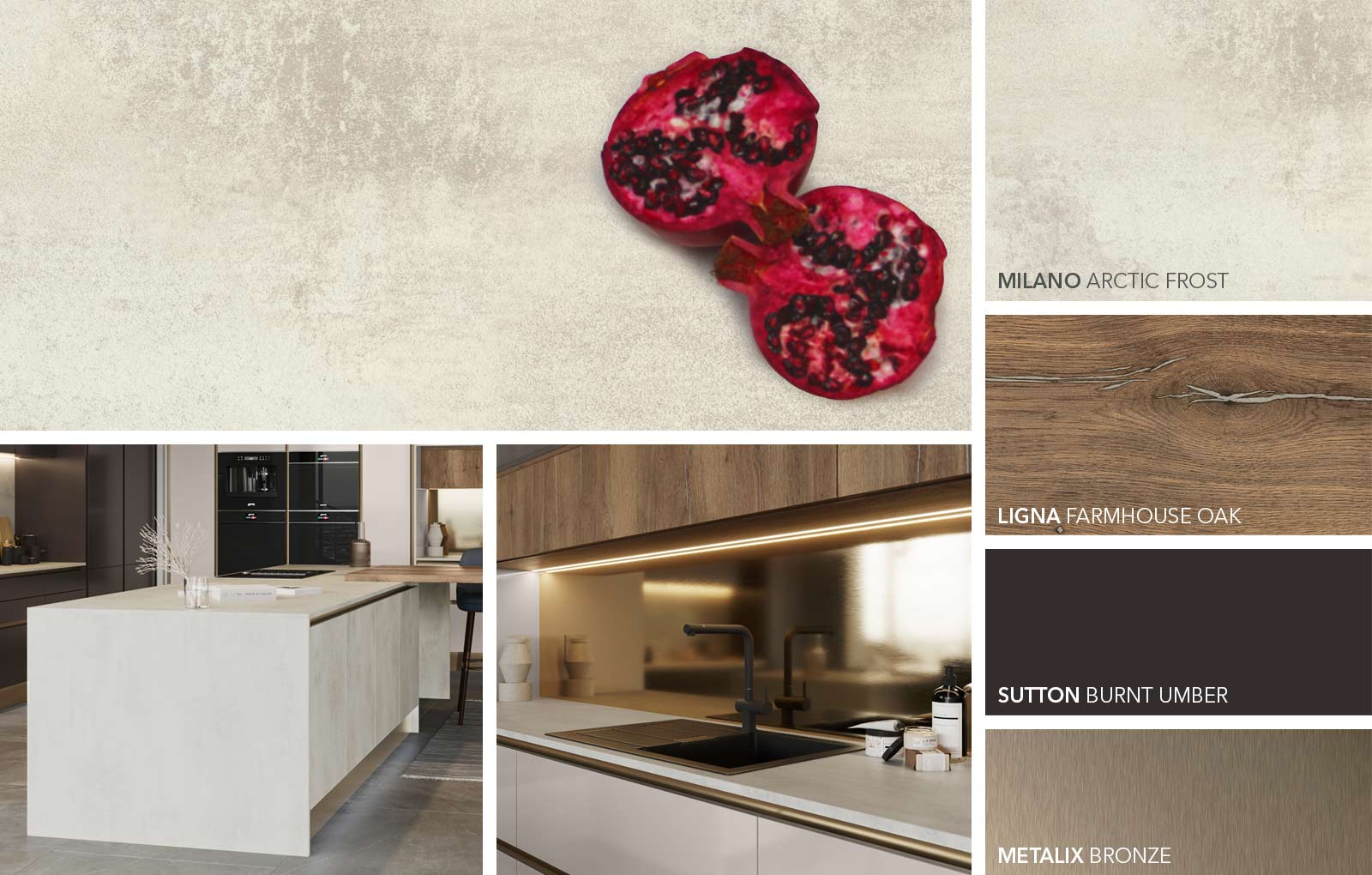 Milano Arctic Frost paired with Metalix Bronze, Sutton Burnt Umber and Ligna Farmhouse Oak
If you're opting for a modern kitchen scheme, we have stone effect worktops that provide a sleek modern industrial look. Our finishes Artic Frost and Silver Shadow are concrete effect worktops that provide a modern alternative to marble worktops. The grey tones can be paired seamlessly with an array of colours, from the bold Graphite to cool Scots Grey.
Talk to a Masterclass Kitchens retailer about your worktop options
If you love what you see here, talk to one of our expert kitchen retailers about your options - you can find your nearest retailer here.
Or, if you would like even more inspiration then you can view and download all our free brochures and magazines online.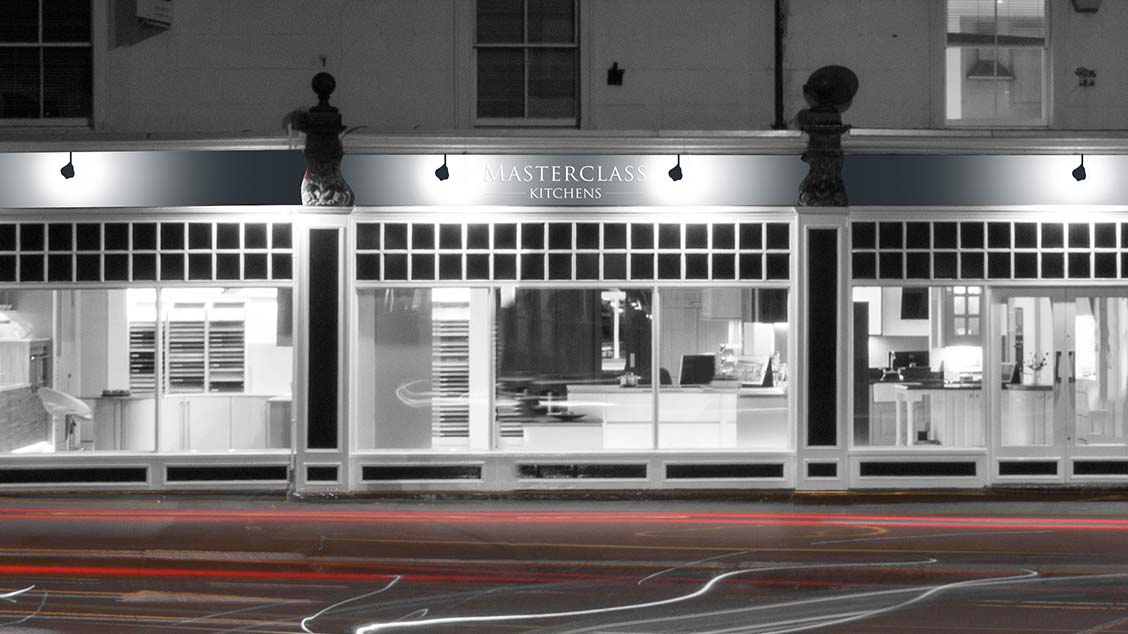 Start your Kitchen Inspiration journey at a Masterclass Kitchens Retailer
Talk to a Masterclass retailer to get your very own kitchen design. Our experts will produce a 3D design and quote based on your dream kitchen wish list.
Find Your Local Retailer