Retailers
Q&A: Steve Field from LDC Kitchens
We sat down with Steve Field from LDC Kitchens - our Platinum Partner Retailer in Worcester - to talk about the latest kitchen trends, and some of his favourite designs.
What is your career background?
I have enjoyed an exciting journey in the kitchen industry, which began as a Branch Manager for a well-established kitchen company. This was the time to break out of a car sales job which was the foundation of my selling career. I went on to manage the kitchen branch for 5-6 years and during this time I involved myself in all aspects of the kitchen including the design side.
I then went on to experience the handmade market and hand painted kitchens. This was to further my knowledge in kitchen design opportunities and gain more industry knowledge. At the point, I realised I wanted to start my own kitchen business one day and take all the great experiences that I had learned with my former employments and add them to my own idea's on how to improve the customers experience through their projects.
I proceeded to set up LDC Kitchens along with David O'Brien in April 2012 and since that day have shared some fantastic experiences in the designing and supplying of the kitchens.
What is your favourite trend right now in kitchen design?
I love the simplicity of open units. I enjoy playing around with designs, especially the modern layouts, and incorporating different types of open cabinetry with contrasting finishes and a little lighting. The opportunity's are endless and they always make a kitchen really stand out.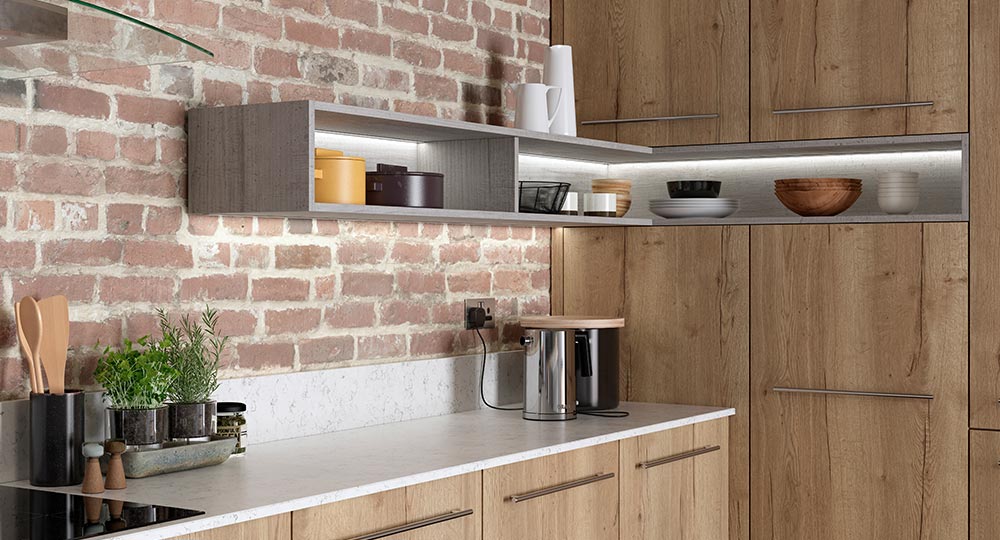 Madoc Mayfield Oak with Manhattan open units.
What is your favourite aspect of designing a kitchen?
When the customer gives you creative free rein and then working to impress each client with something that really engages them. They will often be guided by your expertise in this field, which is a great feeling! I really like to get to know the client and find out what type of lifestyle they lead, so I create the perfect space for them. All kitchen designers have or will come across a flat room from time to time where we are really tested to come up with a dynamic kitchen that delivers the wow factor. When you find yourself in this position and the client responds really positive to things and you see the order through. There is no greater buzz!!
What advice can you give to anyone looking to purchase a new kitchen?
Don't assume a kitchen is just a kitchen and therefore that standards are all the same. Make comparisons to see where the quality and the value in the product sits. Timing is also key for keeping your project timescales in check. You should allow 6 – 8 weeks minimum to avoid delays or guess work. It is never to early to talk to your designer as many new kitchens today feature central islands & Peninsulas with amenities within. Building trades need plans early on to carry out 1st fix work on flooring, which happens early in the build.
What is your favourite colour from the Vibrant Colour Palettes?
My personal favourite is the Oxford Blue! Love the impact this has with a light worktop and a contrasting door. I am also fond of the Vintage Rose door in the shaker finishes. We just had to get these new colours into our showroom recently to allow customers to see them.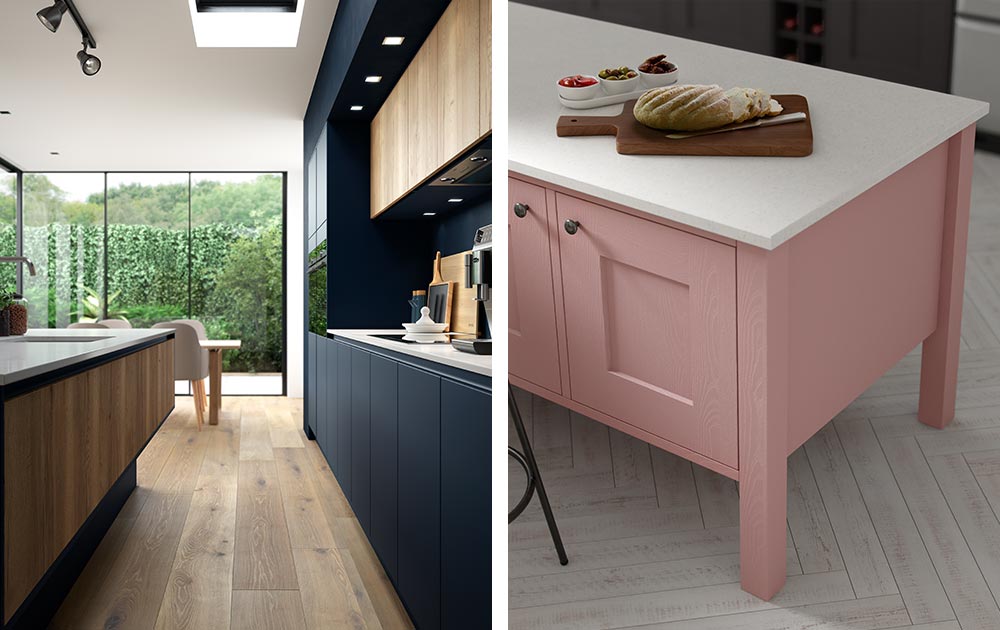 Steve's favourites from the vibrant palette. Left: Hampton H Line in Oxford Blue. Right: Solva in Vintage Rose.
What is your favourite feature from the Masterclass Range?
My favourite feature from the masterclass range is the pantry larders! I absolutely love the options to tailor the cupboard to each respective client, they have so many great internal refinements, and with the new Portland Oak & Tuscan Walnut, the inside looks amazing and oozes a prestigious quality. A cabinet like this can hold so many things and lit internally with maybe a little mirror board in the back is simply market leading stuff.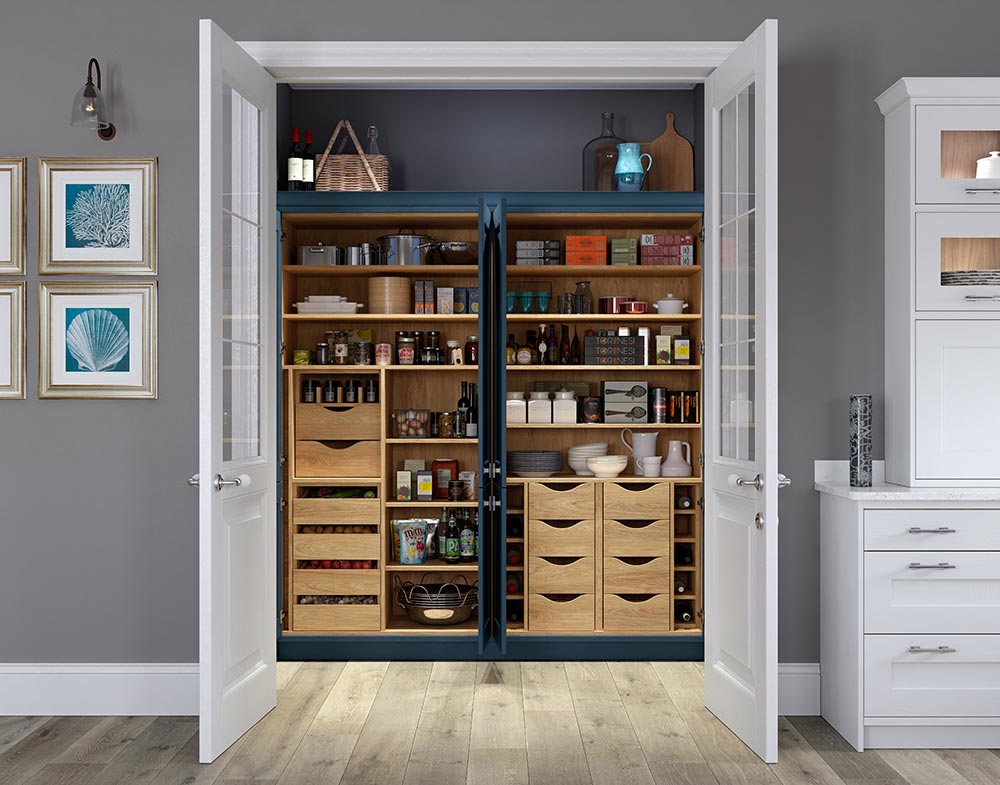 Our must-have Pantry larder.
What has been your favourite kitchen to design and why?
One of the kitchens that I designed last year has to be one of my favourites. I think this is because it was an average size room that has many elegant features like a nice log burner, and it has a lantern to flood the room with light and it really does rock the H-Line range featuring Deco Tundra Stone & Sutton Light Grey.
The design was equipped with many high end refinements such as a built in coffee centre, steam oven, combi oven/microwave, built in 32 bottle wine cooler and an all in one Quooker Flex boiling water tap, so it really did have everything.
The kitchen featured some cool open shelving in the Tundra Stone finish and the customer specified for excellent lighting, which really helped to prop the kitchen.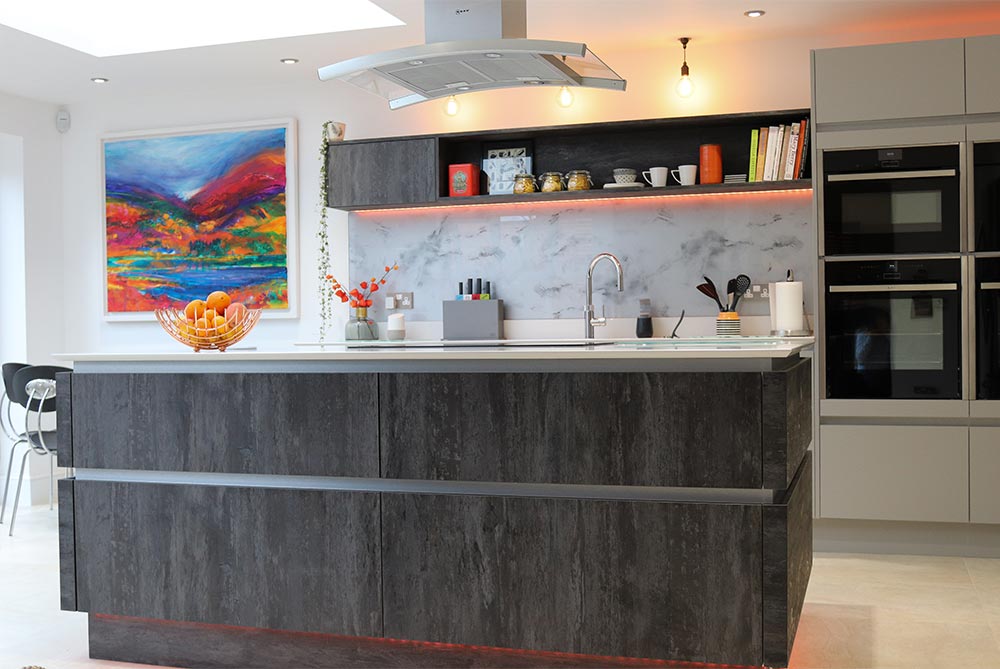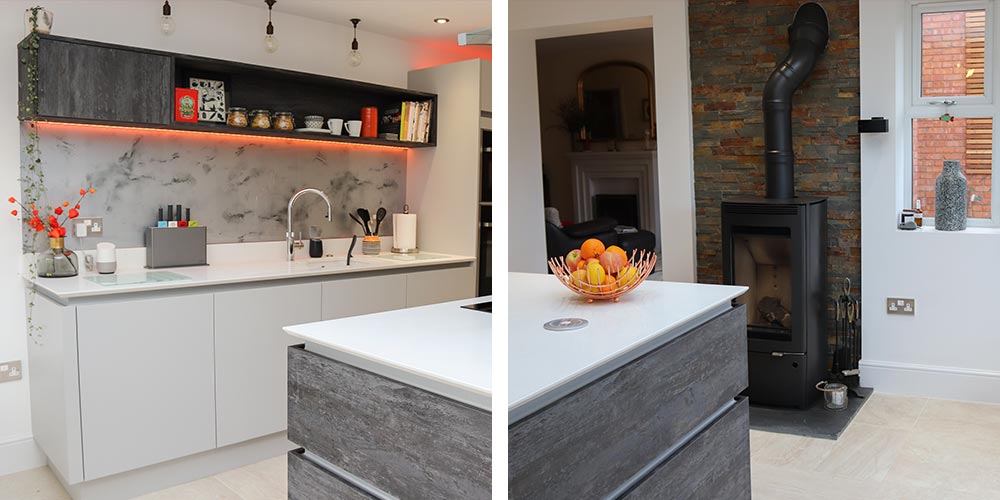 Feeling inspired?
Then why not visit your nearest Masterclass Kitchens retailer. They will listen to what your heart desires, then create a kitchen that is right for you, your lifestyle and your budget.
With over 90 retailers across the UK and Channel Islands, they will be on hand to create the kitchen of your dreams and be your personal design experts.
Find A Retailer