Bar Dresser
Raising the Bar on Your Hosting Game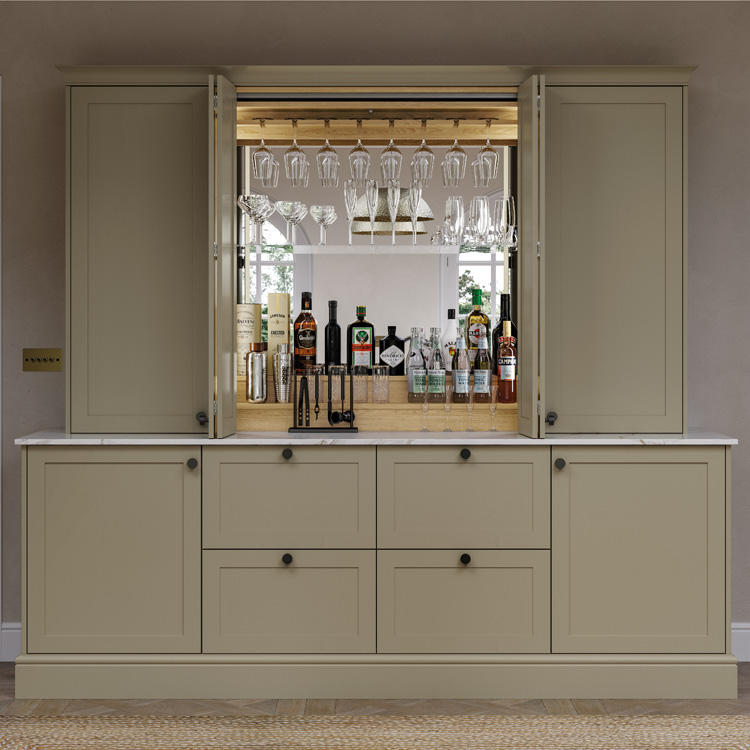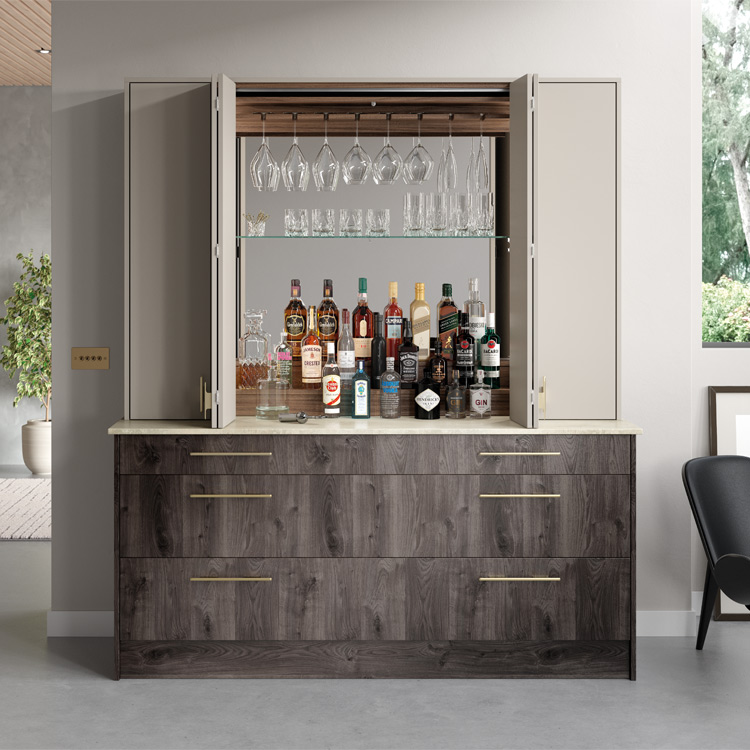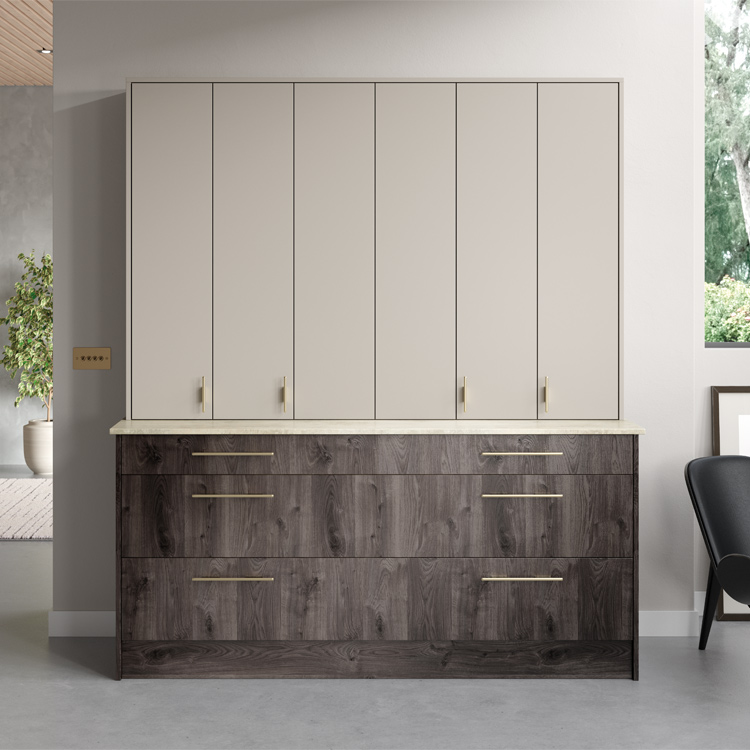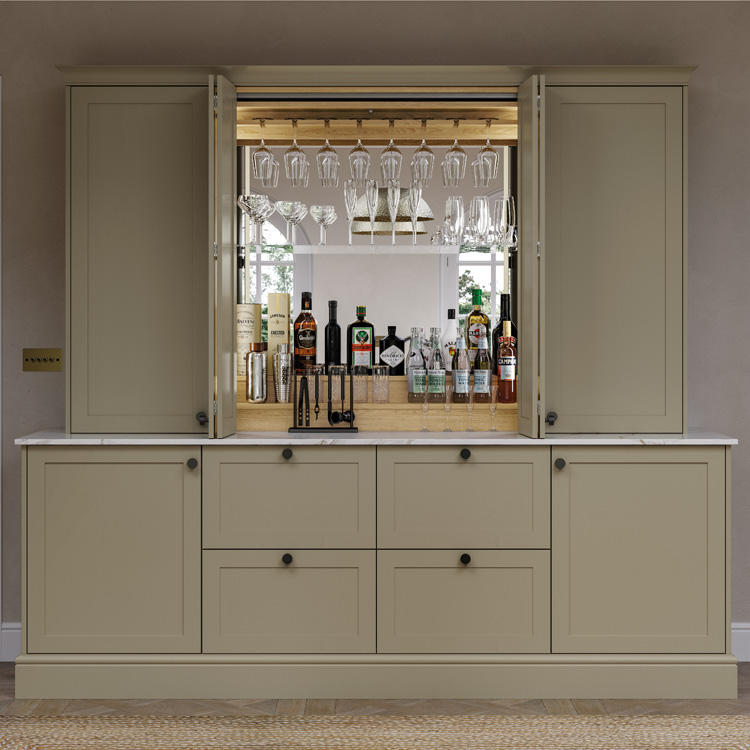 Bar Dresser
Bar Dresser Kitchen Cabinet
Try this home bar unit. Share cocktails or unwind with a spirit after a hard day. Bedecked with bi-fold doors, strip-lit shelves and a wine rack, this tall drinks cabinet is your own personal speakeasy.
Features our innovative cabinet as standard
Constructed using FSC® certified wood
Lifetime Guarantee on Blum Hinges
Get a 3D Design & Quote
See More Images
Sporting hundreds of combinations, each dresser is gorgeous yet practical and optimised for making memories. Complete with two wooden shelves for bottles, a glass one for mixology equipment, and a wine glass rack for glassware, this home bar unit keeps everything in one place, affording you the headspace to be present while celebrating.

Near-Endless Style Combinations
The bar dresser is available in hundreds of styles and colour combinations to suit modern and traditional tastes. Plus, it's compatible with a variety of lighting choices.

Simple Delivery and Construction
At Masterclass, we assemble all bar dressers personally and deliver them to the correct ground-floor room in your home for a dedicated fitter to install.

Sturdy and Long-Lasting
Designed to be robust and water-resistant, our bar dressers are durable and last a long time. In fact, we're so confident that the Blum hinges and drawer runners come with a lifetime guarantee.

Compatible No Matter Your Kitchen Size
Available in two widths and with space-saving bi-fold door options, Masterclass bar dressers can slot into a range of kitchens.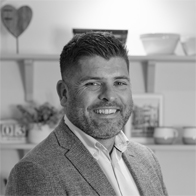 " So many of us feel rushed these days that we forget to live in the moment. Our clients say, though, that their bar dresser gives them an excuse to sit back and enjoy mixing a cocktail or pouring a glass a wine. It reminds them to relax with their family or invite friends over for a dinner party."
— Edward Lakin, Branch Principal at Sigma 3 Kitchens Cardiff Culverhouse Cross
Talk to a Designer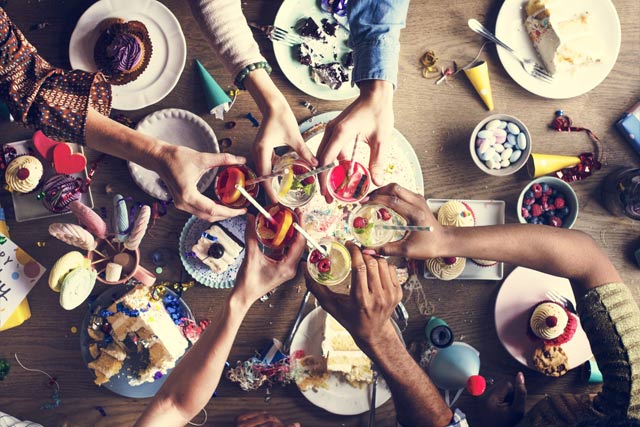 Ways to Use Your Bar Dresser
Embrace Nights In: More than a mere drinks shelf, the bar dresser can help you transform a whole kitchen corner into a cosy place to unwind with a stiff drink.
Enhance Your Home Bar: Breakfast bars make for fantastic party social spots. A dedicated cocktail cabinet, however, lets you level up the party vibe and keep everything in one place.
Host Bottomless Bunch: While the bar dresser's name suggests you use it exclusively in the evening, it has day-round applications. You could even use it to host a Ritz-style bottomless brunch at noon.
Never Waste Drinks: Keeping track of half-drank liquors and perishable garnishes isn't easy, but a bar dresser will help you keep on top of ingredients and expiration dates.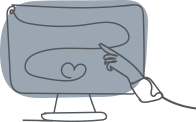 The Journey to Your Dream Kitchen, Featuring a Bar Dresser
1.

Find Your Ideal Kitchen Aesthetic

Explore our free brochures to discover your favourite style and colour palette.
2.

Talk to Your Local Retailer

Tell one of our expert kitchen retailers about your dream kitchen requirements and budget.
3.

Create Your Kitchen Wish List

Tell us all about the specific features you want in your ideal kitchen space – you can complete your Wish List here.
4.

Get a Design and Quote

The exciting part! Get a 3D design and quote from your local Masterclass retailer.
5.

Let Us Handle the Rest

Relax as we manufacture your kitchen and deliver it ready for your fitter to install.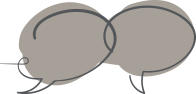 Don't Take Our Work for It
" After comparing a lot of kitchens, I fell in love with the Masterclass range, especially the wood-effect cabinets with matching cutlery tray. The designer was incredible and knowledgeable. He worked his magic and created the perfect layout."
— Beth, Trustpilot Review
" The Masterclass products are excellent quality and well worth the investment. Each item is user-friendly, robust and solid. All cupboards and drawers open smoothly and are well designed for family life. I cannot find any fault with any of the Masterclass products."
— All, Trustpilot Review
" Masterclass provided a full service from listening initially to my requirements, advising, designing, through to fitting the kitchen and utility. [...] Some of the features I am especially pleased with are the wall bi-fold units which fold upwards, the VelaBins (so useful) and the H Line base units with pull-out drawers; so easy to reach everything."
— Mr & Mrs W, Trustpilot Review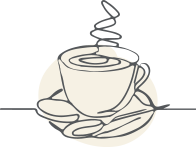 Customer Questions Answered
Q:

What are the weight and space capacities of our bar dressers?

Each bar dresser has a cabinet depth of 340mm and ample shelf strength to hold bottles, funnels, strainers, glassware – all manner of bar paraphernalia.
Q:

Are these dressers available with all kitchen ranges and colours?

Mostly. Our bar dressers are compatible with all our ranges except for our H Line (handleless) cabinets.
Q:

Do your bar dressers come in a variety of height options?

The bar dresser is a countertop element. Hence, it only comes in one height option regardless of your chosen width. However, different base cabinets can influence the overall height.
Q:

What are the electrical requirements for your bar dressers?

All our bar dressers come with motion sensors installed along with LED strip lights. You won't require a plug socket as your dresser will be hardwired into your kitchen circuitry.
Masterclass Kitchens have featured in