Versatile, simple and timeless. There's no wonder that the shaker-style kitchen has stood the test of time.
This popular kitchen style is available in a beautiful selection of colours and finishes, so you're bound to find a design you'll love. The large choice of colour palettes combined with the expertise of our retailers means you can tailor the final design to your needs. Choose a more traditional or modern shaker kitchen layout that suits the look and feel of your home.
Our Shaker Kitchen ranges
What is a shaker kitchen?
The shaker kitchen design marries a timeless blueprint with a modern flourish.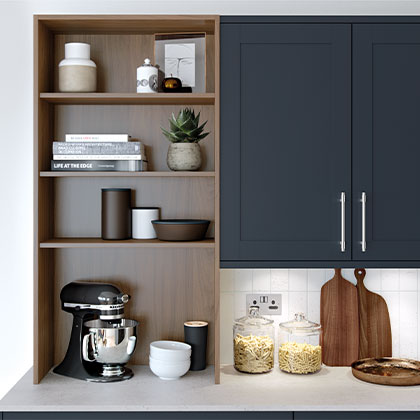 When someone pictures a shaker kitchen, they'll either envision a minimalist design with smooth, painted finishes, or a more traditional look with grained finishes and features such as a mantle, or a torus plinth.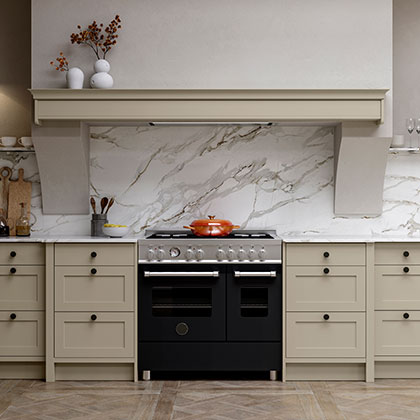 Colours can either be muted, ranging from heritage grey to olive green, or with dark tones, more dramatic tones such as Graphite or Moonlight Blue.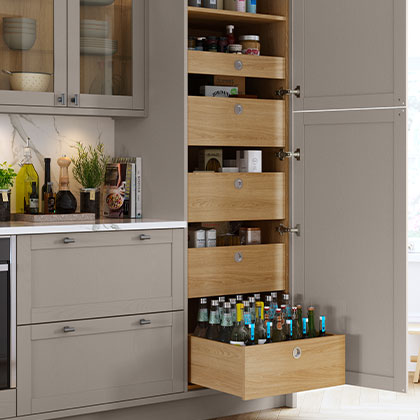 You can put your stamp on a shaker kitchen design through the cabinet and kitchen storage options . Opt for a SpaceTower pantry in our Portland Oak finish for plenty of easily accessible and stylish space.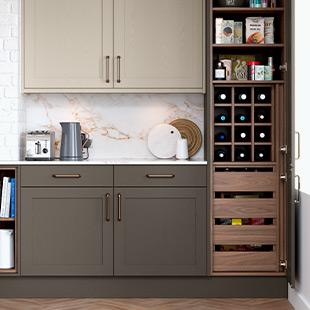 The units and cupboards of a shaker kitchen are characterised by flat centre panels with no cluttered details. Simplicity is everything.
The history of Shaker Kitchens
The shaker style dates back to the 1800s and is associated with a religious group called the Shakers. Minimalism was at the heart of everything they did and this was reflected in their surroundings. This is how the shaker style kitchen was born. While shaker kitchens draw from traditional and functional design, they can be adapted seamlessly into modern kitchens.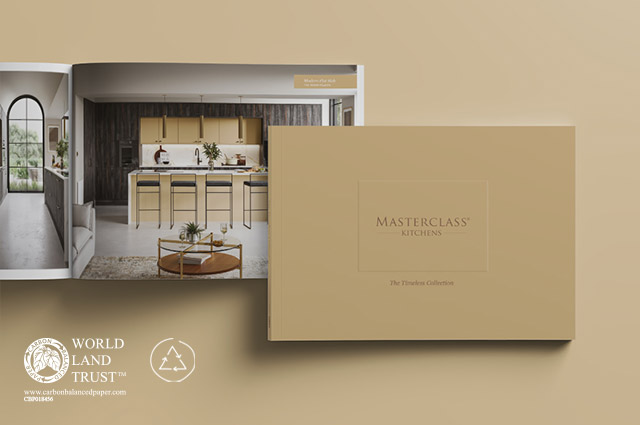 Need inspiration for your shaker kitchen?
Looking for shaker kitchen design ideas? You can request a free brochure or magazine to browse expert advice and inspiring imagery that will help you start your shaker kitchen journey.
Shaker kitchen ideas
If you need an initial boost of inspiration to get the ball rolling, you can browse our shaker kitchen designs below. From natural oak shaker units to Tuscan walnut cabinets, there's plenty to be inspired by.
We are here to help & inspire you
Why choose Masterclass Kitchens for your shaker kitchen?
We place exquisite design and expert craftsmanship at the heart of all our shaker kitchen designs. This means we can provide you with the bespoke shaker kitchen you've always dreamed of while knowing that due care and attention has been paid during the manufacturing process.
We're an award-winning company with almost five decades of expertise behind us, linking back to our humble beginnings manufacturing kitchens for family and friends.
On top of this, we work hard to ensure our impact on the planet is minimal by using sustainably sourced resources and clever technology so that we can work as efficiently as possible. Our network of specialist kitchen retailers share our values and expectations when it comes to kitchen manufacturing and taking pride in the craft.
We're rated 'Excellent' on Trustpilot and have plenty of reviews on our website should you want further insight. To give you even more confidence, we provide a comprehensive warranty too.
Get our free brochures and magazines and head down to your nearest showroom to see our shaker style kitchens in person. If you have any questions, feel free to contact us.
Shaker kitchen FAQs
The final quote for your shaker kitchen will depend on several factors, as with any fitted kitchen . Everything from the cabinetry to the storage features and even the handles you choose will come into play. Materials and finishes can influence the end price too. Solid wood, for example, will greatly vary from laminate worktops .
To help you with your initial cost estimations, we can tell you that prices start from £12,000. Speaking with your kitchen retailer will mean you can receive a more accurate figure based on your shaker kitchen design choices . Regardless, our quality craftsmanship will mean you get a seamless finish and a high-end look you can be proud of.
Your journey to getting a shaker kitchen with Masterclass Kitchens is simple. There are six steps involved:
Find your local showroom
Create your Wish List
We'll measure your space
We'll create your bespoke 3D shaker kitchen design
We will present you with your 3D shaker kitchen design and quote
We'll make your kitchen
We have several Masterclass Kitchens showrooms you can visit, each fitted with setups that will mean you can see and feel the craftsmanship in person.
It's here you will meet the experts who will draw up your bespoke, 3D shaker kitchen design. You can also discuss budget and style preferences to help bring your ideal shaker kitchen to life before receiving a quote.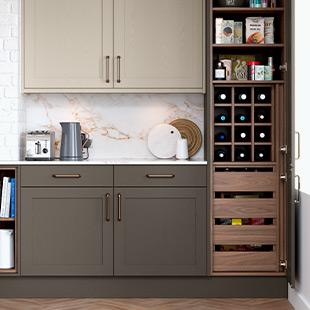 The units and cupboards of a shaker kitchen are characterised by flat centre panels with no cluttered details. Simplicity is everything.