Elegant, customisable and designed with timeless appeal in mind, our modern kitchen ranges offer unparalleled luxury.
Characterised by sleek lines and flat slab doors, this popular kitchen style is the epitome of modern luxury kitchen design. Here at Masterclass, we offer a wide array of colours, textured finishes and showstopper features, enabling you to enhance your new kitchen with a unique combination of contemporary kitchen design and storage solutions. Pair your selection with traditional or modern accessories and you can attain a look that's truly original and suits your personality.
Our Modern Kitchen Ranges
What is a Modern Kitchen?
The best modern style kitchens marry a minimalist simplicity with timeless sophistication.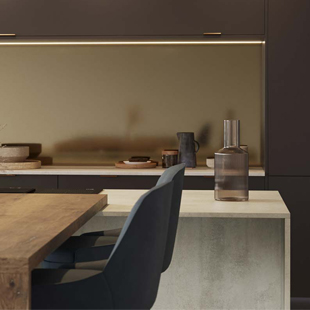 Often, when someone imagines a contemporary kitchen, they picture bright, glossy finishes. But a cosy look is possible, with metallic splashbacks and warm spotlights.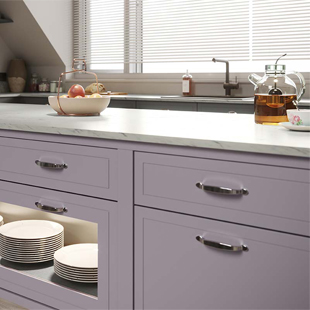 Modern doesn't have to mean clinical. At Masterclass, our expert designers can create you a modern, colourful kitchen with warm and cool tones, or even natural-effect finishes.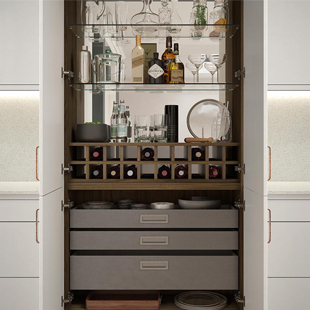 Sceptics claim modern style kitchens lack character. However, armed with years of experience, we always include charming touches and unique kitchen storage options.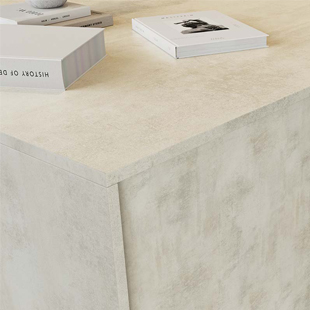 The most elegant luxury modern kitchen designs promote minimalism. That said, like modern lives, they don't crumble under complexity. Rather, texture and design features can enhance them.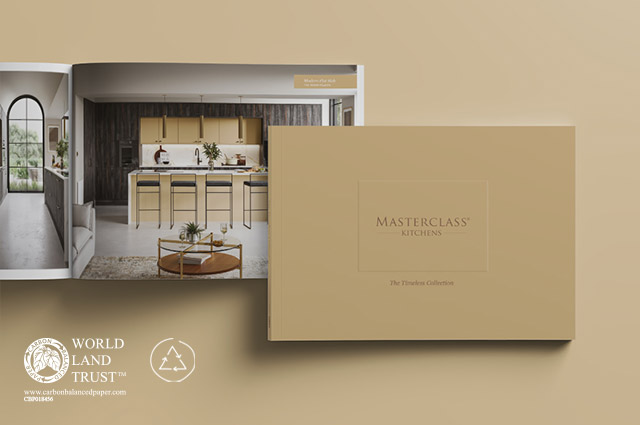 Need Inspiration for Your Modern Kitchen?
Looking for modern kitchen design ideas? Order one of our full-colour brochures to browse our complete range and take advantage of expert advice.
View Free Brochures
The History of Modern Kitchens
According to architect-historians, the modern kitchen started life in the 1930s when individual benches made way for modular units and continuous worktops. Over the next few decades, refrigerators bested larders, laminate finishes entered the market—so did chrome—and LED spotlights lit up the scene. Then we got handleless kitchens with clean lines and cutting-edge tech. The modern kitchen was born and matured into its current form: Modern Kitchen 2023.
Modern Kitchen Ideas
A kitchen isn't just a stylish room; it's an extension of your identity and a stage for making memories. Hence, to choose the ideal contemporary kitchen for you, it's important to use your lifestyle as inspiration. We provide plenty of initial inspiration in our lifestyle blog if you need it. However, if you're all set, check out our modern kitchen ranges below to take your search a level deeper.
We are Here to Help & Inspire You
Why Choose Masterclass for your Modern Kitchen?
As a discerning Masterclass client, we know you're likely to be busy and have high standards. Knowing this, we guarantee you impeccable attention to detail at every stage of the kitchen-production process, from planning and design to craft and aftercare. Meanwhile, you can expect a bespoke modern kitchen of impeccable quality, safe in the knowledge that someone else is taking care of the details.
We're an award-winning business with almost five decades of expertise you can track all the way back to a humble business that manufactured kitchens for friends and family. In addition to quality control, we also work hard to minimise our impact on the planet, using sustainably sourced resources and clever technology to maximise efficiency. Our network of specialist showroom partners share our values and expectations.
You don't need to take our work for our quality or ethics standards, either. Indeed, real customers rate us 'Excellent' on Trustpilot and we have plenty of reviews on our website should you want further insight. And if that's not enough, we also provide a comprehensive warranty .
Ready to treat yourself to the modern kitchen of your dreams? Take a look at our free brochures and magazines for our full product list or book a consultation with your nearest showroom and have our experts guide you. Or, if you have any questions, feel free to contact us.
Modern Kitchen FAQs
Coming up with modern kitchen ideas isn't easy when kitchen design isn't your specialism. After all:
What is a modern kitchen?
What features do modern luxury kitchens contain?
Are there standard modern kitchen appliances?
Answering those questions isn't easy because each modern kitchen is different. Generally, as long as your kitchen contains a minimalist design, flat slab doors and gadgets, it's a modern kitchen.
Homeowners commonly come to us with the assumption that white and grey are the only modern kitchen colours. The truth, though, is that modern doesn't have to mean clinical. Indeed, there's nothing stopping you using charismatic colours or breaking up blocks of white with oak cabinets or a modern kitchen backsplash. Modern kitchens can be as colourful as your personality.
Modern kitchens can contain traditional features like pantries. They just tend to sport a more minimalist style. For instance, you can use classic kitchen doors but not pair them with crown moulding. Similarly, rather than opting for a traditional pantry and larder setup, you might choose sleeker options like our Hathaway pantries and MagnaSpace pull-out larders .
Modern kitchens with islands are impressive and practical. Not only do they accentuate straight lines, making any space they inhabit look bigger, but they also offer well-needed surface area, which is perfect for entertaining.
Modern ones are paired back to their basic shape. That still leaves you with lots of opportunities for creativity, though. Take, for instance, this fixed Amalfi island or this freestanding Oxwich one.
Yes! Masterclass Kitchens showrooms exist throughout the country and we welcome visitors. Each store is set up to help you see and feel our high-quality craftsmanship in person.
Simply book a consultation with your local Masterclass Kitchens retailer and one of our experts will design you a bespoke, 3D kitchen model to match your budget and style preferences.
We source a huge portion of our board from FSC® and PEFC accredited forests. As a result, waste wood materials now make up 100% of our board. What's more, we've minimised pollution and energy usage in our processes without impacting our high-quality standards.