Designa
Open now until 17:00
Designa Unit A Pouncy Hall, Liscombe Street, Poundbury, Dorchester, DT1 3DF
Book A Design Consultation
Opening Hours
| | |
| --- | --- |
| Monday | 09:30 - 17:00 |
| Tuesday | 09:30 - 17:00 |
| Wednesday | 09:30 - 17:00 |
| Thursday | 09:30 - 17:00 |
| Friday | 09:30 - 17:00 |
| Saturday | 10:00 - 16:00 |
| Sunday | Closed |
Contact Details
Ashbourne Dust Grey Painted + Ashbourne Light Grey Painted
Hampton Silk Highland Stone Painted + Hampton Silk Mulberry Painted
Hampton Silk Oxford Blue Painted + Hampton Silk Light Grey Painted H Line
Larna Scots Grey
Ligna Mayfield Oak H Line
Madoc Terra + Madoc Border Oak
Marlborough Silk Lava Painted
Solva Vintage Rose Painted
Sutton Silk Coastal Mist + Sutton Silk Scots Grey
Corner Storage Solutions
Extra Depth Cabinets
Internal Pantry Storage Solutions
Internal Pull Out Drawers
Internal Pull Out Storage Solutions
Internal Waste Management Solutions
Portland Oak Or Tuscan Walnut Drawer Boxes
Reduced Depth Cabinets
Space Tower Cabinets
Special Sized Corner Base Cabinets
Walk In Corner Pantry Solution
Widest Deepest Drawers
START YOUR JOURNEY
Book a design consultation at Designa
Do you want to start a journey to your dream Masterclass Kitchen? Then book a design consultation at Designa online here. As a Masterclass Platinum Partner, they have the expertise, experience and knowledge to create a kitchen that matches your design, budget and lifestyle requirements.
We just need a few details: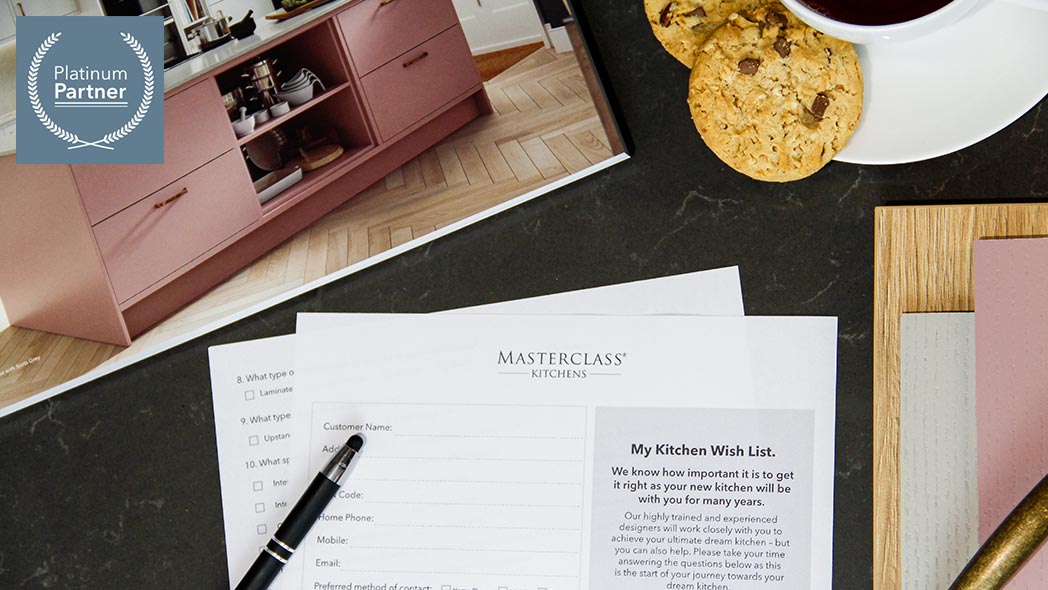 Designa are a Masterclass Platinum Partner
By visiting Designa, you will be able to explore the quality and detail of a Masterclass kitchen up close. You will also receive your very own kitchen design expert who will produce a 3D design and quote based on your dream kitchen wish list.
Not ready to visit us just yet?
Then find your inspiration in our selection of brand new, complimentary brochures. Plus get a copy of the Masterclass Magazine.