An inspiring industrial kitchen
This industrial kitchen designed by Knaresborough Kitchens is the perfect balance between sleek modern design and unique industrial touches.
Every kitchen should be the heart of the home, and that's exactly what the Hunter family turned their industrial kitchen into with the help of Knaresborough Kitchens.
The Hunters combined their personalities and taste to create a perfect kitchen for them as a family—the result; a beautifully unique industrial kitchen.
The Hunter family began their industrial kitchen journey in 2017, which involved creating a large extension for the whole family to gather. The main challenge in the renovation project was finding the balance between Jane's love of raw and recycled materials and her husband's choice of a sleeker, smarter finish.
"I am not a fan of stark, characterless rooms – a family home should resemble the personality of the people living in it."
The end result is genuinely inspiring. Unique details and personal touches fill this family home and truly capture the imagination.
Designing an industrial style kitchen from scratch is undoubtedly an exciting project to embark on. Of course, like any kitchen style, industrial kitchens aren't everyone's cup of tea, but if you're looking to make an original statement in your home, this could be the style for you.
If industrial-style kitchens tickle your fancy, pour yourself a hot drink and let us take you through a closer look at how Knaresborough Kitchens achieved this impressive space.
Stone effect doors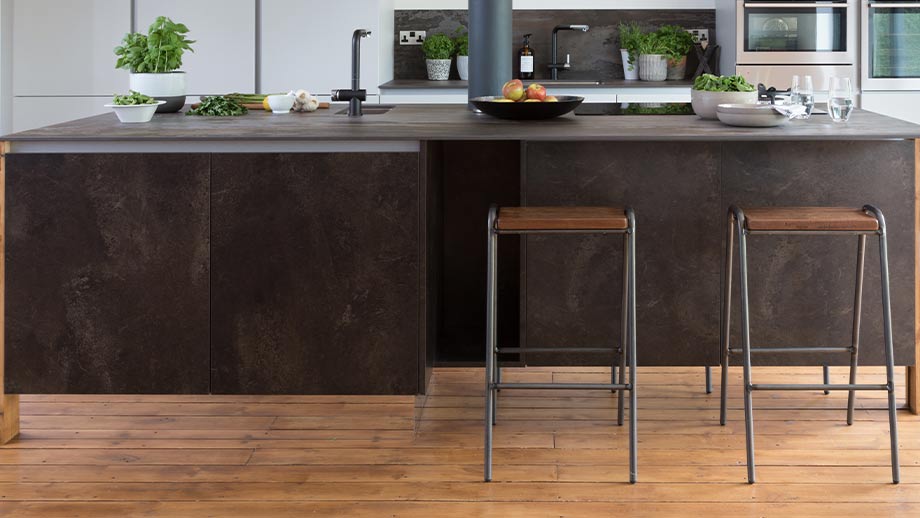 The stone effect finish of our Madoc range plays a fundamental role in the look of this industrial kitchen.
The life-like textures bring a raw, rustic touch to the modern space. What's more, by choosing Madoc for the kitchen island, the designer has created a warming focal point.
If you'd like to incorporate stone textures into your own industrial kitchen design, take a look at more beautiful stone finishes available in our Milano range. These new life-like textures are perfect for splashbacks, worktops and upstands.
Wood textures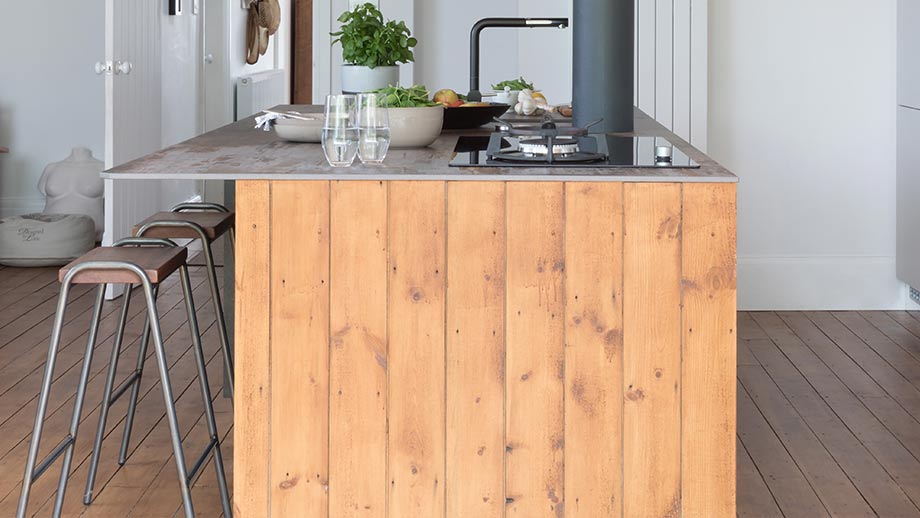 Industrial kitchen design is all about material combination, and this is something this kitchen showcases perfectly.
Wood panelling on the kitchen island adds another dimension to the space. By introducing wood into the design, the Hunter family complimented the stone finish, and simultaneously created a striking contrast.
Contrasting colours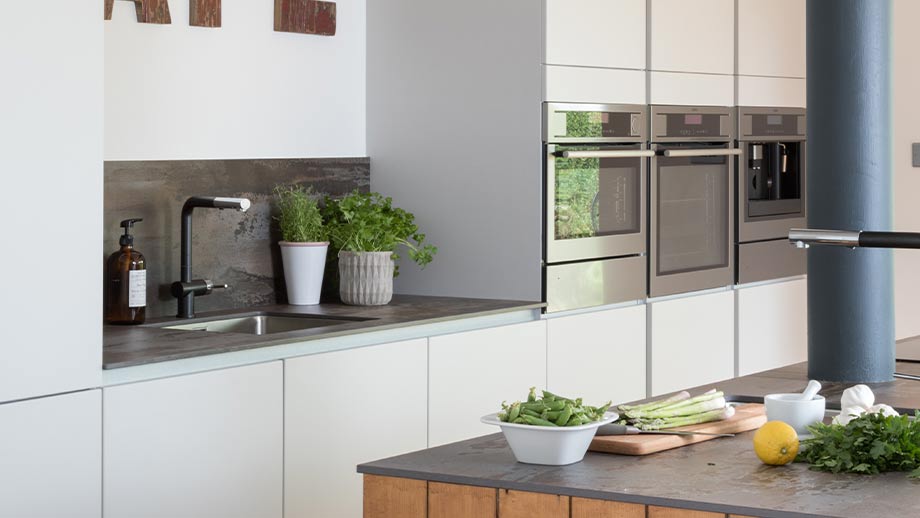 The light grey cabinets create a neutral backdrop which allows the kitchen island and industrial features to shine through.
The silky smooth finish of our H Line Sutton range provides a dramatic contrast against the more vibrant textures on show.
Exposed brick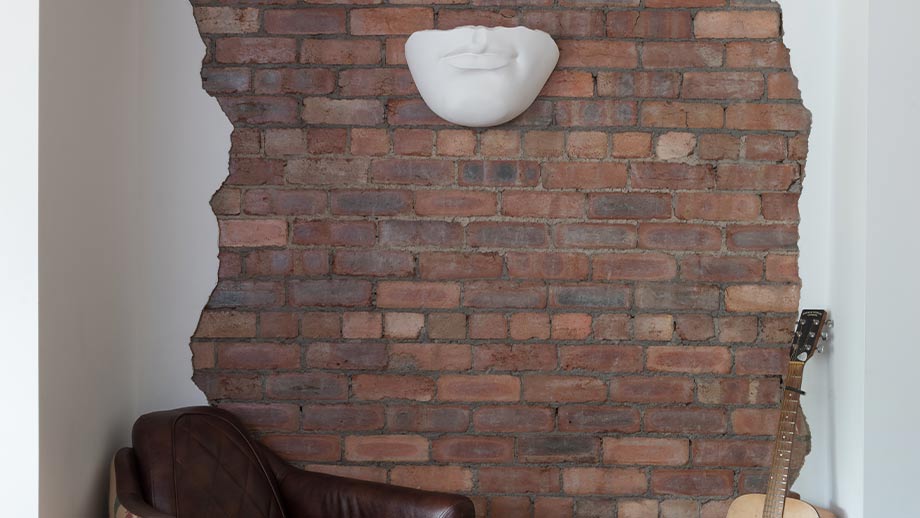 It's true that exposed brick is widely used to add a vintage touch in all kitchen styles, but they're key ingredient in creating an industrial kitchen.
Naked walls add an unfinished look that works well in industrial kitchens and adds some aesthetic allure to the space.
Architectural features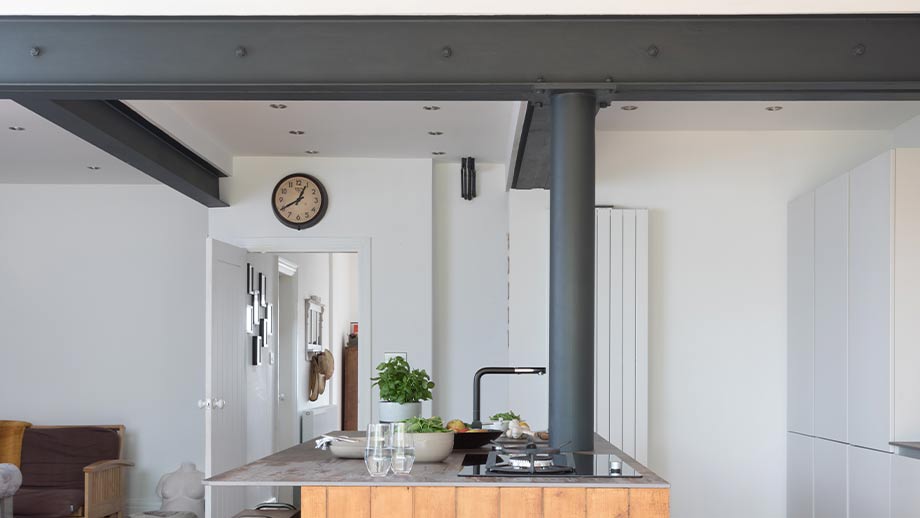 A beautiful thing about industrial kitchens is that they embrace features that one would usually hide.
Instead of covering up the home's supporting structures, the Hunter family embraced them and simply used them to elevate the design of their industrial kitchen.
Knaresborough Kitchens cleverly designed the kitchen island around the metallic beams and demonstrated how it's possible to utilise every inch of a kitchen.
Has the Hunter family's kitchen inspired you?
If you'd like an industrial kitchen designed for your home, our expert retailers can offer you a wealth of advice. Find your nearest Masterclass Kitchens retailer today and begin your journey.
More kitchen inspiration that you might like...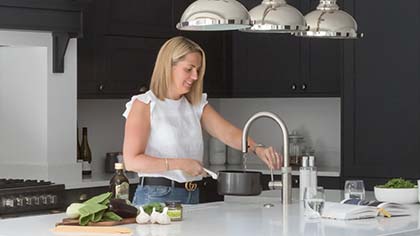 Get expert kitchen advice from our retailers
Find your local retailer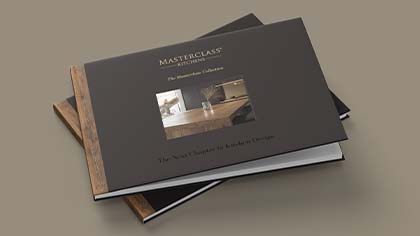 Are you looking for some more inspiration?
Explore our brochures