Drinks cabinet ideas to make your dream home bar a reality
Are you looking for drinks cabinet ideas to entertain guests in your home this summer?
We can soon look forward to socialising with friends and family in our homes again. After such a long wait, you'll want to make sure that your first drinks evening of the season is truly one of glamour.
With our stylish drinks cabinet ideas and drinks storage solutions, we can help you make that happen. Staying in is the new going out, and creating a bespoke home bar is the perfect way of adding a touch of luxury to your kitchen. So sit back, pop open a bottle of bubbly, and let us inspire your inner party host…
Drinks cabinet ideas for shaker kitchens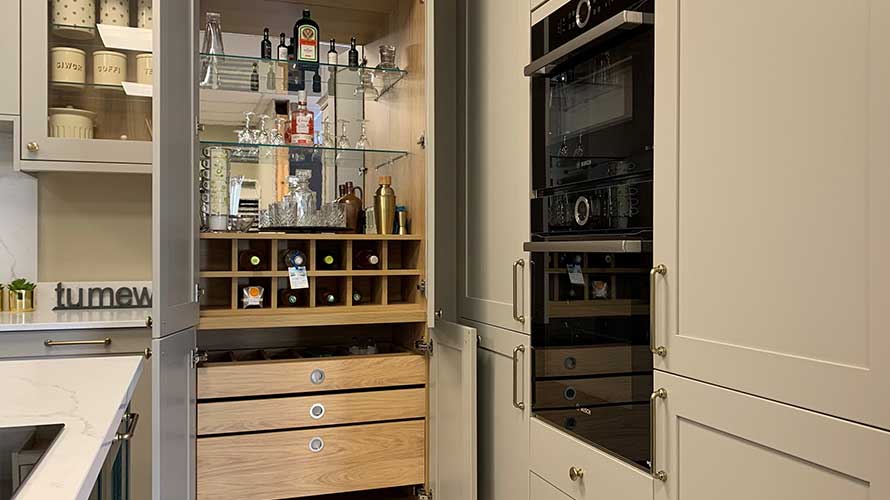 Hardwick Farringdon Grey
Our beautiful cocktail cabinet features a mirrored back panel, a wine wrack, glass shelves and internal drawers. Available in a range of widths as well as our Portland Oak, Tuscan Walnut and Athracite Linen finishes, the options really are endless.
The Connery is the perfect addition to a classic kitchen. This truly stand-out drinks cabinet idea oozes character and is a must-have feature if you want to achieve a timeless feel. Opt for this elegant drinks storage idea in one of our warming wood finishes for a truly bespoke look. Your guests will have nothing but praise for your sophisticated showstopper!
Home bar ideas for open plan spaces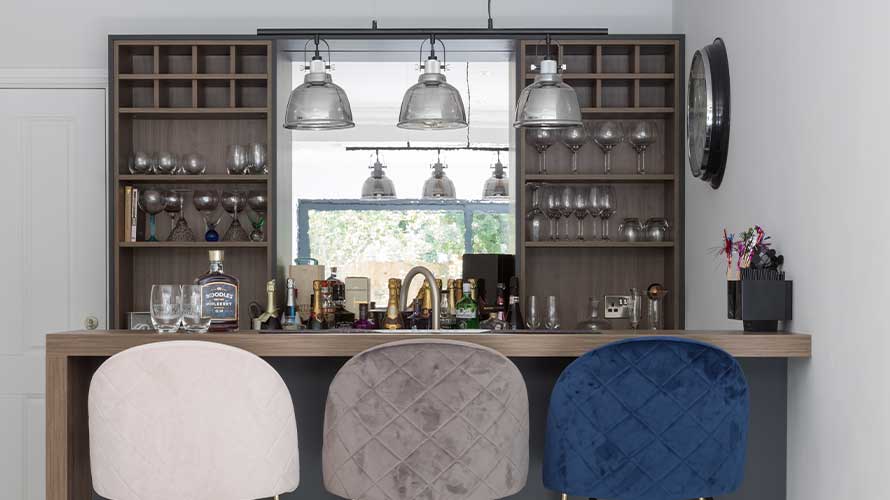 Shelford Graphite with Home Bar cabinetry in Tuscan Walnut
Achieve the authentic 'going out' experience inside your own four walls with our custom home bar ideas. The perfect choice for an open plan space, a dedicated home bar is a great way of breaking up the room into defined sections.
Create a stand-out feature by opting for a bespoke shelving display and serve friends across the counter in style by incorporating a slim peninsular island. Complete the intimate bar aesthetic by decking your shelves out with sparking liquor bottles, and opt for a mirrored panel to accentuate the luxury look whilst creating the illusion of space.
Drinks cabinet ideas for modern kitchens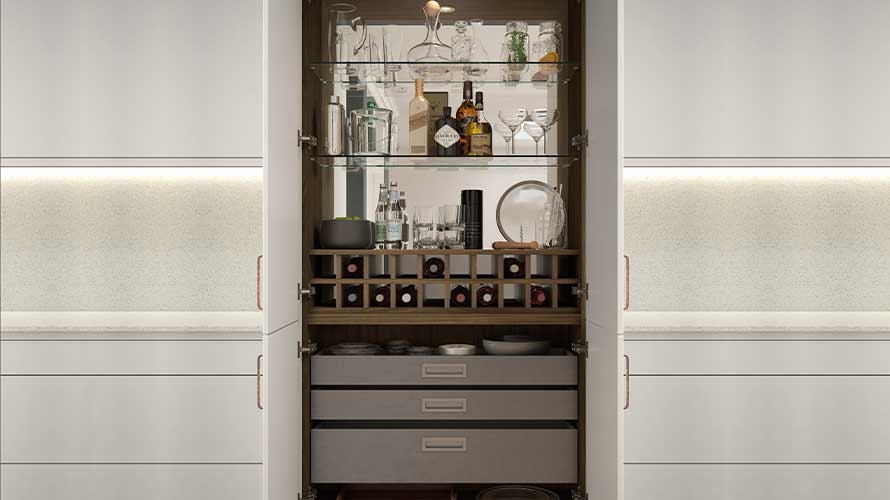 Hampton Farringdon Grey
Do you want to make your next cocktail soirée in your modern kitchen one to remember? Then be sure to incorporate our glamorous drinks cabinet idea in a modern finish into your design.
The Connery sits neatly behind closed doors, so it doesn't interrupt the clean lines of your modern kitchen. Opt for oak internals if you want to add some warmth into your space, or our Athrecite Linen drawers if you want to accentuate the sleek and streamlined look.
Drinks storage ideas for dark kitchens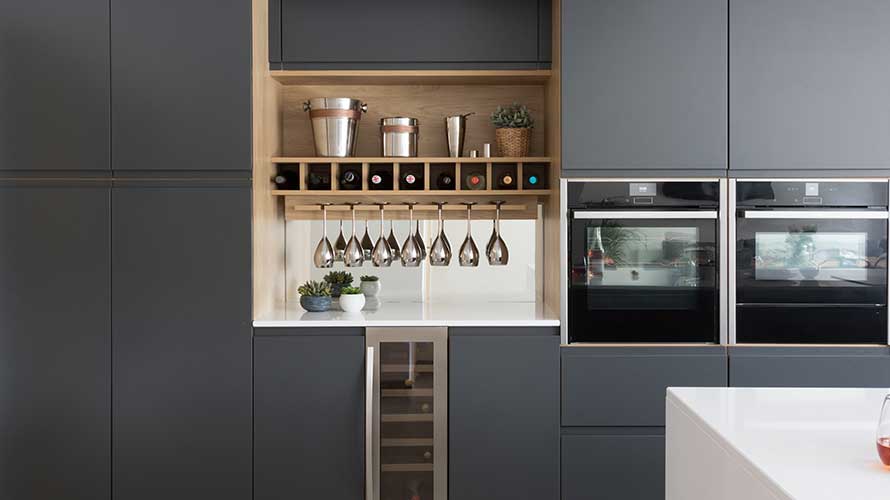 H Line Sutton Graphite with Drinks Station cabinetry in Portland Oak
If you don't want to hide the favourite part of your kitchen behind closed doors, why not bring the inside out? By incorporating an exposed cocktail station into your kitchen, you can create a focal point that demands attention.
This bold drinks storage station is a truly innovative way of displaying your finest drinks accessories in style. Contrast warming Portland oak with dramatically dark kitchen cabinets to really make a statement.
Drinks cabinet ideas that work throughout the home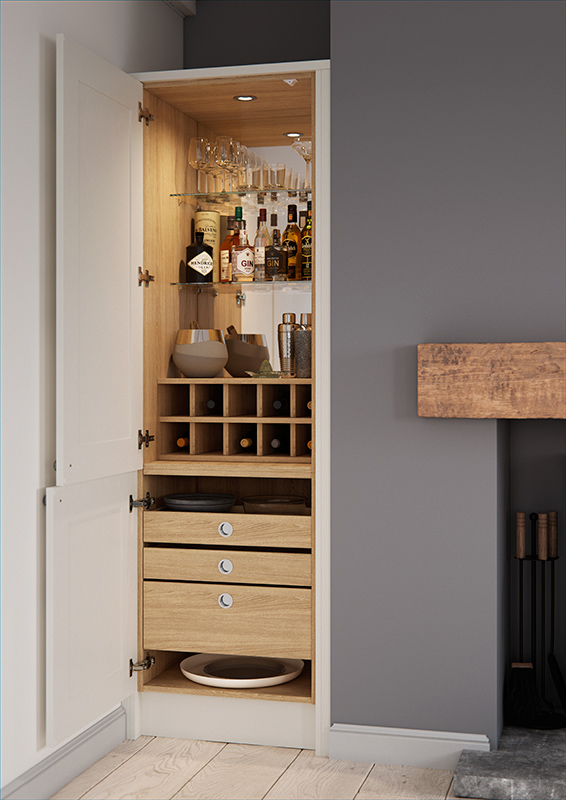 Solva Scots Grey with The Connery cabinetry in Portland Oak
If you don't want to redesign your whole kitchen, don't let that stop you from being a world class cocktail connoisseur – with a world class cocktail cabinet to match. The Connery is available as a stand-alone unit in a slimline finish, making it the perfect drinks cabinet idea for a cosy corner in your living room.
Our cocktail cabinet's Portland Oak internals will complement a cosy lounge aesthetic perfectly. Not only that, but The Connery's mirrored back panel helps to bounce light around the room, making your social space feel instantly bigger.
Drinks storage ideas for large kitchens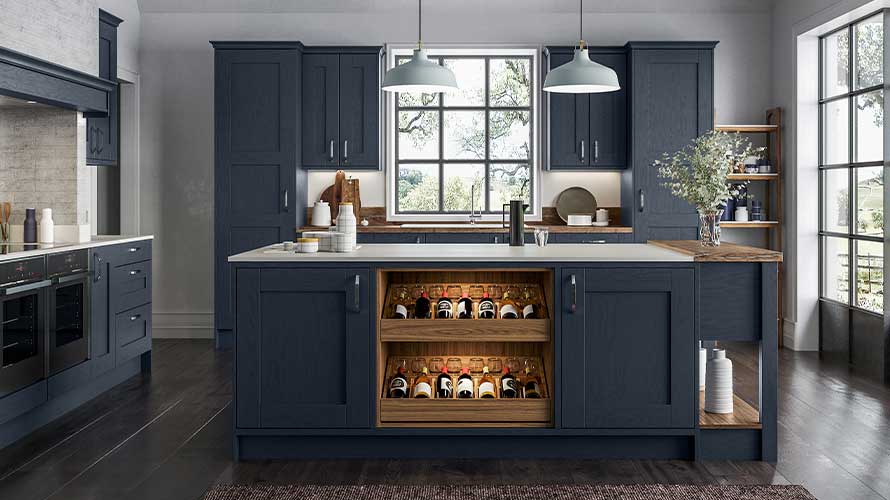 Wimbourne Inkwell with The Connery cabinetry in Tuscan Walnut
If you have a large kitchen, allow your kitchen island to take centre stage with our beautiful new Wine Drawers. Proudly present your favourite bottles in style with this sophisticated drinks storage idea to really wow your visitors.
Our wine drawers are available in warming Portland Oak or Tuscan Walnut finishes and work equally well in a modern or classic setting.
Drinks cabinet ideas that are multifunctional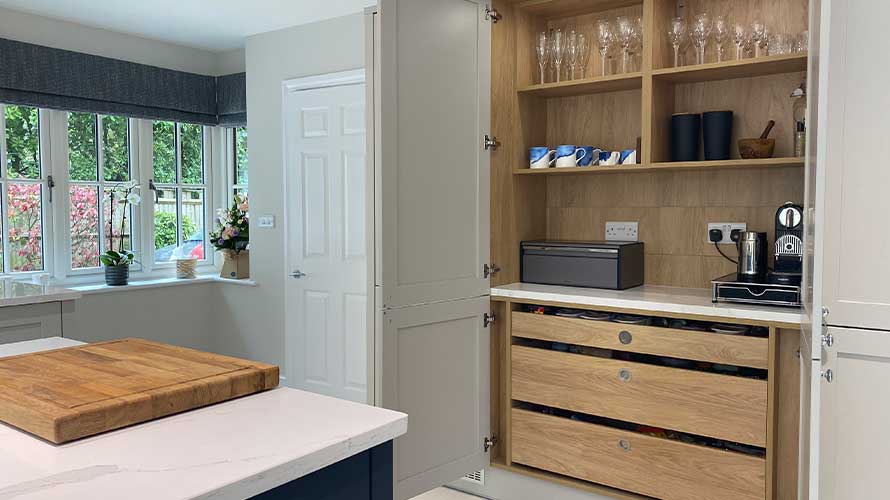 Hardwick Highland Stone with The Connery cabinetry in Portland Oak
If shakers and spirits aren't for you, this beautiful drinks cabinet idea and the elegant feeling it evokes still can be.
The shelves and drawers of our cocktail cabinet would make the perfect home for your coffee machine, or maybe even your favourite chinaware collection. No matter what you use it for, this kitchen jewel will still bring a sense of glamour to your space.
So what are you waiting for? Get ready to throw your first drinks evening of the summer season and find your nearest Masterclass Kitchens retailer today.