Entertainment centre design ideas for open plan homes
Entertainment centres are the cherry on top of a well designed open plan living space.
Homes are evolving, and we've seen more multifunctional spaces than ever before. Kitchens are becoming the hub of the home where families gather to cook, socialise, relax and work. This shift has meant customers are now looking for media units and entertainment centres that complement their kitchen furniture.
At Masterclass Kitchens, we have designed media units and tv cabinets that enhance your kitchen design, as we understand the importance of a cohesive design in an open plan home. Whether you have a sleek modern kitchen or a country-style shaker, we're able to create a media unit that works for you.
Take a look at our impressive media units and entertainment centres:
Traditional media unit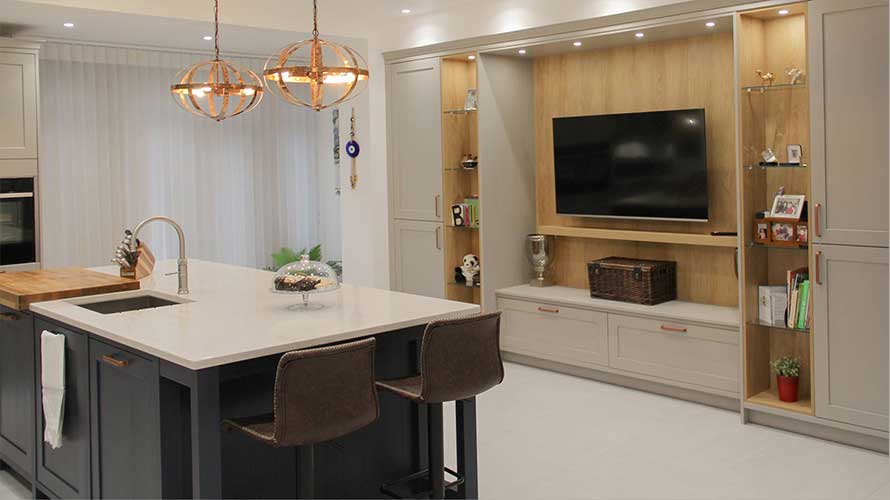 Hardwick Oxford Blue and Farringdon Grey, designed by Sigma 3 Kitchens in Cardiff
This shaker style media unit incorporates open shelving to add a touch of personality whilst offering practical storage. The Portland Oak shelving and back panel matches the kitchen cabinets and open shelving, creating a cohesive design.
Luxury media unit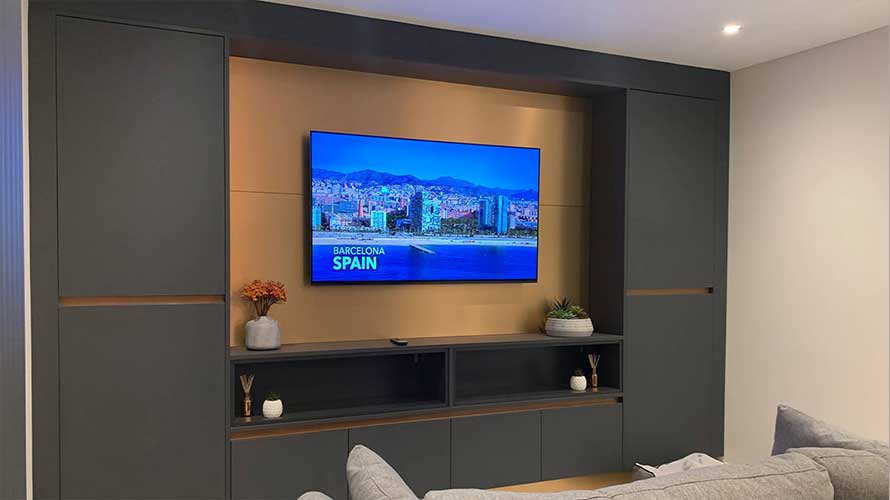 H Line Sutton Graphite and Metalix Copper, designed by Sigma 3 Kitchens in Swansea
Add an opulent touch to your modern open plan kitchen with metallic accents.
This modern tv cabinet incorporates brass accents in the plinth, handle rail and back panel to create a truly luxurious tv stand.
Modern entertainment centre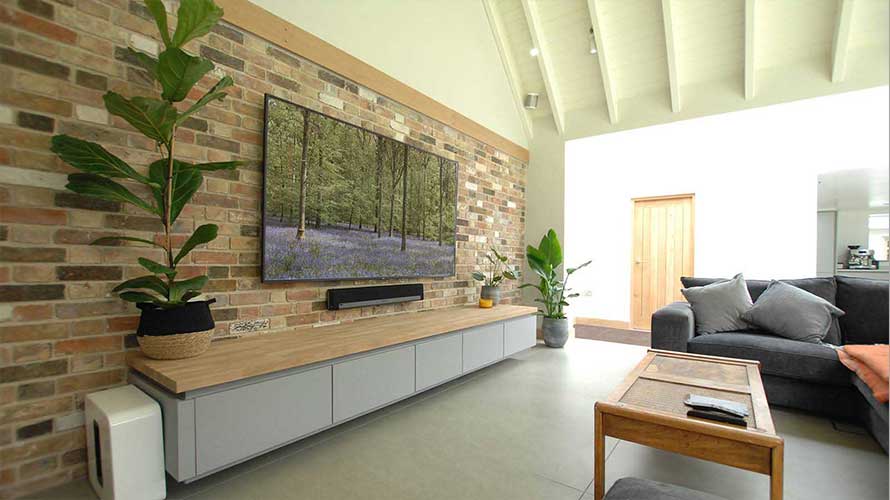 To create a sleek modern entertainment centre, our HLine Collection of handleless kitchens is a fabulous choice. Add one of our wood worktops from our Ligna range to add warmth to your design.
Floating TV stand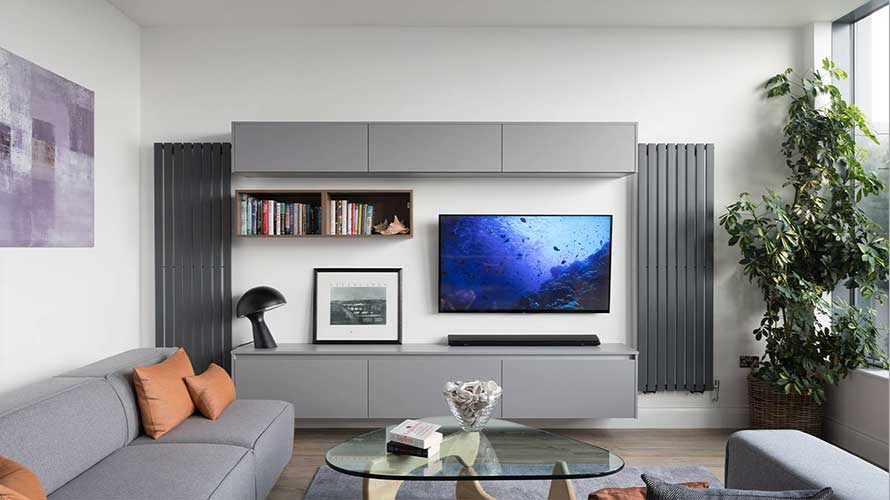 H Line Sutton Dust Grey, designed by Counter Interiors in York
Floating cabinets are a modern, sleek look, with the added benefit of creating the illusion of space.
This floating tv stand uses handleless cabinets that are perfect for storage and a Tuscan Walnut open shelving as a design statement.
Modern TV stand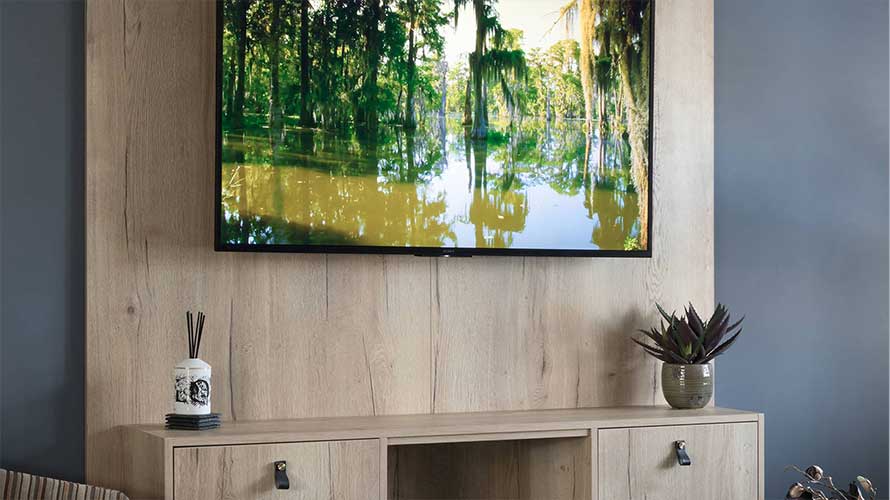 Ligna Mayfield Oak, designed by Classic Stamford in Lincolnshire
This modern floating tv stand is a fabulous choice for any size kitchen. The matching cabinet and back panel is an instant design statement in the home.
Freestanding media unit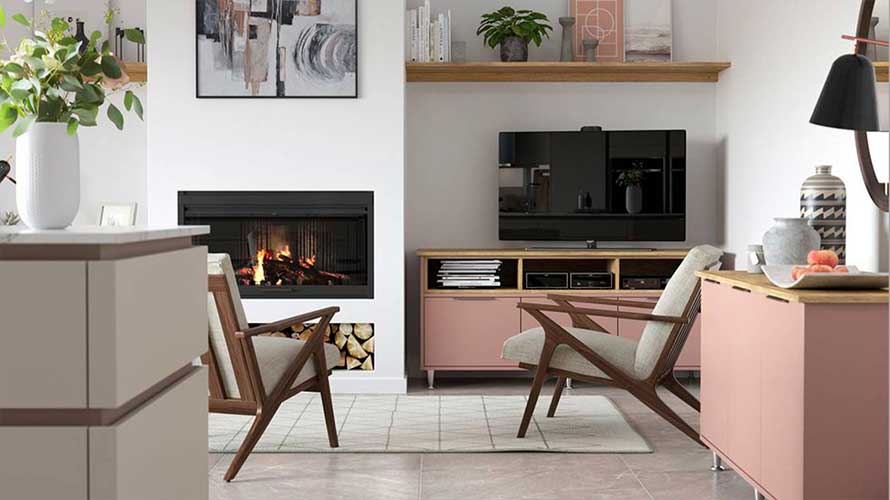 H Line Sutton Autumn Blush
At Masterclass Kitchens, we have The Living Collection, a collection of freestanding furniture that can work throughout the home.
We have created a freestanding media unit, but the choice of style, colour and finish is all down to you. The possibilities are truly endless with this design.
Multifunctional entertainment centre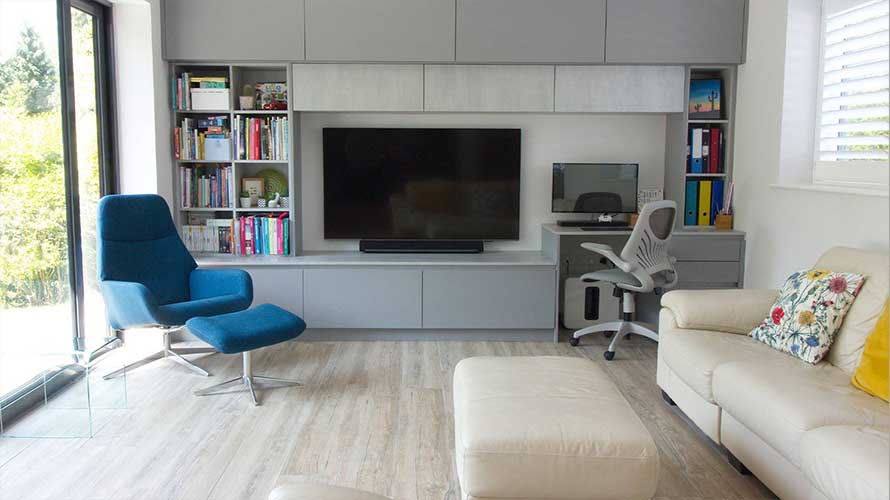 H Line Sutton Dust Grey, designed by Owen Williams Kitchens in Coalville
Are you looking for a media unit that is more than a tv cabinet? This homeowner wanted to include a desk and ample storage to create a multifunctional media unit.
Do you want to add an entertainment centre to your home?
If you're ready to add an entertainment centre to your home and create your dream kitchen, find your nearest Masterclass Kitchens retailer today.