As we embark into a new decace, Classic Blue remains "a solid and dependable blue hue we can always rely on" says Leatrice Eiseman, the Executive Director of Pantone.
Classic Blue's resemblance to the sky at dusk provokes calmness and tranquility. Eiseman says " We are living in a time that requires trust and faith. It is this kind of constancy and confidence that is expressed by Pantone 19-4052 Classic Blue.
Our selection of blue hues have proven to be a popular choice with customers. Not only does blue it provoke peacefulness, it's also a highly versatile colour.
Blue shades look great when combined with light greys and white, which means you can incorparate a bold colour into your kitchen, without making it dark and gloomy.
Natural wood textures also work wonderfully with blue to bring warmth to the space.
Here are some of our favourite blue kitchens.
Contemporary blue kitchen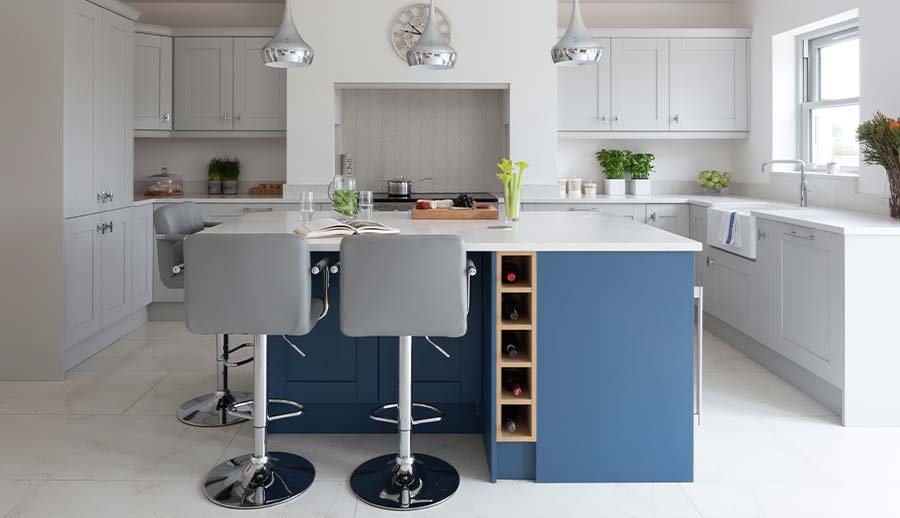 Sherborne Windsor Blue and Light Grey. Designed and installed by Knaresborough Kitchens.
This gorgeous kitchen designed and installed by Knaresborough Kitchens is a great example of how Windsor Blue features work perfectly in a bright, crisp kitchen. This customer has opted for Sherborne Windsor Blue with Light Grey. The light grey makes the kitchen light, airy and modern, but the Windsor Blue kitchen island and subtle wood features give it a classic twist.
Handleless blue kitchen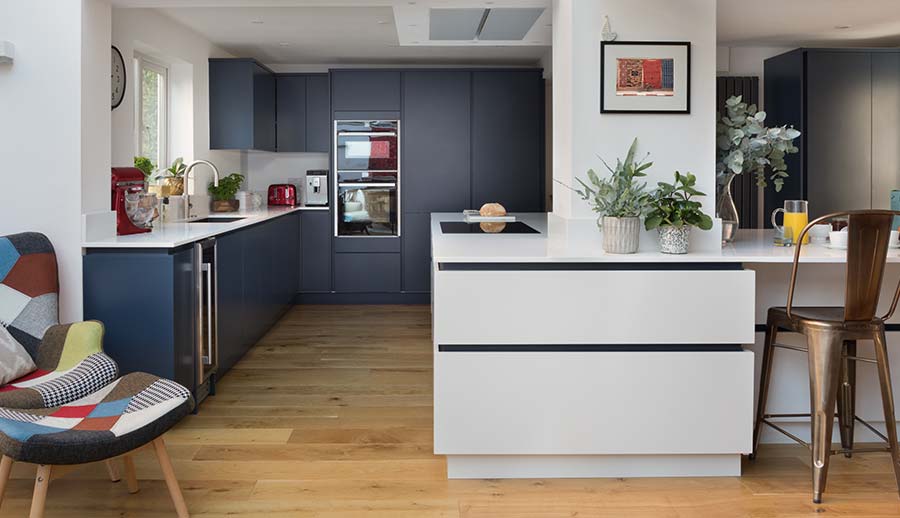 H Line Hampton Oxford Blue and Scots Grey. Designed and installed by Euphoria Kitchens in West Sussex
This kitchen features another popular shade of blue, Oxford Blue. This shade is darker than Windosr Blue and can make interiors look bold and dramatic or tranquil and cosy, depending on your personal taste and style. This customer has opted for a smooth, modern and dramatic look. Another great example of how dark blue shades and light greys are a match made in heaven.
Classic blue kitchen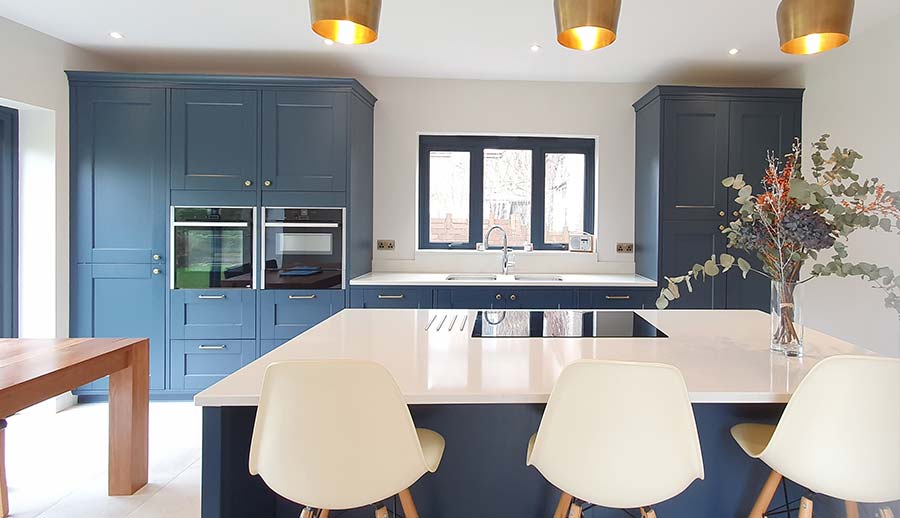 Solva Oxford Blue. Designed and installed by Sigma 3 Kitchens in Cardiff
Choosing Oxford Blue for your classic kitchen is a sure way to get a bold, striking look. We love how this customer as added metallic accents to the desgin for subtle modern touch.
Blue kitchen island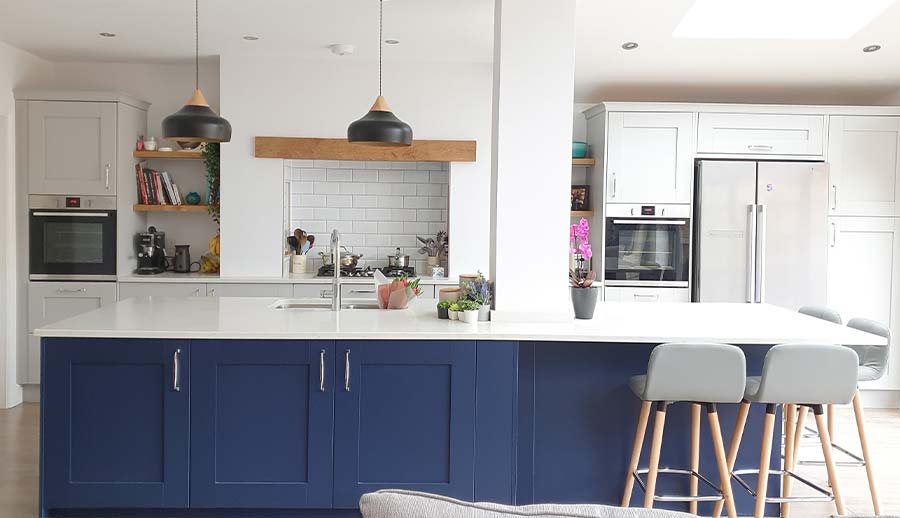 Wimbourne Light Grey and Inkwell. Designed and installed by Sigma 3 Kitchens in Cardiff
If blue kitchen units aren't for you but you'd like to bring some colour into your space, opt for a blue kitchen island.
Not only are kitchen islands a practical addition to a kitchen, they look great and can complement your existing colour scheme.
Blue kitchen accessories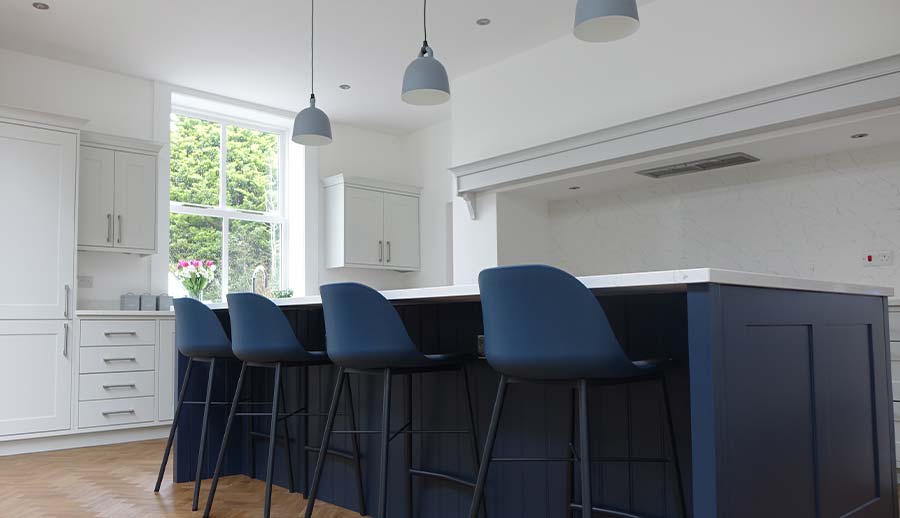 Marlborough Scots Grey and Oxford Blue. Designed and installed by Frank Anthony Kitchens in Blackburn
Can't get enough of blue? Choose blue kitchen accessories when finalising your new kitchen. Your expert kitchen designer will be able to point you in the right direction and advise you on features that will suit your space.
If you feel inspired by Pantone's Colour of the Year and these wonderful real kitchens, feel free to order one of our FREE brochures for more inspiration. Find your nearest Masterclass Kitchens retailer if you're ready to begin the journey…