4 Country Kitchen Design Innovations
Published on 15 Nov 2023
Ask a typical adult about a cherished memory and many will recall a country kitchen from their childhood – the kind a child might visit on a bicycle in a classic Hovis ad. Perhaps, this setting reminds us of innocent times. Maybe it's just fernweh – feeling homesick for a place we've never experienced.
Either way, farmhouse kitchens warm our hearts. The issue is, they're hard to re-create in modern homes; true cottage kitchens are impractical, six-figure, bespoke affairs. So, is emptying your bank, foregoing handy gadgets and inviting over nosy neighbours the only way to synthesise rural charm?
Not at all. The good news is, while rustic kitchens from other companies can cost a fortune, ours won't bankrupt you, nor deprive you of your mod-cons. Indeed, read on and you'll discover how to create a country-style kitchen that contains the same nostalgic potential but also features modern innovations.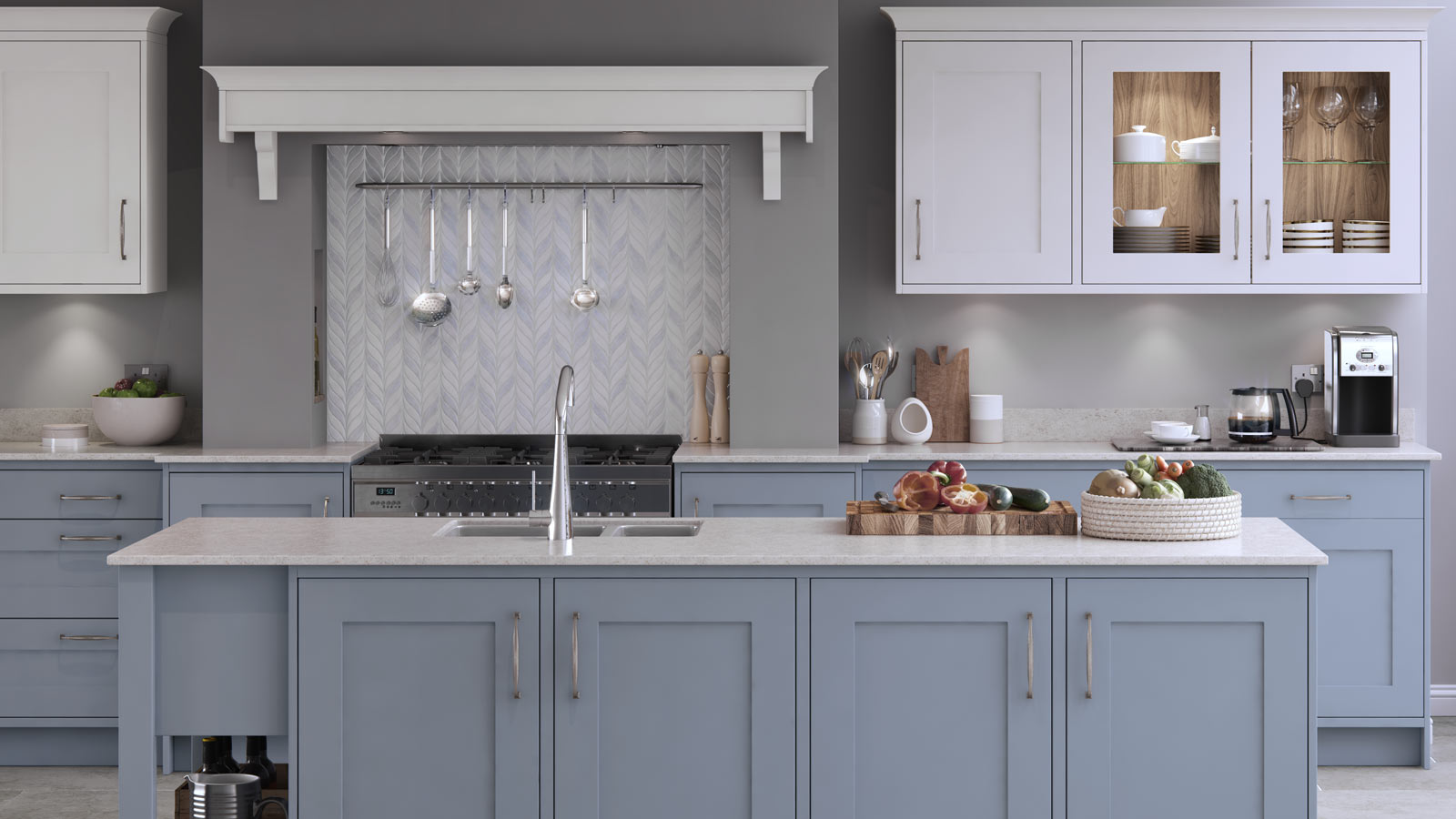 Wood-Effect Drawers
Firstly, it helps to consider what makes a farm kitchen feel like your grandfather built it. How about starting with drawer interiors? These elements might seem inconsequential, but using walnut wood or oak timber throughout creates a sense of authenticity that no plastic cutlery organiser can replicate.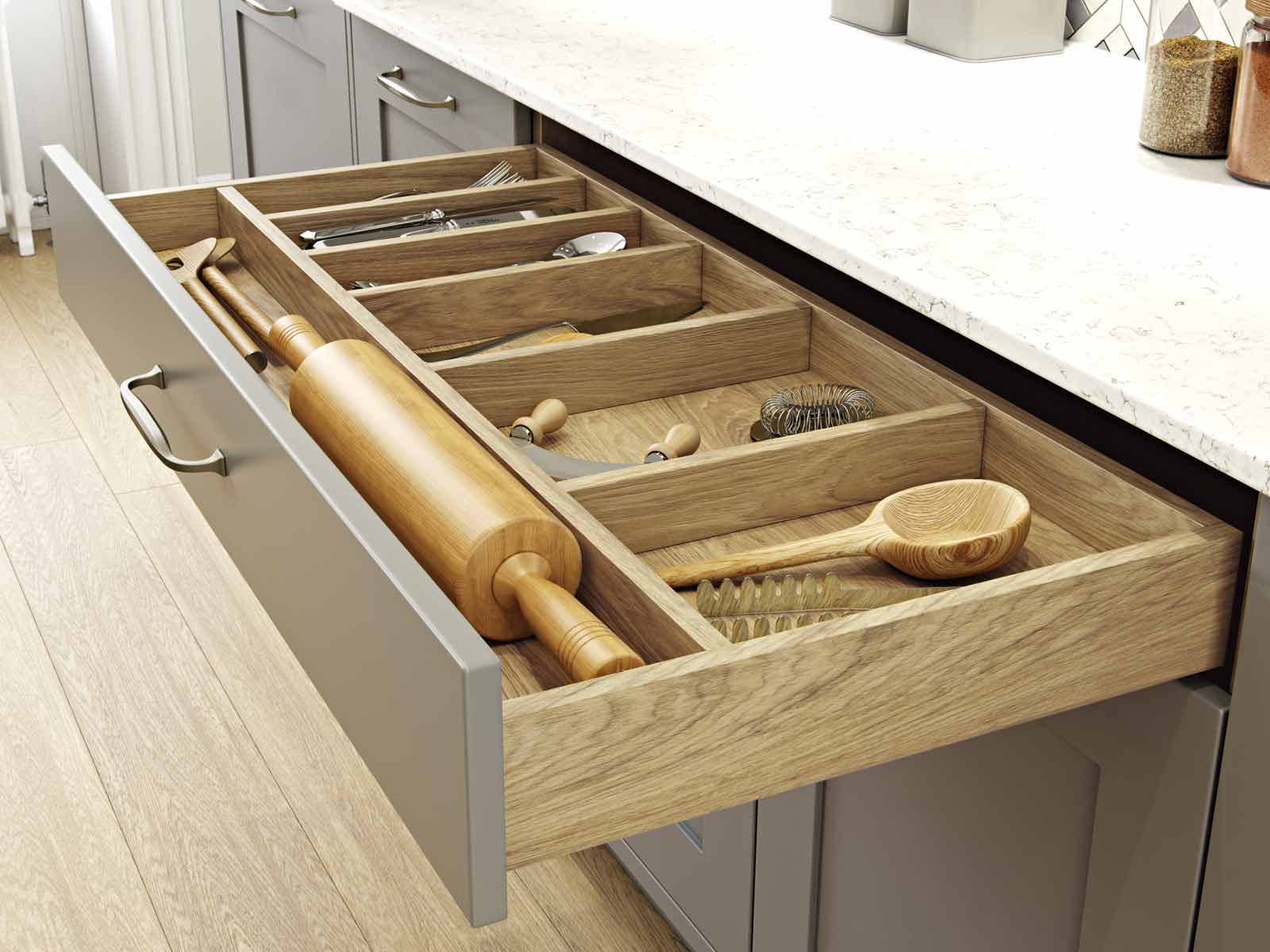 At Masterclass, we craft kitchen drawer units with full wood-effect cutlery drawer organisers that are indistinguishable from true wood options. Sure, they're a small detail nobody sees when they're closed, but these intricacies drive home the impression that this is a real rustic kitchen that patinas over time.
Pro Tip!
Want more design tips and lifestyle advice to help you make the most of your kitchen? Become a Masterclass Insider for free. You'll get a library of virtual lifestyle guides just for subscribing.
Claim Your Welcome Library
Kitchen Handles and Doors
Mastering the basics is essential, especially when it comes to contemporary rustic kitchen design. And one basic element you can't mess with is the humble kitchen door. Indeed, the type you'd find in a typical home farm kitchen is a five-piece Shaker or a classic cabinet door with beading.
Getting the kitchen cupboard handles right is also vital. Do so and you your country-style kitchen design will achieve your intended look. T-bar handles and other modern kitchen cabinet handle varieties don't work. Rather our classic handles – D, cup and knob handles – are more in keeping.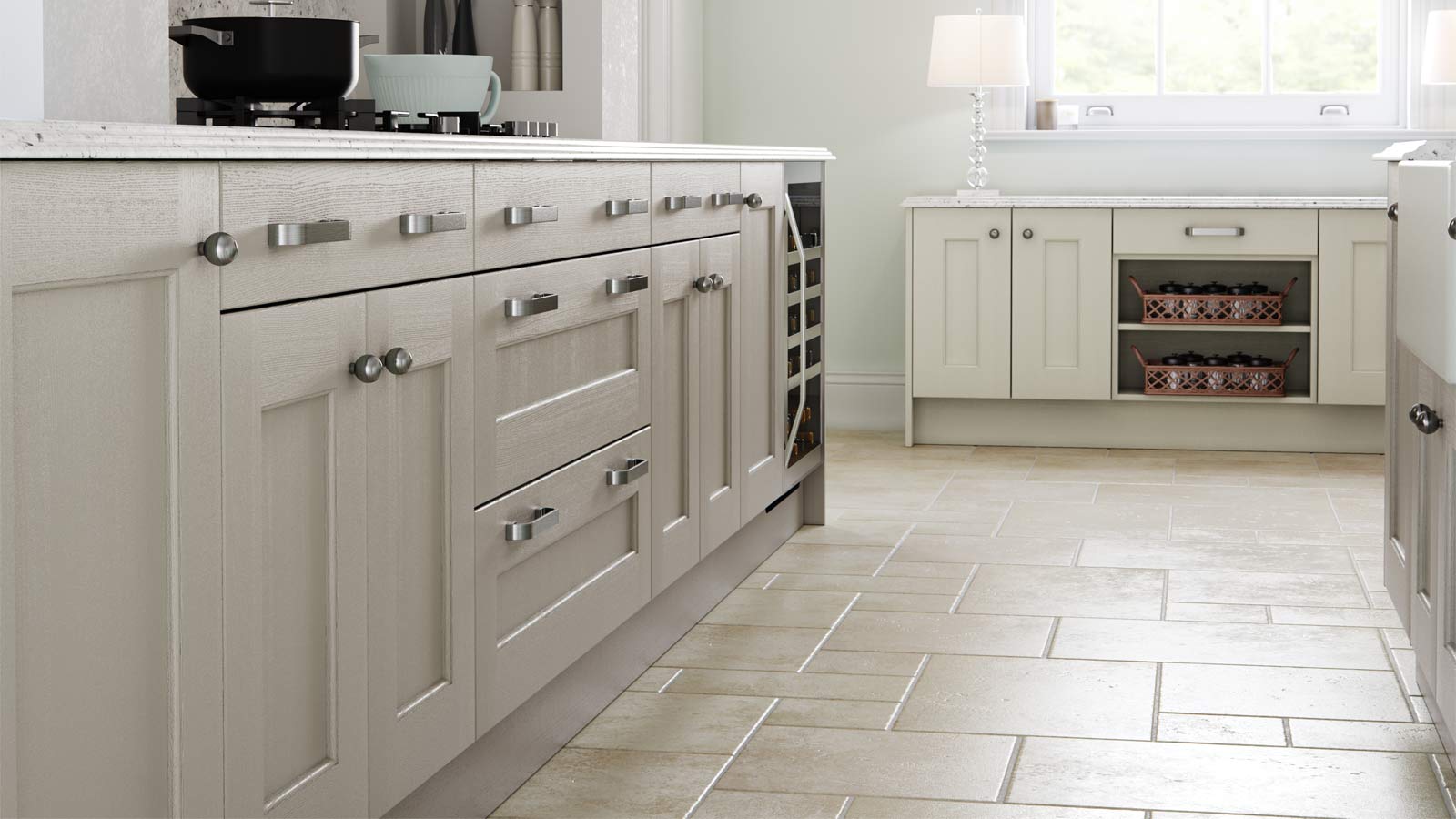 So far, so traditional. Real modern kitchen innovation appears, however, when it comes to door options. Nowadays, you can get traditional painted doors – like our Ashbourne range (pictured) – or you could choose hardier vinyl-wrapped doors, like Kensington, which are ideal for younger families.
Kitchen Islands with Seating
Country kitchens are synonymous with strong family connections. Generations have used their dining tables to form bonds and weather storms. Modern homes don't always have the space for separate kitchens and dining tables, however. That's why we often recommend kitchen islands with seating.
This seems like a divergence too far from the original design. The truth, though, is that a carefully chosen static or freestanding kitchen island can achieve both the warmth and utility of a kitchen table, without wasting storage space. Even a very small kitchen island can achieve the desired effect.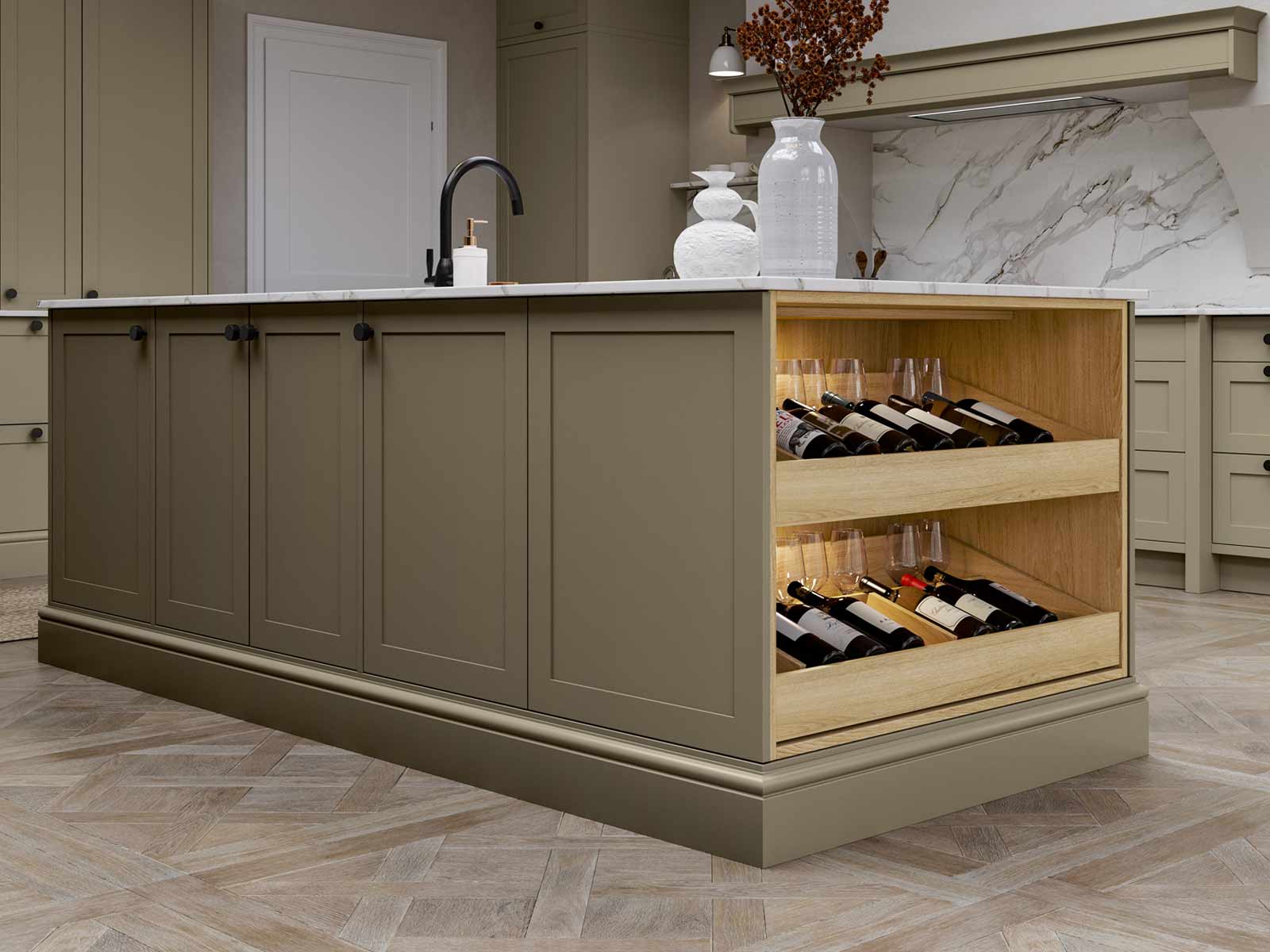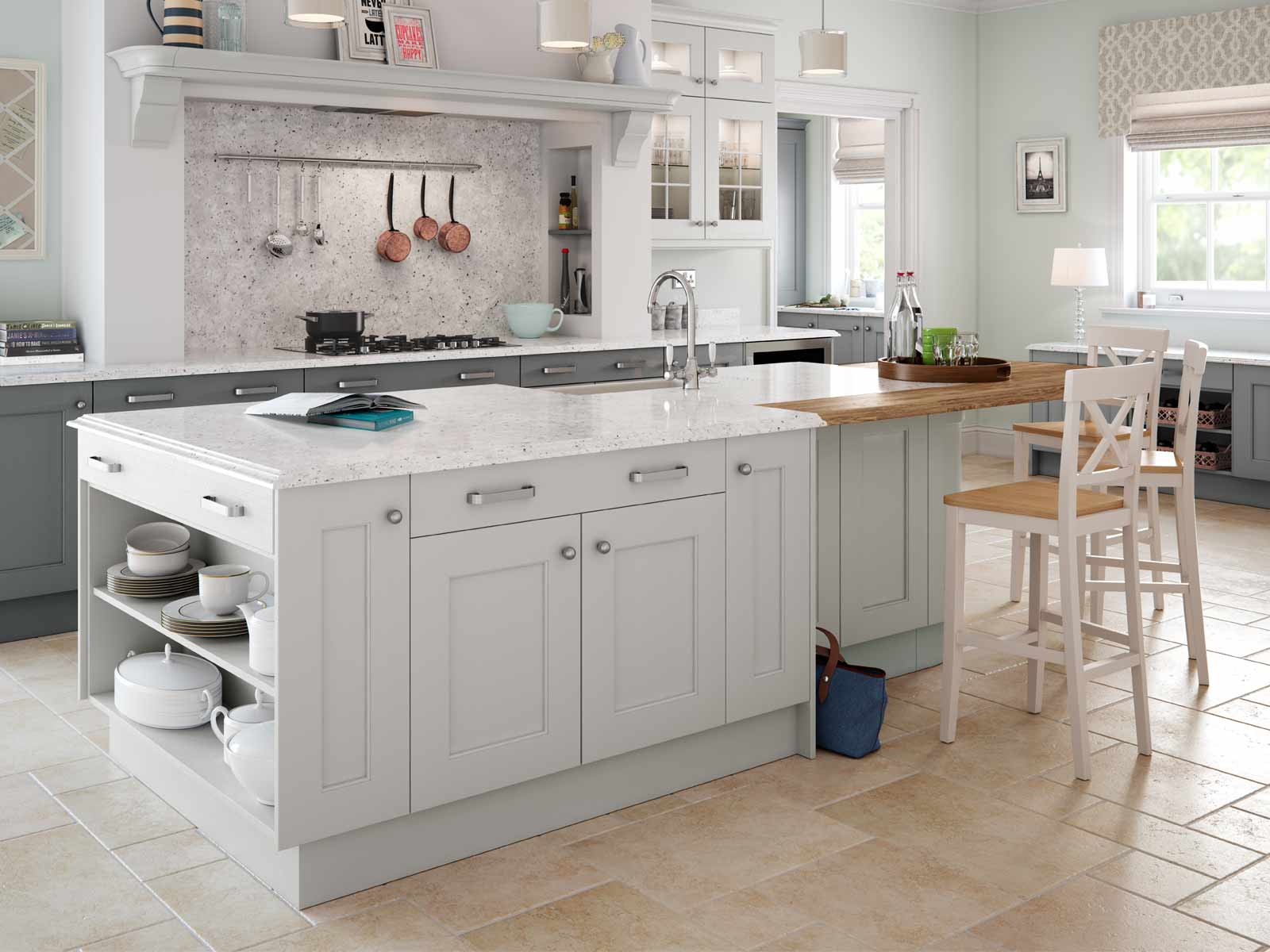 This modern twist on the traditional farmhouse kitchen set-up gives you far more aesthetic flexibility. As well as cupboards and a kitchen island worktop element, for example, you can add a wine drawer, open shelving, or any number of decorative inserts that add utility along with the flair.
Modern Larders and Pantries
When you think of country kitchens, it's impossible not to imagine the hearty roast dishes, stews and cakes that keen home cooks serve in them. It's for this reason that you must include a pantry or a larder cupboard in your country kitchen plans – ideally both if you have the space.
At Masterclass, we love our pantry storage options and rustic larder cupboards. The best among them for a traditional kitchen, however, are the Hathaway, the Lansbury corner pantry, and the SpaceTower larder. All three add a level of intricacy to a kitchen that resonates with fans of the cottage aesthetic.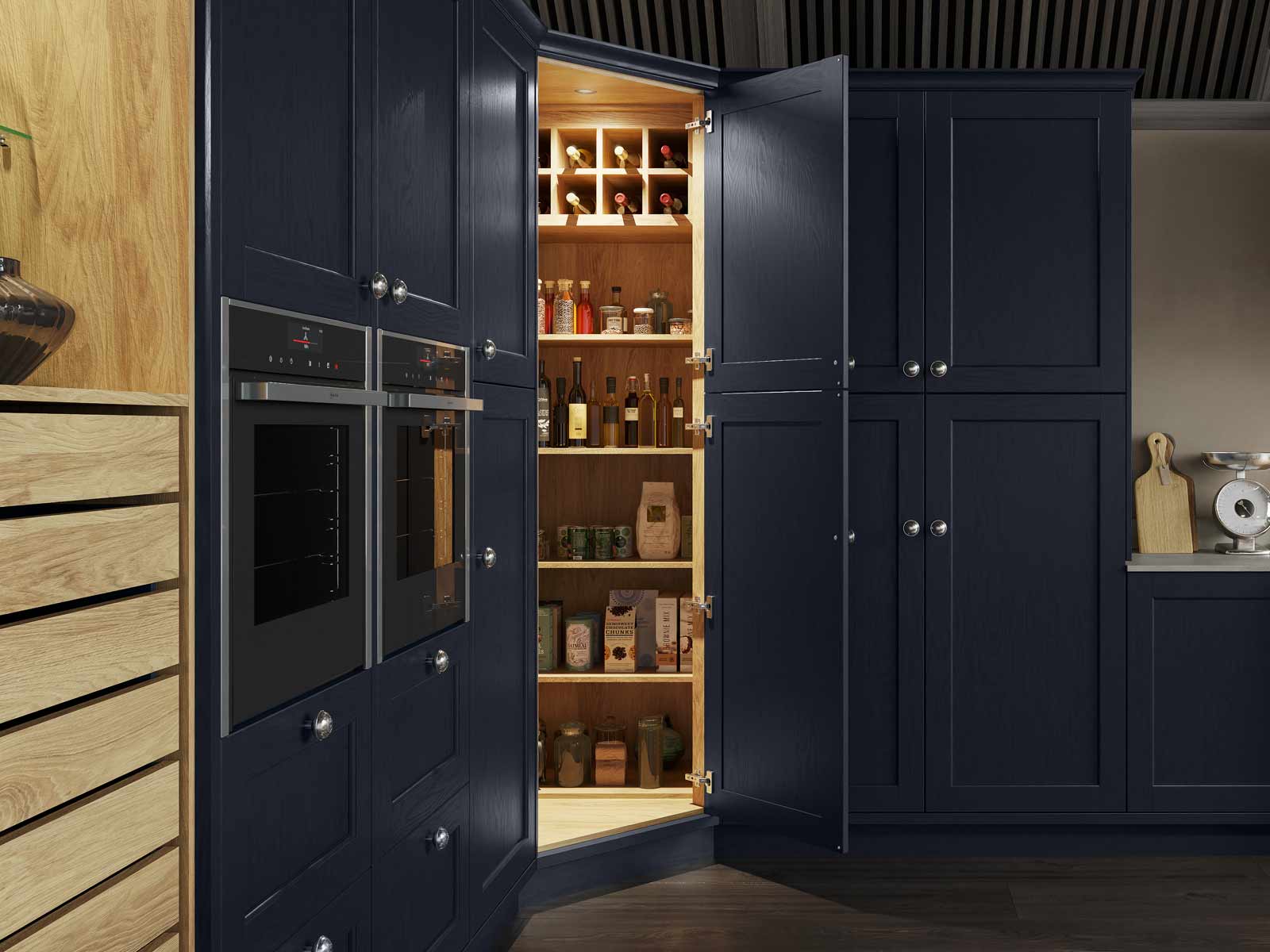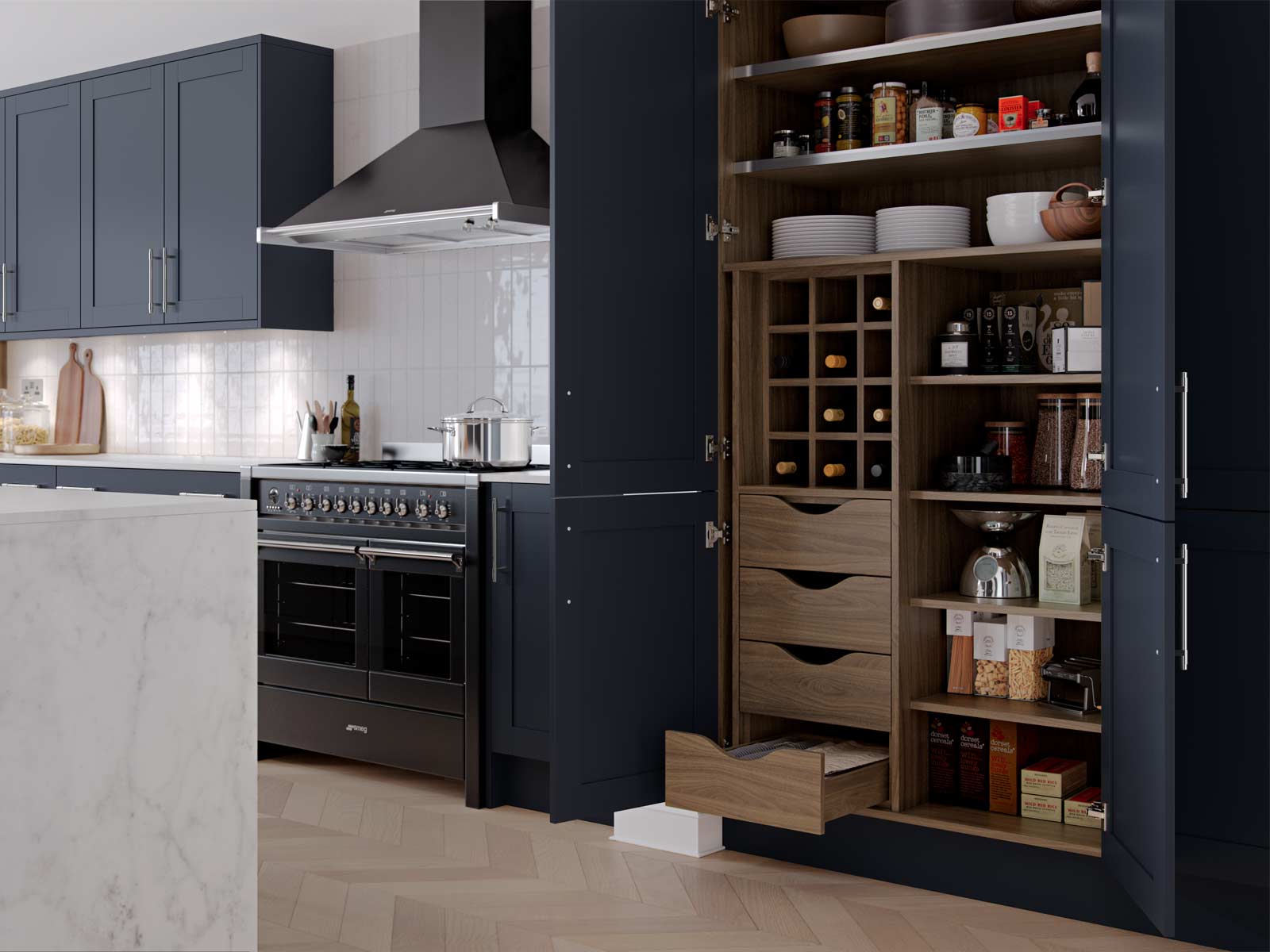 While gorgeous, these features have formerly been notorious food waste traps. Our versions, though, offer storage flexibility – with pigeonholes, shelves and drawers – as well as energy-efficient LED lighting options. Together, these features make them easier to organiser for food stock management.
Create Your Country Kitchen
Need more help creating your own unique country kitchen? If so, find your nearest showroom and book a consultation slot with one of our world-class kitchen experts, or become a Masterclass Insider for free. As a Masterclass Insider, you'll get exclusive design tips, plus welcome guides and resources.