5 simple ways to infuse wood textures into your kitchen
Whether you have a modern kitchen or a traditional shaker kitchen, natural wood textures are an excellent way to enhance your kitchen design.
In recent years, we have seen more customers adding subtle touches of wood textures within their design to add natural warmth to a space. The trend for wood finishes is dominating kitchen design, with almost all designs incorporating subtle touches of wood textures throughout.
1 - Add wood finishes as accents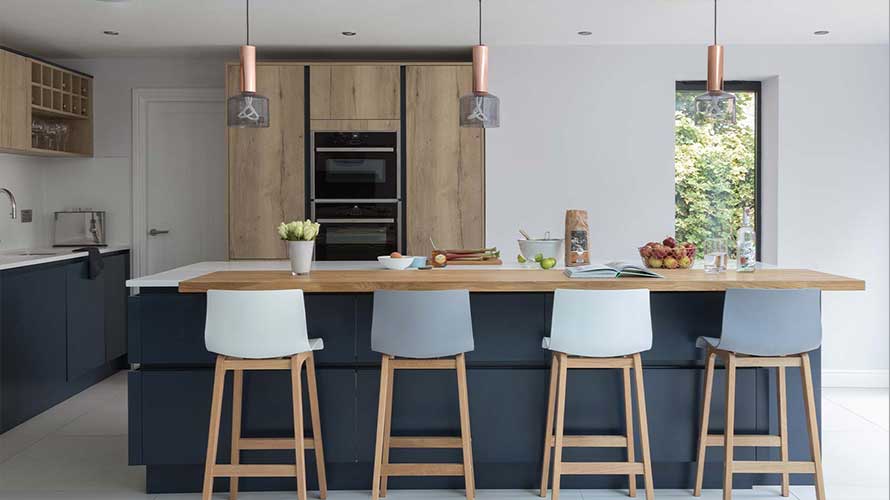 H Line Hampton Oxford Blue with Ligna Mayfield Oak, designed by Counter Interiors in York
One of the most popular ways to add wood textures in a kitchen is incorporating wood kitchen doors as accents.
Wood textures beautifully complement an array of colours, from neutral colour schemes to bold and dramatic shades. Through choosing a wood finish, you can add the warmth that kitchens often crave and ensure your design works seamlessly within an open plan living space.
2 - Wood finishes for open shelving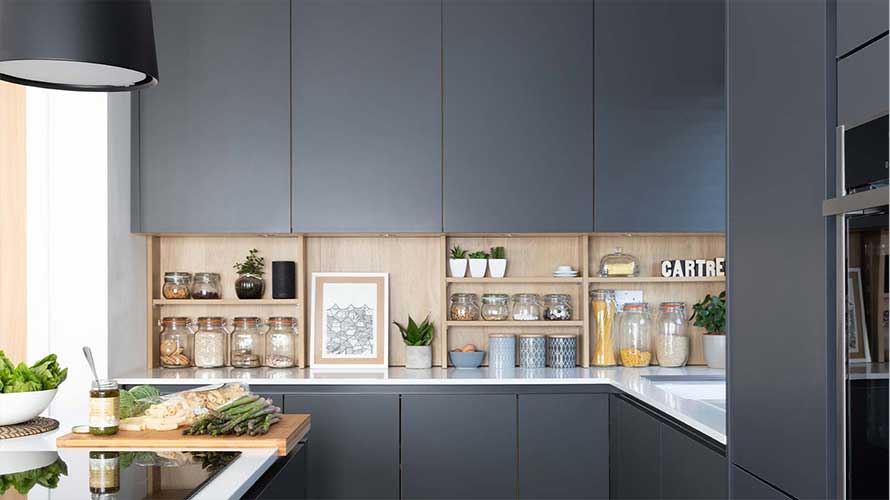 H Line Sutton Graphite with Portland Oak. Designed and installed by Sigma 3 Kitchens in Cardiff
If you would like to add open shelving in your kitchen design, the natural choice is a warming wood finish.
Our wood kitchen cabinet finish, Portland Oak is a firm favourite that can work as open shelving and kitchen cabinets. If you're looking for a wood texture with a natural grain, Farmhouse Oak and Mayfield Oak from our Ligna range is a perfect choice.
3 - Wood textures for handlerails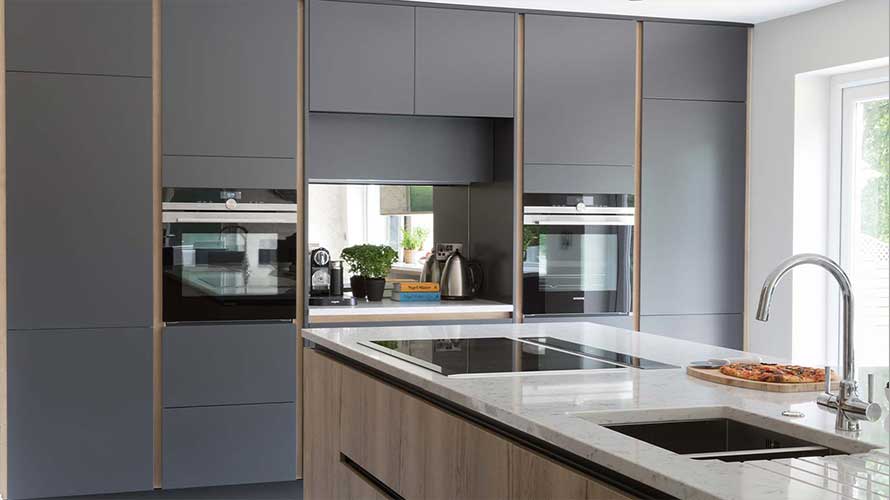 H Line Hampton Graphite and Ligna Mayfield Oak. Designed and installed by Studio 10 in Derbyshire
A modern handleless kitchen can often start looking clinical, especially if you're opting for a bright, neutral colour scheme.
To add warmth and style flair to a handleless kitchen, why not opt for a wood textured handle rail, this subtle accent will leave your kitchen looking modern and timeless.
4 - Wood finish worktops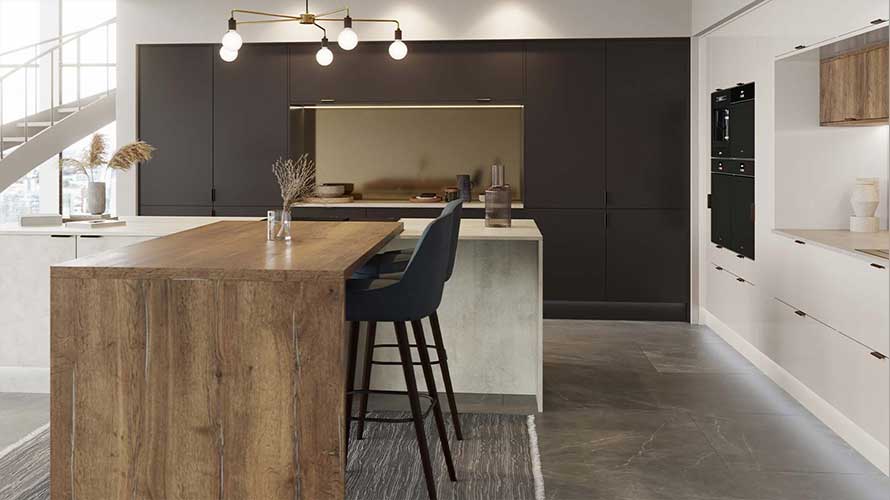 Sutton Burnt Umber and Scots Grey, featuring Ligna Farmhouse Oak, Metalix Bronze and Milano Arctic Frost
The most common place to see wood finishes in a kitchen is the kitchen worktops, but real wood worktops come with a lot of maintenance and start looking shabby without the proper care.
For this reason, we've introduced five textured wood effect worktops that create the look of real wood, without the high-end price tag and demanding maintenance.
5 - Wood textures in storage and cabinets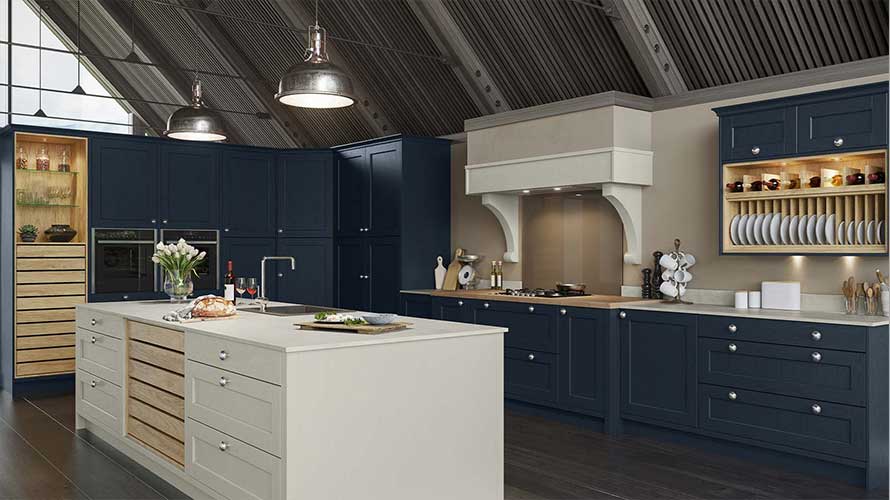 Hatfield Inkwell and Highland Stone
Would you like that high-end bespoke look in your kitchen? Choosing a wooden cabinet, drawers or storage solutions can instantly improve the perceived value of a kitchen.
At Masterclass Kitchens, we have two wood effect finishes, Portland Oak and Tuscan Walnut that can be incorporated into your cabinets, drawers and storage solution to create a seamless, high-end look without the high-end price tag.
What wood textures are available in Masterclass Kitchens?
We have a wide selection of wood textures, so it couldn't be easier when it comes to finding a wood finish that truly reflects your taste and lifestyle.
We have even introduced a brand-new range called Ligna, a collection of five beautiful wood textures. Ligna can be used as kitchen doors, worktops, upstands, and splashbacks—providing you with limitless possibilities to mix and match beautiful wood accents in your home.
Would you like to incorporate wood textures into your own home?
If you're ready to start the journey towards your dream kitchen, find your nearest Masterclass Kitchens retailer today, or view our beautiful kitchen brochures for more ideas and inspiration.
More kitchen inspiration that you might like...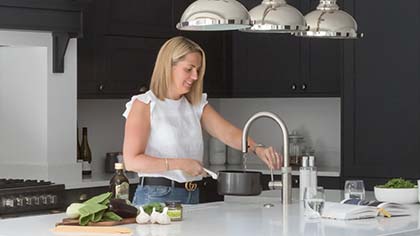 Get expert kitchen advice from our retailers
Find your local retailer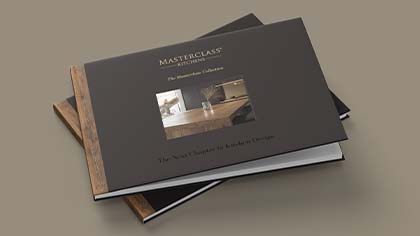 Are you looking for some more inspiration?
Explore our brochures