Scandi kitchen ideas for a simplistic and functional space
Scandi kitchen design is popular due to its simplicity and functionality. Let us take you through the steps to create a lust-worthy Scandi kitchen.
Creating a Scandi kitchen is about designing a space that feels calm and cosy whilst attaining a functional, clean environment. The Scandinavian style uses a calming colour palette, clean, sleek lines, warm woods and pops of colours to create harmonious spaces. At Masterclass Kitchens, we have kitchen ranges, colours and design features to create your dream Scandi Kitchen.
Take a look at our top tips for Scandi Kitchens for inspiration:
Open shelving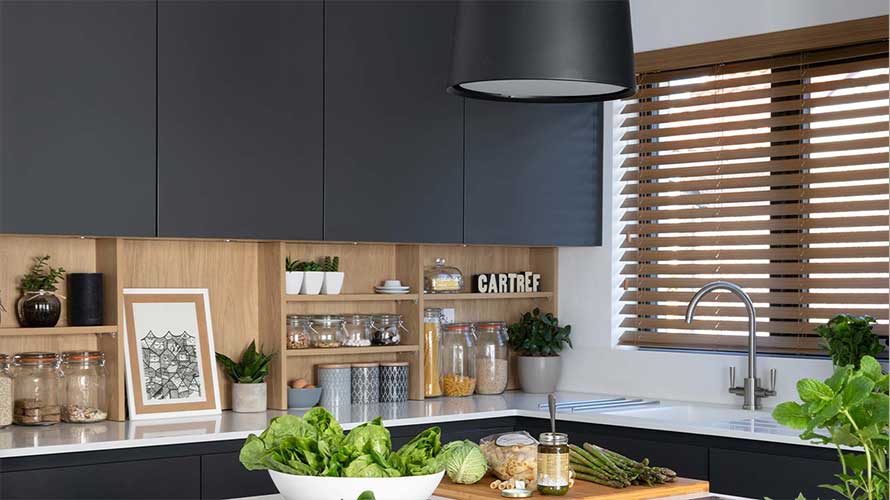 H Line Sutton Graphite with Portland Oak shelving, designed by Sigma 3 Kitchens in Cardiff
One of the most sought-after features in the kitchen is open shelving, and it's a fantastic choice for a Scandi kitchen. We have a wide selection of open shelving options to suit any size kitchen and a beautiful range of wood effect finishes to enhance the Scandinavian look.
Handleless kitchen design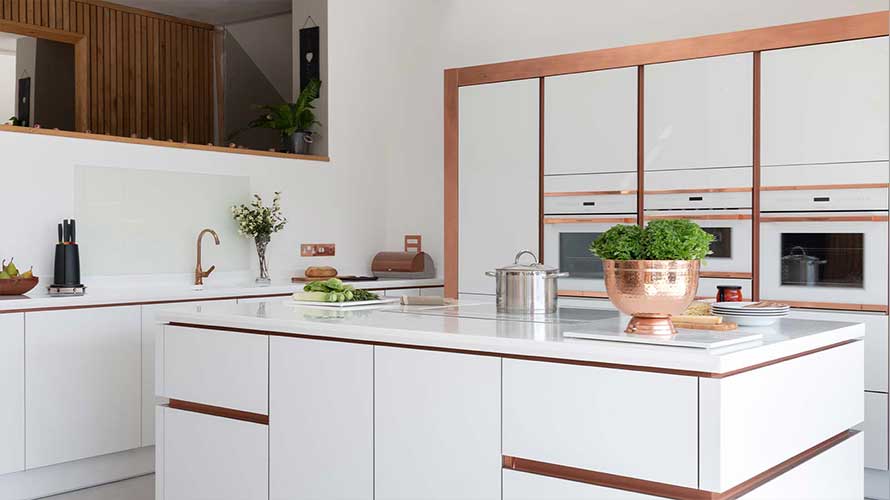 H Line Lumina White, designed by Sigma 3 Kitchens in Abergavenny
Handleless kitchen design and Scandinavian style go hand-in-hand. The minimalist sleek, clean lines of a handleless kitchen are the perfect backdrop for a modern home.
The handleless flat slab door creates the illusion of space, making it ideal for smaller homes.
Neutral colour palette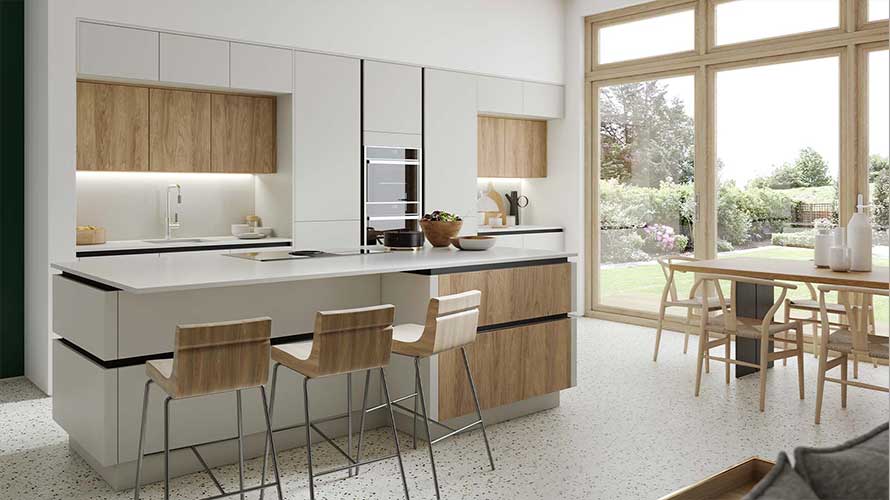 H Line Sutton Scots Grey
To achieve the Scandi kitchen look, choose neutral shades as your base colours to keep your home looking balanced.
Calming neutral tones is one of the biggest kitchen trends for 2021, and we have a wide range of shades to lust over. To add a splash of personality, incorporate touches of bold rich colours like oxford Blue or Hunter Green.
Messina Oak Handle Rail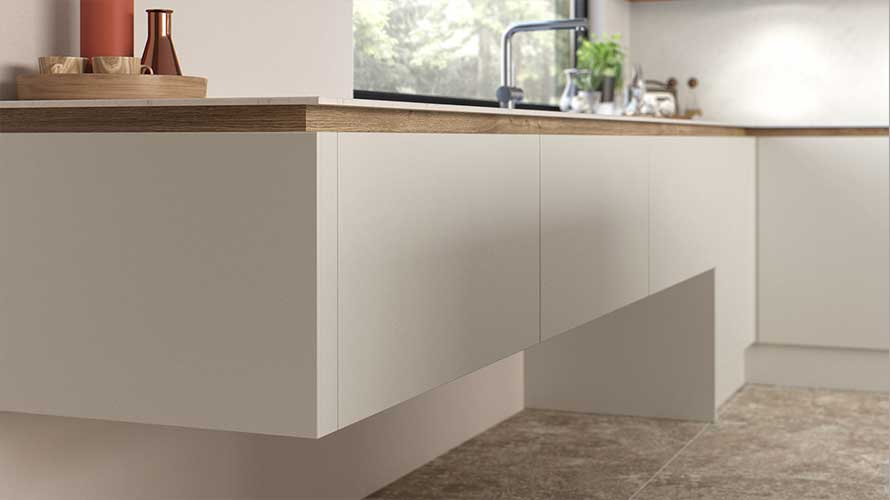 H Line Sutton in Scots Grey with Messina Oak handle rail.⁠
Complete a handleless kitchen by incorporating a Messina Oak handle rail. The natural look of wood will add warmth to a modern Scandi Kitchen. At Masterclass Kitchens, we offer over 30 handle rails to choose from, including five metallic finishes that ooze sophistication.
Bright worktops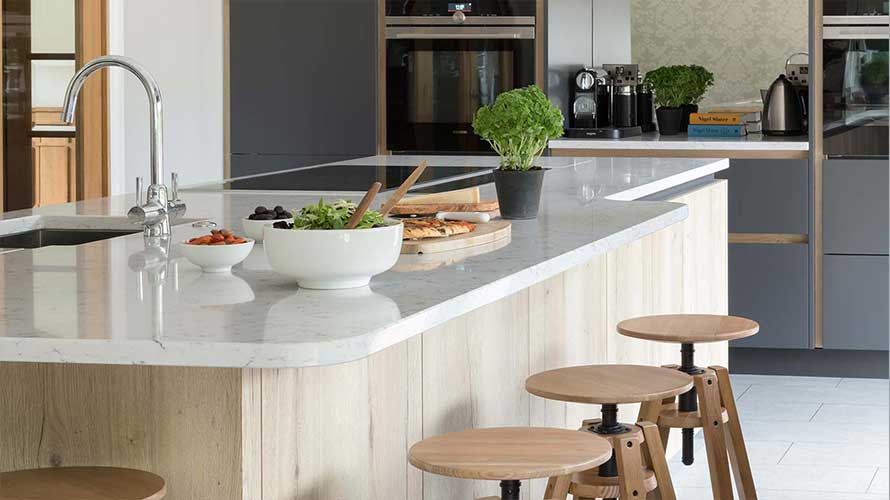 H Line Hampton Graphite and Ligna Mayfield Oak, designed by Studio 10 in Bakewell
Brighten your space and make the most out of the natural light with crisp white worktops. No matter what style or colour you choose, a white worktop will always be a great versatile choice.
Top tip: mix and match your worktops to differentiate the spaces, wood worktops are great for social areas.
Are you ready for your own Scandi kitchen?
Find your nearest Masterclass Kitchens retailer and start your own Scandi kitchen journey.
More kitchen inspiration that you might like...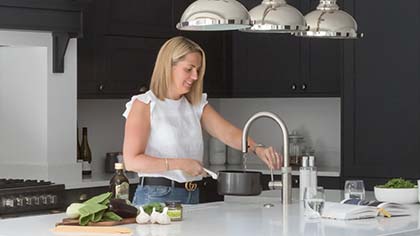 Get expert kitchen advice from our retailers
Find your local retailer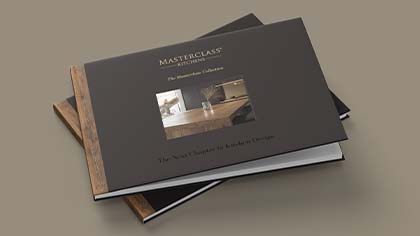 Are you looking for some more inspiration?
Explore our brochures