A beautiful blue and oak handleless kitchen
Designed & installed by Counter Interiors in York and featured in Designer Magazine.
Let us show you how the Wall's family achieved the perfect blue and oak kitchen.
Clever Coordination
This H Line Hampton Oxford Blue and Madoc Mayfield Oak kitchen brilliantly meets the needs of the Wall family and a space worthy of being the true heart of the home.
The brief for this home was to create a contemporary scheme that would both look good and provide all the practical benefits that would make a difference in a family home. When Luke from Counter Interiors began the design he knew he would need to incorporate enough storage to house all the essential items needed in a family home whilst maintaining the flow of the room and the feeling of space. "The low ceiling height meant we couldn't use tall wall units," explains Luke. "So we used short height wall units, internal drawers in the island, and a larder unit in the utility which incorporated drawers and shelves to maximise the available space."
When deciding on the range Luke explains "The handeless style is sleek, modern and sophisticated and when used with the silk finish, portrays a regal rough which exudes quality and expense, we contrasted the smooth, cool tones of Oxford Blue with Masterclass Kitchens' warm and heavily textured Madoc in Mayfield Oak creating a seamless transition to the natural colours of the garden outside. The lifelike texture of Mayfield Oak doors imparts a rustic, tactile beauty to the smooth and sleek appearance of the rest of the home."
True Personalisation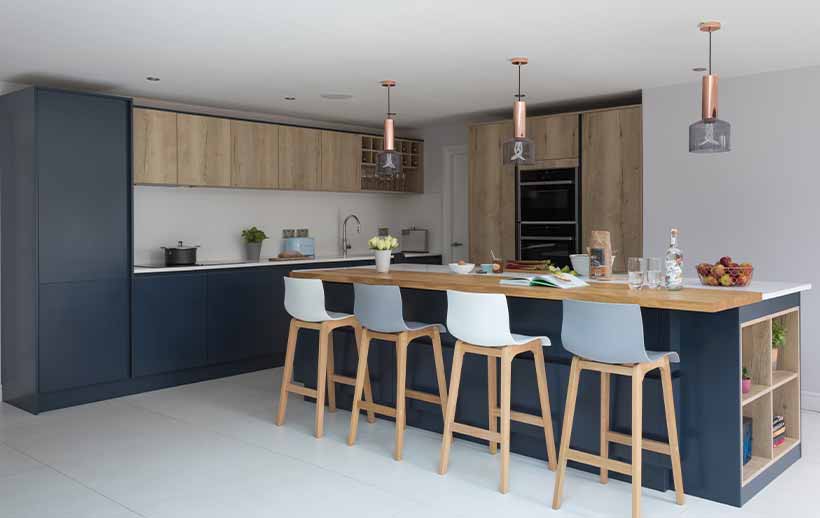 At Masterclass Kitchens you can decide between 28 handle rail options, pictured here is the Oxford Blue handle rail.
Open Shelving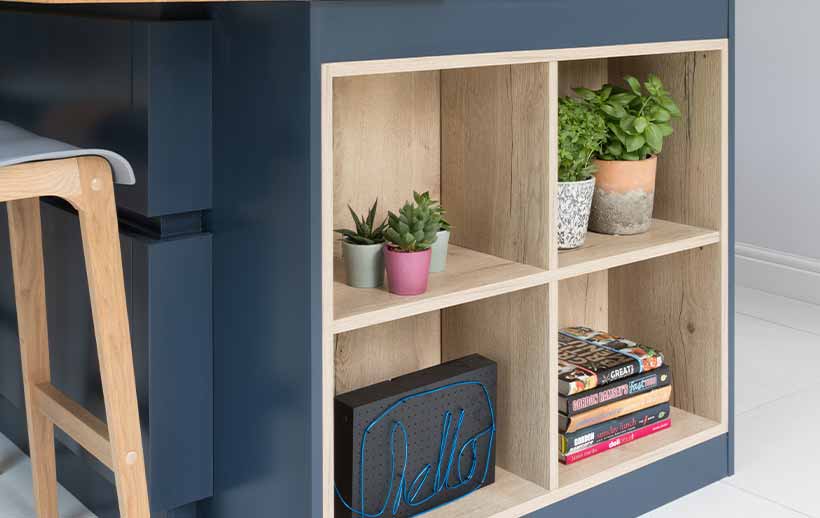 The Signature Collection is filled with beautiful and unique design and storage features – just like this open shelving. Perfect to display your favourite recipes!
Tactile Textures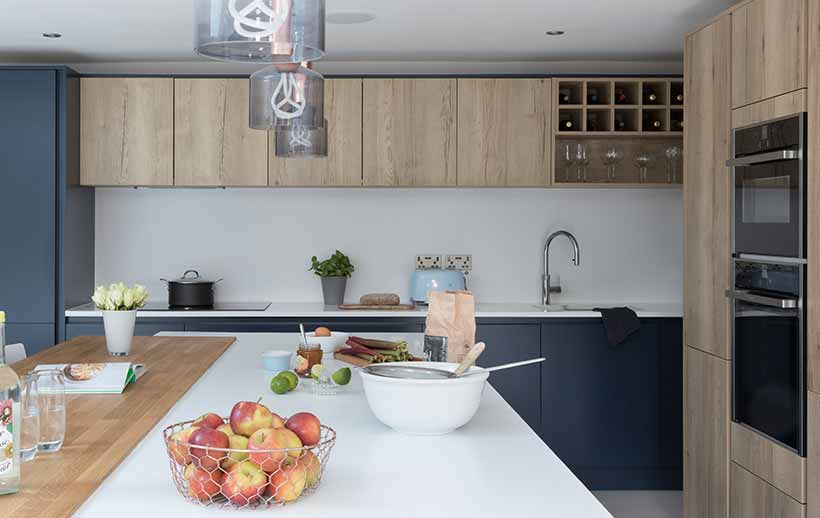 Mix and match your textures to add warmth in your home – this kitchen mixes the silky smooth Hampton range with the wood effect Madoc Border Oak.
Find you nearest Masterclass Kitchens retailer.