Dream Home Improvements: Lisa's Kitchen Renovation
Published on 28 Sep 2023
South of a large residential town, Milford Haven's coast is rich with attractions. Yachts border the waterfront, the beach hosts anglers and tourists bustle into Milford Haven Museum. For centuries, though, the most interesting aspect of the town has been the people. This is still the case.
Indeed, taxi down a discrete country lane, through dark, iron gates and you'll encounter a detached seafront house that's had considerable home improvements, including a brand new Masterclass kitchen renovation. Inside, its owner Lisa, who we visited, sets aside a coffee in her Handleless kitchen.
"My old kitchen was a bit tired and dated—just wasn't fitting in with my lifestyle anymore," she admits in response to a question about why she visited Masterclass Kitchens. Her kitchen—a white and gold H Line Sutton range supplied by Nick from Ratford Bridge—gleams as white as her immaculate dress.
Lisa's Kitchen Ideas
A woman who knows what she wants, Lisa admits that the moment she saw the range in the Ratford Bridge showroom, she had to have it. "This was the kitchen for me," she says. "It wasn't the right colour, but it's what I wanted."
That's a typical Masterclass customer reaction. As with many of our clients, the new kitchen cost is important to her but she weighs it against the opportunity cost of not having one—how it would feel to miss out on the lifestyle she can achieve now that her home renovation is complete.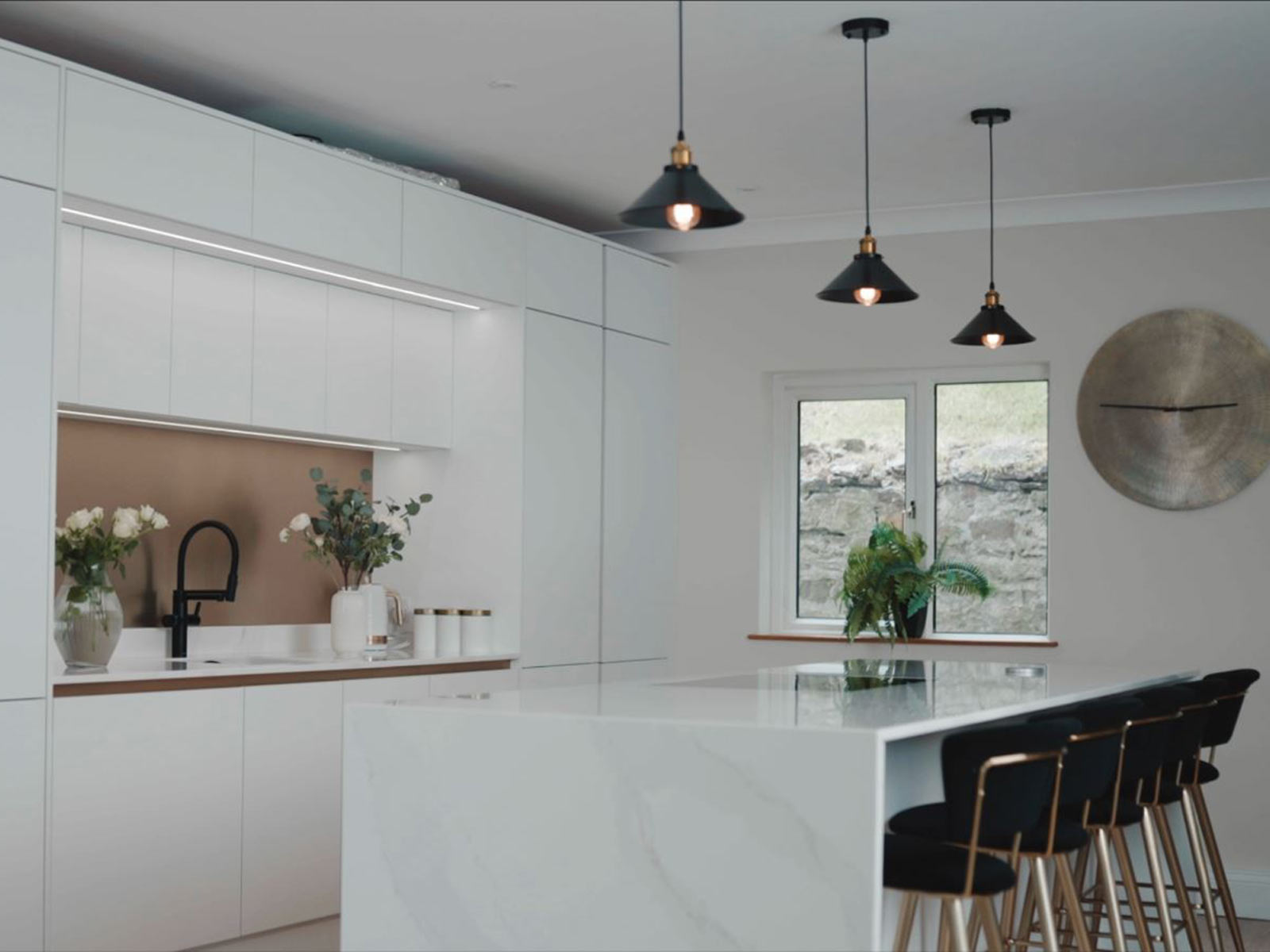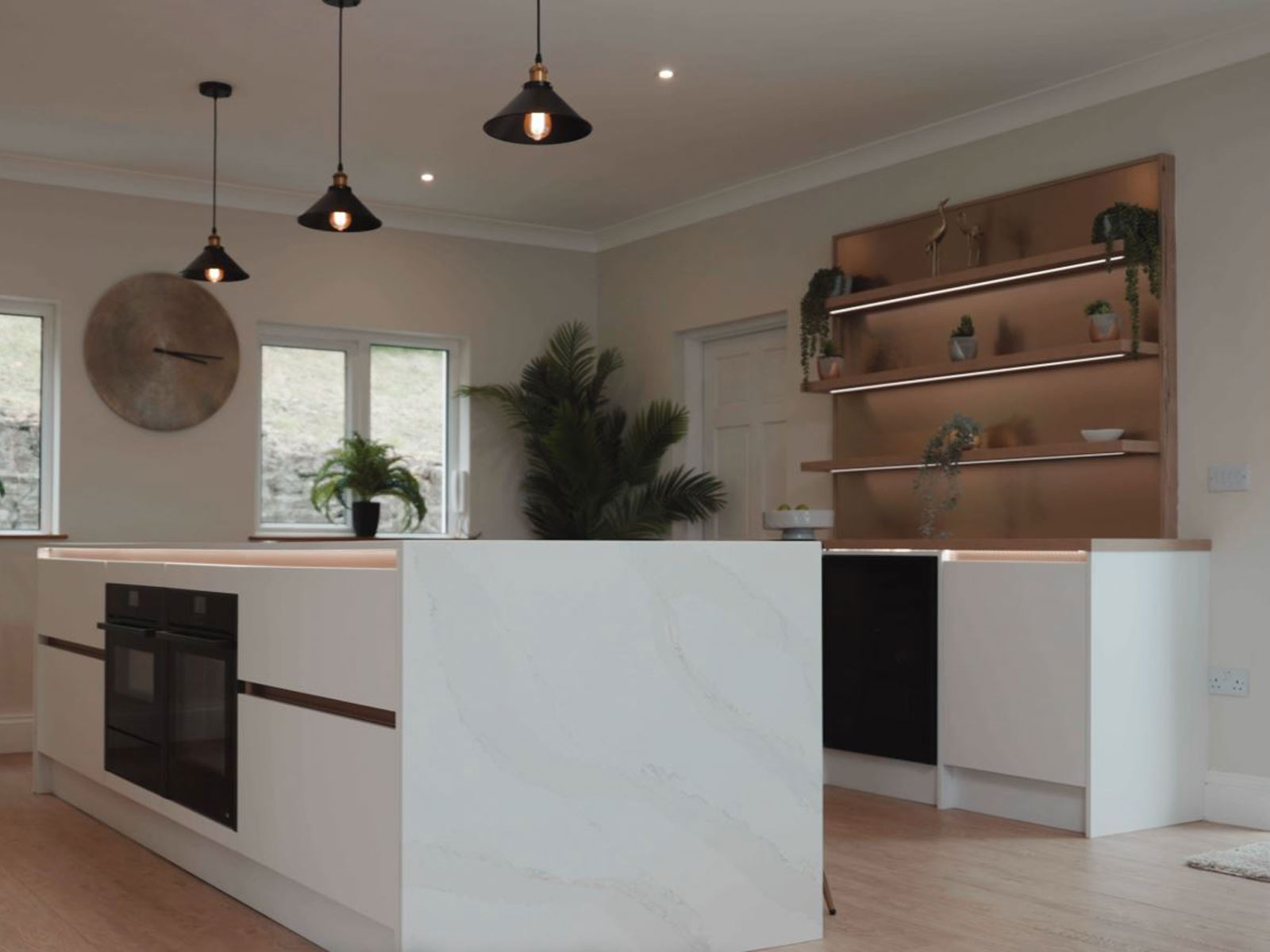 "I had two previous kitchens," Lisa explains. "I didn't hesitate. I didn't even think about going anywhere else. I know the quality of the kitchen—they're superb."
Alas, while Lisa has always had a vision, she isn't a kitchen makeover expert. As with many highflyers, she would rather map out the details herself but knows she needed advice to get her kitchen remodelled to a level that met her expectations. And so, a Masterclass designer saved the day.
Pro Tip!
Want design tips and lifestyle advice to help you make the most of your kitchen? Become a Masterclass Kitchens Insider for free. You'll get a library of virtual lifestyle guides just for subscribing.
Claim Your Welcome Library
New Kitchen Design Ideas
Presenting expert knowledge in conversation, Nick offered Lisa multiple choices and, though initially hesitant at some furniture suggestions she'd never encountered, she trusted her guide.
"I chose the large double-cabinet cupboards with no post in the middle. I have some large equipment in the kitchen that I didn't want to keep out on the unit," she divulges next to white gloss handleless kitchen cabinets known for their unique postless design, which enables more usable storage.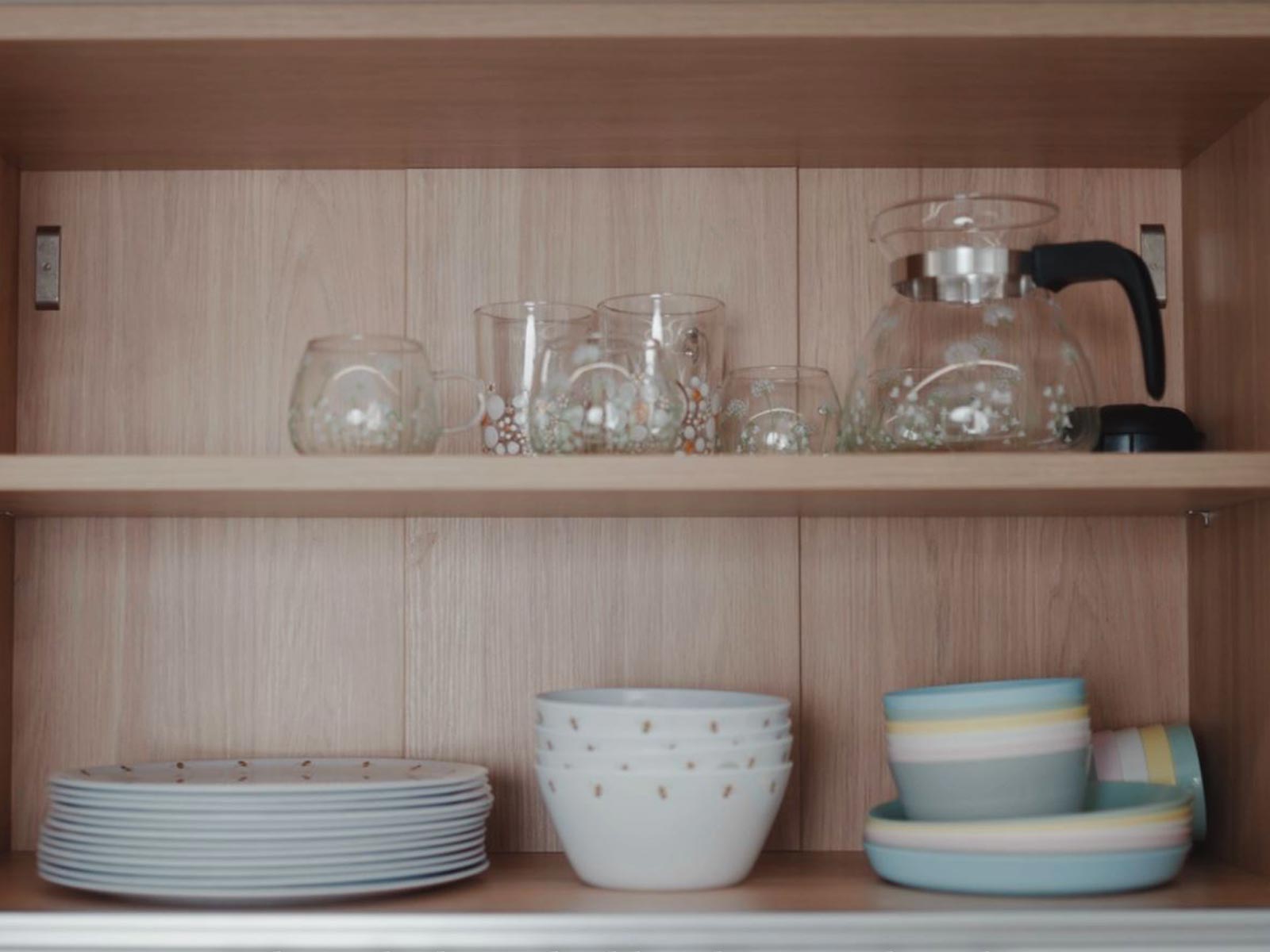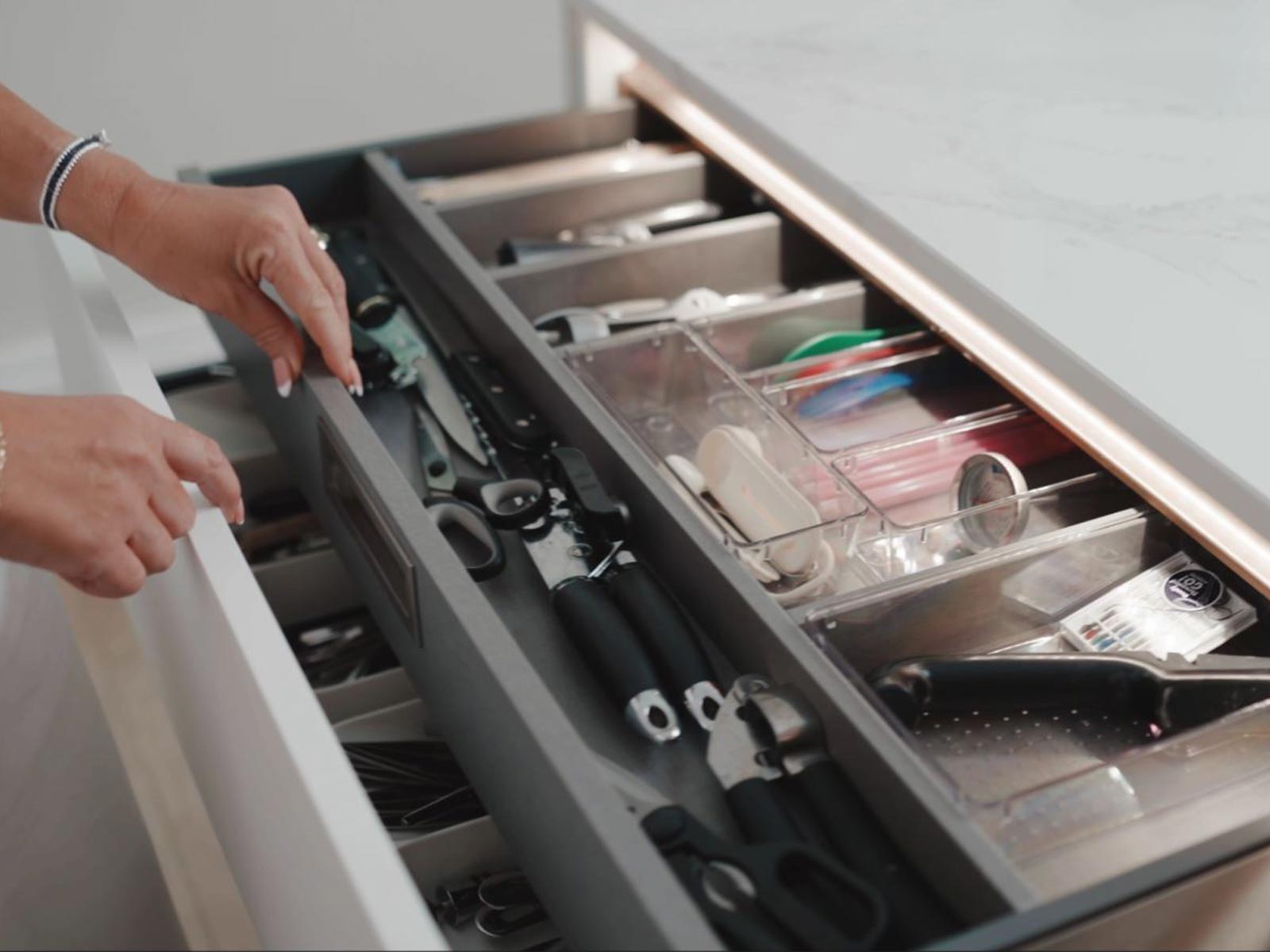 Likewise, she continues, "I chose the large cutlery drawer with a hidden cutlery drawer. Absolutely love being organised! Plenty of room to keep all of my utensils all in one place."
Being a professional in the home improvement business, the designer recognised her love for organisation and incorporated it into her plans, suggesting a kitchen cupboard with internal drawers.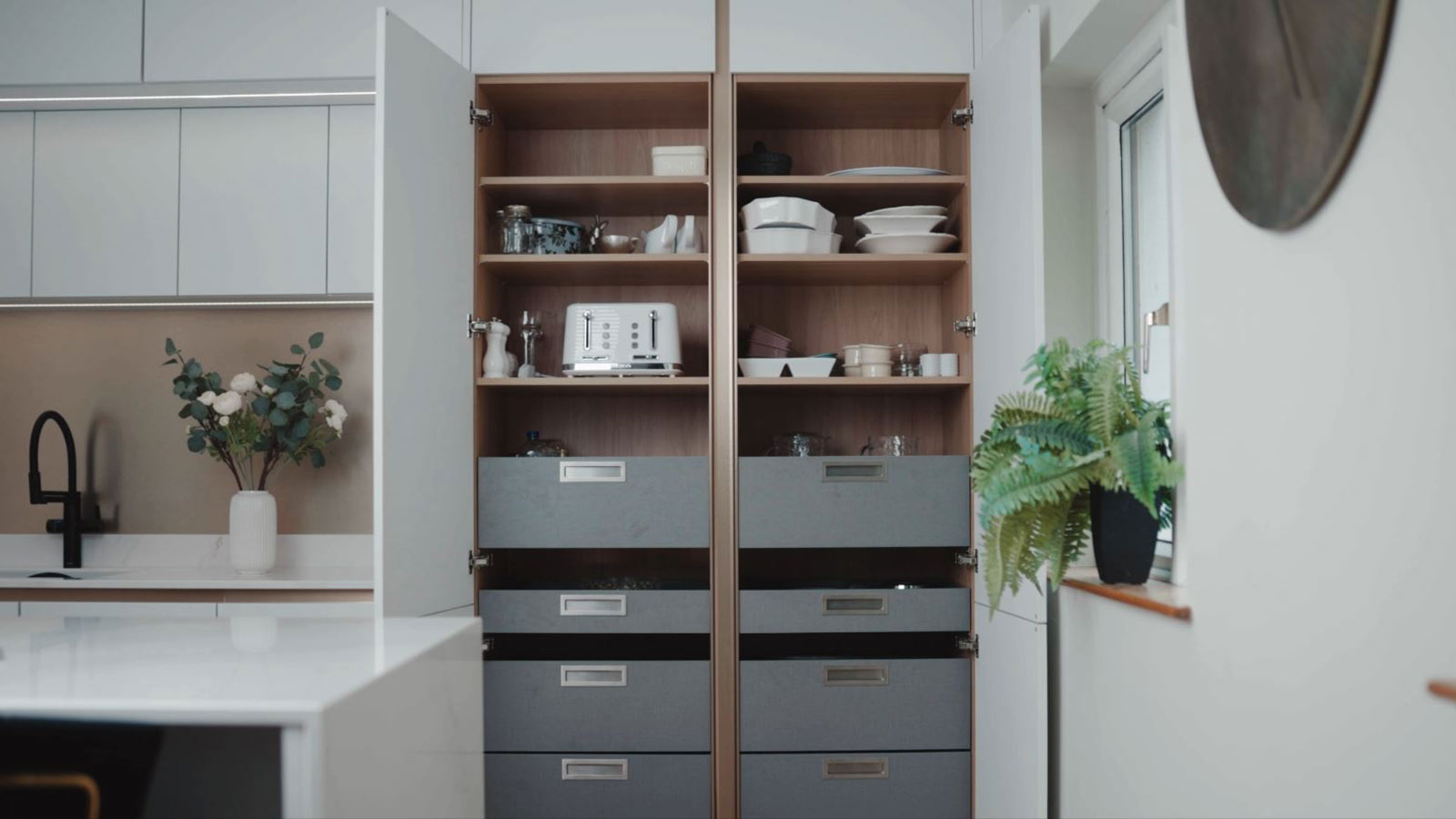 However, Lisa didn't stop there: "The reason I chose the big storage SpaceTowers was mainly for my storage and for my dry foods. […] It works perfectly," she says, demonstrating the larder drawers. "I don't have to dig in the back of cupboards anymore, looking or stacking things on top of each other."
Kitchen Features for Entertaining
A keen entertainer, Lisa goes on to describe her corner larder units, explaining, "I chose the MagnaSpace pull-outs in my kitchen. I wanted to design a sort of bar area in the kitchen. I wanted to store a lot of glasses next to the wine fridge."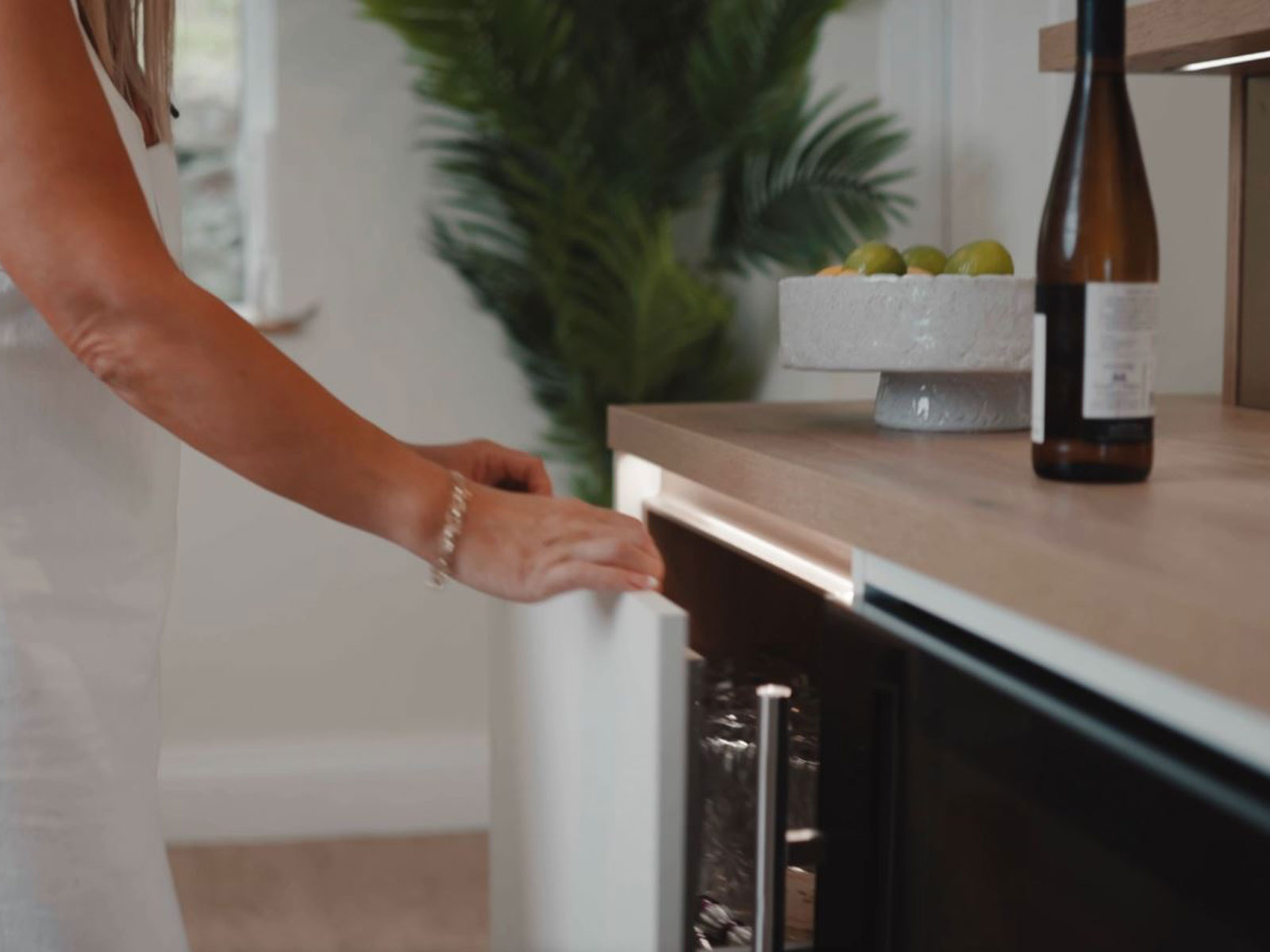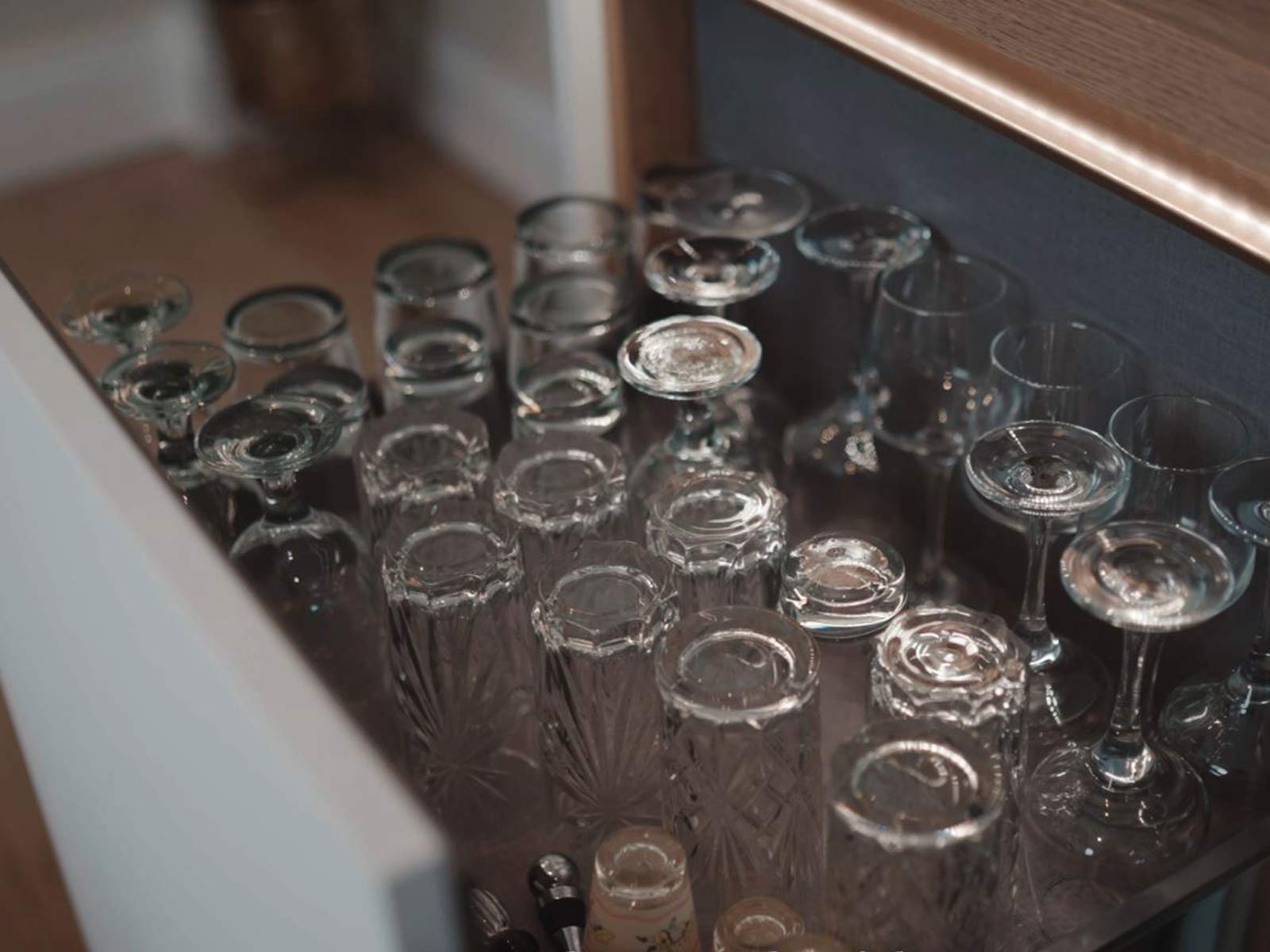 "So simple and easy, pulling them out," she gushes. "Quick, convenient, can find exactly what I need and what I'm looking for." In many ways, that caters for her guests. But what about all the waste visitors create? Was Nick able to anticipate that need as well? Absolutely.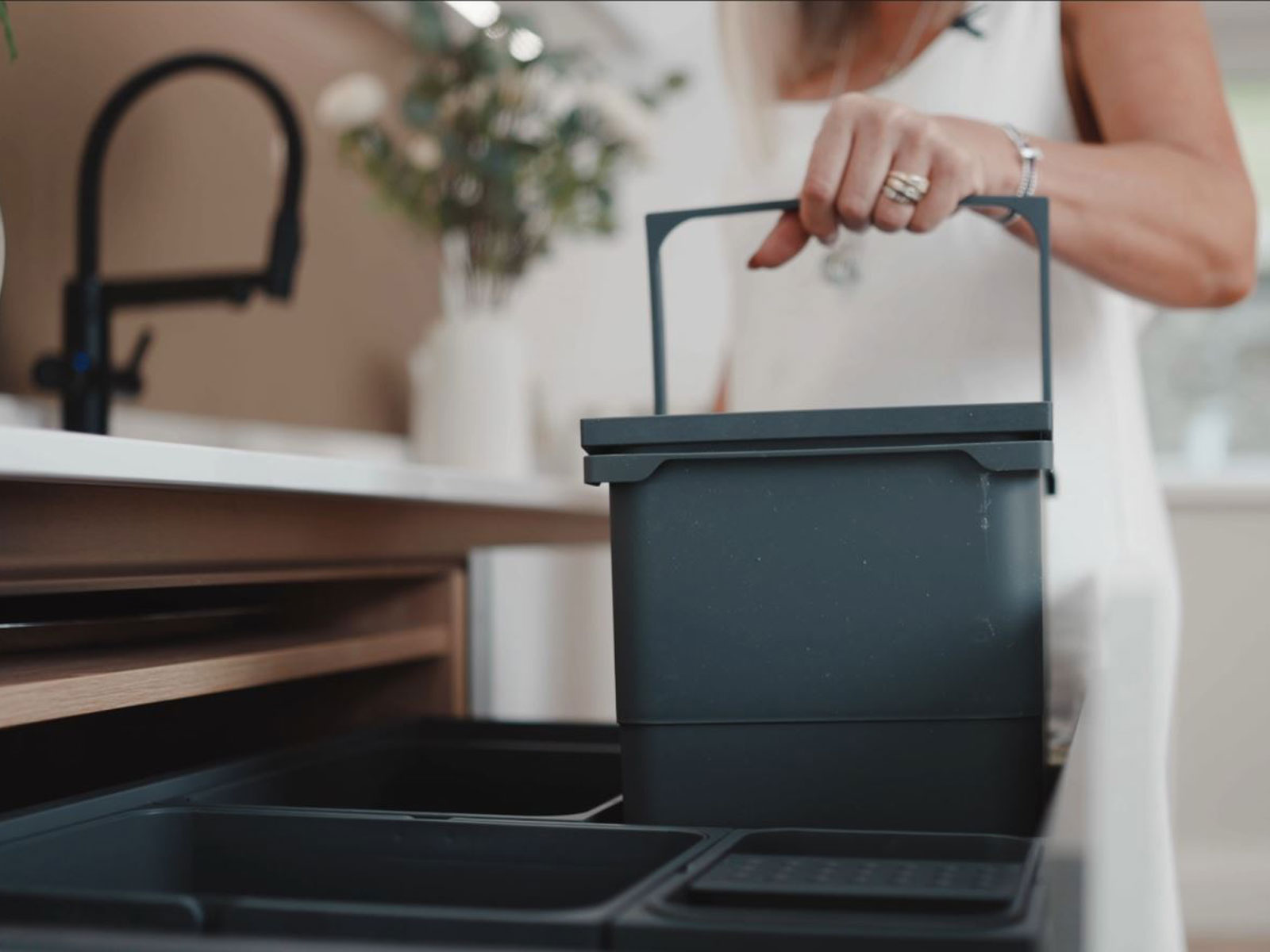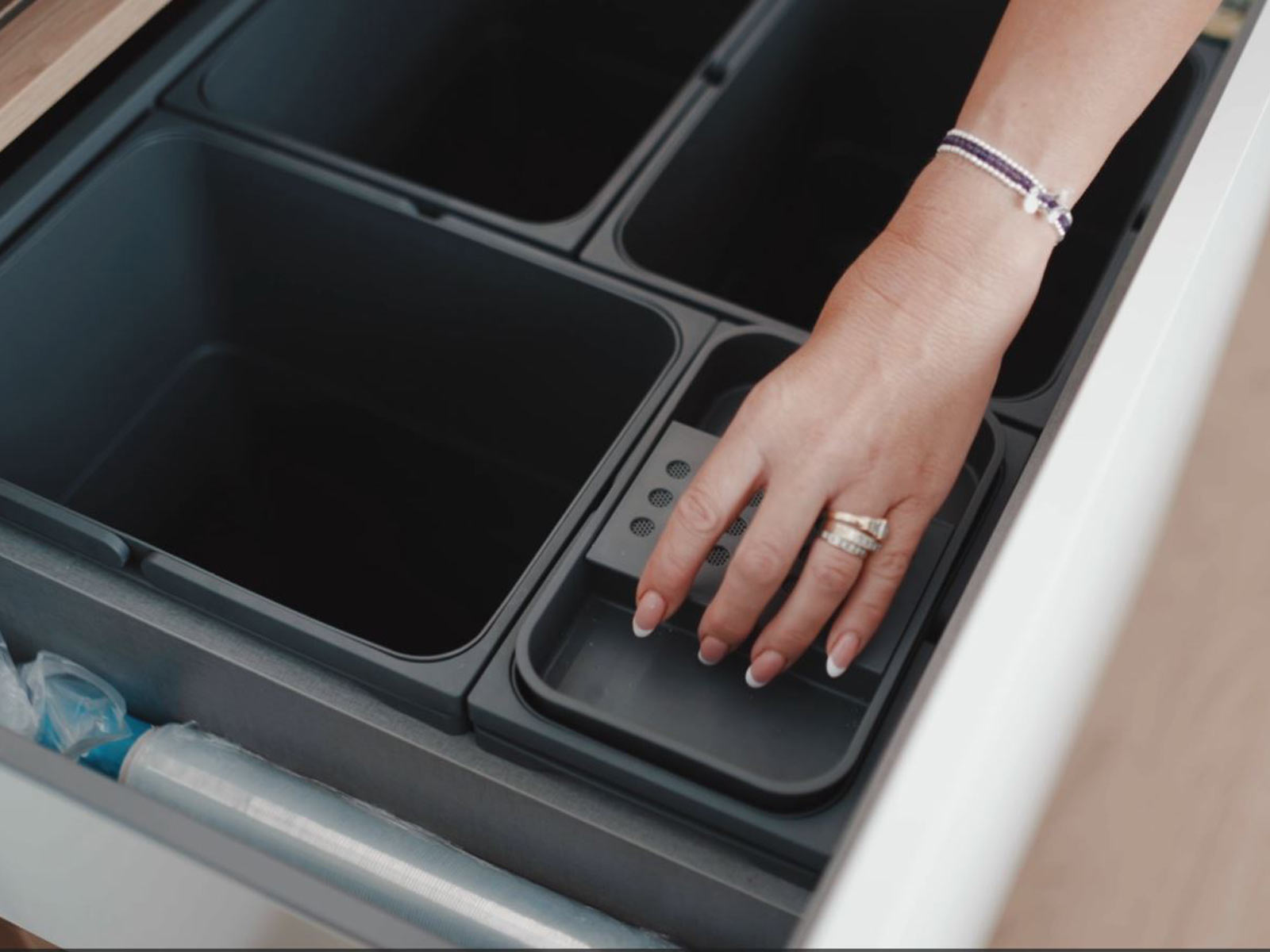 "Incorporating a VelaBin was a big factor in my new kitchen. Recycling is so important, and I didn't want it on display. There were a few different designs to choose from," she explains, referring to kitchen bin dual, triple and quadriple set-up options Masterclass offers, "but I knew this one was perfect for me."
Lisa's Masterclass Kitchen Review
Thankfully, Lisa's choice to trust her Masterclass kitchen designer paid dividends. When asked if she's happy with the result, she responds, "I'm over the moon and delighted with my Masterclass kitchen. It really has enhanced and made my life easier."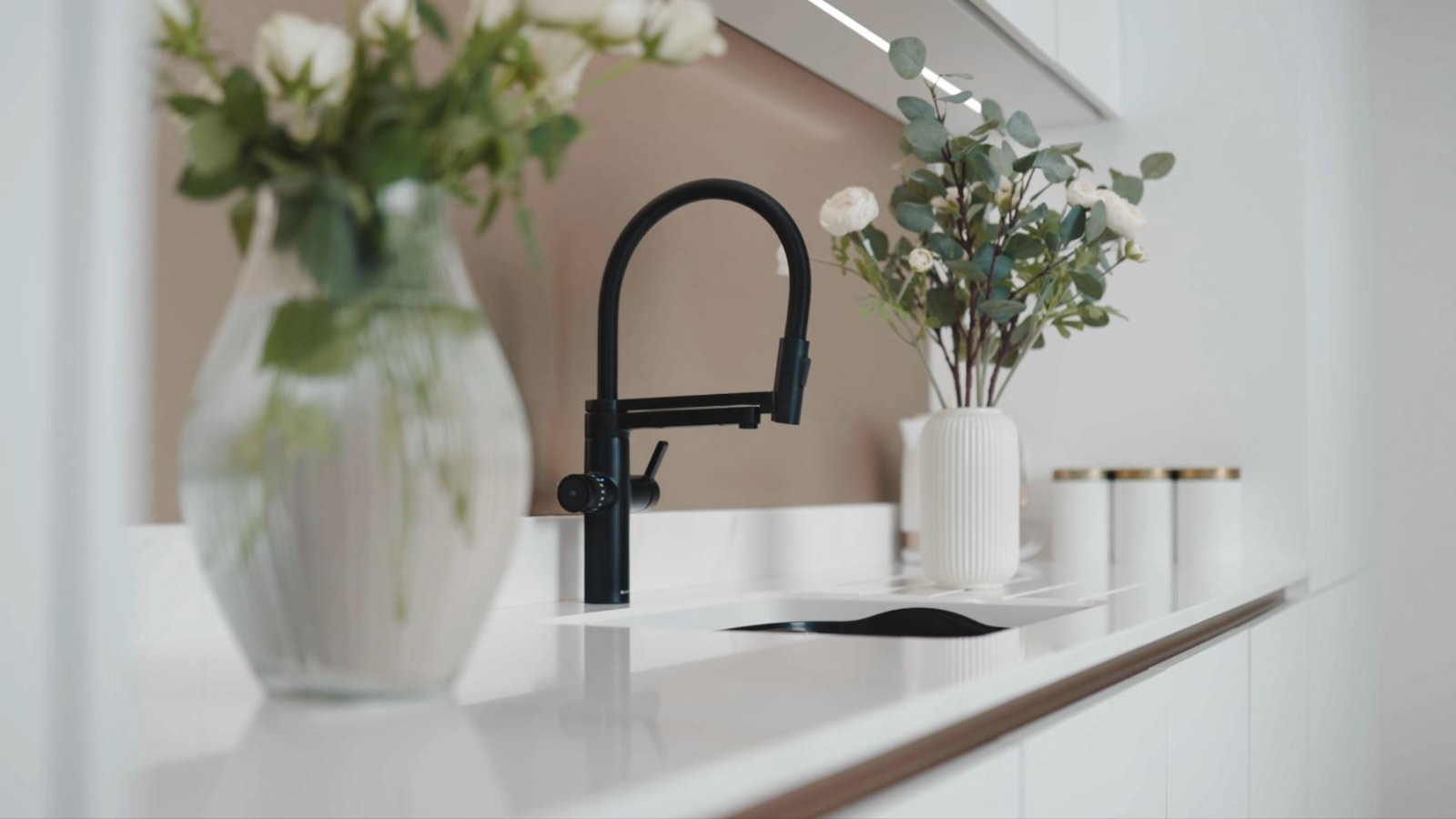 "That's fantastic! We love these sorts of stories," our brand manager says as the visit draws to a close. "What's your favourite bit?"
"I had these fabulous pull-out drawers that hold the whole of my dinner service. I can find my saucepans—they're all in another drawer. I've got hidden drawers within a drawer."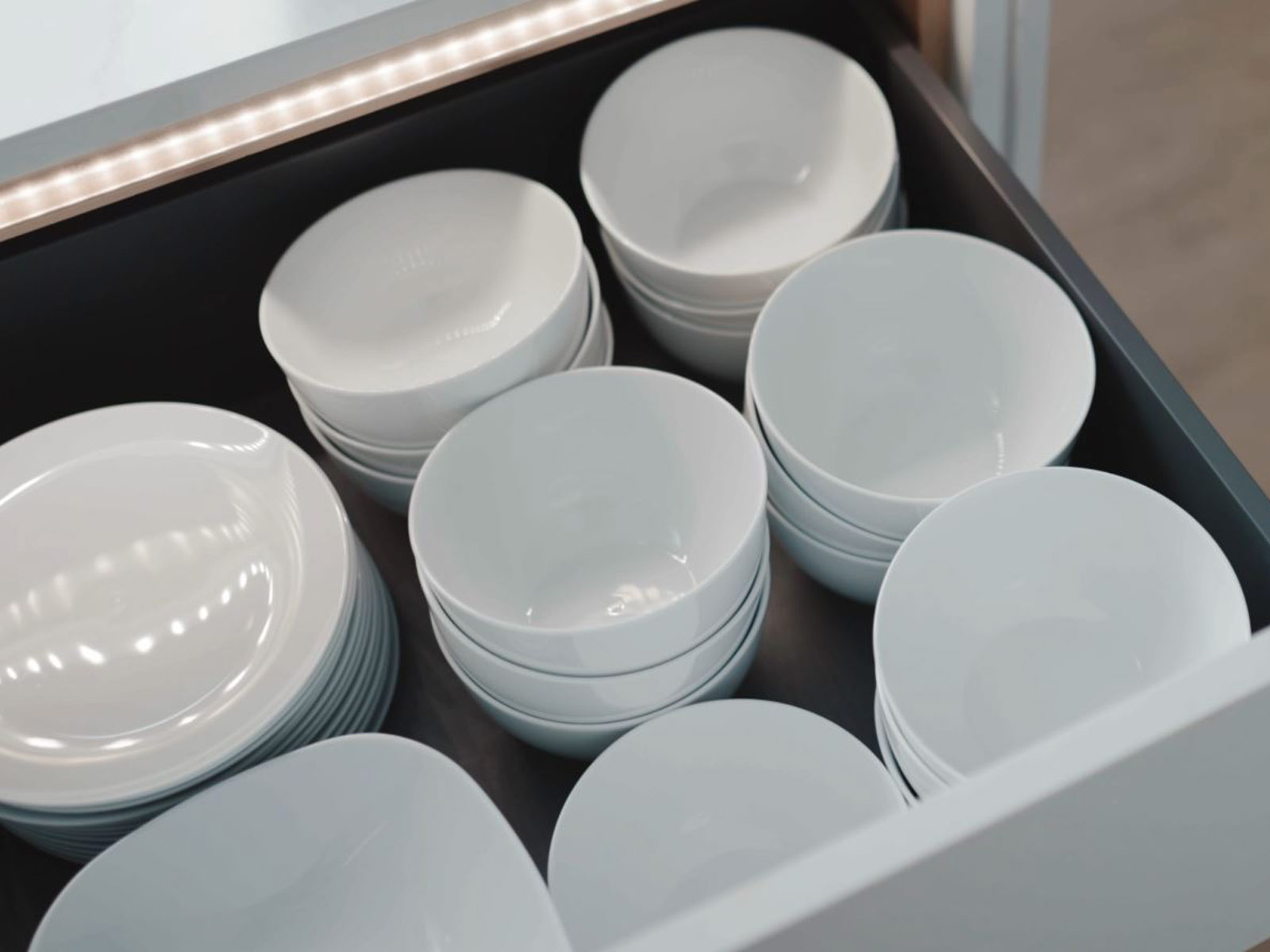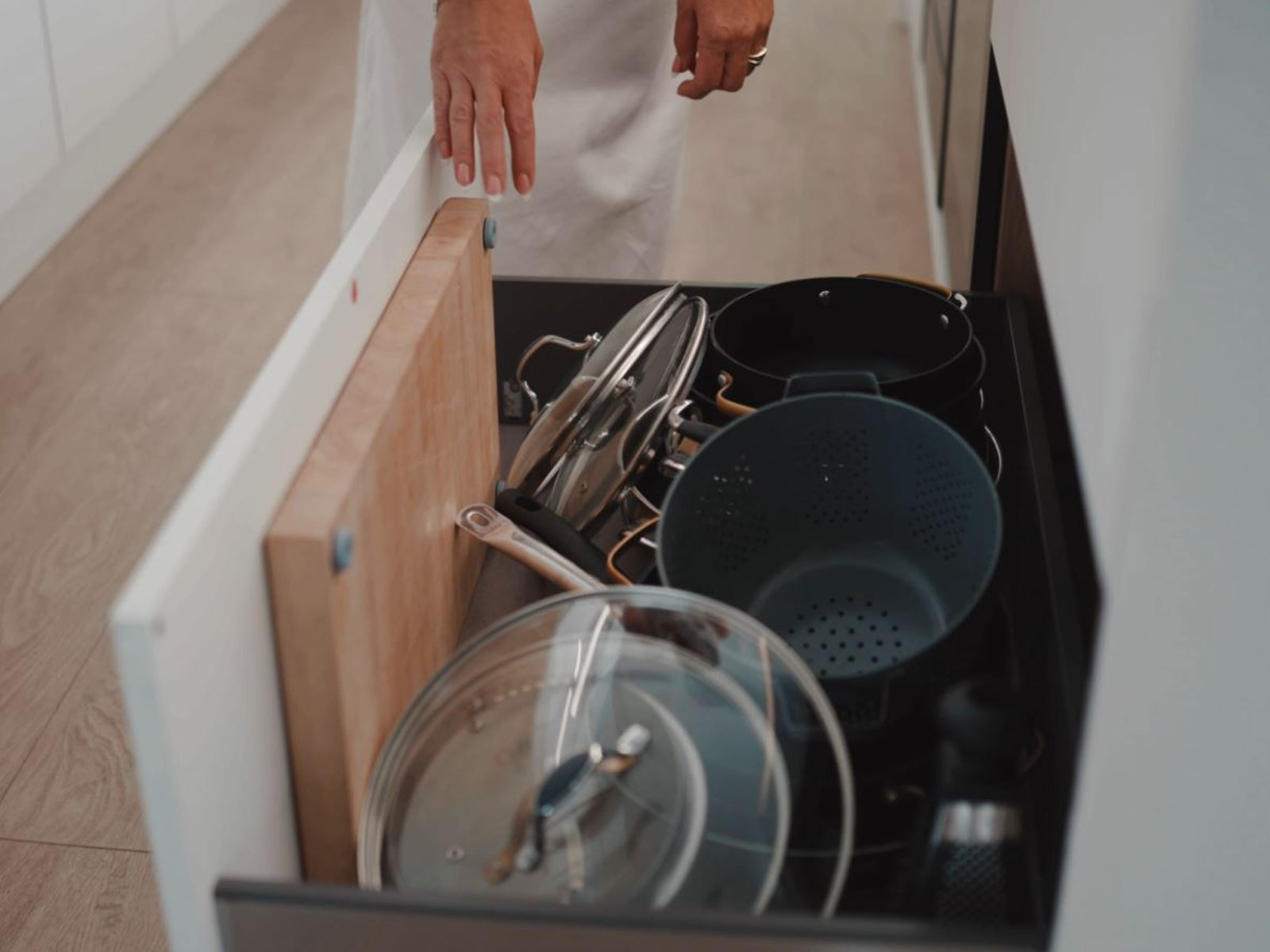 "Everything is just to hand," Lisa explains with a smile as it's time to leave. "It's so simple, it's great! I actually now started enjoying cooking in my new kitchen."
Try Masterclass Kitchens Yourself
Want to tour a Masterclass kitchen yourself and speak to a professional design consultant like Nick who helped Lisa? Find your nearest showroom and book a consultation slot, or become a Masterclass Insider for free. As a Masterclass Kitchen Insider, you'll get exclusive design tips, plus welcome guides and resources just for joining the community.