Your home should be a space that oozes calming serenity, and one of the biggest interior trends of 2021 highlights this need.
Calming colours will be leading the way for colour trends in 2021, and we have some fabulous tips for incorporating calming colours in your kitchen. At Masterclass Kitchens, we have a wide selection of colours and finishes you can mix and match to create a colour palette that matches your interior style.
Trend 1: Warm greys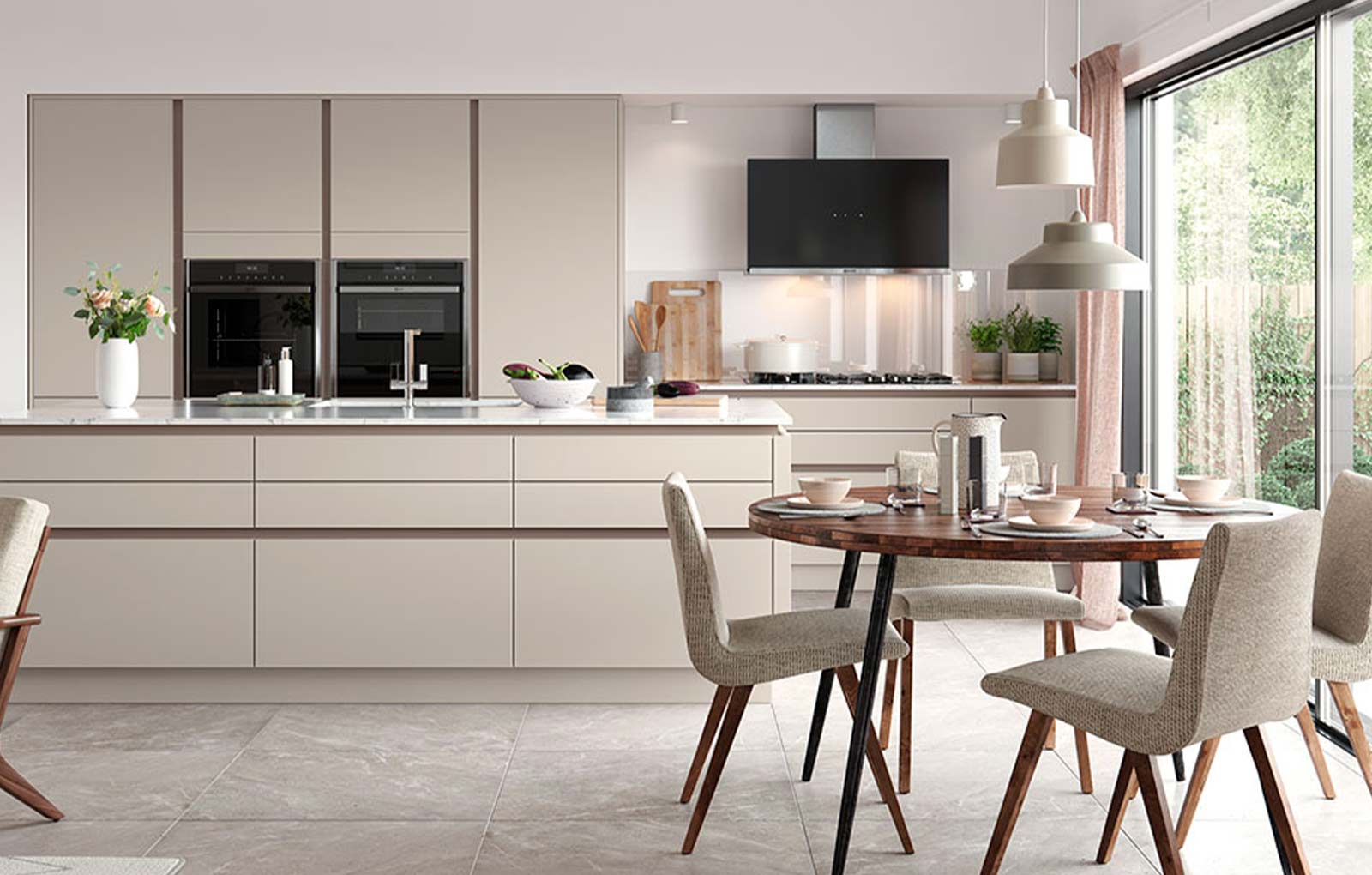 Over recent years there has been a shift from cool, crisp greys to softer, warmer grey shades. This move is due to the rise in open plan living, and homeowners want their kitchen to flow from kitchen to living area seamlessly. Warming colours are more prevalent in living areas, as this is where you want to relax and feel calm. Consider the colour scheme around your home and how these calming colour hues in your kitchen will complement the rest of your home.
Trend 2: Calming blues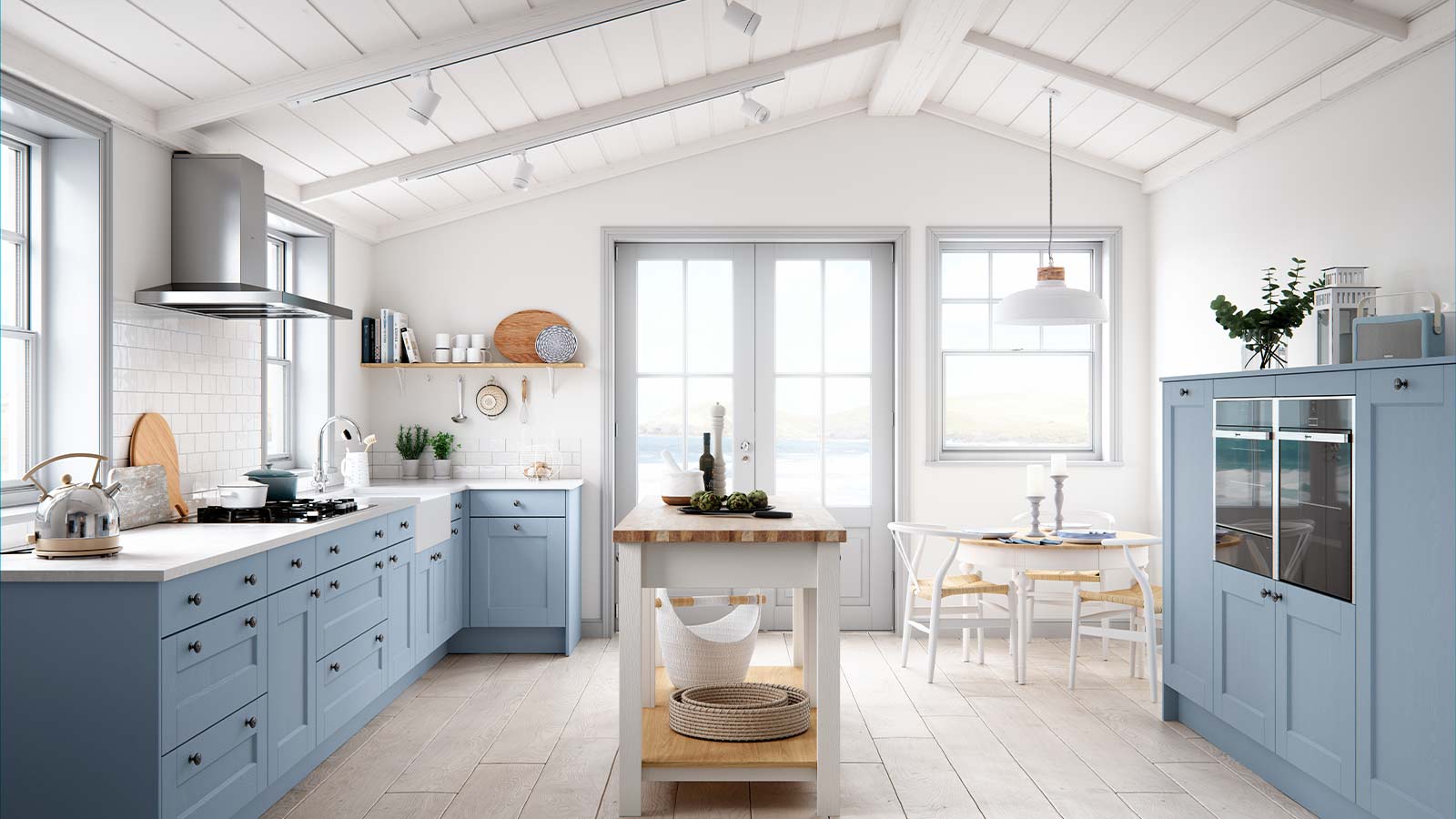 Blue kitchens are an interior design phenomenon, but it's not all about dark, rich blues. We're seeing more homeowners opting for warm pastel shades of blue to complete their kitchen look. Our calming blue shade, Coastal Mist works when mixed with other calming hues or as a stand-alone colour.
Trend 3: Warming woods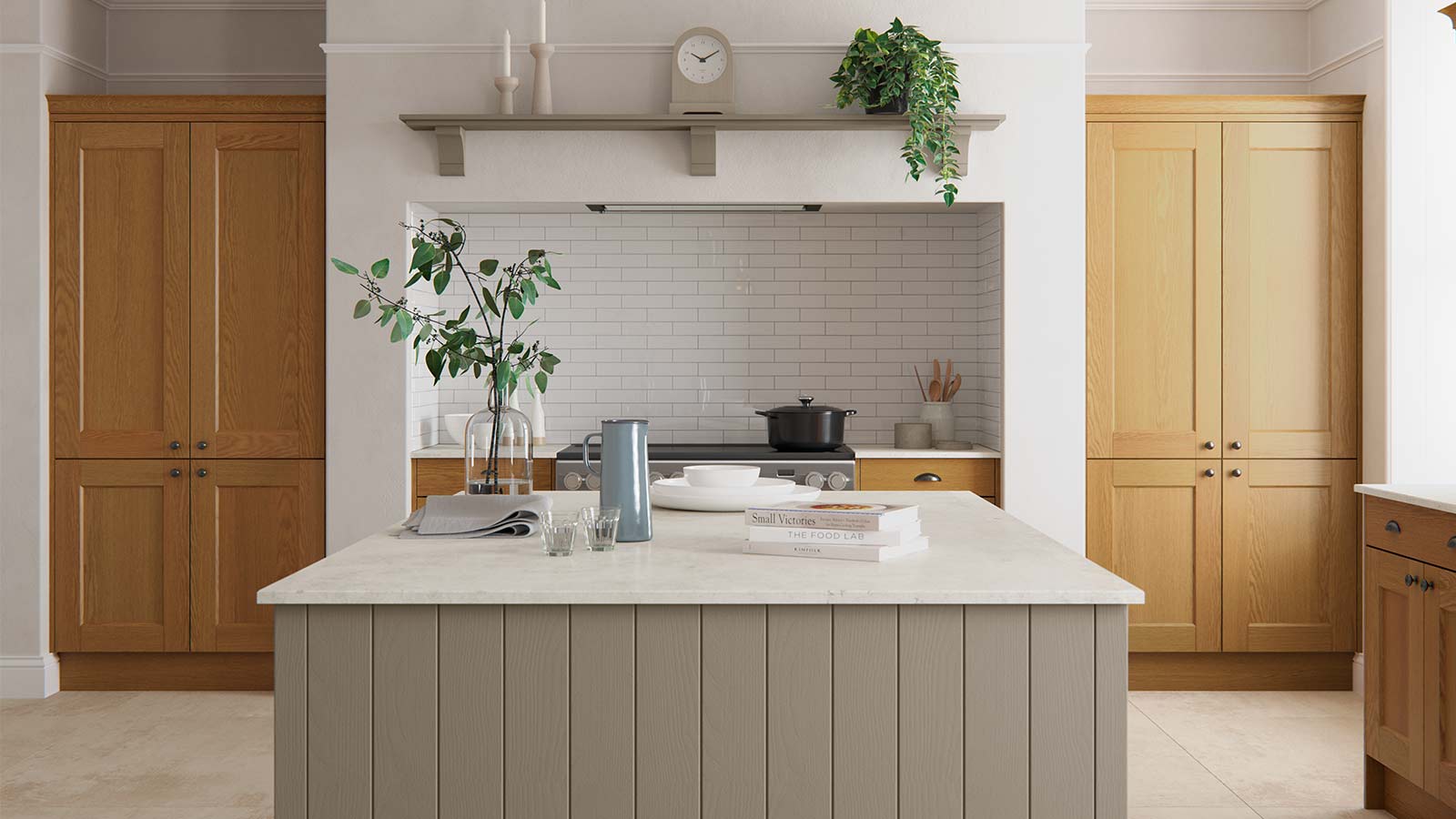 Solva Natural Oak and Farringdon Grey
To enhance a calming colours scheme, you can incorporate another one of the biggest kitchen style trends of 2021 – warming wood textures. The natural grains of wood complement calming colour tones to create a beautiful space that oozes style and instantly make you feel relaxed. Incorporate wood textures as an accent in your kitchen doors, worktops, handle rails or your open shelving – this versatile style will work in any kitchen setting.
Trend 4: Pink pastels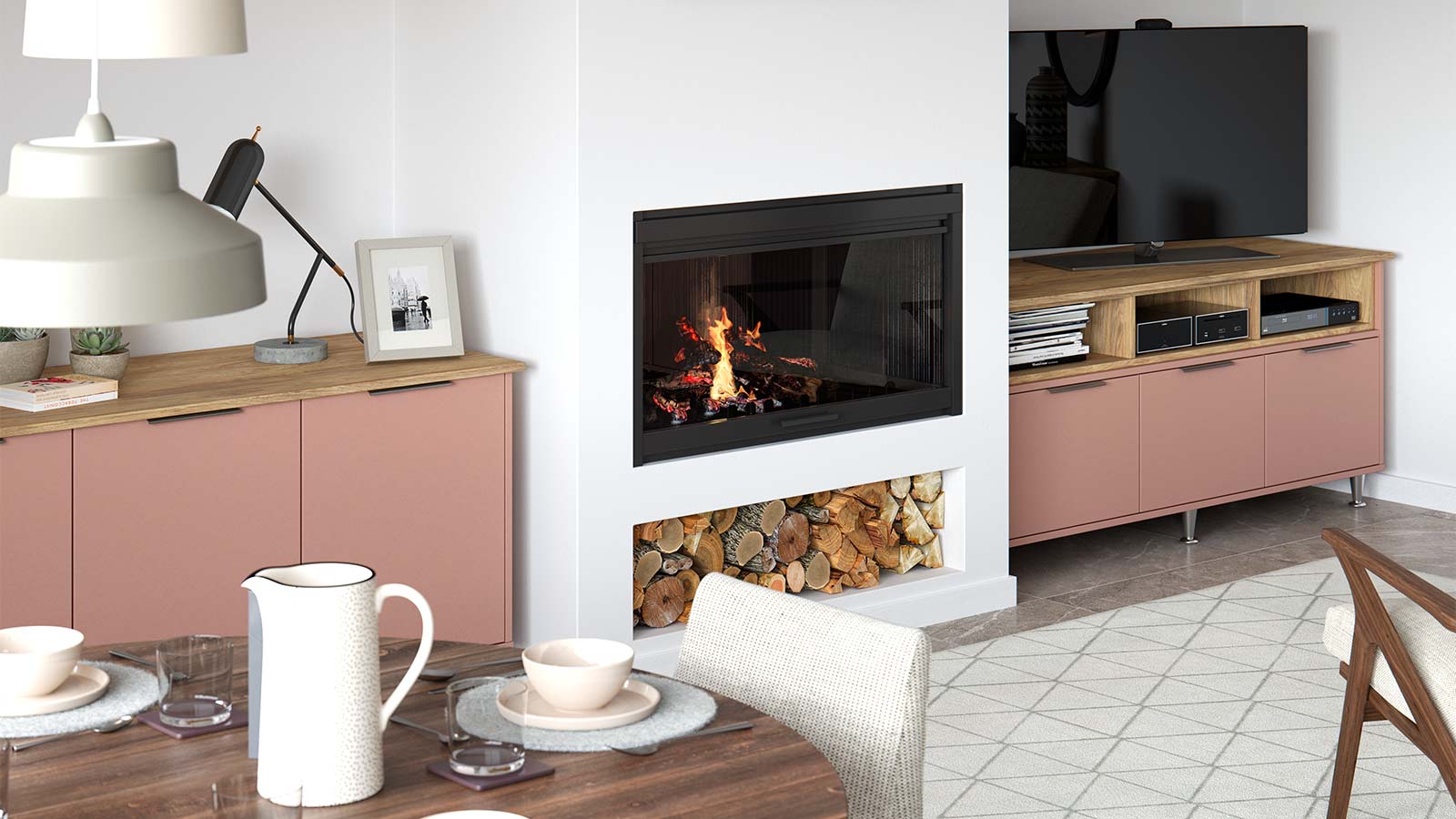 Pinks is sometimes regarded as a feminine colour, making some homeowners discouraged to use pink hues. We think that needs to change; soft, warming pinks are an excellent accent that seamlessly integrates your kitchen and living areas. Our Autumn Blush mixes pink and grey tones to create a calming colour that works in both modern and classic kitchens.
Trend 5: Constrasting calming colours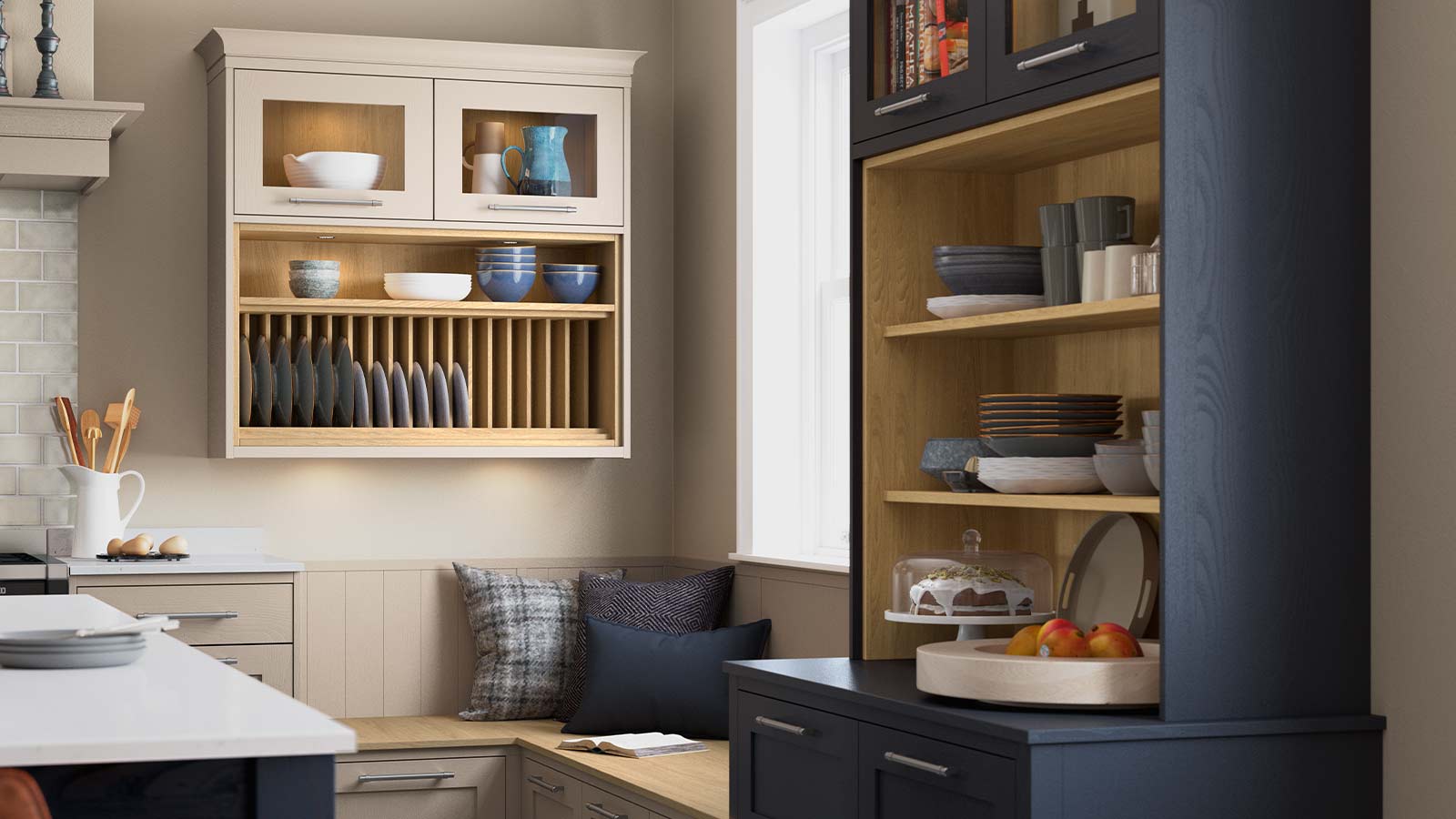 Hardwick Farringdon Grey and Oxford Blue with Portland Oak cabinets
Contrast calming kitchen colours, with dark rich accents. Our luxurious shades Oxford Blue and Hunter Green perfectly complement warm grey shades like Farringdon Grey and Highland Stone to create a space that oozes sophistication. A popular place to add dark accents is in the kitchen island or a kitchen feature you want to highlight.
Would you like a calming kitchen colour scheme?
If you're ready to start the journey towards your dream kitchen, find your nearest Masterclass Kitchens retailer today, or view our beautiful kitchen brochures for more ideas and inspiration.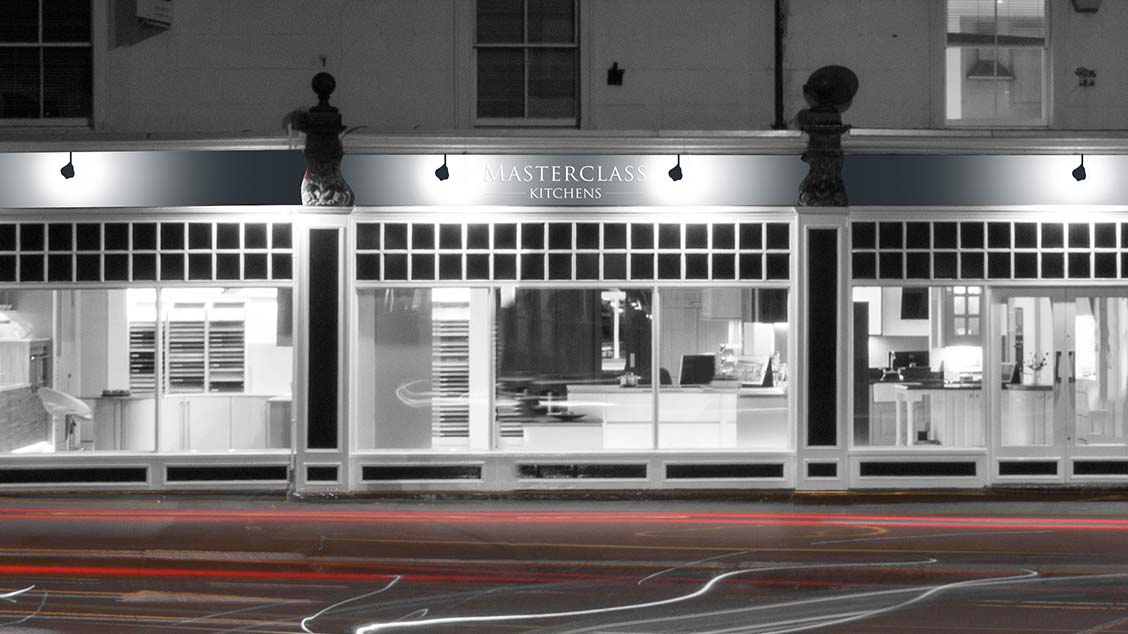 Start your Kitchen Inspiration journey at a Masterclass Kitchens Retailer
Talk to a Masterclass retailer to get your very own kitchen design. Our experts will produce a 3D design and quote based on your dream kitchen wish list.
Find Your Local Retailer