9 surprisingly clever ideas for modern kitchens organisation
Do you have a focus on organisation and storage when planning your dream kitchen?
Would you be shocked if we told you that 68% of people believe that, above anything else, kitchen storage capacity is the most important feature of a new kitchen! Or would you tell us that you're already considering the storage options for your new kitchen design?
The fun part about designing a new kitchen is making it look incredible, but you also have to make sure it's functional and fit for your lifestyle. At Masterclass Kitchens we've designed The Signature Collection along with a few other clever features, that showcases a range of elegant storage solutions that not only perform outstandingly but also look sensational.
Quintessentially Masterclass, The Signature Collection is much more than a range of highly desirable and iconic pieces of furniture. It is a lifestyle choice, committed to giving you the best possible experience when selecting what goes into your new kitchen, whether it's an ultra-modern kitchen design or a classic country-style kitchen.
The runners and hinges used for The Signature Collection are made by Blum, an award winning, international company who supply top quality fittings for our kitchen cabinets in the UK. Blum products are designed to improve quality and increase efficiency so that you can get a better quality of living.
Below are some of our ideas for modern kitchens storage pieces. We're sure they'll provide you with plenty of contemporary kitchen ideas;
1.
The Connery – a sophisticated cocktail cabinet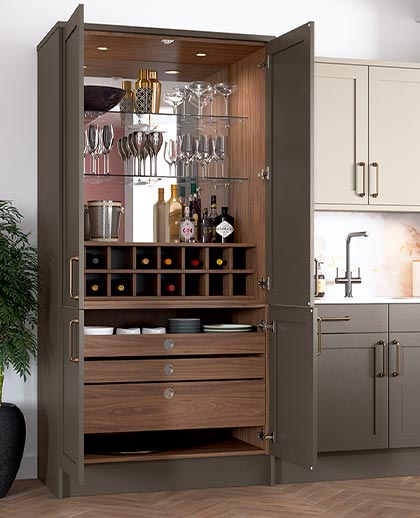 The Connery evokes a sense of glamour and occasion in your home. It is a timeless feature that adds a sophisticated and luxurious feel to your home. This elegant drinks cabinet is a show stopping feature and adopts the title of the jewel of the kitchen. The cocktail cabinet will always be a true classic.
2.
The Hathaway – a personalised kitchen pantry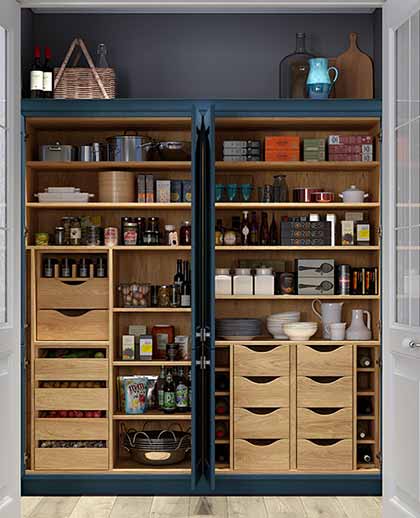 The Hathaway is a quintessential storage feature that can be completely personalised to meet yours and your family's needs. It will quickly become your best friend in the kitchen, providing a wealth of storage all within easy access and finished off beautifully.
3.
The Lansbury – an innovative corner pantry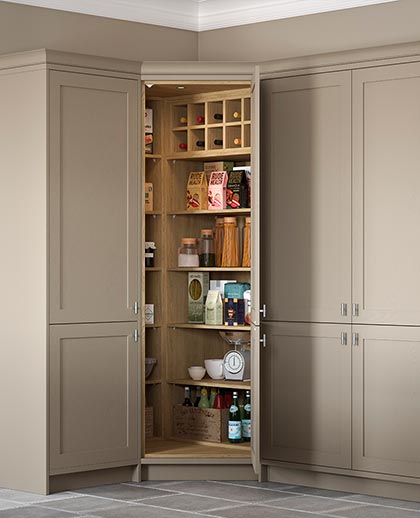 A whopping 34% of people opt for a walk-in pantry! The Lansbury is our twist on the classic corner pantry. Fully supported you'll be able to step into The Lansbury making every item within it accessible at a moment's notice. It is definitely a stand out feature that will assist you with all of your organisational needs.
4.
VelaBin – Cleverly integrated bins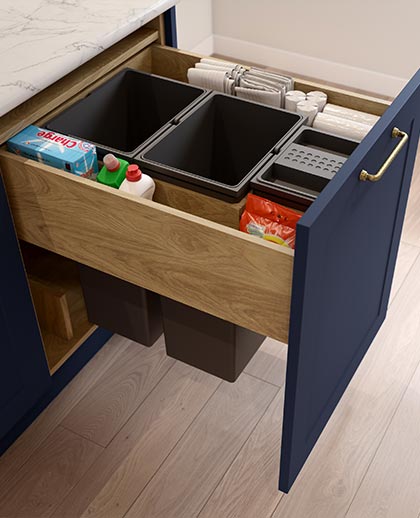 The VelaBin is sure to make light work of your kitchen waste. It features an efficient carbon bio filter lid that cleverly prevents any unwanted odours from escaping. It is available in 3 different finishes to seamlessly blend with the rest of your kitchen design.
5.
MagnaSpace – Strong pull out larders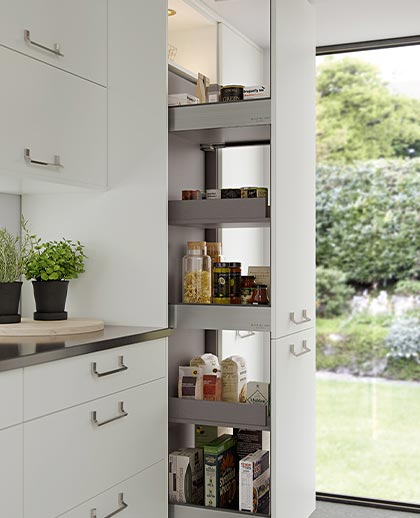 MagnaSpace is an impressive storage system that is strong, versatile and flexible. The MagnaSpace system is a great idea for modern kitchens and will carry vastly more weight than an alternative wirework system and comes as an option in different heights and widths. It is designed to suit the needs of the most demanding of spaces and the most discerning of customers.
6.
Linea and Linea Plus – Wide cabinets and drawers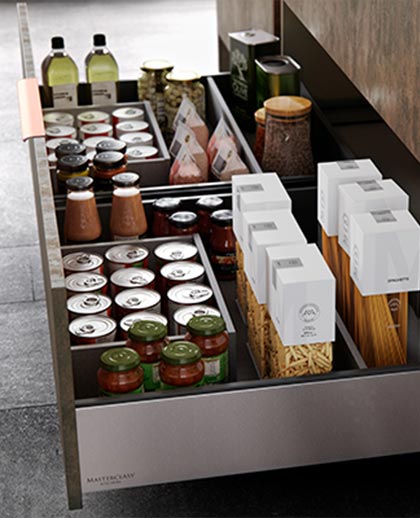 Create a stunning modern design with our widest ever cabinets. Linea and LineaPlus are available up to 2 meters wide. The Linea base and lift up wall cabinets allow you to create an individual, stand out design within your kitchen. LineaPlus are the widest, deepest drawers on the market and they have to be seen to be believed! They work perfectly in both shaker and modern kitchens with islands.
7.
Drawer Options – the ultimate kitchen drawer organisation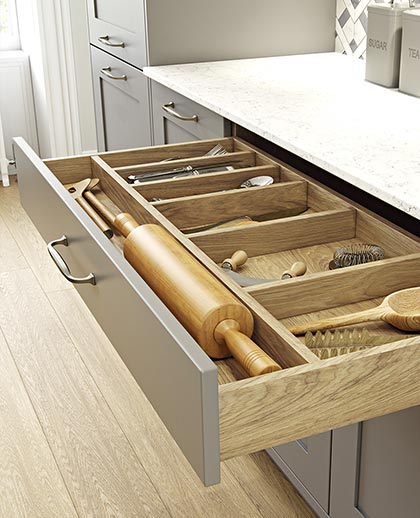 63% of people go for organised cutlery drawers when designing their new kitchen. At Masterclass Kitchens, we have always believed that beauty is more than skin deep, that's why we focus so much attention on what's behind the door, as well as the doors themselves. Choose between 4 depths, 2 heights and either our Legrabox R-Design with brushed stainless steel or natural wood effect drawers. Utilise sliding cutlery organisers to take your kitchen storage to a whole new level!
8.
Space Tower – a convenient larder unit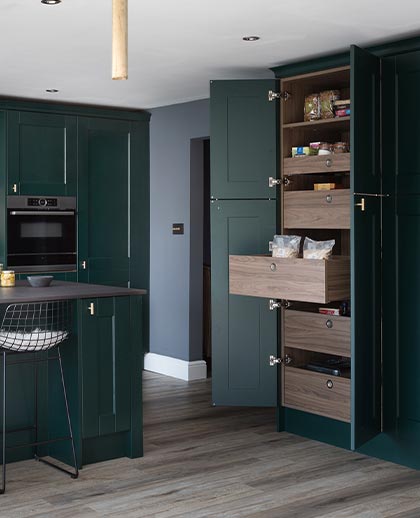 SpaceTower is a larder that can offer plenty of storage and individual design. The unit offers easy access from three sides and is designed to store your food goods and kitchen items conveniently. This hardy and necessary piece of furniture takes the shape of a storage organisation landmark within your kitchen.
9.
Plate Rack Inserts – open shelving storage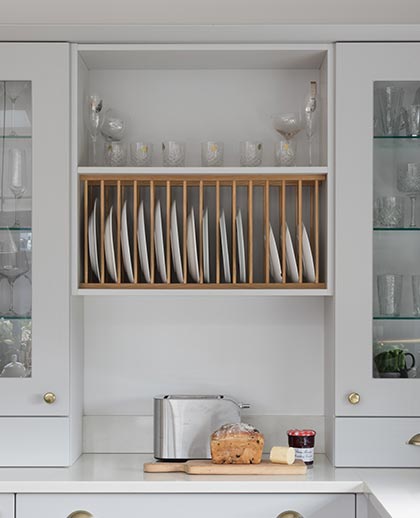 Having some elements of your kitchen on display adds character and can make for an interesting design feature too. Our open shelving combined with plate rack inserts make a beautifully crafted display for your best plates and dishes. This design also adds a touch of elegant and traditional styling to your modern kitchen.
Incorporating The Signature Collection and other features into your new kitchen design will provide a place for everything and everything can then sit in its place, making your kitchen the King of organisation in your home. Find your nearest Masterclass retailer to talk about these features and other ideas for modern kitchens.
Are you ready for a beautifully organised kitchen?
If you'd like to incorporate beautiful innovative storage from our Signature Collection into your kitchen, find your nearest Masterclass Kitchens retailer today.
For more kitchen and storage ideas, view our beautiful brochures here.