The 6 best metallic kitchen ideas
There are many ways you can incorporate metallics in your kitchen. Our new range Metalix makes integrating metallics into your design easy.
The use of metallic finishes in kitchens has become increasingly popular and is now considered a key trend in modern kitchen design. It's a firm favourite when it comes to creating accents and features.
Why have we introduced metallic finishes?
Keeping up with the latest kitchen design trends, Metalix has been brought to you as an affordable way to incorporate glamorous accents and features into your kitchen. Our metallic finishes are available in Brass, Bronze, Titanium, Copper and Aluminium, all of which have been carefully created to complement both our existing colour palettes and new finishes.
Where in your kitchen can you use them?
Metalix can be used for flat slab doors, handlerails, splashbacks and upstands, all of which can integrated into your kitchen's design to create exciting focal points and accents.
Masterclass retailers have the knowledge and resources to carefully incorporate metallic features into your kitchen's design to create a design that's truly unique to you.
Here, we've put together the best metallic kitchen ideas for your inspiration:
1. Blend cool metallics with other cool textures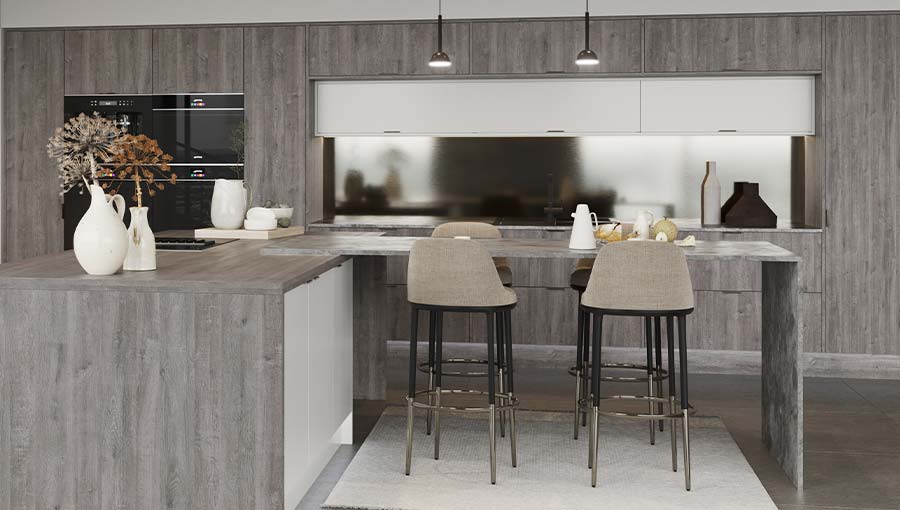 Sutton Light Grey and Ligna Alaskan Oak featuring Milano Storm Cloud worktops and Metalix Titanium splashback
The terms cold and sterile might spring to mind when you think of cool metallic finishes, but this needn't be the case. Embrace cool shades like Metalix Aluminium and blend with cool textures such as Milano Earth Stone, Milano Storm Cloud Worktops and Ligna Alaskan Oak to create a natural Scandi style kitchen that brings an elegant industrial look to your home.
2. Blend warm metallics with other warm textures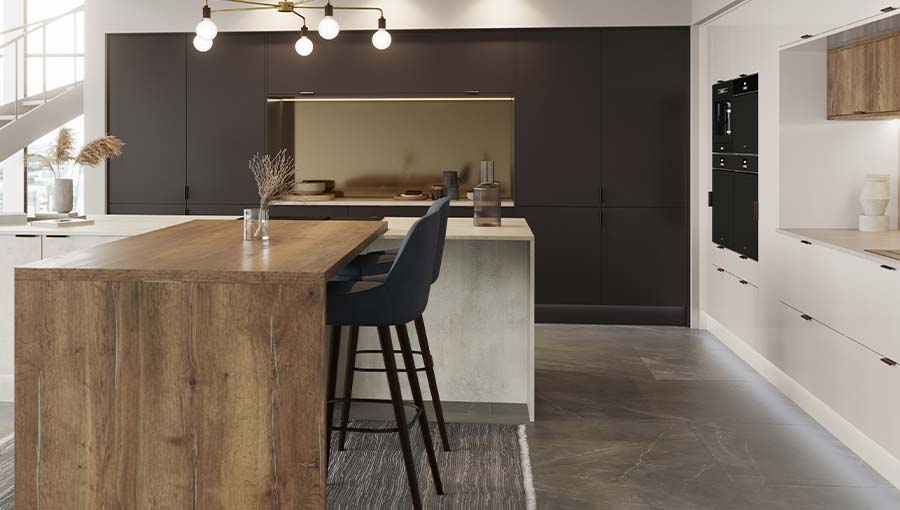 Sutton Burnt Umber with Metalix Bronze featuring Milano Arctic Forst and Ligna Farmhouse Oak breakfast bar
Blend the warm finishes of Metalix with the natural warm wood tones of Ligna to create a rustic, tactile space. It may be surprising to this that metallics could aid in the creation of a warm space, but finishes like Metalix Copper, Bronze and Brass and Ligna Farmhouse Oak blend seamlessly with the smooth finish of Burnt Umber to do exactly that.
3. Create subtle, glamourous accents with metallic handlerails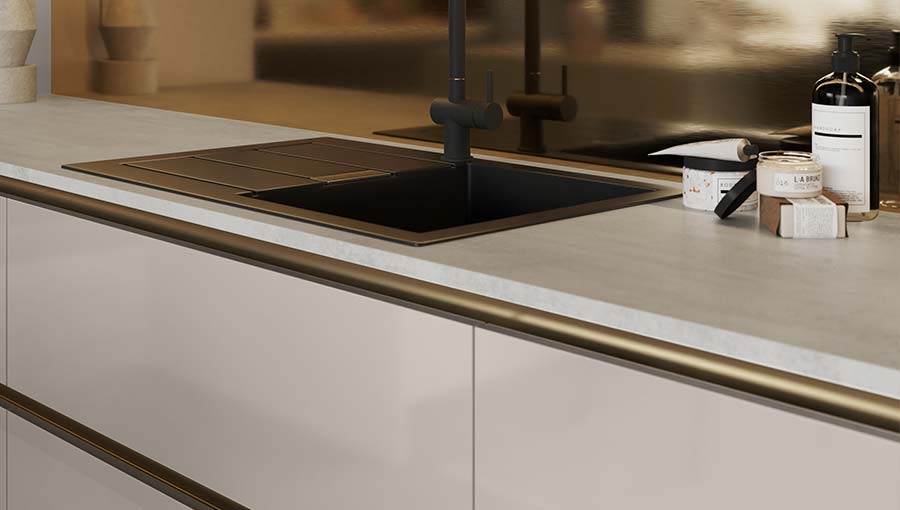 H Line Sutton in Scots Grey with Metalix Bronze handlerails
Metallic handlerails will bring a sophisticated layer of detail to your design and set your and are the perfect option if you want to subtly integrate metallic accents into your design without going all out. Choosing H Line will allow you to take advantage of our unique modern storage solutions like LineaPlus drawers and Linea cabinets which will truly set your kitchen apart from the rest.
4. Make a luxurious statement with a feature wall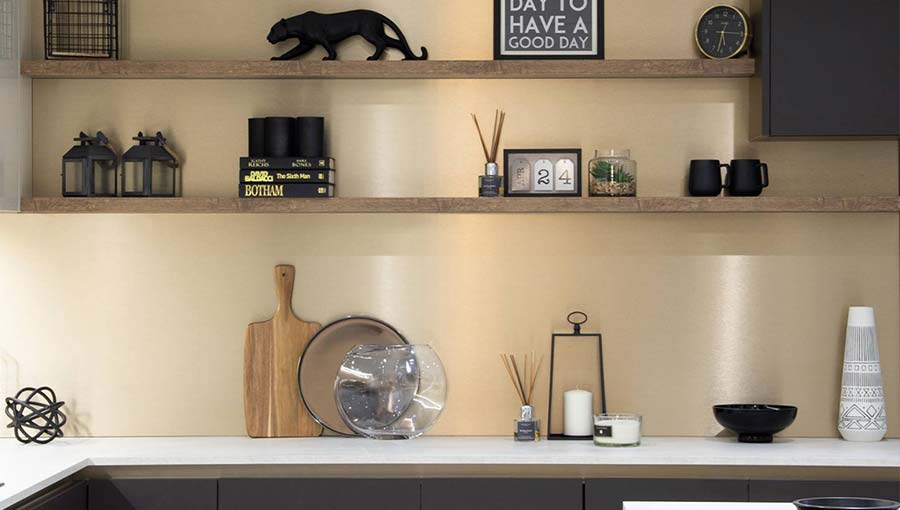 There's no better way to infuse some character into your space than with a feature wall. Use Metalix Brass to create a feature wall that works as a focal point, and then complement with Ligna wood open shelves to create a personalised space that's both glamourous and inviting.
5. Inject some glamour with a metallic splashback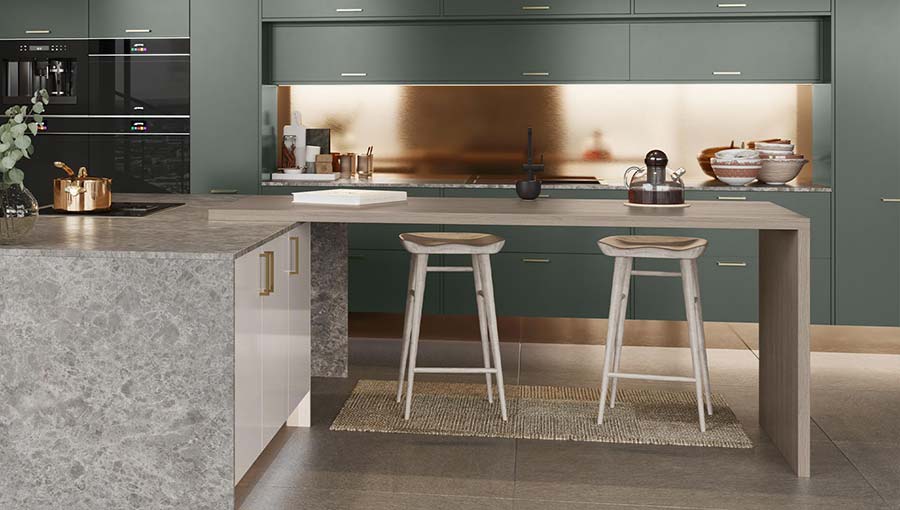 Sutton New Forest with Metalix Copper splashback featuring Milano Earth Stone worktops and a Ligna Florence Oak breakfast bar
Grab the attention of guests with a glamourous metallic splashback. As well as adding depth and richness to your kitchen's design, a metallic splashback will make a stylish statement in an area that's often overlooked in kitchen design. Opt for a Metalix Copper splashback with Sutton New Forest cabinets for an eclectic, show-stopping look.
6. Mix metallics with marble for a luxurious look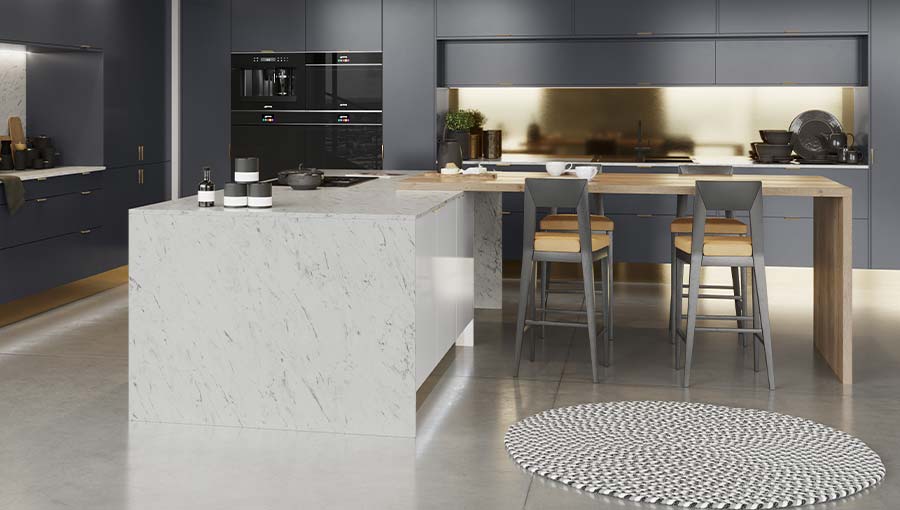 Sutton Heather Slate with Milano Carrara Marble, featuring Ligna Mayfield Oak worktops and Metalix Brass splashback
What could be more luxurious that gold tones and marble? Our new stone effect range Milano is a cost effective way to incorporate the marble look into your home. Mix Milano Carrara Marble or Levante Marble with Metalix Brass for a look that radiates modern elegance and sophistication.
Are you ready to start a journey towards your dream metallic kitchen?
Start a conversation with your local Masterclass Kitchens retailer or view our beautiful new brochures today.