Are you looking for 2021 kitchen trends? We've compiled some of the biggest interior design trends this year to inspire your own home project.
At Masterclass Kitchens, we like to ensure we're providing you with the latest kitchen trends by looking across the interior, fashion, and design industries.
Keeping up with the latest kitchen interior trends shouldn't mean choosing an expensive high-end kitchen, so we're consistently developing our range to ensure you can incorporate beautiful design into your home without breaking your budget.
Here are some kitchen design trends we're looking forward to this year.
Trend 1 - Warm colours and earthy tones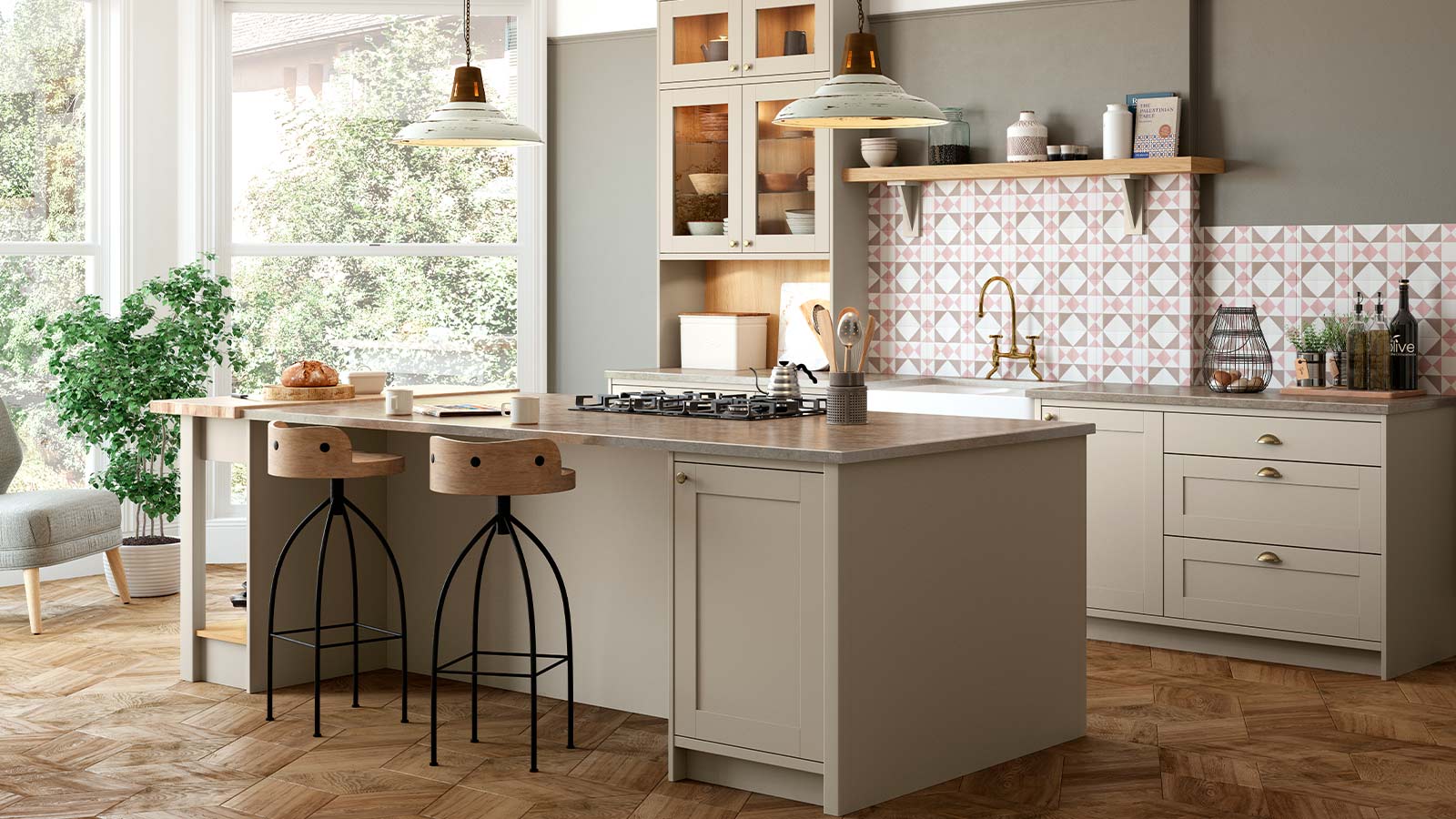 One of the biggest kitchen trends for 2021 will be the shift from crisp, cool greys to warmer, neutral shades.
Choosing a warm colour palette for your kitchen design doesn't mean you'll be left with a dull beige kitchen, instead you'll have a homely space that exudes warmth and comfort. Warm colours complement natural wood and stone finishes or can be mixed with bold rich colours.
Trend 2 - Calming colours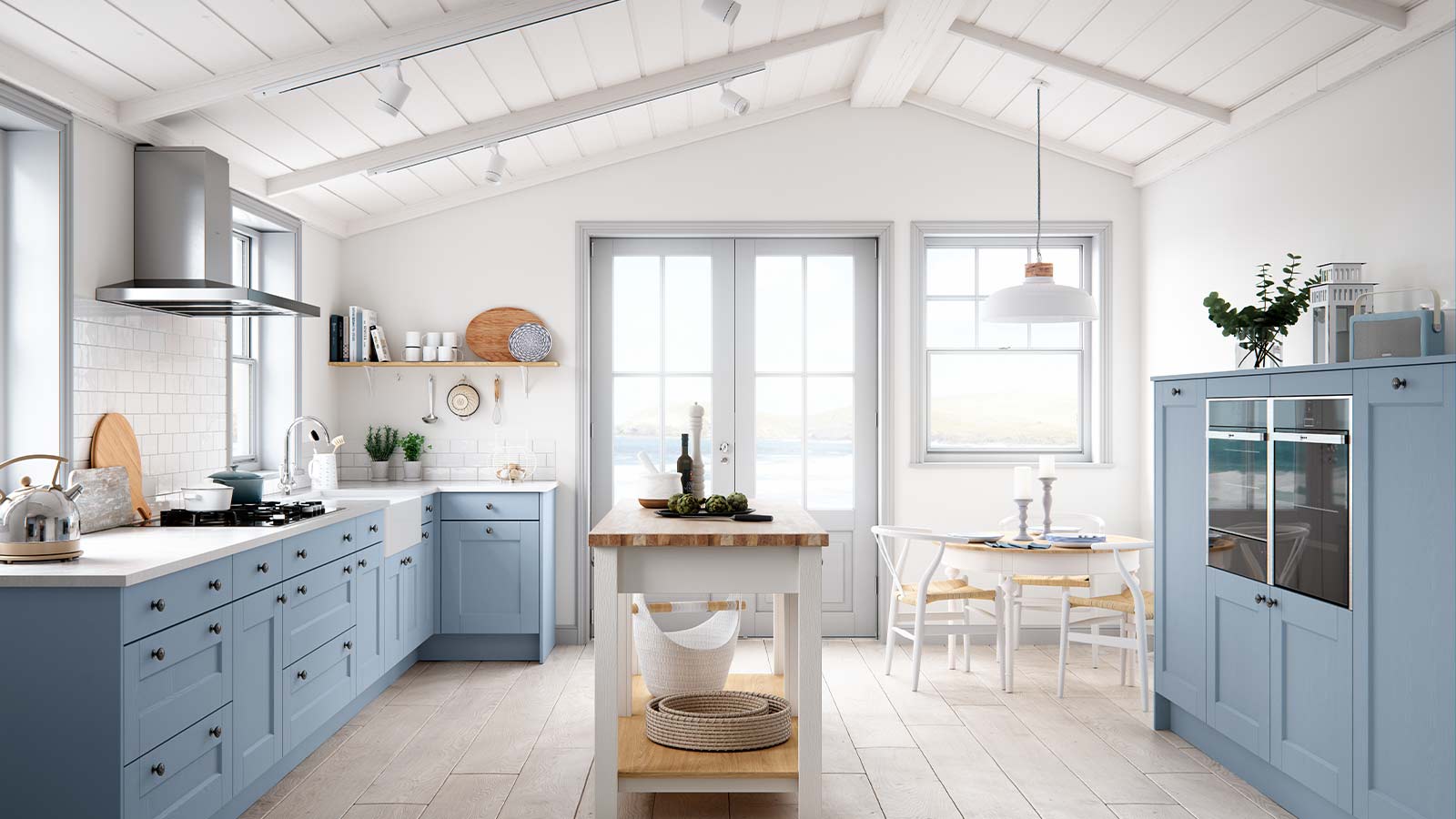 Our homes should be space for calm and serenity, so it comes as no surprise that calming colours have become an instant hit within kitchen design.
At Masterclass Kitchens we have an array of calming paint colours, from pastel blues, purples or pinks and soothing colours from our neutral palette. These calming colours can be mixed and match to create beautiful soothing colour accents within your kitchen design.
Trend 3 - Wood finishes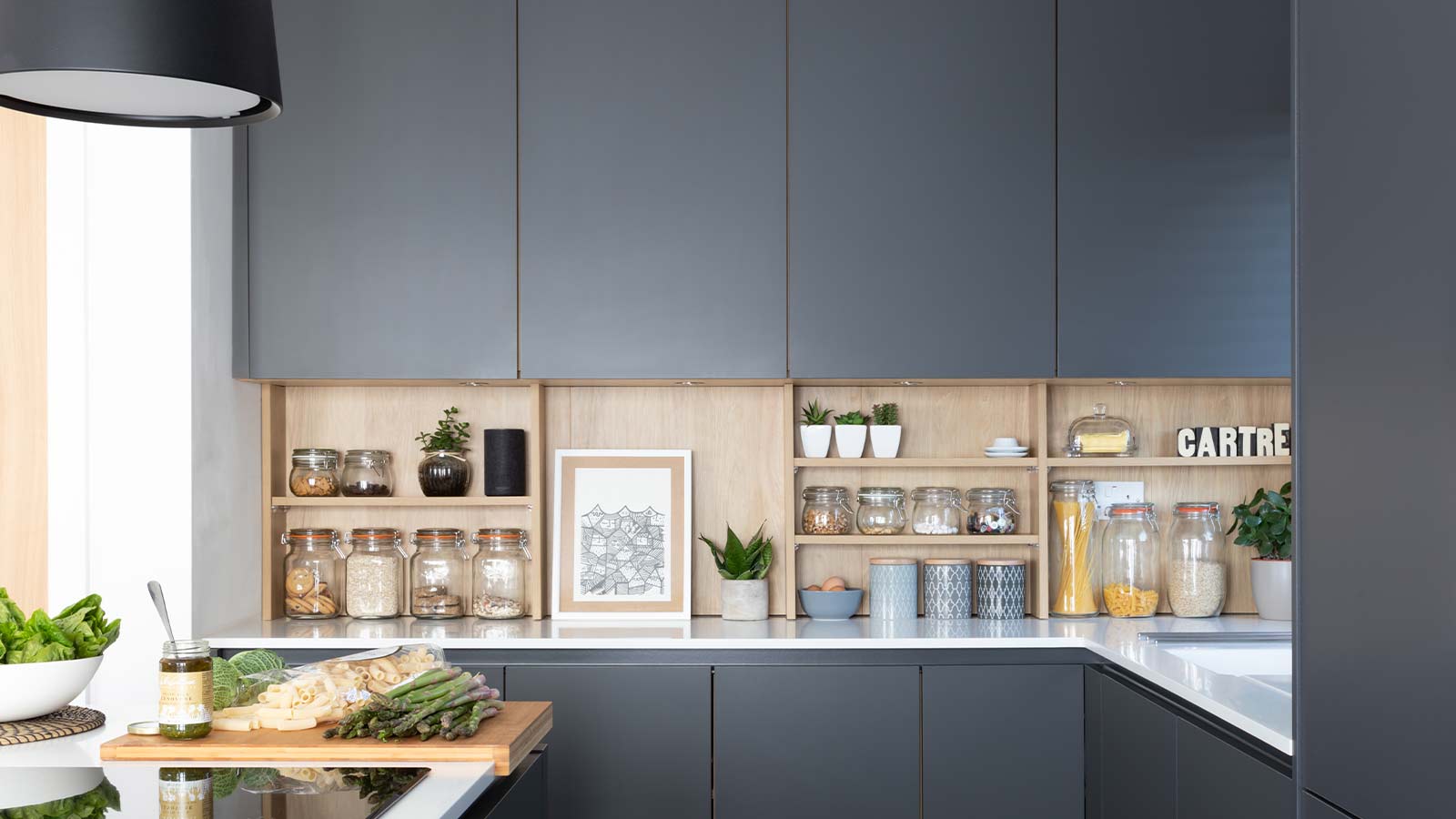 H Line Sutton Graphite with Portland Oak open shelving. Designed by Sigma 3 Kitchens in Cardiff.
Choosing wood finishes for you open shelving or storage solutions adds warmth to a kitchen, perfect if you want your kitchen to integrate with your living area seamlessly.
Your storage solutions can look like beautiful pieces of furniture. At Masterclass Kitchens, we've created beautiful storage solutions in wood effect finishes, ensuring these storage features can be incorporated throughout the home.
Trend 4 - Green kitchens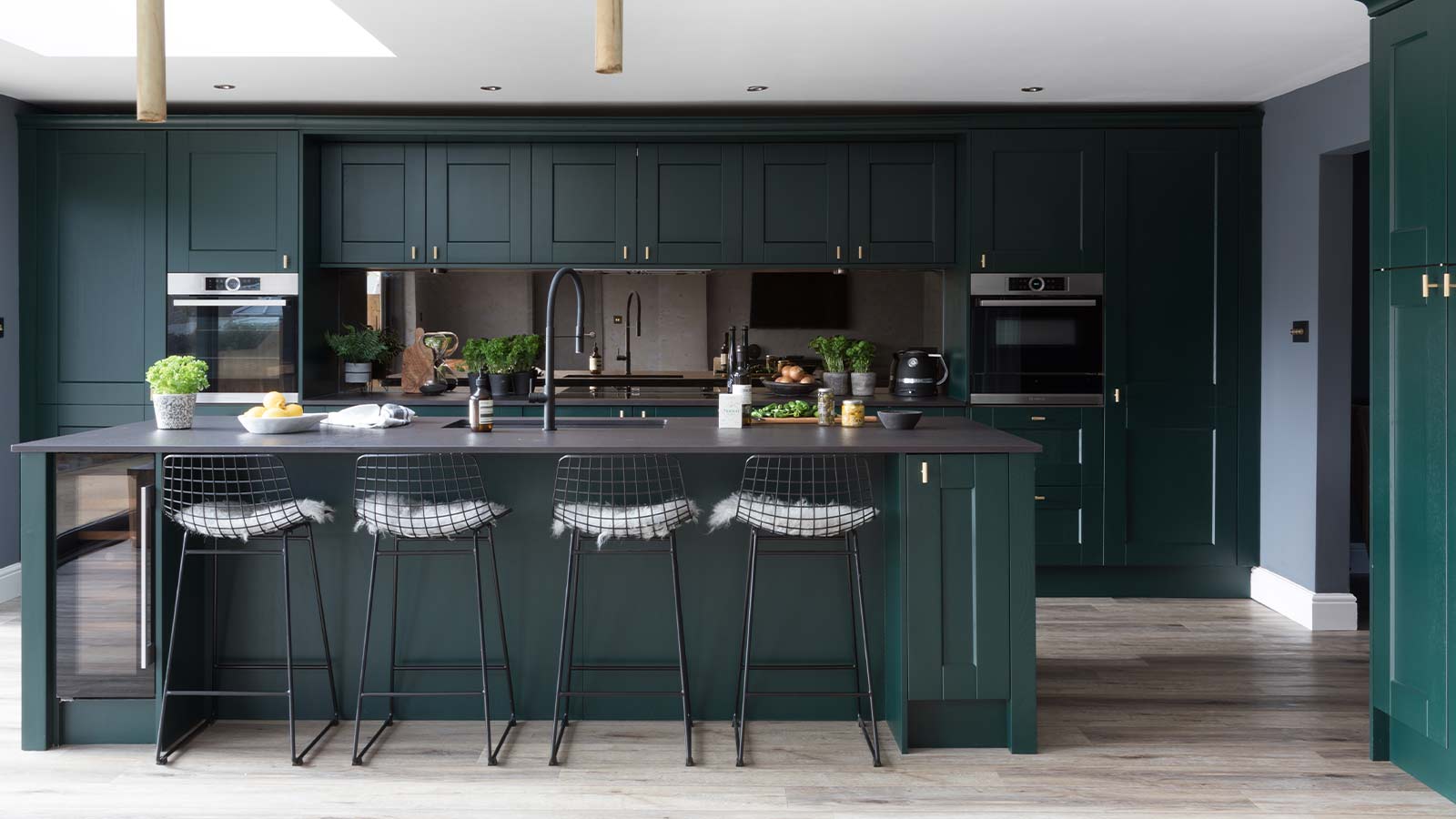 Marlborough Hunter Green. Designed and installed by Classic Stamford in Lincolnshire.
One of our favourite 2021 kitchen trends is the green kitchen. We've even added a brand-new shade of green called 'New Forest' to our amazing value Sutton and H Line Sutton ranges.
A green colour scheme is versatile, whether you want your whole kitchen one shade of green or you would like to mix and match with textures and colour.
Trend 5 - Dark blue kitchens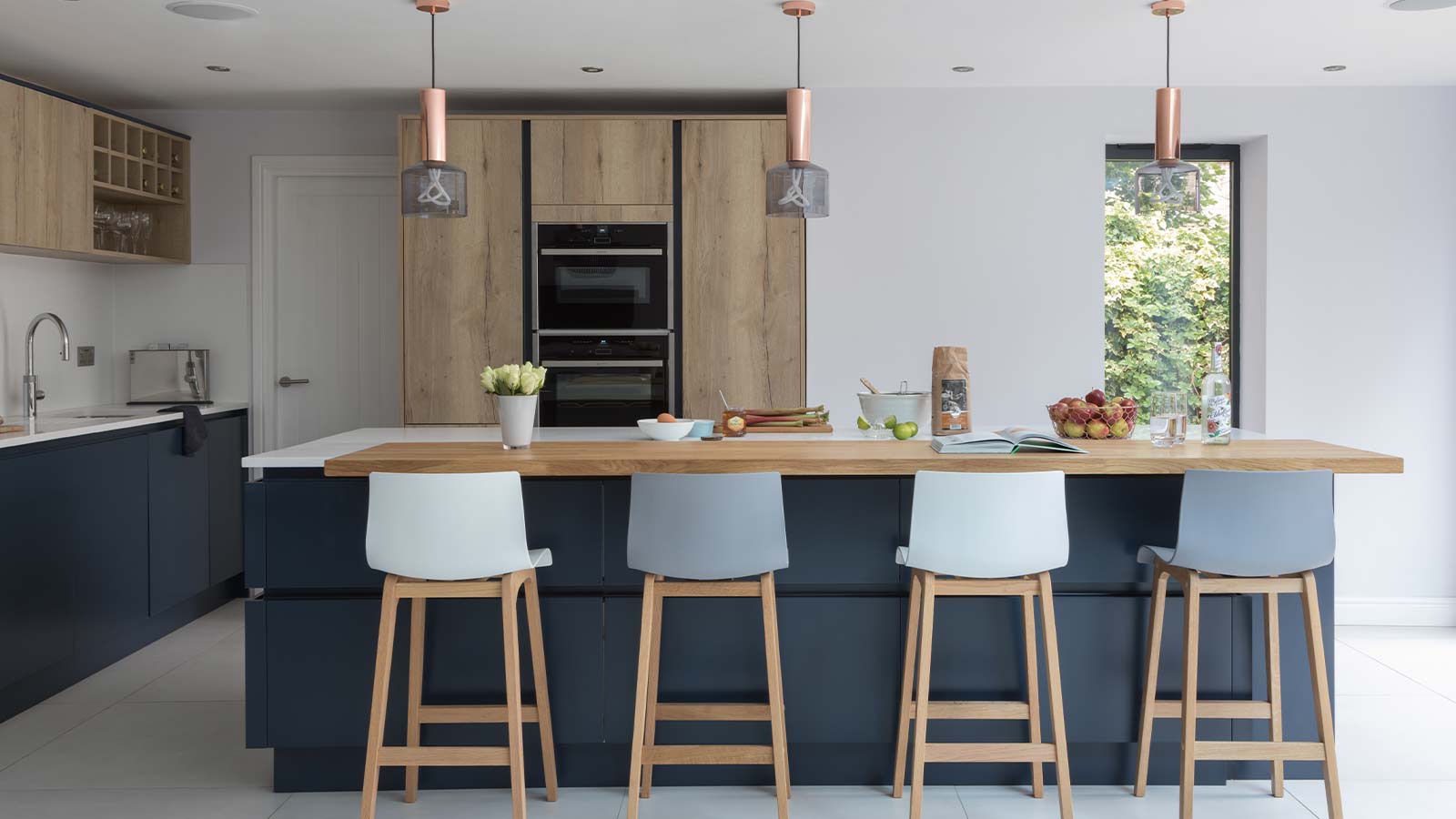 H Line Hampton Oxford Blue with Madoc Mayfield Oak. Designed and installed by Counter Interiors in York
Dark blue kitchens dominate kitchen design, from modern dark blue kitchens to traditional navy kitchens.
Like green kitchens, you can choose a blue as part of an accent in your kitchen island or make a true statement and have a dark blue kitchen as the dominant colour. Dark blue complements cool greys or warm greys and looks luxurious when mixed with wood finishes.
Trend 6 - Metallic finishes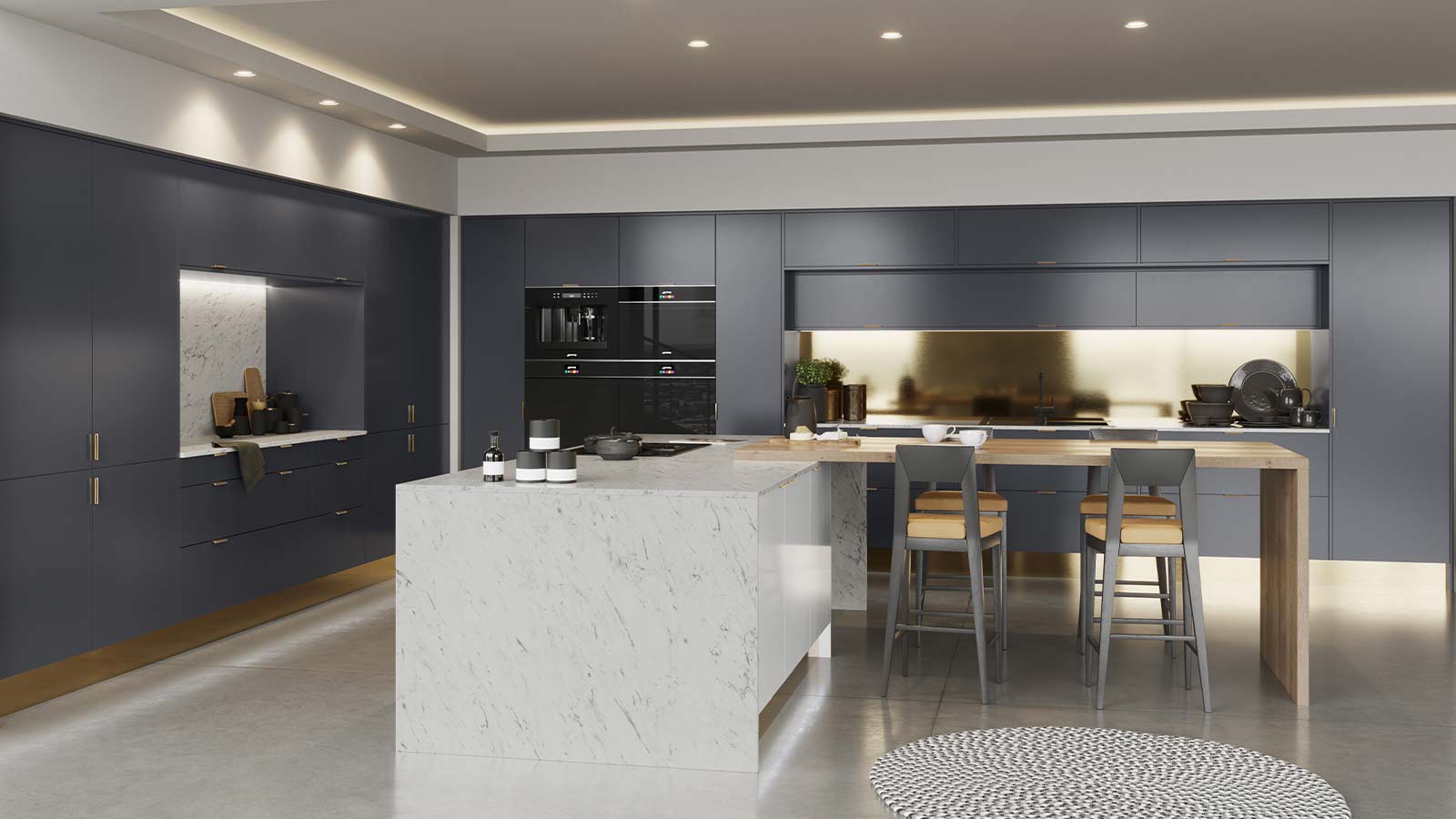 Sutton Heather Slate with Ligna Mayfield Oak, Metalix Brass and Milano Carrara Marble
Metallic finishes are probably the most glamorous kitchen trend for 2021, and we love it!
Metallic accessories have seen a rise in popularity, so it comes as no surprise that metallics are now a must-have accent in kitchen design.
Our brand new range Metalix comprises five luxurious metallic finishes which can be used as accents throughout your design - from splashbacks, doors, plinths or even your handle rail.
Do you want to incorporate some of the 2021 design trends into your own home?
Our expert retailers can create a kitchen that meets your needs in terms of budget, style and functionality. Find your nearest Masterclass Kitchens retailer today.
If your not ready to speak with us, view our beautiful brochures for more kitchen inspiration.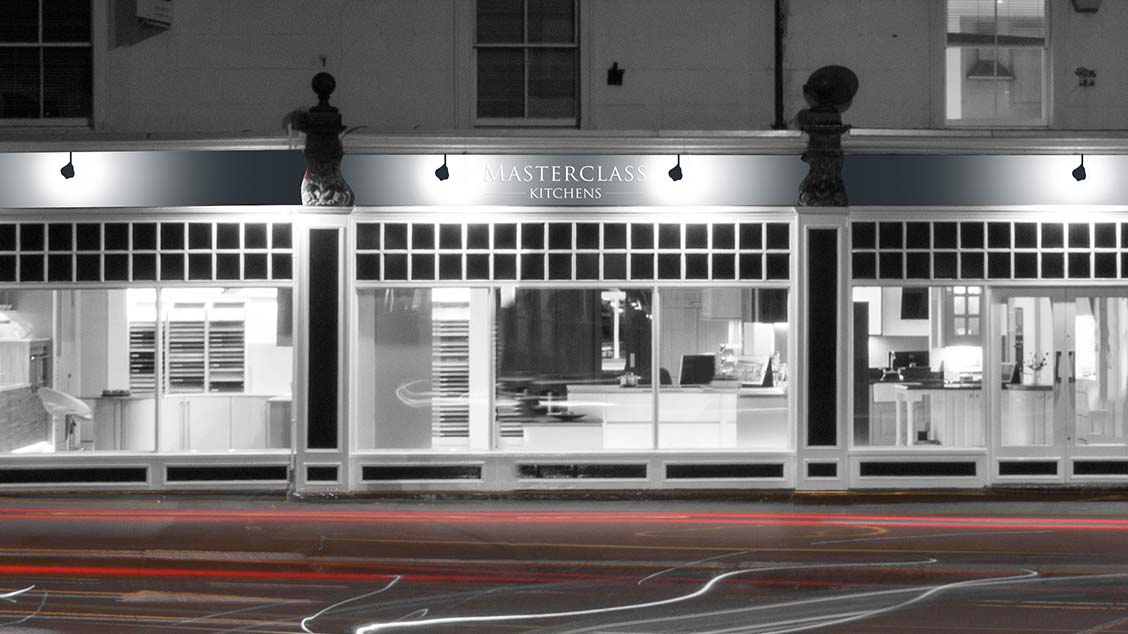 Start your Kitchen Inspiration journey at a Masterclass Kitchens Retailer
Talk to a Masterclass retailer to get your very own kitchen design. Our experts will produce a 3D design and quote based on your dream kitchen wish list.
Find Your Local Retailer