How to design a statement kitchen without breaking the bank
Are you dreaming of a statement kitchen? Instagram and Pinterest are filled with inspirational statement kitchens, but these large, glamorous kitchens often come with a high-end price tag.
At Masterclass Kitchens, we believe every kitchen should make a design statement, no matter your budget. For this reason, we've created statement kitchen ranges, along with design and storage features that will ensure your kitchen is the talk of the town. Here are our top tips for creating a statement kitchen:
Matching doors and worktops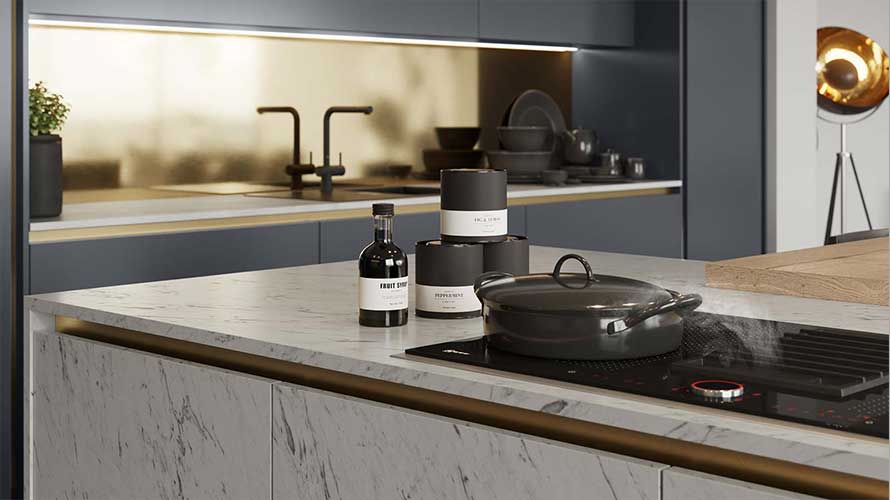 Sutton Heather Slate with Milano Carrara Marble and Metalix Brass
Choosing to match your doors and worktops is a modern and sleek way to create a statement kitchen. Our Milano and Ligna ranges can be used as kitchen doors, worktops, splashbacks and upstands to make a statement kitchen that exudes luxury.
Choosing our high-quality laminate worktops is more cost-effective than choosing stone worktops, meaning you'll have more budget to spend on stand our design and storage features.
Add an inframe effect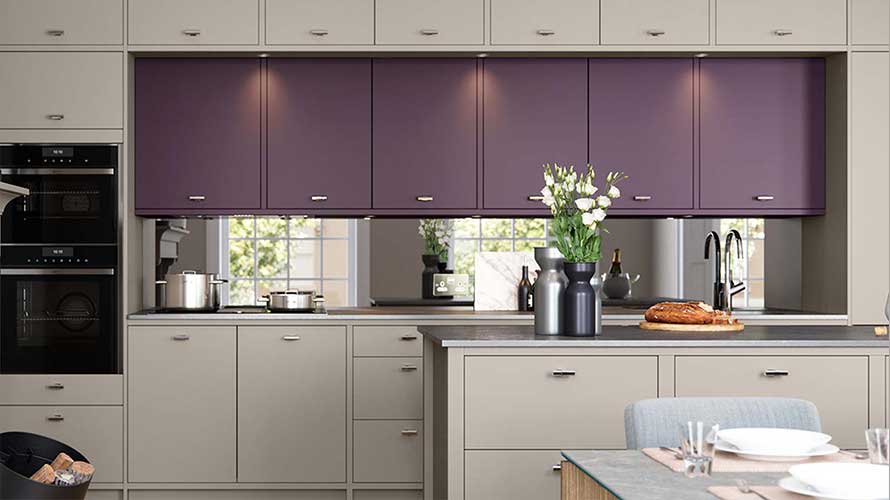 Hampton Farringdon Grey and Mulberry
Inframe kitchens are often associated with high-end bespoke, but with Masterclass Kitchens you can create this statement kitchen look, without breaking the bank. We have two ways to create the inframe kitchen in your home. Our brand new range Melrose, incorporates a small groove to create an inframe effect, perfect if you want to create a modern inframe style kitchen.
Our second way to create an inframe kitchen is with our inframe system design feature, which allows you to create an inframe look with any of our kitchen ranges.
Open shelving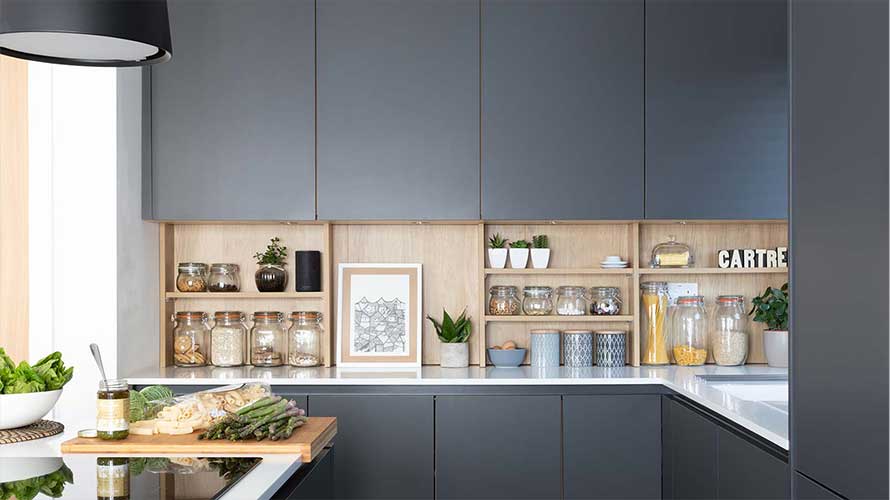 H Line Sutton Graphite featuring Portland Oak open shelving, designed by Sigma 3 Kitchens in Cardiff
One of the biggest design trends is open shelving; this cost-effective feature creates an instant design statement and can be tailored to your style. To create a statement open shelving feature, choose between five of our wood effect finishes from our Ligna range for your shelving, and pick a pop of colour for your walls.
Better storage, fewer cabinets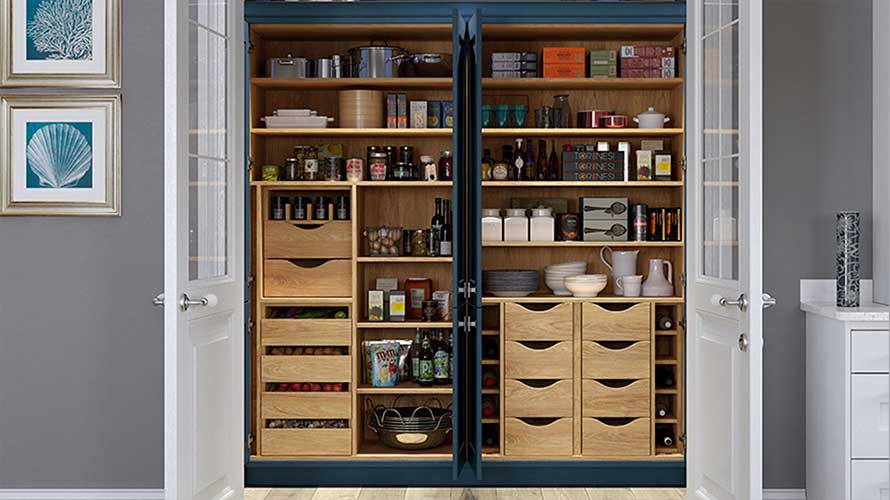 It's not all about the outside of the kitchen; it's what's inside that counts! Choosing storage solutions that work for you is what makes a difference. At Masterclass kitchens, we are advocates for innovative storage solutions that make your lives easier, and we know if you choose quality storage solutions, you won't need as many cabinets. Our drawers boast up to 30% extra storage space and our pull out storage MagnaSpace, a whopping 50% extra storage.
Bold colours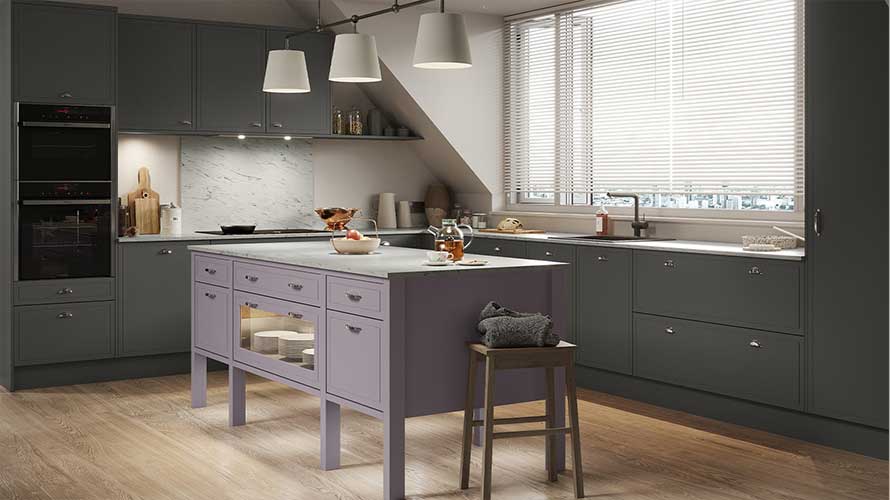 Melrose Wisteria and Lava
Adding a bold colour to your design is a simple way to add a kitchen design statement. Your bold colour can be as subtle or bold as you like and could be incorporated in your bank of tall housing, a kitchen island, your handle rails or in your plinths. You'll be spoilt for choice, with over 60 colours and finishes.
Metallic accents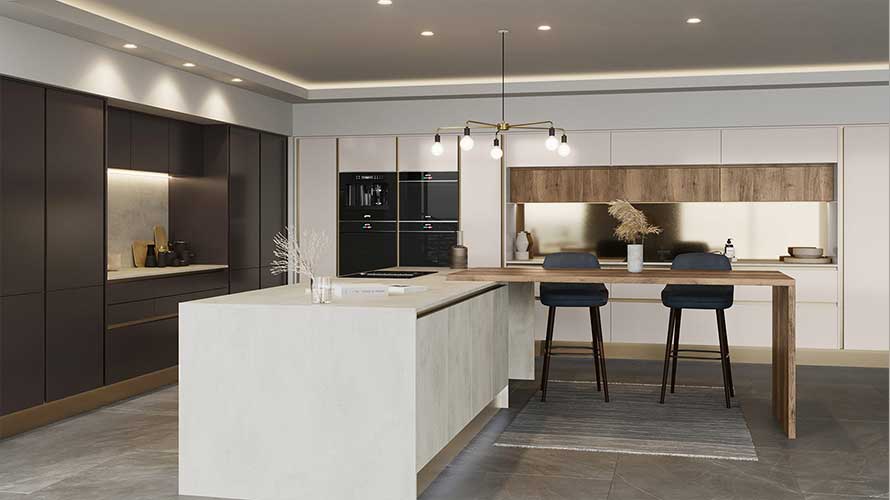 Sutton Burnt Umber and Scots Grey with Ligna Mayfield Oak, Milano Arctic Frost and Metalix Bronze
Do you want to add a touch of glamour to your statement kitchen? Choose between 5 luxurious metallic finishes from our Metallix range to enhance your kitchen design. The Metallix range can be incorporated into your kitchen doors, splashbacks, plinths or handle rail.