Raise the Bar: Luxury Home Bar Ideas for Your Kitchen
Published on 18 Aug 2023
Everyone loves to party. Remember the glory days? Beer matt games in the bar area with friends. Smoky disco halls. Rocking out to Bryan Adams and slow dancing to Boyz II Men. Glorious, right?
These days, you might not strut with shoulder pads and a hairstyle like a fashionable llama. Instead, perhaps you host sophisticated dinners and own a holiday cottage or a city townhouse. But that party animal is still in you… waiting, air guitar in hand. Want to become reacquainted?
Adding a luxury home bar to your kitchen renovation is a great way to make that happen. Want bar games? Cocktail nights? A VIP club experience? A high-end home bar area is the answer. Today we'll cover exactly what you need to host the best kind of parties the world has forgotten.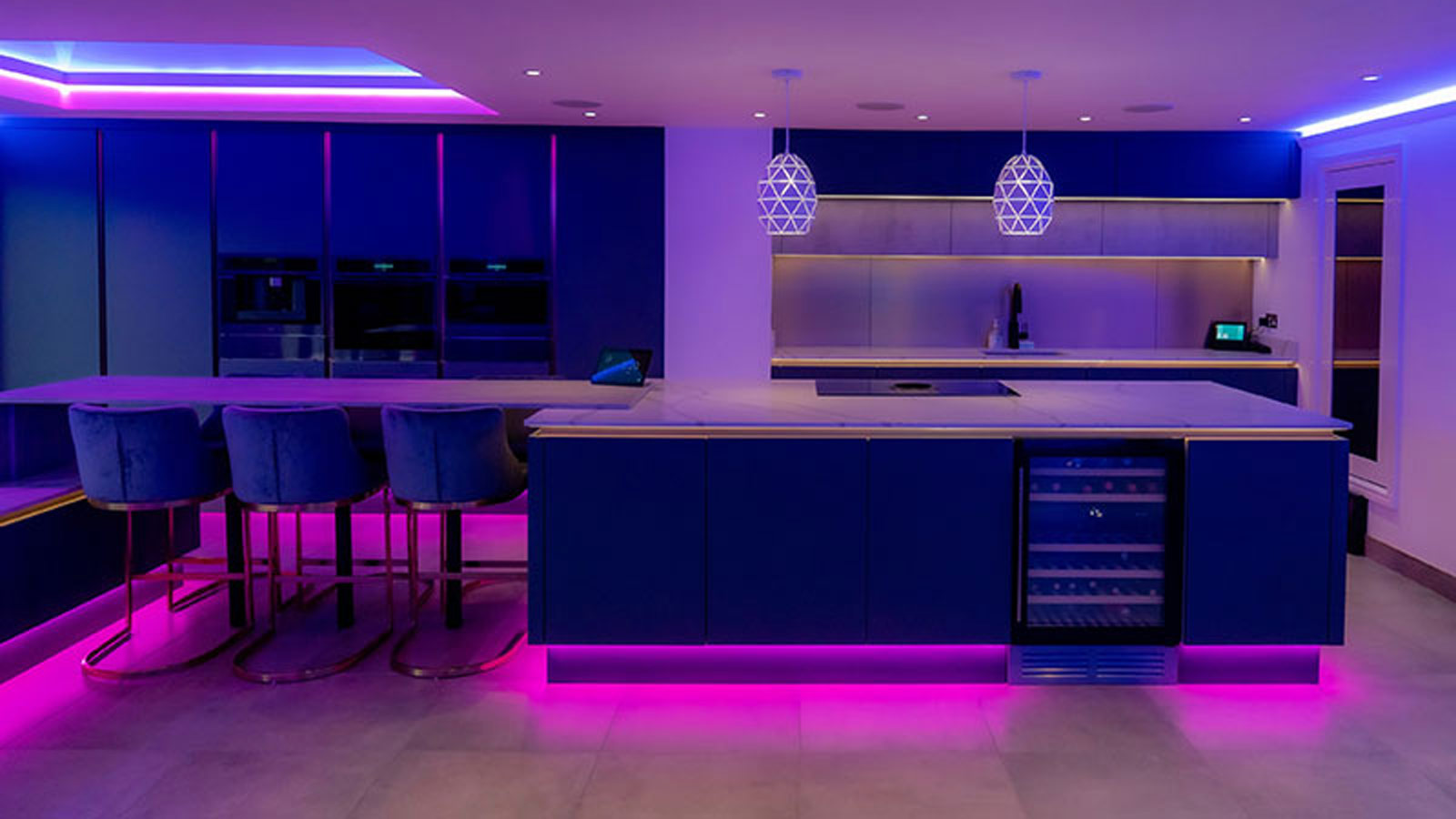 Start with Your Cloakroom
Say you have a beach house or a log cabin with a hot tub you sometimes rent out for holiday lettings. In that case, you'll know the value of a laundry room that doubles as a cloakroom. Often overlooked, they provide a space for guests to drop their coats and help keep your home tidy.
At Masterclass, we offer high-end boot room units that make this typically messy space look plush and organised. Combine yours with a utility cupboard suitable for hanging an ironing board and you can hide all the trappings of domestic life to focus on partying like it's 1989.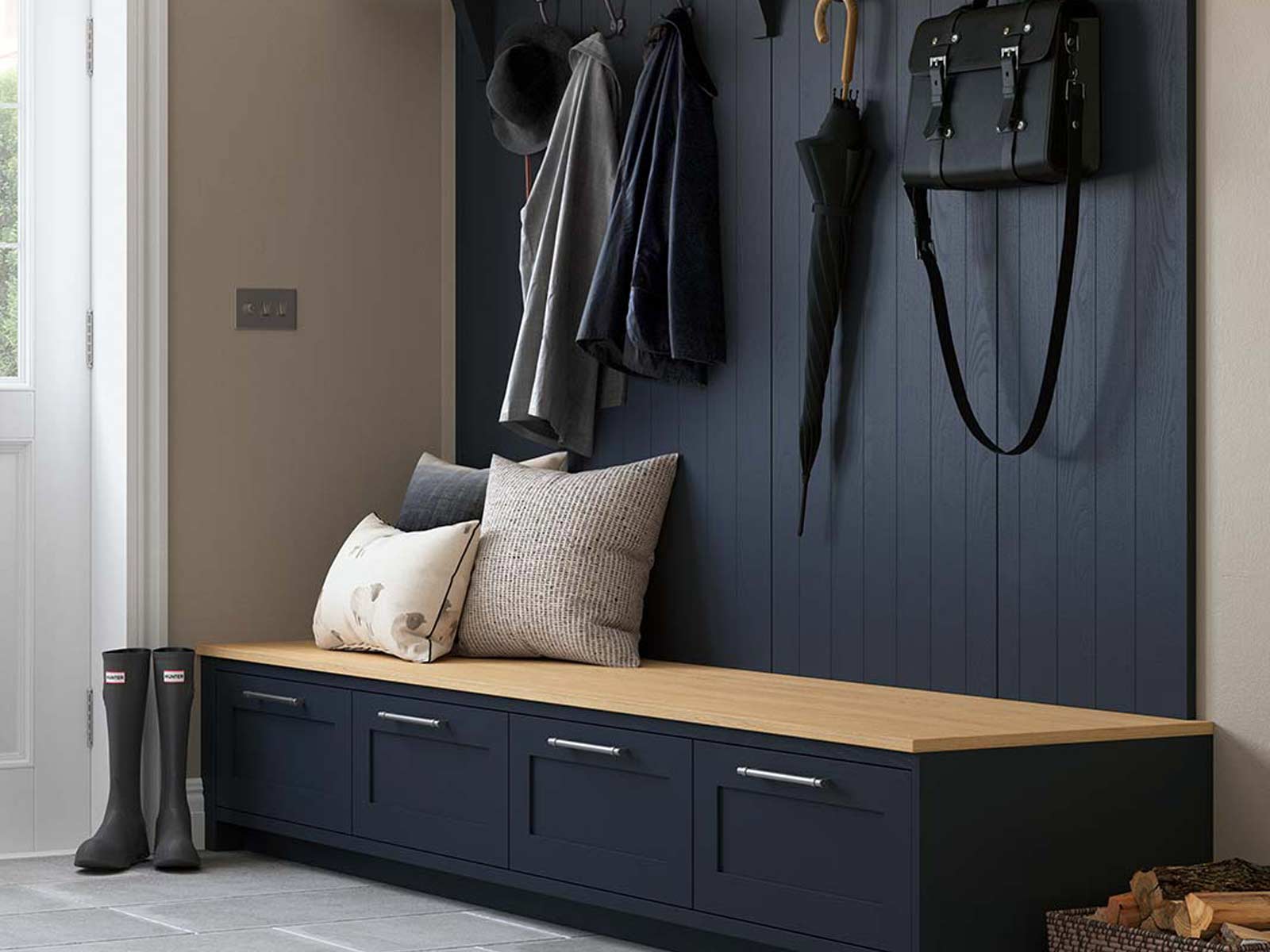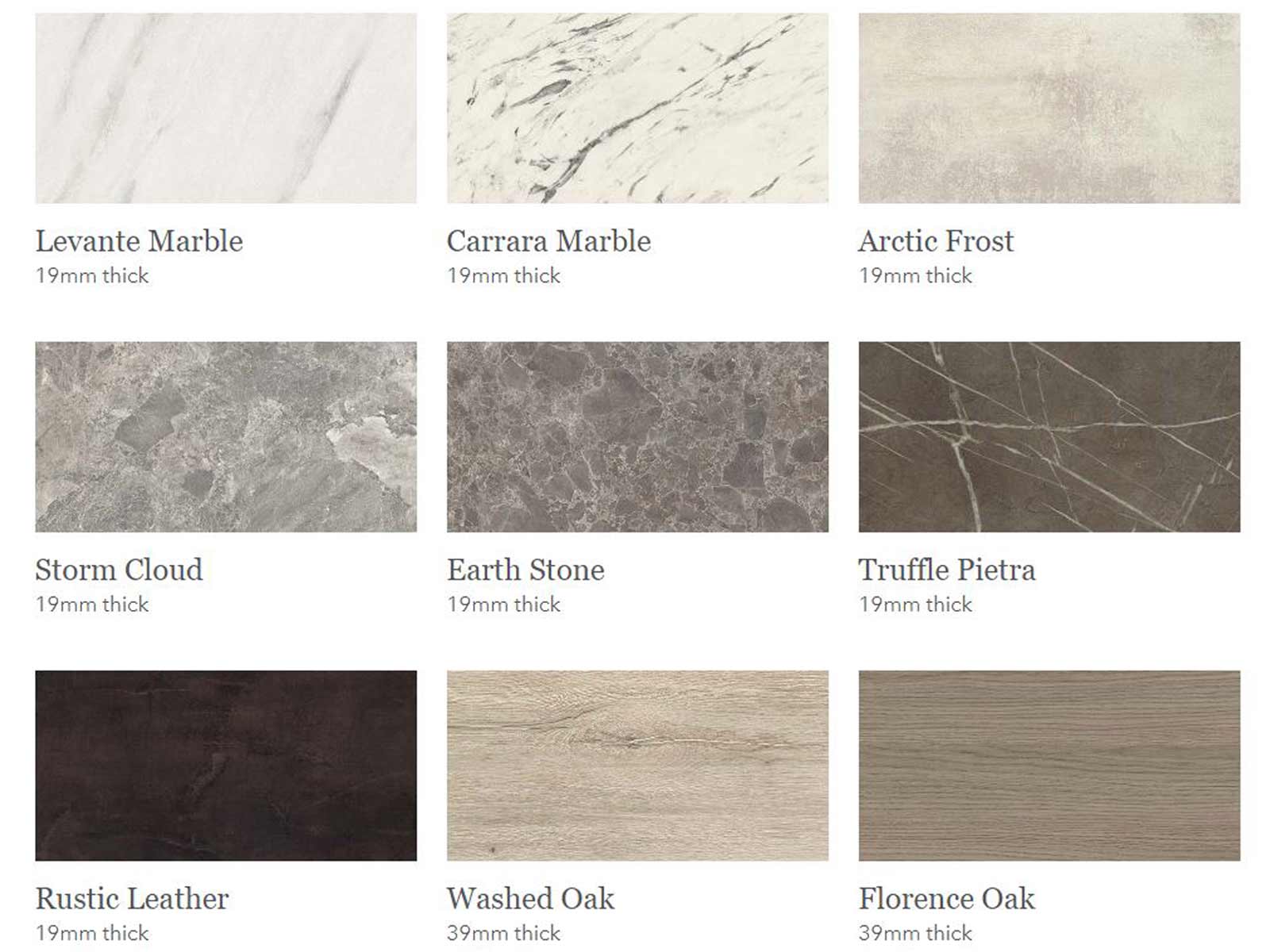 Then all you need to consider is how to ensure the rest of your house will survive the riotous fun. Our spill-resistant worktop finishes and wrapped vinyl doors also achieve this feat without forcing you to compromise on style. Check out our range, from Levante Marble to Florence Oak.
Pro Tip!
Want more design tips and lifestyle advice to help you make the most of your kitchen? Become a Masterclass Insider for free. You'll get a library of virtual lifestyle guides just for subscribing.
Claim Your Welcome Library
Add a Drinks Cabinet
Pouring liquor at the kitchen island is fine but nothing screams "authentic bar experience" like having purpose-built drink storage options with wine glass racks, drink bottle storage and, in some cases, cocktail mixing paraphernalia to turn your drinks receptions into grand events.
When it comes to getting the perfect setup for your space, you can follow one of two routes:
A kitchen dresser unit
A cocktail cabinet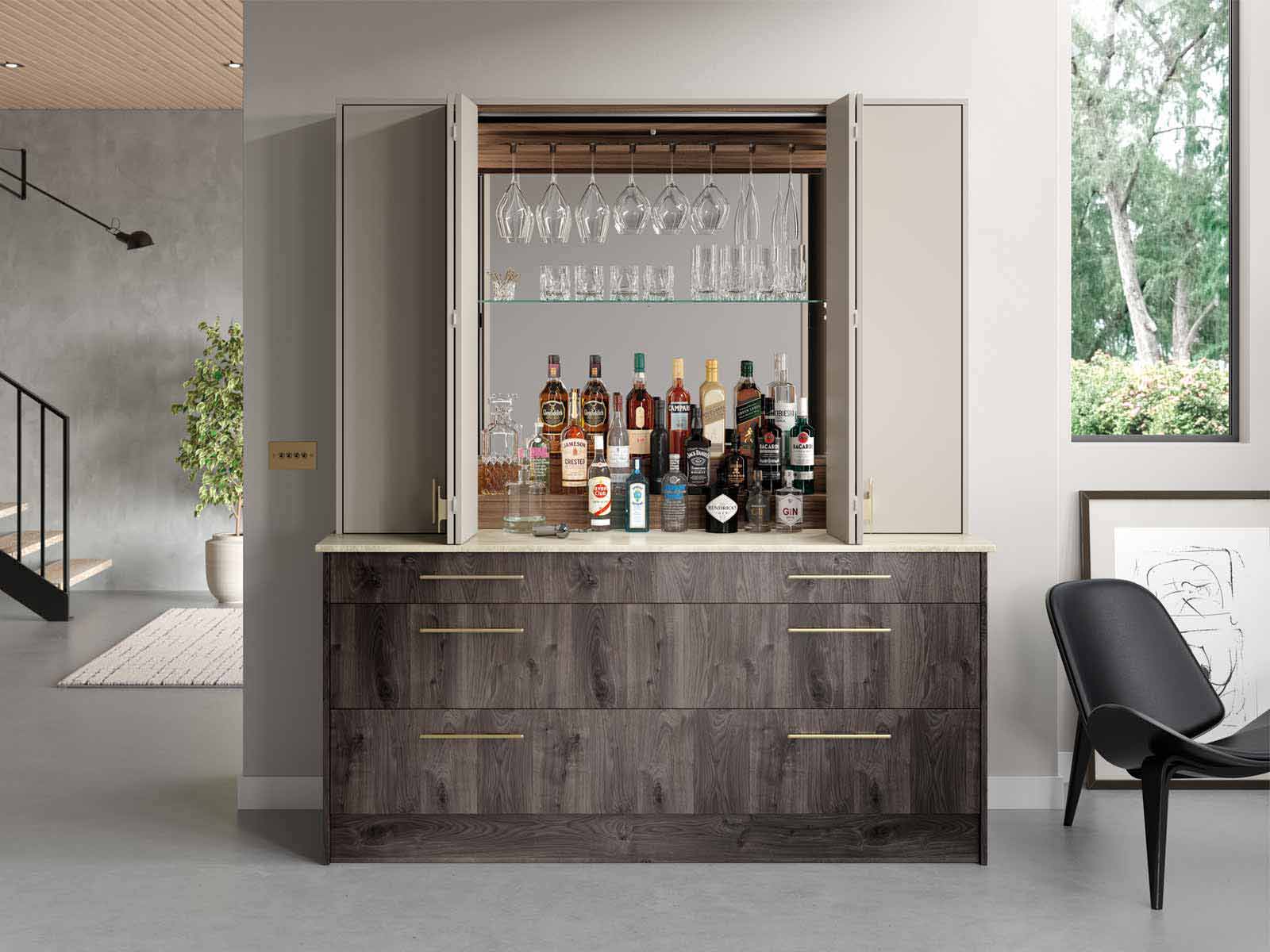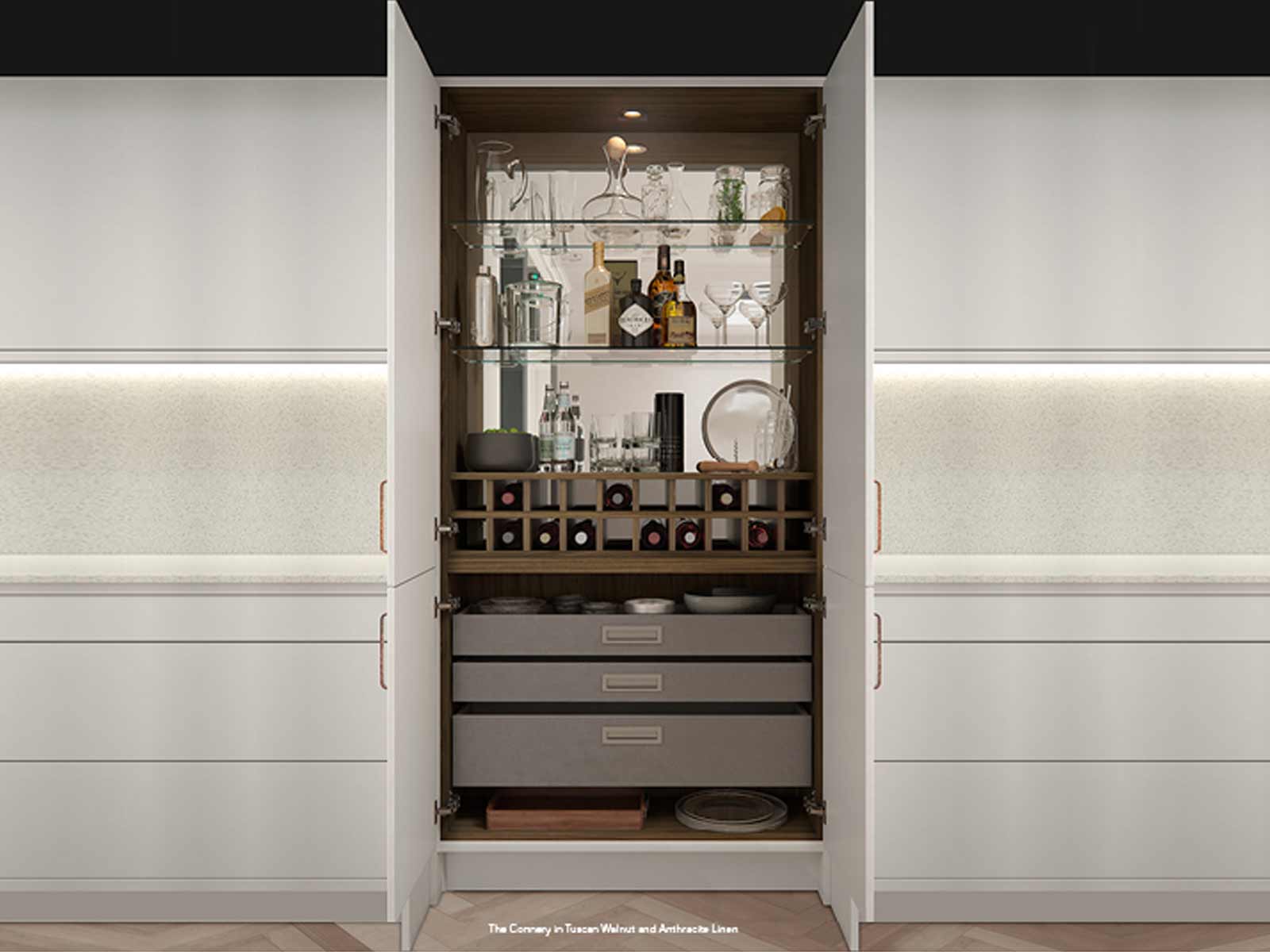 Fortunately, at Masterclass, we offer both. A worktop addition with a hanging wine glass rack and countertop space for prepping tasty beverages, our Bar Dresser design covers the entire drink-mixing process. Meanwhile, our flagship home bar unit, The Connery is a tall drinks cabinets with drink shelves, a wine bottle rack and linen or oak drawers suited to a bigger bar setup.
Display Wine Drawers and Racks
Drinks cabinets can create a dedicated bar area in your kitchen but what if you have a whole wall to use—or even a room? What more grandiose features can you use to make a statement?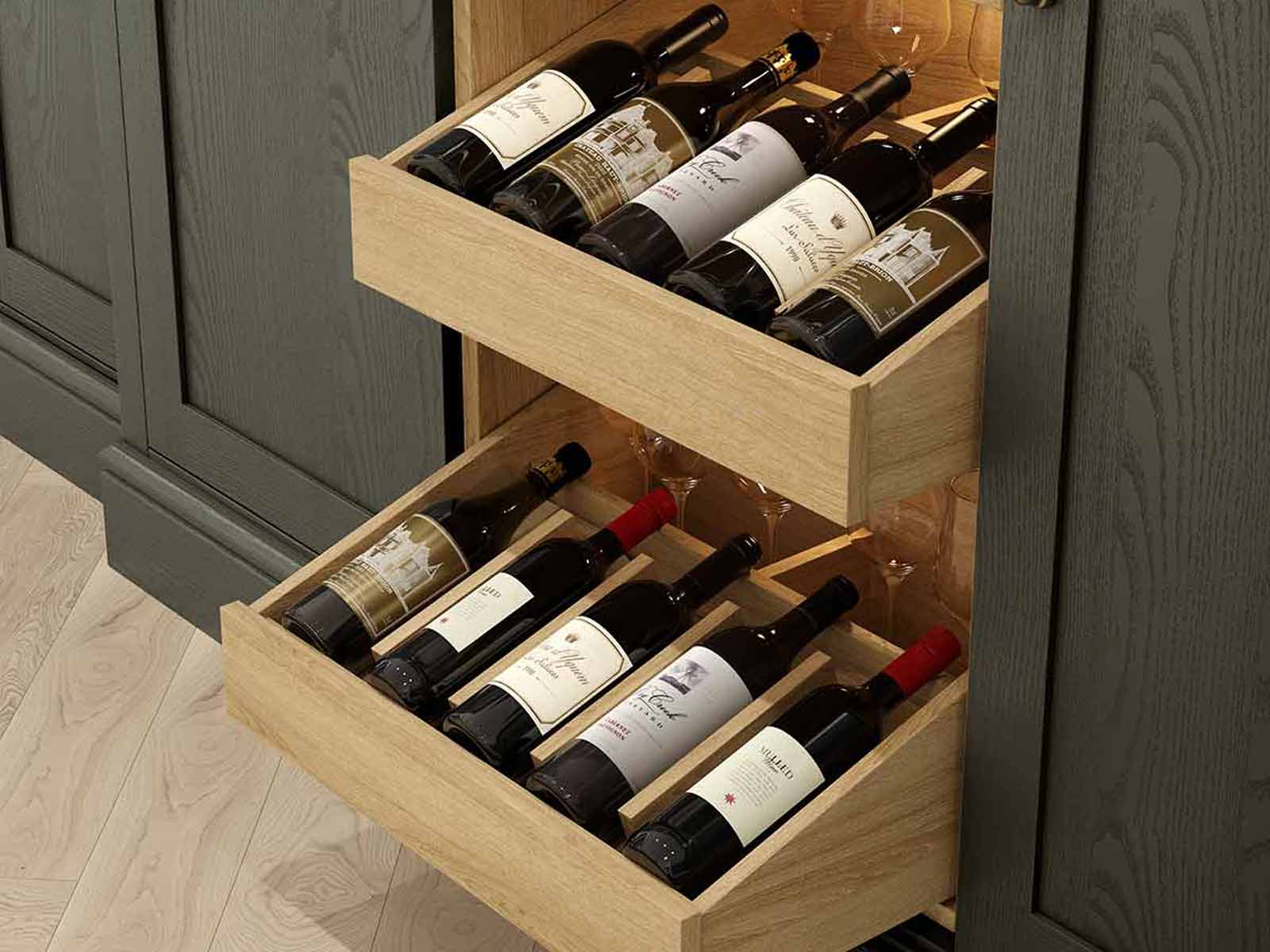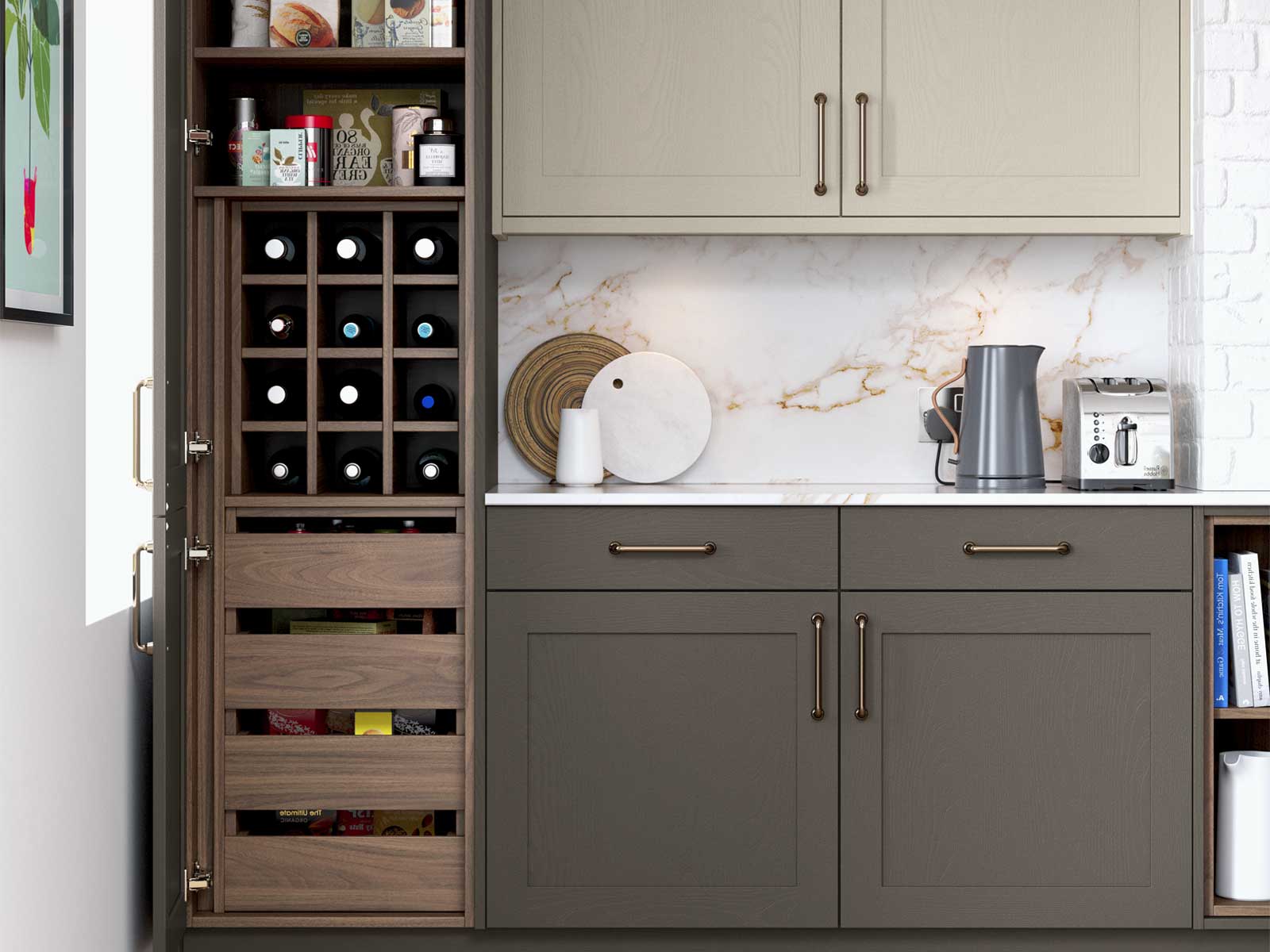 Wine drawers are one option. Classy and intricate, they complement classic cottages but also look great in modern kitchen-nightclubs. Or, if you'd prefer, how about a kitchen wine rack like the ones in our Hathaway pantries? They hold 12 bottles—practically a mini wine cellar.
Both options give you ample space for stocking "party fuel" and look equally fantastic in a city guesthouse, a holiday lakehouse or a coastal house for beachfront fun.
Make Creative Kitchen Lighting Choices
Many people want a bar with warm wood, good friends and Hygge-style decor. If you have a wilder taste, however, there's always the nightclub option. Did you know you can add covert club features guests would never notice during the day? Take, for example, the following real kitchen.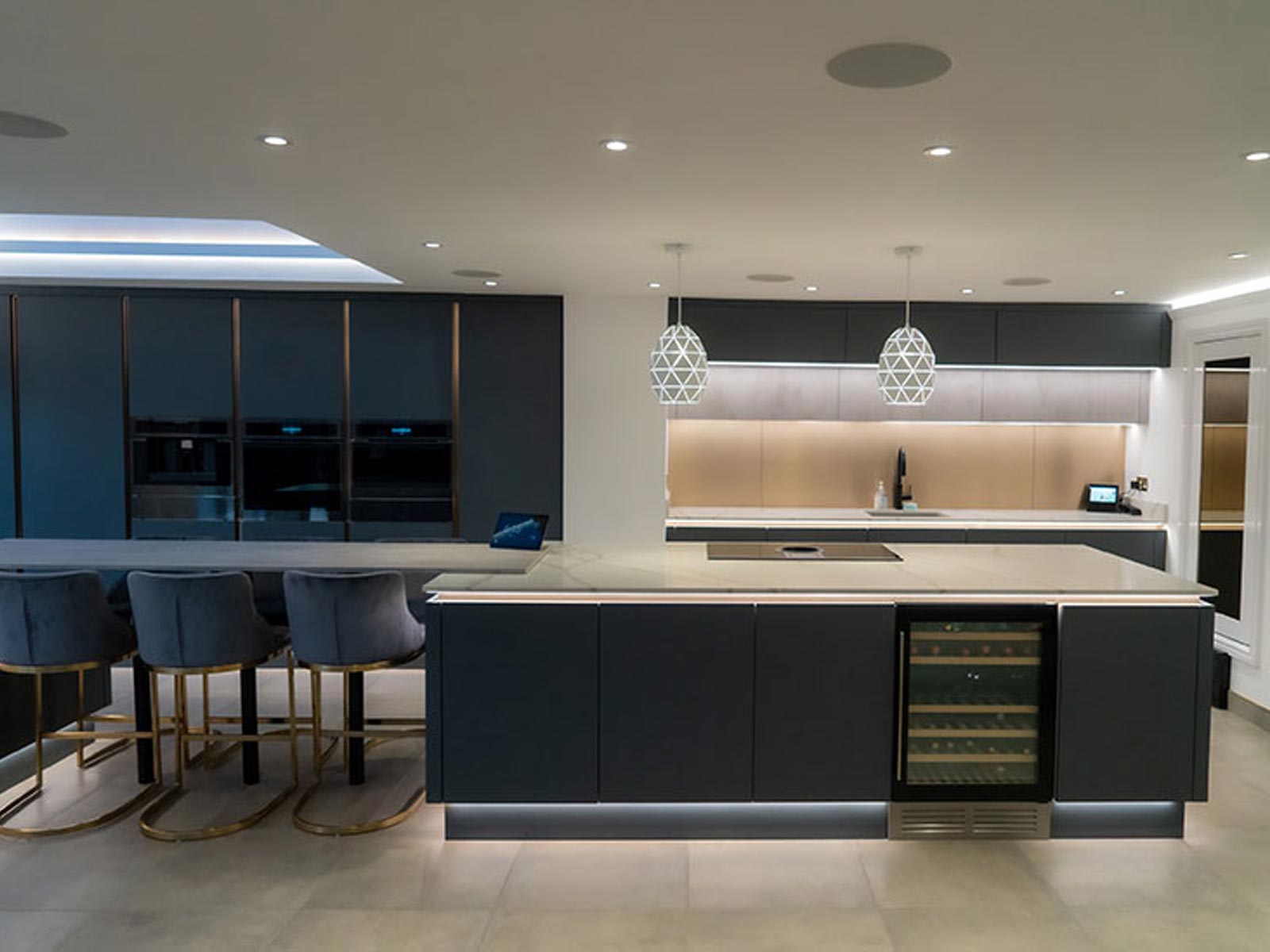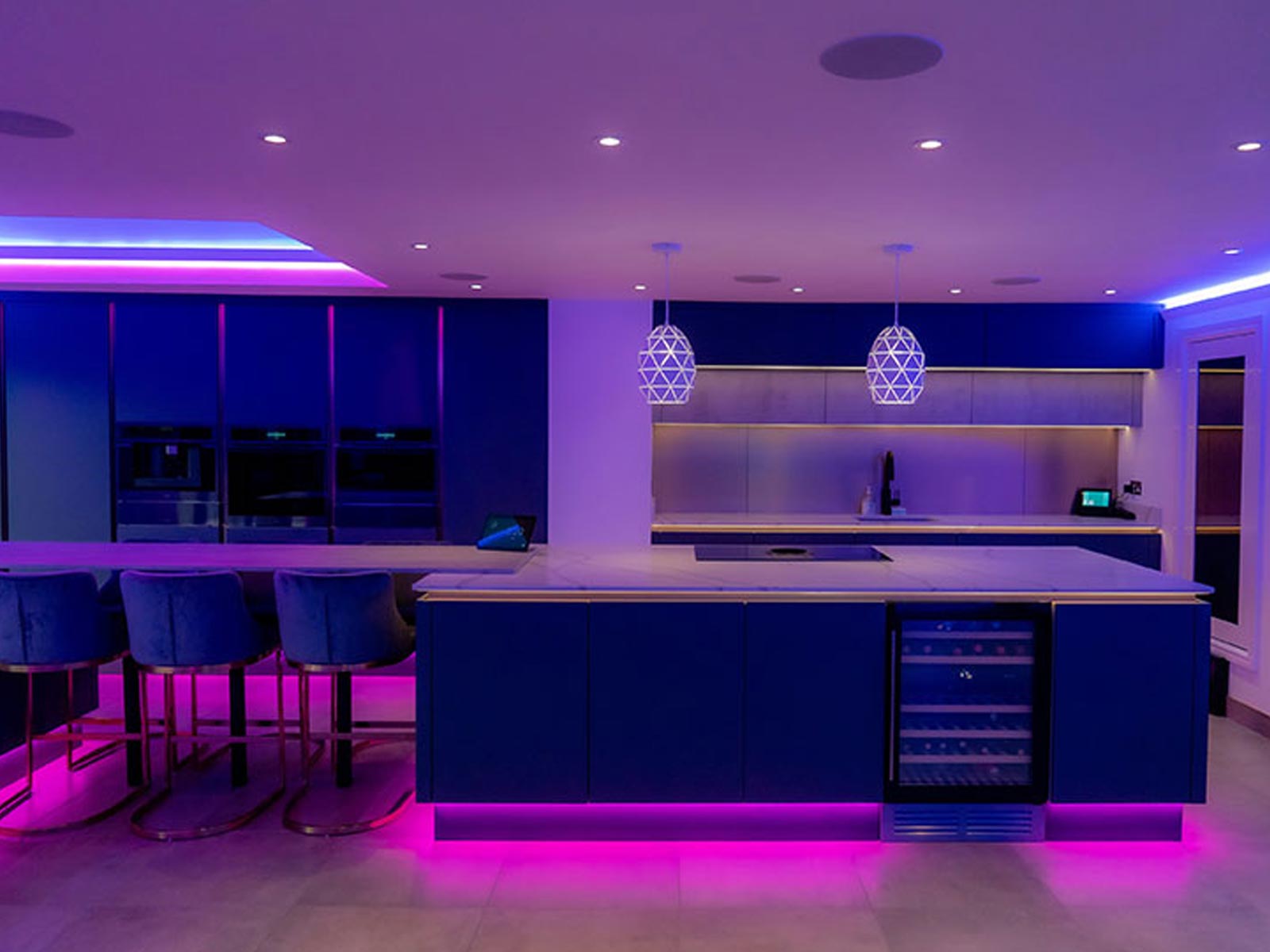 H Line Sutton and Milano Kitchen Designed by Lisa Foggan in Sigma 3 Cardiff East Showroom
Blending Sutton and Milano doors, this handleless kitchen is ultra-suave. Flick two switches and it becomes a VIP club with an exclusive guestlist consisting entirely of your friends. All you need are black light strips and a surround sound system to dance and reignite old friendships.
Seek a Home Bar Expert
While we've covered the basics in this article, it's tough to get the details right on a stylish home bar without expert assistance. So, if you need help, find your nearest Masterclass showroom and meet with one of our world-class consultants, or become a Masterclass Insider for free. As an Insider email subscriber, you'll get exclusive design tips, plus welcome guides just for joining.