Which kitchen island is best for you?
Did you know over 90% of our customers enquire about a kitchen island at their design appointment?
The kitchen island has become a must-have feature for many homeowners, which comes as no surprise with the rise in open plan living.
The kitchen island is a fantastic way to zone your open-plan space by clearly defining your cooking and socialising areas. When beginning any design project, we recommend considering how you'll use your kitchen island and researching kitchen island ideas to see what will work for your family needs.
With so many kitchen island design options, we've created a kitchen island inspiration guide, so you can see what is available and how you can design the best kitchen island.
Freestanding kitchen island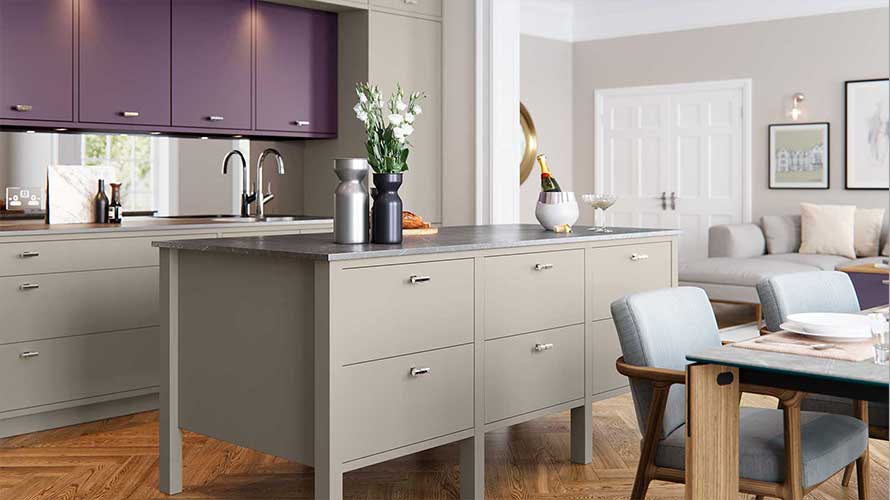 Hampton Farringdon Grey and Mulberry
If you're looking to add the luxury bespoke look to your home, a freestanding island is a perfect option. By being able to see the floor beneath your kitchen island, your kitchen will appear bigger, making it an ideal choice for smaller kitchens. We have a wide variety of freestanding kitchen islands available and an enviable colour palette – take a look for yourself.
Large kitchen island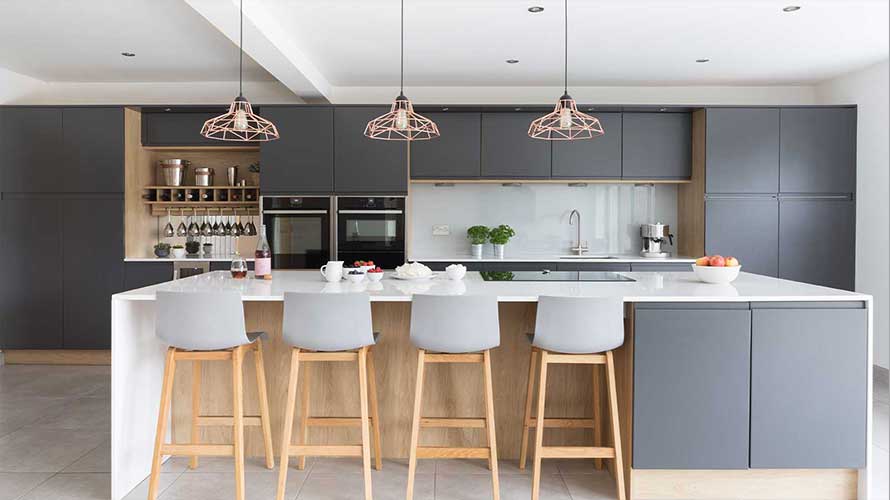 Roma Graphite. Designed by Sigma 3 Kitchens in Cardiff
The Greedy family were looking for a large multifunctional kitchen island that will suit their busy family lifestyle. To fulfil their needs, Sigma 3 Kitchens designed a large kitchen island that incorporated an induction hop and storage for their cooking needs and a sociable seating area that the whole family can enjoy.
Small kitchen island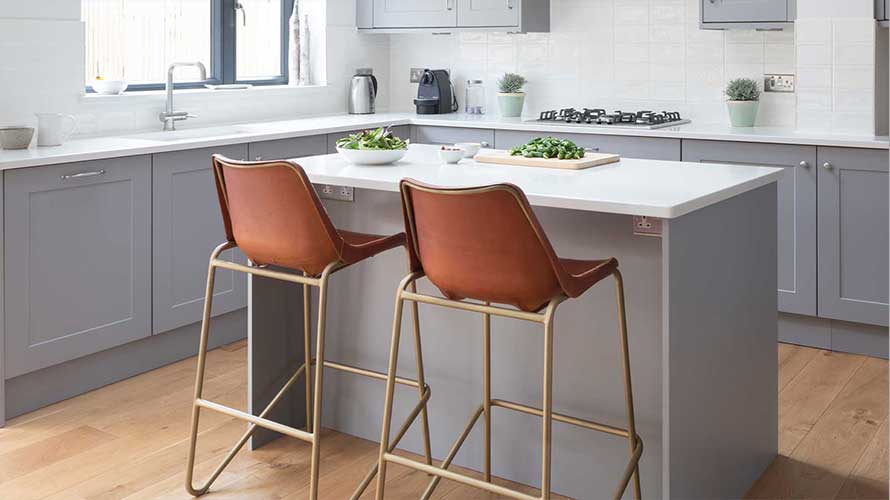 Chatsworth Light Grey. Designed by Nailsea Electrical in Bristol
If you have a small kitchen, the kitchen prep island is a great option. The prep island might be small but still offers practical storage and extra worktop space for cooking prep. To find more kitchen island ideas for small kitchens, we recommend speaking to one of our expert kitchen retailers.
Kitchen island with table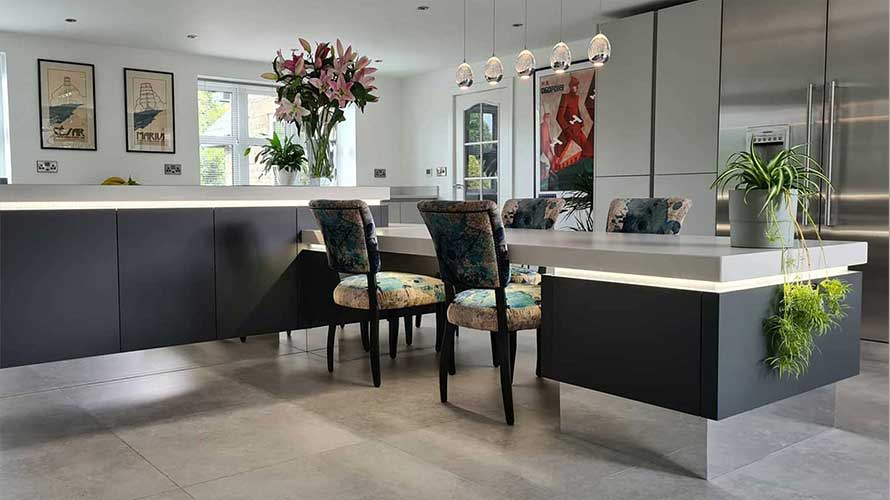 H Line Sutton Graphite and Light Grey, designed by Studio 10 in Bakewell
If you want a kitchen with the wow factor, this might be the one for you. Studio 10 designed a kitchen island that truly stands out from the crowd. Designing an island with two different heights seamlessly integrates the cooking and social areas in the space and offers an uber-modern dining space.
Kitchen island storage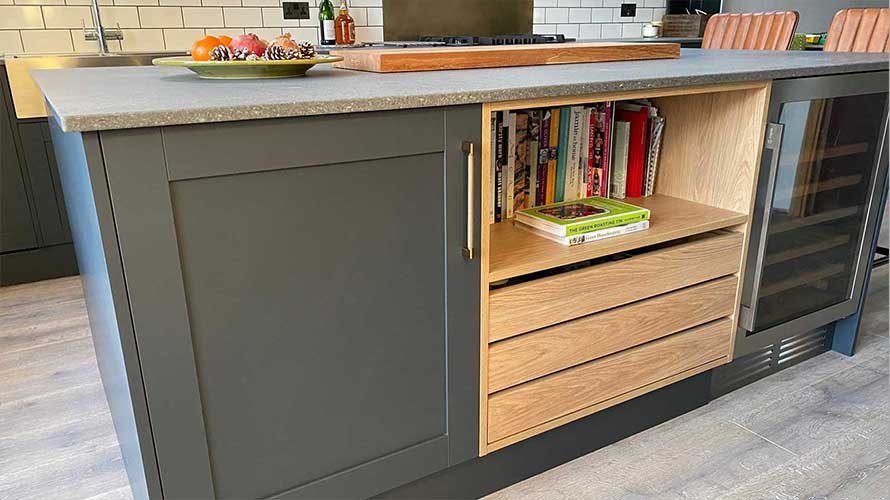 Shelford Graphite. Designed by Britannia Design in Essex.
To create a multifunctional kitchen island, you need innovative kitchen storage solutions that will utilise every inch of your kitchen island. Choosing the right storage for your kitchen island will allow you to remove other cabinets in your kitchen design, making it far more cost-effective. One of our favourite storage solutions for a kitchen island is crate drawers or our MagnaSpace pullouts.
More kitchen inspiration that you might like...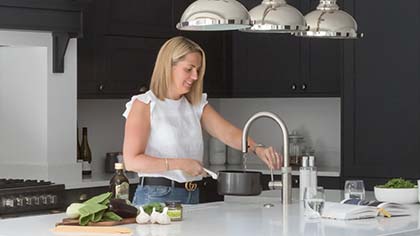 Get expert kitchen advice from our retailers
Find your local retailer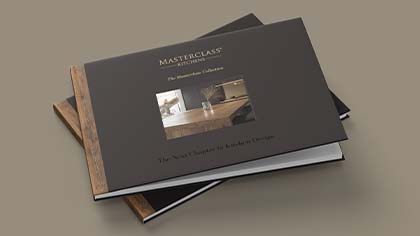 Are you looking for some more inspiration?
Explore our brochures