Kitchen pantry ideas for every budget
The kitchen pantry is a beloved storage feature that is often associated with large bespoke kitchens, but at Masterclass Kitchens, we have a kitchen pantry to suit all budgets.
We don't all have space to have a walk-in pantry, but you can still achieve that quintessentially British kitchen look with our stand-out storage features. We've created The Signature Collection, a range of highly desirable and iconic kitchen storage options. It is a lifestyle choice committed to giving you the best kitchen storage options for your lifestyle and allow you to stand out from the crowd.
Read on and find out how you can add a kitchen pantry to your kitchen...
Personalised kitchen pantry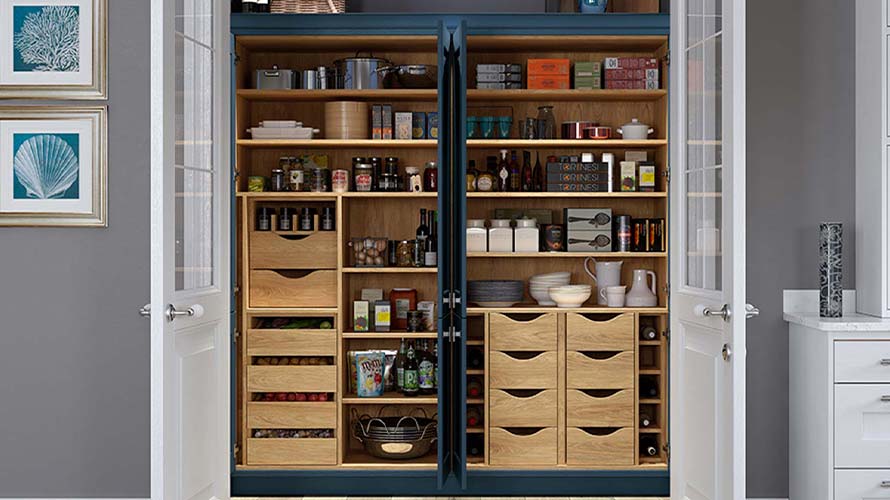 Everyone loves The Hathaway. This classic kitchen pantry look can be personalised to your family needs, making it an excellent option for any household that loves an organised kitchen.
The Hathaway is available in Portland Oak or Tuscan Walnut, perfect for anyone trying to create that luxury bespoke look in their home.
Corner kitchen pantry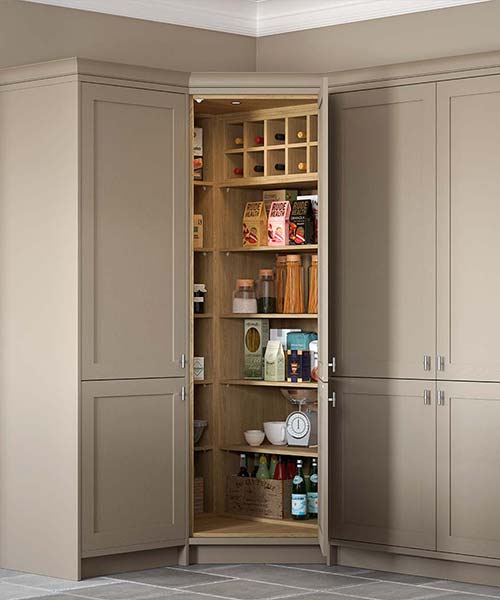 If you want a walk-in pantry but don't have space, The Lansbury is the next best thing!
When designing a kitchen, the corners are often overlooked and become dead spaces, but with The Lansbury, you utilise every inch of your corner. This corner pantry is available in 11 cabinet options to accommodate any kitchen style.
Larder kitchen pantry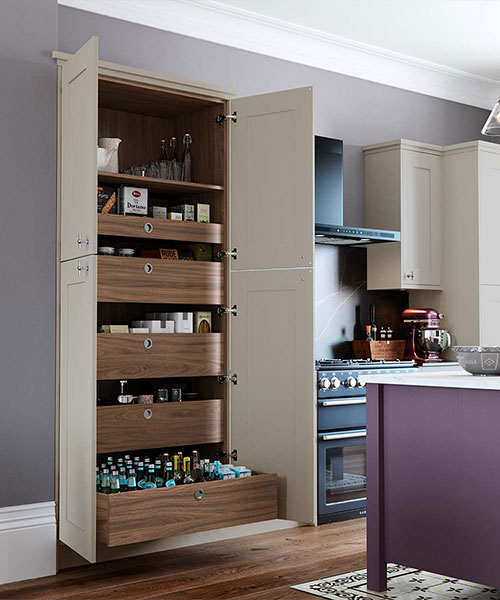 The modern take on a kitchen pantry is the SpaceTower. This kitchen storage features internal drawers that boast easy access from every angle and holds up to 70kg per drawer.
The SpaceTower is a fantastic option for busy households who need to store a lot of cupboard goods or keen cooks who have a wide range of ingredients to store.
Walk-in kitchen pantry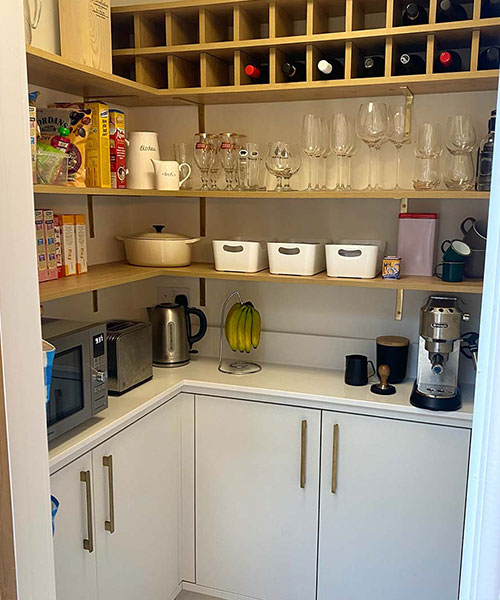 If you have space for a walk-in pantry, there are plenty of clever design hacks to utilise your space.
Choosing base units that fulfil your storage needs is essential, and we always recommend choosing as many drawers as possible for ease of use. Opting for open shelving instead of wall cabinets is a fantastic cost-saver, with the added benefit of having all your items on display, so you are no longer searching at the back of cupboards.
Are you ready to bring a kitchen pantry to your home?
Find your nearest Masterclass Kitchens retailer and speak with an expert about incorporating a pantry in your kitchen.
More kitchen inspiration that you might like...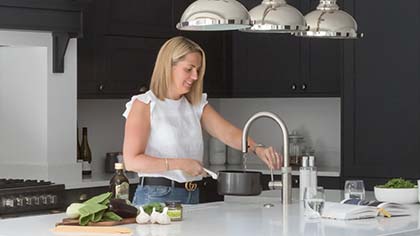 Get expert kitchen advice from our retailers
Find your local retailer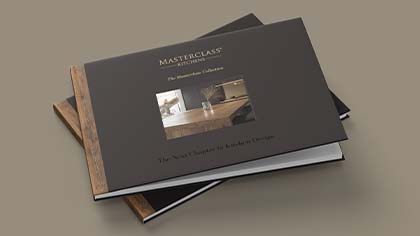 Are you looking for some more inspiration?
Explore our brochures